Sayulita and San Pancho on the Riviera Nayarit in Mexico, while just a few miles away from each other, can feel like two different worlds. At least, that's how it felt to me when I visited both i n 2019 and again at the end of 2022.
This area is rapidly changing. What someone experienced in Sayulita in 2013 is vastly different to how it is now. In a nutshell, Sayulita is more of a built-up party scene with a lot more restaurants and things to do, and San Pancho is the quiet neighbor, though it's growing steadily, too.
Here's what to consider when choosing between the two:
Size of Sayulita vs. San Pancho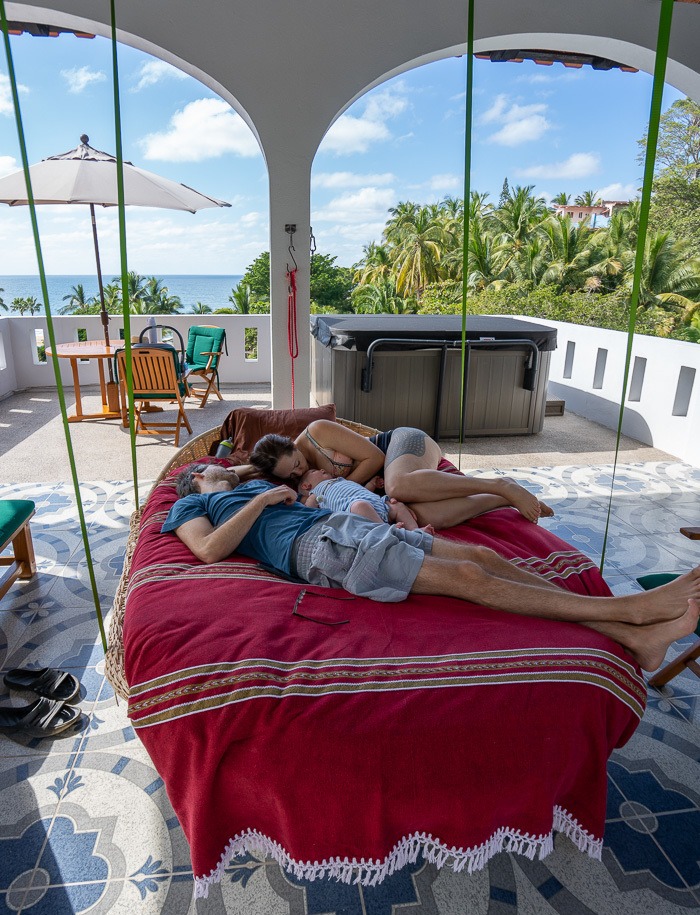 Neither San Pancho nor Sayulita are big cities by any means, with just a few thousand people each, you will see about half the amount of people in San Pancho versus Sayulita. When we first visited in 2019, we stayed in San Pancho first and then made our way to Sayulita after. I remember being overwhelmed by how much busier Sayulita felt. There were many more golf carts, people on the beach, vacation rentals, and people partying. Still, neither town is anywhere near as big and bustling as Puerto Vallarta, just an hour south.
I found the difference to be jarring, but I like smaller towns when I travel, and had come to appreciate the peace and quiet of San Pancho. At the time, there were just a few other beach houses in the area that we stayed, about a 20-minute walk in the sand away from the main town. When we returned a few weeks ago, in December 2022, there had been a lot more construction and San Pancho had grown.
Still, the beach was relatively quiet, the downtown didn't have the golf carts zipping around, and the whole area is much, much smaller than Sayulita.
What to do in Sayulita vs. San Pancho
San Pancho has decidedly less to do than Sayulita. Whenever we visit, we go with the express intention of just chilling out.
Both places have nice beaches, though the surf can get a lot bigger and wilder in San Pancho, particularly on the north end of the beach. I usually love swimming in the ocean but didn't go for it on our most recent visit in San Pancho due to the swell.
Both places are known for surfing as well, though you'll have less competition for waves in San Pancho.
Both places have yoga, pilates, and various aerial arts you can practice, but there's much more variety in Sayulita. There's one big beach club in San Pancho, but there are many options in Sayulita. There's more to explore in Sayulita in terms of places to eat, shop, and tours you can book from the area. Virtually nothing picks up in San Pancho, so you'll be mostly relegated to that area unless you get lucky and score an Uber (or rent a car, or organize a taxi).
If all you care to do is chill and eat, like we do when we visit, then San Pancho is perfect. If you want more activities, social opportunities, and party options, definitely head to Sayulita.
Where to Stay in Sayulita vs. San Pancho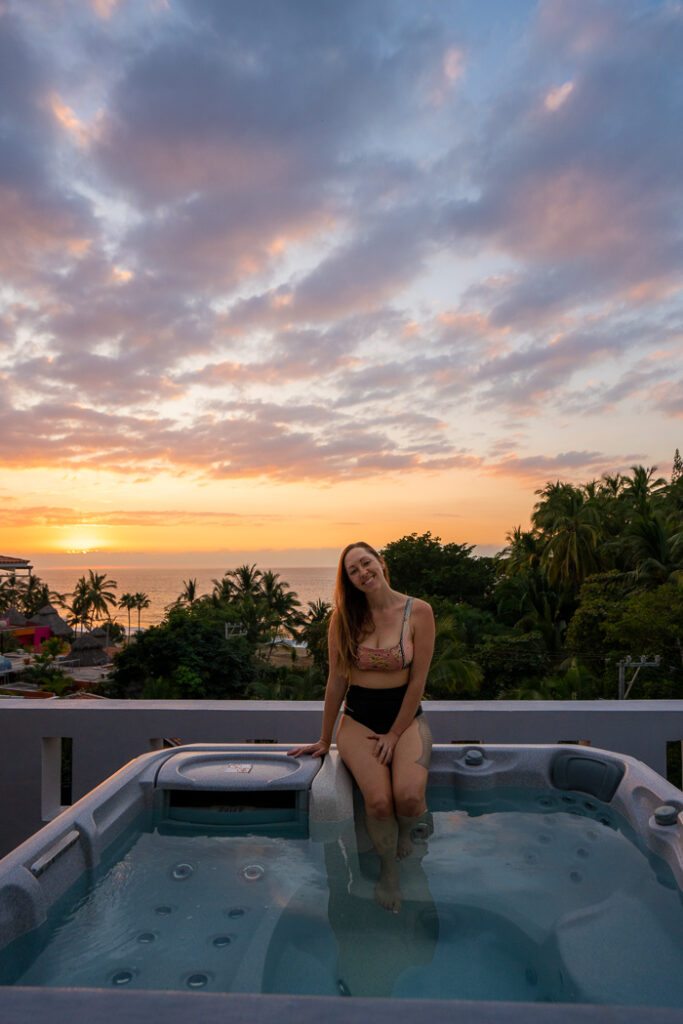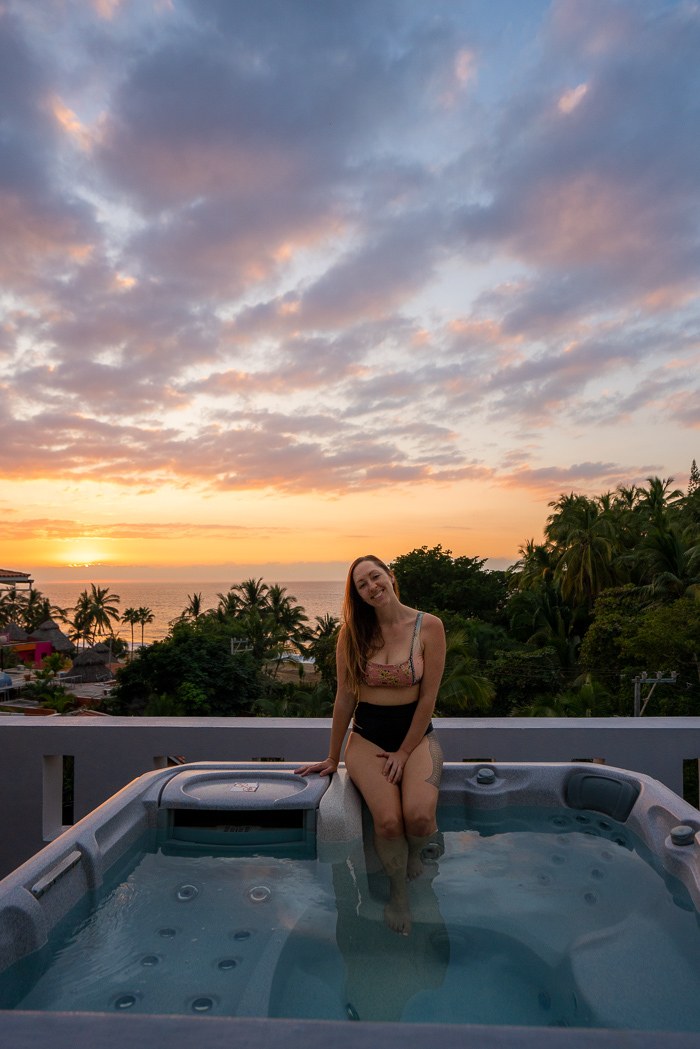 While there are beach houses for rent and cute boutique hotels in both Sayulita and San Pancho, there are many more options in Sayulita. I saw more houses with beachfront pools that I imagined would be great to rent with friends for birthdays or big celebrations in Sayulita than San Pancho, though the number in the former is growing. The Airbnb stayed in San Pancho was just a few months old, though that did mean the constant sound of construction around us, which was a bummer.
There are just a few well-rated boutique hotels in San Pancho: Hotel Casa San Pancho, Marii Hotel Boutique, and PAL.MAR Hotel Tropical. In Sayulita, however, it's a boutique hotel haven.
Which is Better?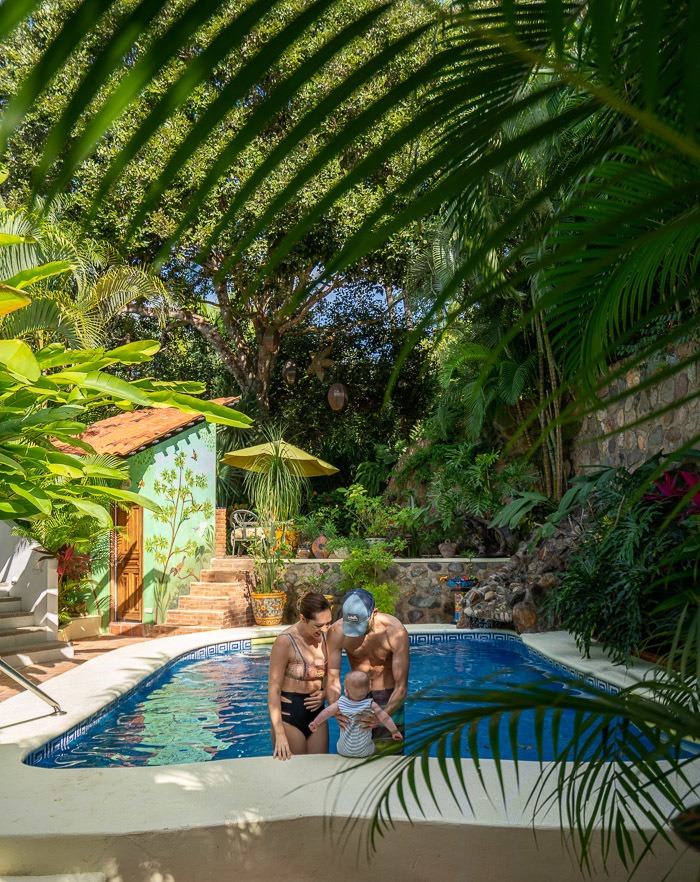 Which town is best for you is going to come down to your goals for your vacation. For our first international trip as a family with our son, we knew that we wanted to go back to San Pancho because it was so quiet and all we wanted to do was relax. But normally, I like to be a bit more active on vacations and swim, go on day trips, and explore. If that were my goal, Sayulita would be the better choice.
So the question to ask yourself is, do you want peace and quiet in a little beach town, or do you want more hustle and bustle?
Do you want a party scene or are you actively avoiding it?
Do you want to drive golf carts around and have lots to explore, or would you rather keep to your little corner of the beach?
Those are the big differences, and for someone like me, the smaller place almost always appeals more, but for someone like you, it may be the opposite.
For the best of both worlds, consider splitting time, as we've done. I recommend starting in Sayulita for some liveliness and finishing in San Pancho for some relaxation.
Either way, you can't go wrong. That's the best part.
READ MORE