Have you heard of some of the most famous residents of the Bahamas, the swimming pigs of Big Major Cay, AKA pig beach?
This is one of those touristy activities that, for me, really did live up to the hype. The pigs really swim right out to your boat, and I loved every minute of this excursion. But not every swimming pig experience is made equal. These are my best tips for getting the most out of your day swimming with the pigs:
Pick a Local Tour Operator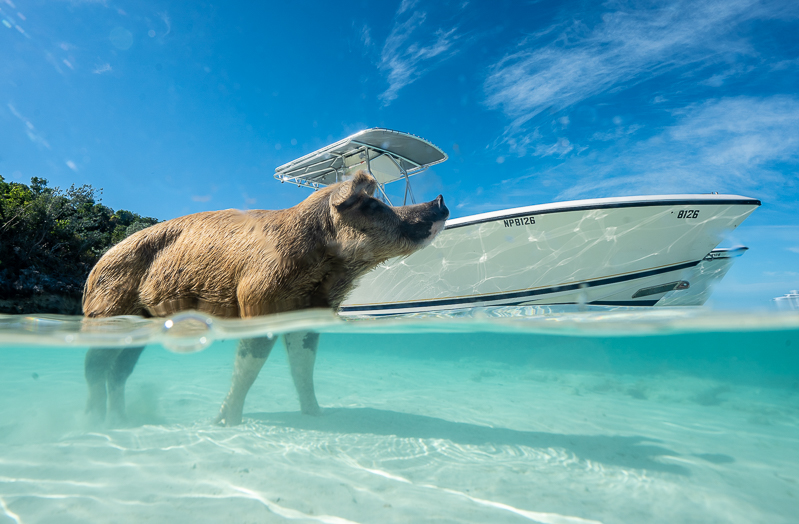 Big Major Cay is an uninhabited island in the Exumas and unless you take your own private boat, most people take a tour either from Nassau, Staniel Cay, or elsewhere in the Exumas to get there. It's part of a day tour that typically involves a few other stops as well, including the nurse sharks and sand bar.
There are many companies that offer the swimming pig experience, but going with 3N's Exuma Vacations out of Staniel Cay (book it here), the closest populated island to the pigs, gives a nice insight into the history. Our captain, Dave, clearly had a special relationship with the pigs, as he has been around ever since they moved out to Big Major Cay. Even if you're not staying in Staniel Cay, you can still go with this operator out of Nassau (book that here).
I also liked that their boats are smaller. Sometimes when you take a boat from Nassau, you can end up with 20 to 50 people just on your boat alone! The 3N tours make more stops, give you more time at each stop, and have fewer people per boat.
So how did the pigs get on Pig Beach? As Captain Dave tells the story, they moved the pigs off of Staniel Cay because, well, they smelled. It seemed like a good idea at the time to have a pig farm that wasn't sharing space with the already tiny inhabited islands.
Other lore involves pirates, or sailors dropping them off and hoping to return later to turn them into a meal, or even the pigs being survivors of a shipwreck. Between you and me, Dave's account seems the most realistic.
However they ended up there, little did anyone know that the pigs could, and would, actually swim, turning them into one of the biggest attractions in the Bahamas!
There have been several copycat pig beaches created since, but the pigs on Big Major Cay are the OGs.
Get in the Water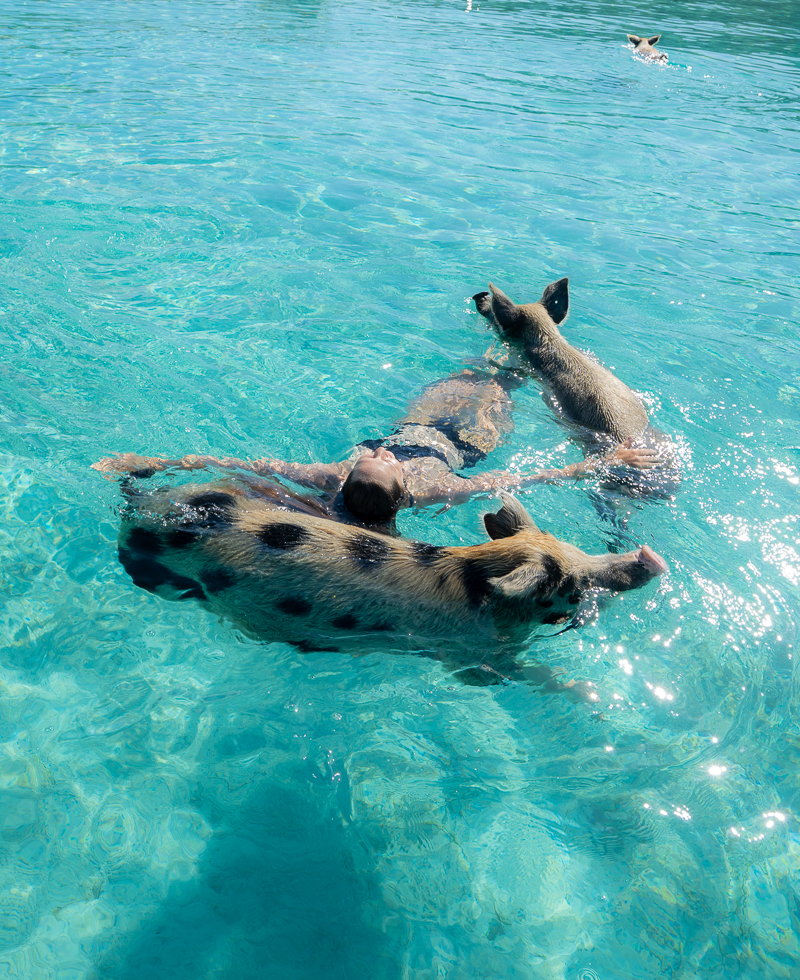 When I first saw the pigs swimming towards the boat hoping for treats, I could hardly contain my delight. Captain Dave encouraged me to jump in the water and I didn't need to be told twice. The pigs are adorable, huffing as they swim. They're agile, too, and can swim out much farther than I expected.
I highly encourage you to get in the water and swim with them! Don't wait until you get to the beach, which might be crowded, to have your interaction. Since they come right up to the boat, this is one of your best opportunities to get a few moments with them all to yourself.
I loved the way the photos turned out, too. Captain Dave was great about taking photos for me, making sure that he kept giving them treats so that they'd stick around and swim for a while.
Go When it's Low Season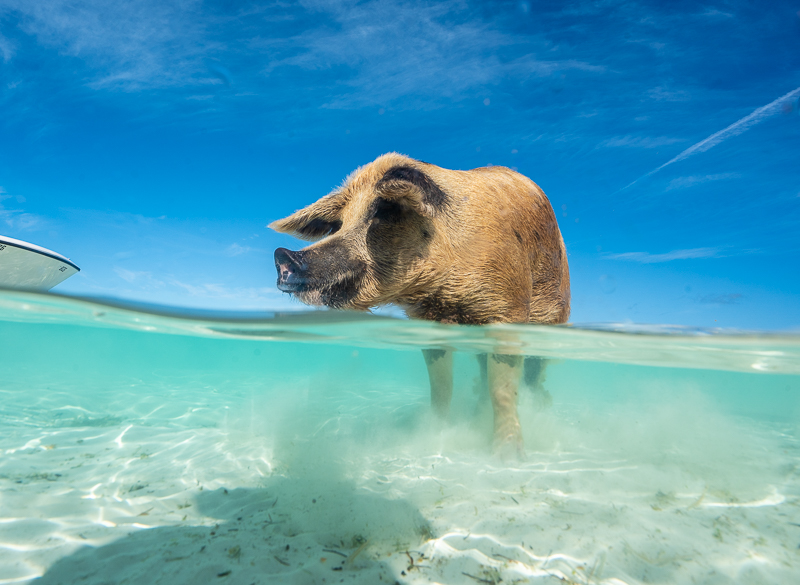 I visited the Bahamas in mid November, which is still during the rainy season, but it did give me a unique opportunity to be at Pig Beach without tons of other tourists. From what I've heard, during the highest seasons including July, March, and the week between Christmas and New Year's, there can be hundreds of people!
I realize that you can't always pick your vacation times, but if you do have some flexibility, try to go during the off-season. Yes, you do risk having some rainy days, which I did during my trip, but that can happen anytime when you're in the tropics regardless of the season.
Stay Nearby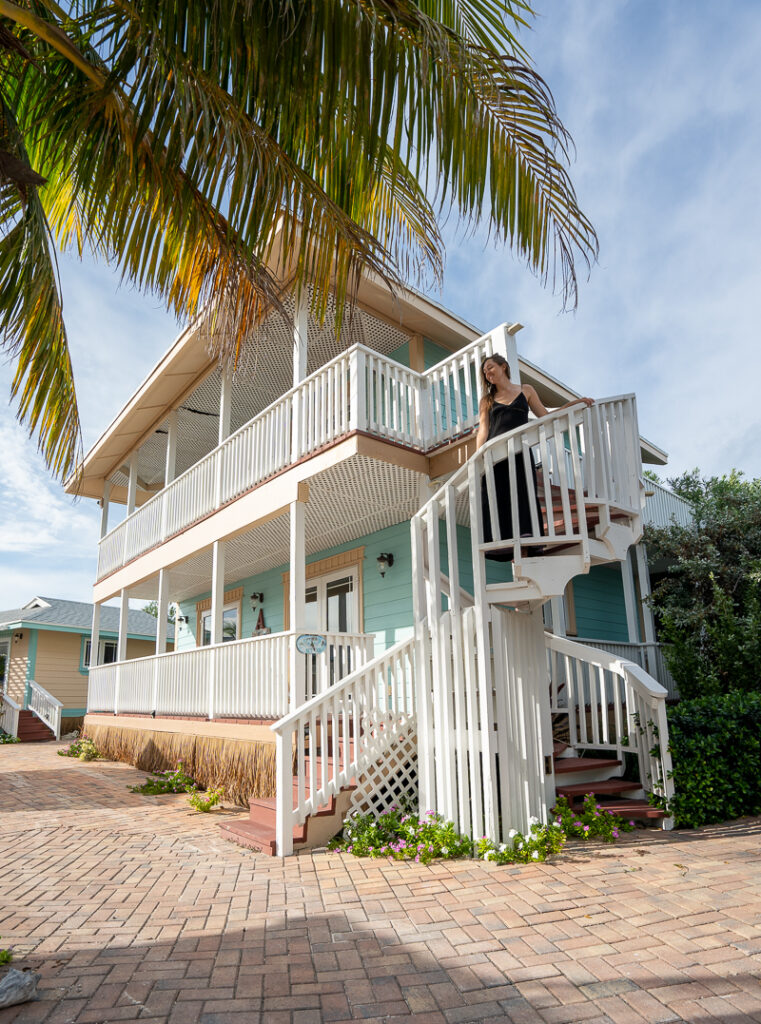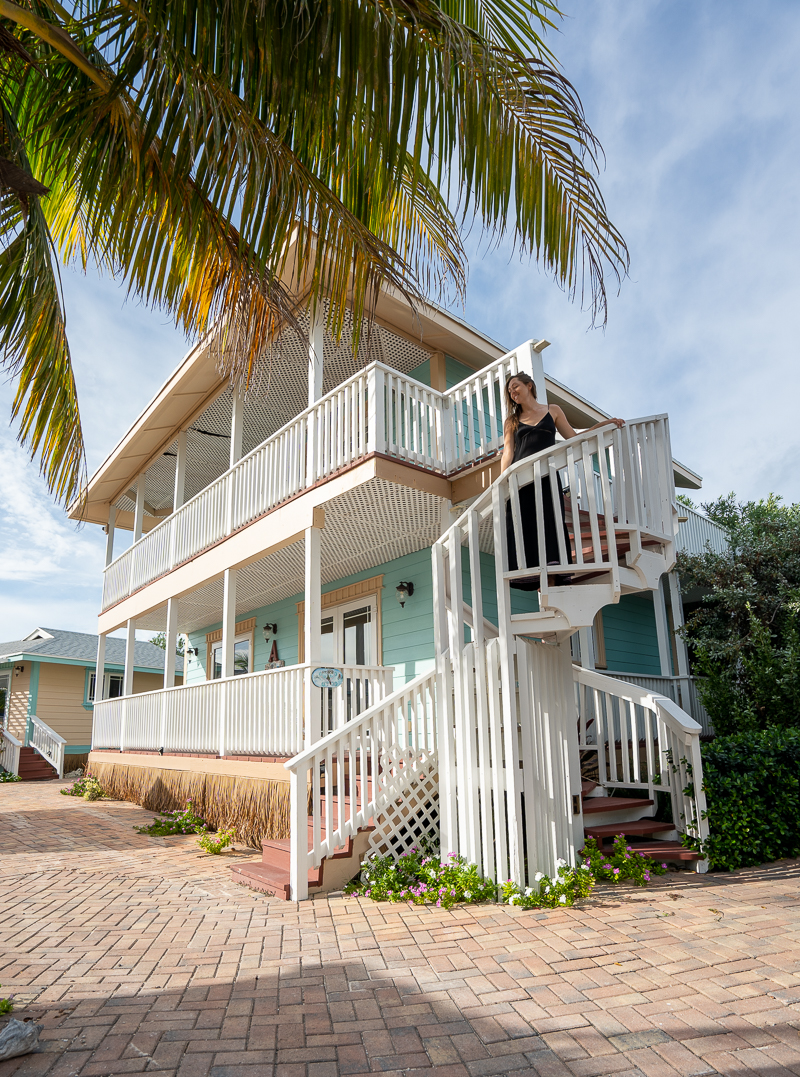 If you're basing out of Nassau and it's too late to change it, no worries, you can still get to Pig Beach on a day trip. BUT, if you're staying on Staniel Cay that'll give you a chance to get to the pigs earlier in the day, potentially beating the crowds and getting a chance to interact with the pigs before their bellies are full and they're feeling lazy.
I loved my time on Staniel Cay, a little island nearby with lovely beaches, a laid-back vibe, and a local, female-founded, owned, and run resort called EMBRACE. There aren't many totally locally-owned and run options in the area, and if you stay with them, you get a discount off of your tour, too!
Read more about what to do in and around Staniel Cay here.
Don't Bring Food to the Beach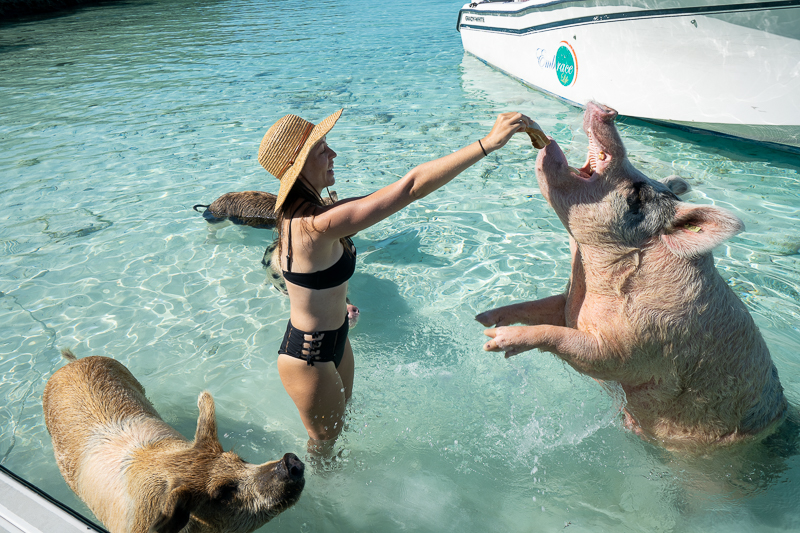 All of the feeding that was done we did from the boat under the supervision of the captain. Above you'll see Oliver, a pig that will stand on his haunches to get treats!
The danger of bringing food on the beach is twofold: the pigs are animals and could nip at you to get the food, plus it's not good for them to eat food dropped in the sand. There have been situations where tourists have been bitten in the past by doing stupid things like holding food behind their backs, not paying attention to the fact that there were pigs behind them. Pigs are still animals, and smart ones at that. A few of them have figured out that if they nip, people are likely to drop their food, giving them the perfect opportunity to nom.
I actually preferred swimming in the water with them while the captain tossed out treats. The only pig I fed myself was Oliver, because, well, he can stand!
Though you're not supposed to pick up the babies, sometimes the captain will bring a bottle and pick one up to feed him, and if you want, he'll let you hold it too.
Give Them Rubs
I don't know if you have interacted with pigs in the past, but I've found that they're usually not receptive to pets, especially the young ones. These pigs are different, and they LOVE belly rubs.
Some visitors seemed scared of them but they're like hoofed puppies. Interact with them, pet them, and enjoy the experience of swimming with pigs living their best lives.
A few other tips include bringing lots of sunscreen, water, and snacks with you on the boat. I was glad to have my wide-brimmed hat as well, since the sun is strong and most of the boats don't really have covers, leaving you exposed.
I've also heard that the pigs are more likely to be lazy and lounging on the sand by the afternoon, and are more active in the morning. If you do take your own boat, head out to the island before 8 AM when the tours start and you just might get it all to yourself.
But if you're taking a tour like the rest of us, check out this one departing from Staniel Cay (read more on the best things to do on Staniel Cay here), and this one departing from Nassau, including a scenic flight into the Exumas.
Happy swimming with pigs. I hope you love it as much as I did!
Pin me for later:
*This post was brought to you in collaboration with Staniel Cay Vacations. All enthusiasm for the pigs and the tour I took are my own.