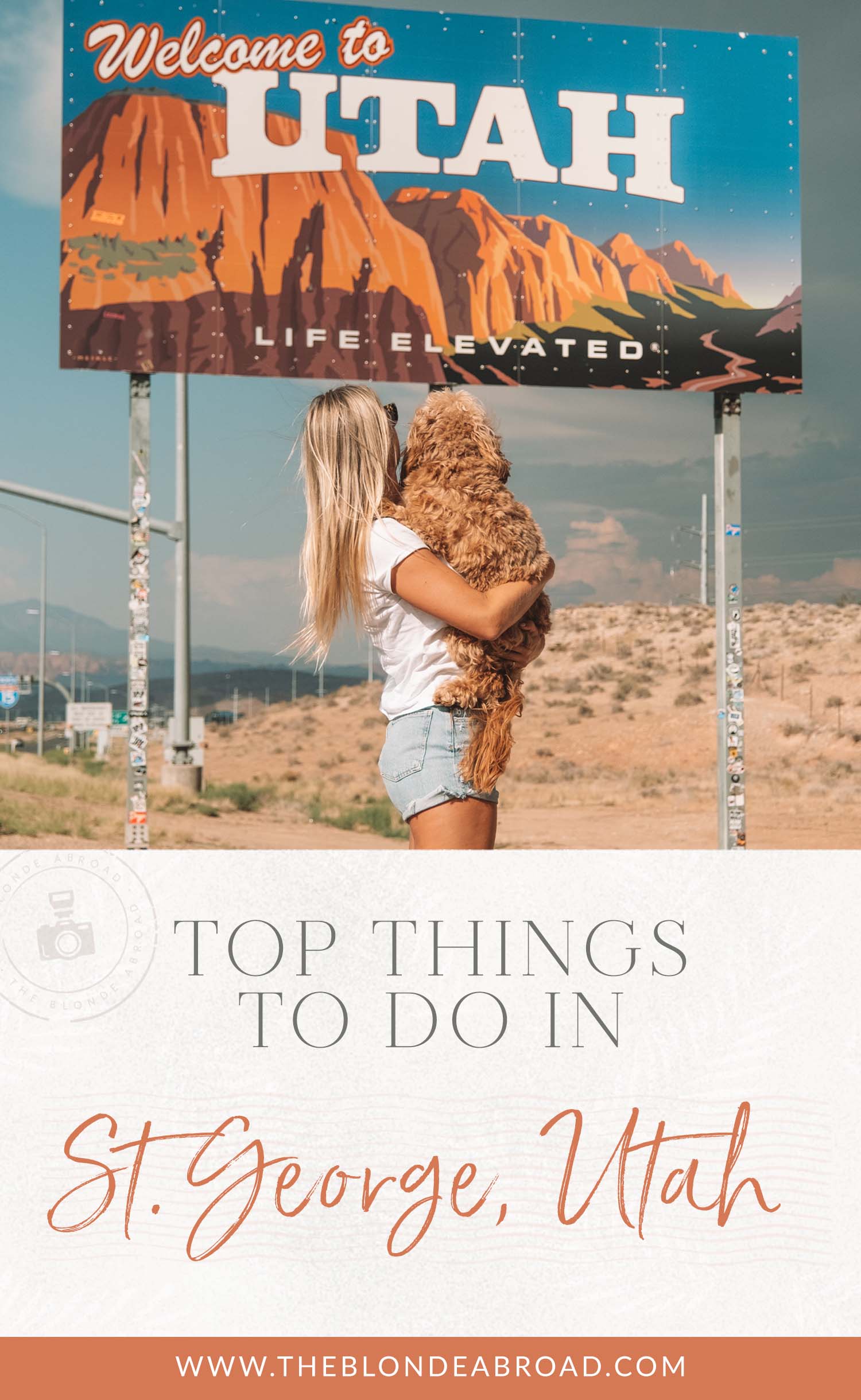 When you're brainstorming vacation destinations, St. George, Utah might not be at the top of your list. It might not even make the list at all because while it's a fantastic place to visit and explore the outdoors, it's not quite as well known as other outdoor spots.
But it really should be — it's considered to be a gateway to some of the best national parks in the country and there are countless opportunities for outdoor recreational activities throughout the entire year.
Whether you're going for an adventurous getaway with the family, your love, or a girls' trip — here are the top things to do in St. George, Utah!

Getting to St. George
The best way to get to St. George is with a combination of air travel and driving. You can pick from three airports when planning your travel.
Harry Reid International Airport (LAS)
First, there's the Harry Reid International Airport (LAS) which serves the city of Las Vegas. You'll probably have a better shot of finding a convenient flight to this airport as there are many flights from many different locations that land here daily.
You can rent a car at the airport and drive the two and a half hours to St. George, or you can find a shuttle bus service that will take you to your final destination.
I definitely recommend renting a car — you'll need it to get around once you arrive in St. George.
We flew JSX into Vegas and then drove the rest of the way to St. George!
Cedar City Regional Airport (CDC)
There are two regional airports that are within an hour of St. George that are super convenient if you can find a flight between them and your location. The Cedar City Regional Airport (CDC) is about a 50-minute drive away from St. George and has a handful of flights that connect the airport to Salt Lake City.
St. George Regional Airport (SGU)
The St. George Regional Airport (SGU) is the closest, at just under 20 minutes away. You can find flights here from Denver (United), Salt Lake City (Delta), and Phoenix-Sky Harbor (American Airlines). American Airlines also runs a seasonal route between St. George and Dallas/Fort Worth.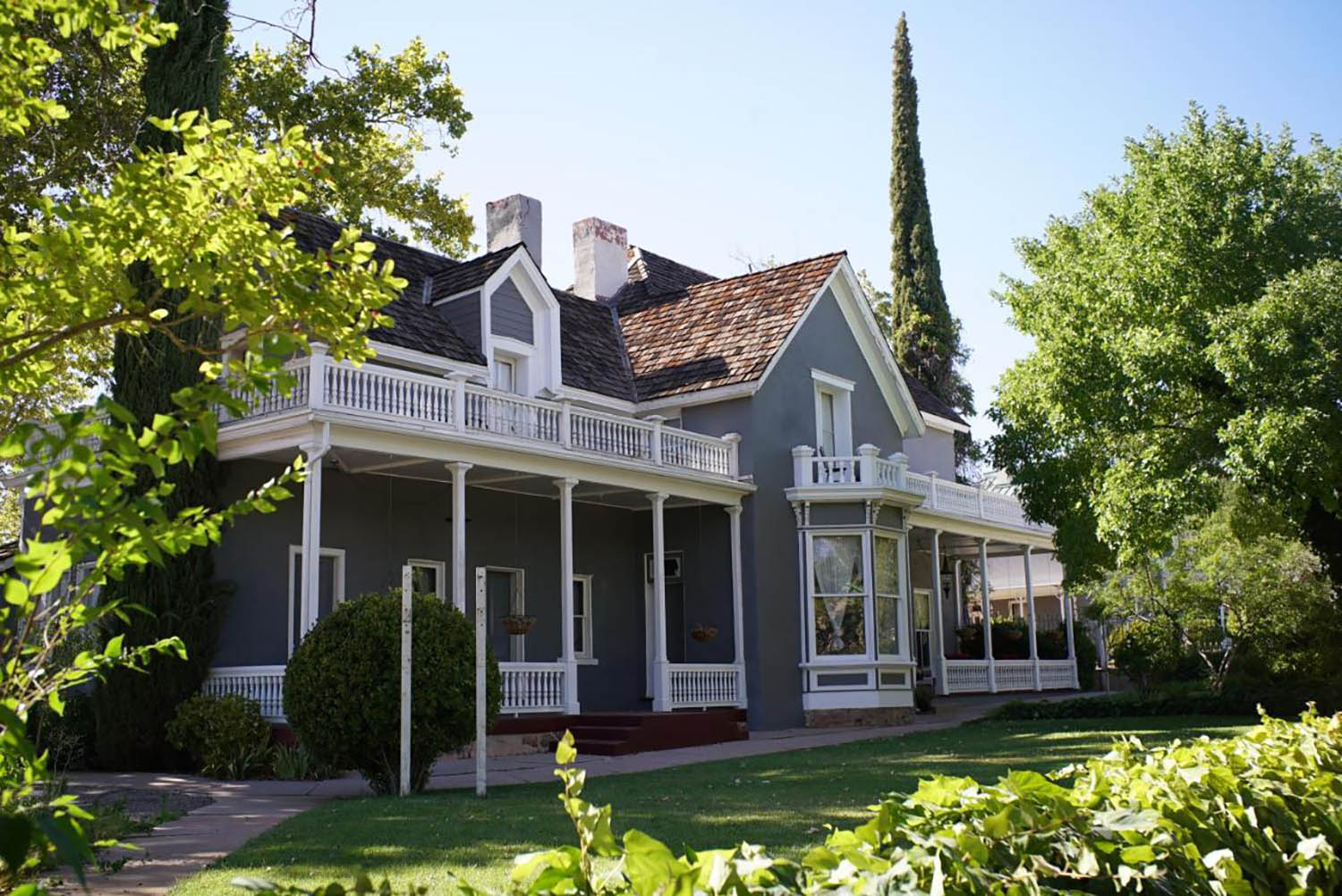 The Mulberry Inn
Where to Stay in St. George, Utah
There are several amazing hotels in St. George, Utah that you can pick from. Here are some of the best options for every type of traveler.
The Inn at Entrada (Luxury)
If you're looking to treat yourself, stay at the upscale Inn at Entrada in St. George. This resort features gorgeous contemporary rooms, a stunning pool that you might recognize from High School Musical 2, and amenities such as golf courses, spa services, and more.
The Mulberry Inn (Historic B&B)
The Mulberry Inn is a historic hotel that's located in downtown St. George, making it easy to experience the local scene. Not only is the hotel beautiful but it's also a Bed and Breakfast so you'll be able to enjoy a meal at the start of the day when you stay here.
Hampton Inn & Suites of St. George (Mid-Range)
The Hampton Inn & Suites St. George has everything you expect from a Hilton hotel: it's clean, it's comfortable, and the service and amenities are reliable and consistent. This hotel has a pool and a fitness center, as well as pet-friendly rooms.
Aiden by Best Western at St. George (Budget)
If you'd prefer to save your money when it comes to accommodations so you can spend it elsewhere, you still have a great option: Aiden by Best Western at St. George! Aiden is Best Western's collection of trendy boutique hotels that emphasize a cool, casual, and laid-back vibe.

Visit All the National Parks
St. George, Utah is considered to be the gateway to many national parks, so be sure to visit at least a few when you're in the area.
Zion National Park – 41 miles away
Zion National Park is probably one of the most famous national parks in the United States, known for its impressive red rock formations that tower high above the canyon floor.
There are several hiking trails as well as a shuttle that can take you into and out of the canyon that starts at the Zion Canyon Visitor Center.
Bryce Canyon National Park – 141 miles away
Known for its irregular rock formations known as "hoodoos," Bryce Canyon National Park is a great place to visit to hike, bike, and explore the outdoors.
Depending on which route you take, the drive from St. George to Bryce Canyon takes about two-and-a-half hours which makes it perfect for either a long day trip or for an overnight adventure.
The Lodge at Bryce Canyon offers great accommodations and there are places to camp — if you choose the latter, you could spend part of your night gazing up at the stars!
Grand Canyon National Park (North Rim) – 150 miles away
The Grand Canyon is one of the most famous natural wonders of the United States and it's relatively easy to get to if you're starting out in St. George.
The drive is about two and a half hours so you'll want to start your day early and plan on spending the night near the park. The North Rim of the Grand Canyon is perfect for hiking and enjoying the awe-inspiring view.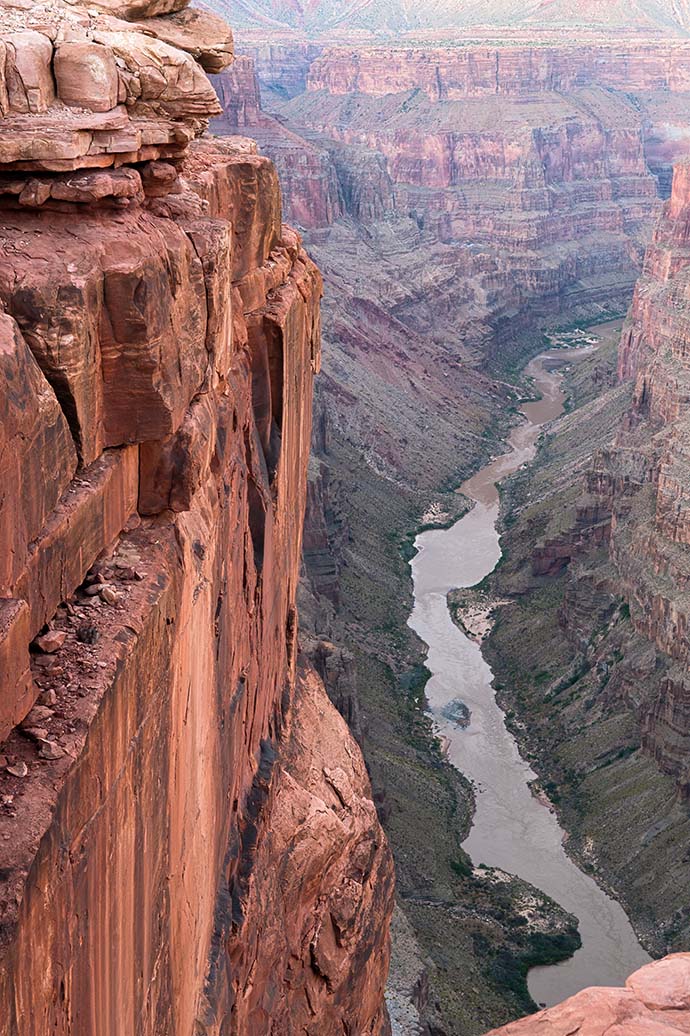 Capitol Reef – 200 miles away
If you're interested in prehistoric Utah, head to Capitol Reef National Park.
Although you might think of an underwater and tropical environment when you hear the word "reef", in this case, it refers to a rocky barrier that sits in the desert. The drive is just under four hours so you'll want to consider staying overnight in one of the designated campsites or one of the backcountry options.
Great Basin – 193 miles away
The diversity of Great Basin National Park makes it a unique place to visit — there are caves, groves of ancient pines, and the 13,063-foot summit of Wheeler Peak. If you're interested in venturing down into the Lehman Caves, make sure you book your ranger-led tour well in advance as they tend to sell out.
Spend the Day Outdoors
Wondering what to do in St. George Utah? Get your fill of the great outdoors, of course! The area is located near so many stunning parks and reserves, you can take your pick!
Prime your suitcase with essentials you'll need from this hiking gear guide for women.
Sand Hollow
The gorgeous Sand Hollow State Park features warm, blue water set against the vivid red rock cliffs.
We rented a boat for a day when we visited, and I recommend you do the same — you can choose from a selection of boats that includes kayaks and pontoon boats.
There's even a chance to explore under the waters here — check out the scuba diving rentals and swim below the water's surface to see an old plane and more.
Quail Creek State Park
Quail Creek State Park is famous for its water reservoir and it's a great place to swim and fish.
You can also explore the hiking trails, and if you're traveling with your dog, they're welcome too! Dogs are permitted on the beach, in the water, and on trails throughout the park.
Pioneer Park
This unique park features plenty of rock features that are ideal for rock climbing!
You can also walk the hiking trails through Pioneer Park that lead to caves, a historic Pioneer cabin, and serene pockets of nature. Sections of the park such as the pavilions can be rented out for private events, so just be aware of that when you're there.
Red Cliffs Desert Reserve
If you're in Pioneer Park, you can actually access another fantastic spot: Red Cliffs Desert Reserve. This is a great alternative to Zion National Park if you're hoping to avoid crowds and you want to spend a bit less time in the car.
Cedar Breaks National Monument
Stand 10,000 feet above the canyon floor and enjoy the views at Cedar Breaks National Monument.
It's just over an hour away from St. George and it's another outdoor attraction where dogs are welcome — just make sure you keep them on a leash.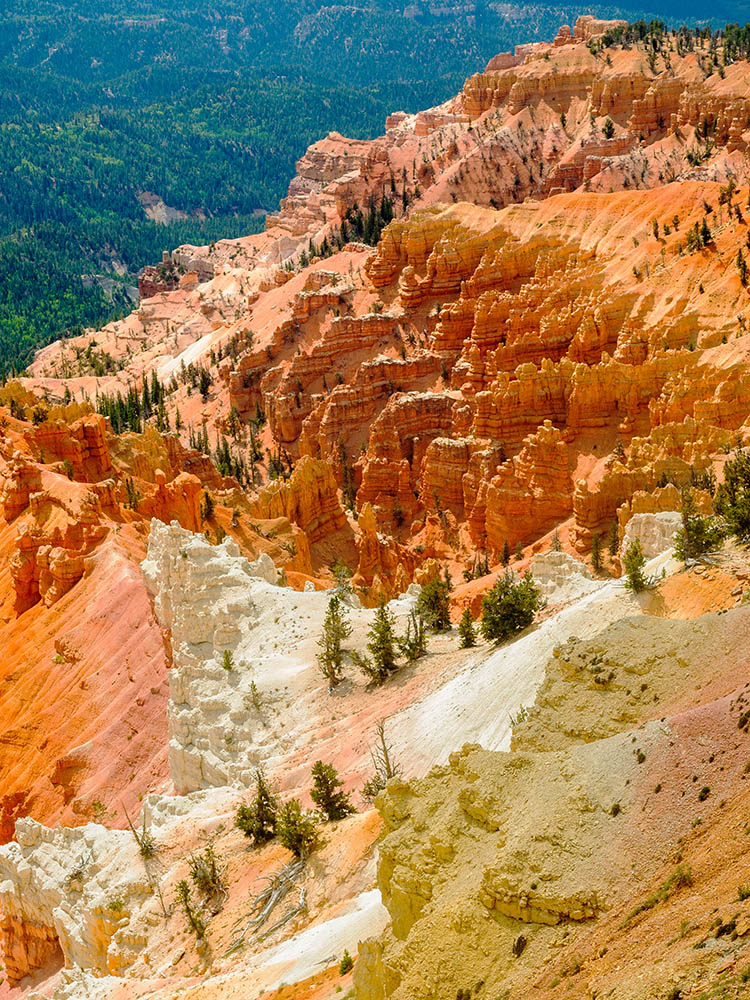 Snow Canyon State Park
Snow Canyon State Park is known for its lava tubes, hiking trails, and sand dunes. It's about a ten-minute drive away from St. George which makes it a convenient place to visit when you're staying in the city.
Snow Canyon State Park might seem familiar to you when you first see it — that's because it's been a popular set location for Hollywood production companies and movies like Butch Cassidy and the Sundance Kid (1969) and High School Musical 2 (2007) were partially filmed here.
Red Hills Desert Garden
Utah's first conservation garden, Red Hills Desert Garden, has been preserving the natural beauty of the region since 2015.
When you visit you can explore the garden at your own pace, and you can also take part in one of the workshops or events that take place at Red Hills Desert Garden throughout the year.
Hot Air Balloon Ride
For a unique way to see the views of St. George, consider booking a hot air balloon ride! There are several companies that offer private hot air balloon rides, including sunrise or sunset experiences.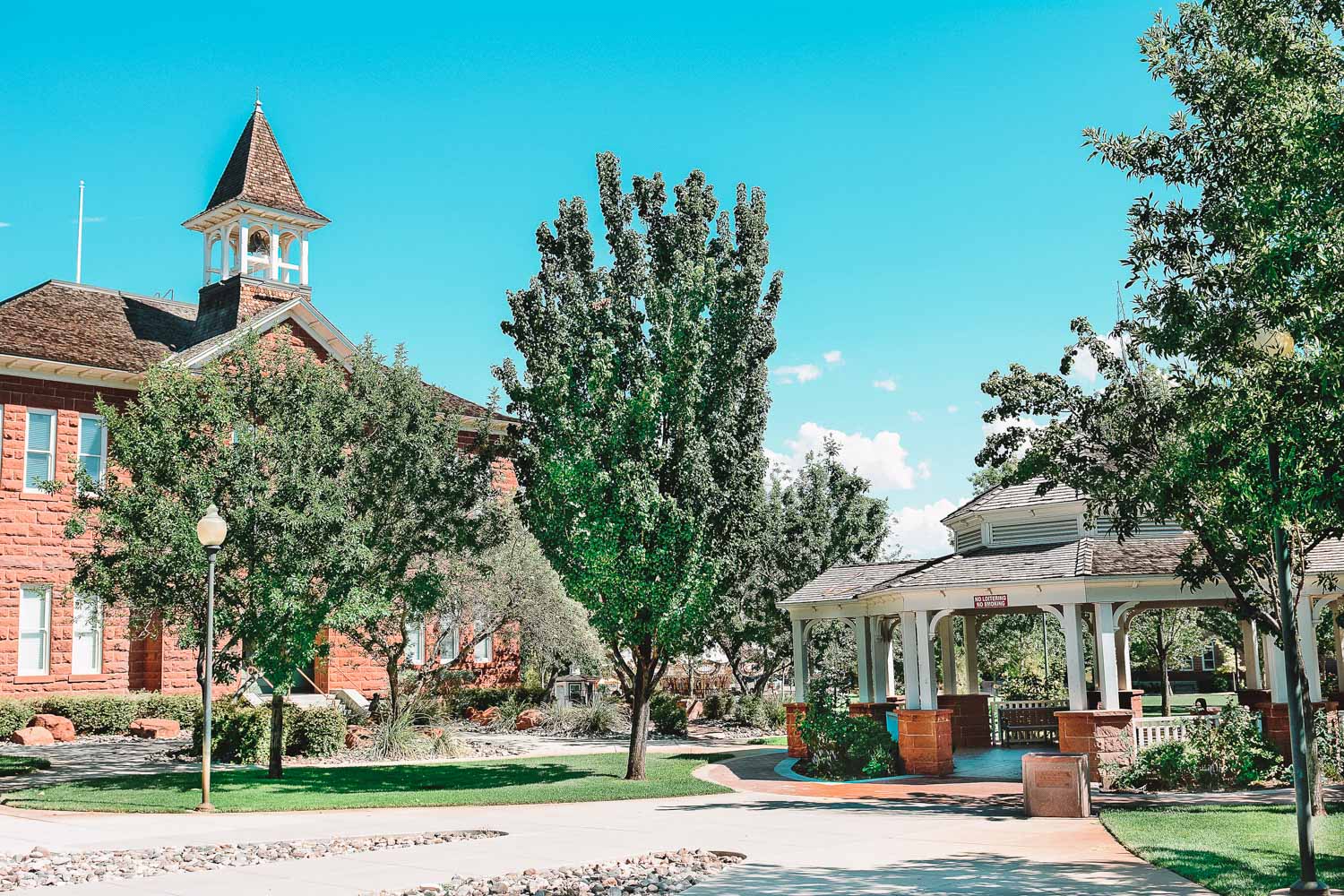 Historic district of St. George, Utah
Historic & Cultural Things to Do in St. George
If you're looking for something else to do besides exploring the outdoors, here are some other things to do during your trip to St. George.
Downtown Farmers Market in Ancestor Square
On Saturdays from May to October, you can head downtown to the St. George Downtown farmers market that's held in the parking lot at Ancestor Square.
The vendors may vary but you can always find some fresh produce, baked goods, and other treats. The market is open between 9:00 AM and noon, so it's a great place to grab breakfast before you start your day.
St. George Historic Sites
If you're interested in historic sites and museums, St. George has plenty of options for you. A lot of the sites relate to Mormon history such as the Brigham Young Winter Home Historical Site and the Mountain Meadow Massacre Memorial.
Grafton Ghost Town
Just about an hour away from St. George is a small ghost town that dates back to the 1860s. Grafton Ghost Town was originally a Mormon settlement and it was inhabited up until 1944.
It's on the smaller side but there's still a lot to see like the schoolhouse, private homes, and even the Grafton cemetery.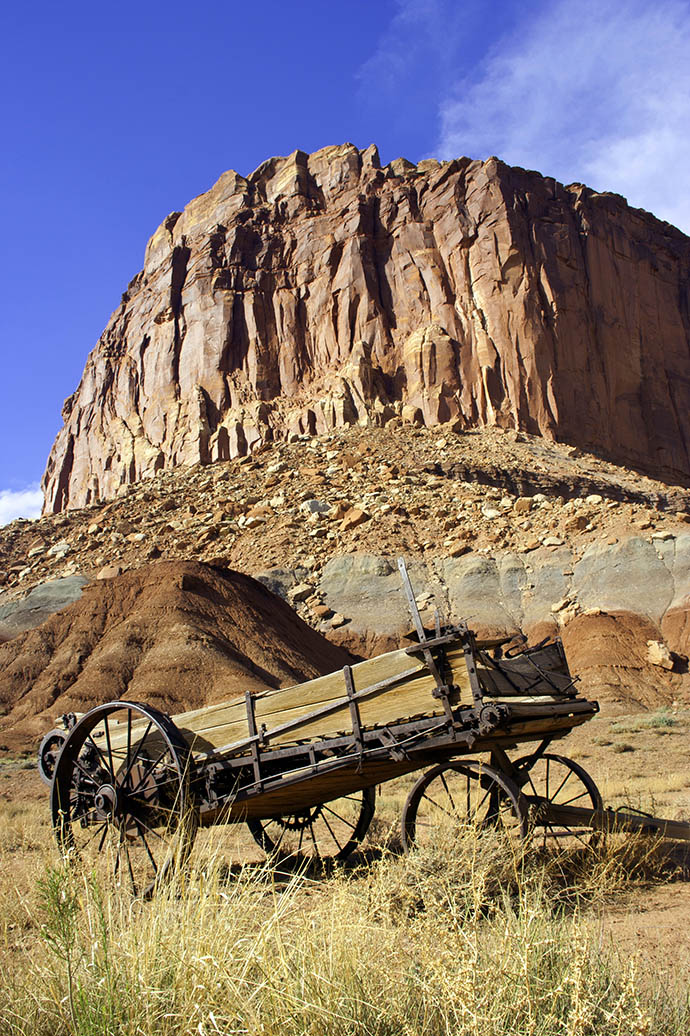 Silver Reef Ghost Town
For a ghost town a little close to St. George, check out the Silver Reef Ghost Town, which was a settlement that grew thanks to the mining boom of the 1800s.
It's just about 15 minutes north of the city and includes a museum as well as historic buildings like the Wells Fargo Express Office which was built in 1877.
St. George Dinosaur Discovery Site
Although some of the activities at St. George Dinosaur Discovery Center are geared toward children, there's still plenty for adults to enjoy like the museum like the fossils, footprints, and artifacts that tell the story of the Jurassic era.
Little Black Mountain Petroglyph Site
This short and sweet hiking trail is so much more than a chance to be outdoors — it's also a place where you can see hundreds of examples of ancient art that were left on the various rock faces in the area. The different designs describe the different cultures that lived in the area over 6,000 years ago.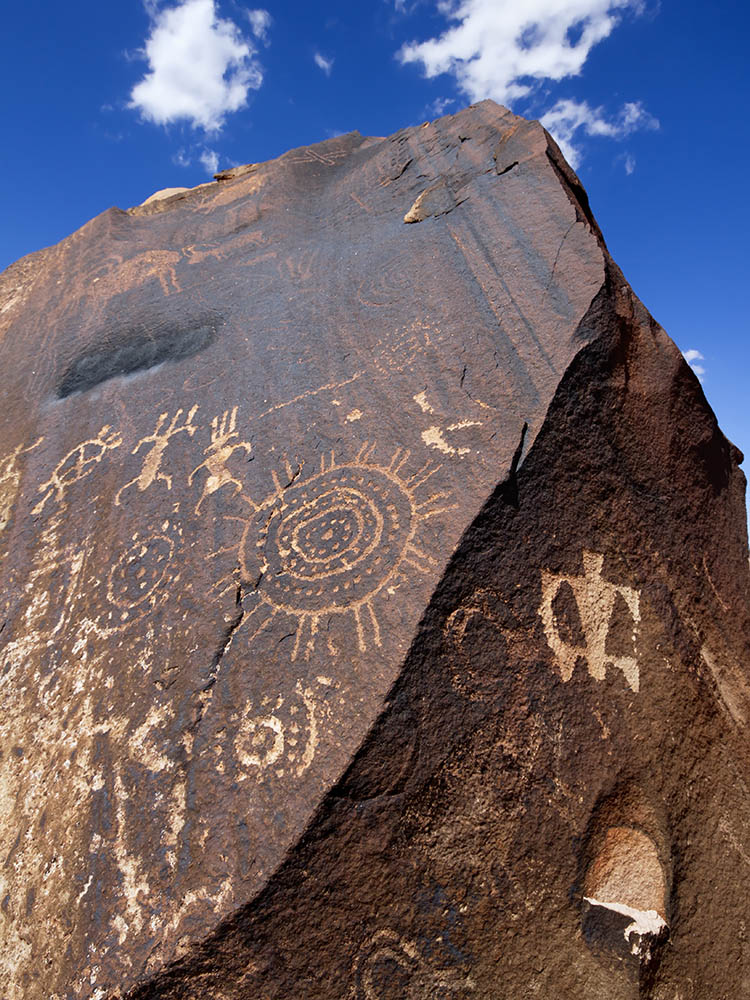 Tuacahn Amphitheater
Catch a performance at the Tuacahn Amphitheater. It's a cool venue that is built into the Padre Canyon near Snow Canyon State Park which means you get to enjoy the views of the red rocky features while also enjoying a play, musical, or concert!
Green Gate Village
The Shops at Green Gate Village are a beautiful place to shop for locally made goods. Scout & Cloth is the place to get fashionable clothing and The Gem Studio offers an inventory of jewelry plus workshops where you can make your own.
Judd's General Store is the oldest business in St. George and you can find it at Green Gate Village at 62 W Tabernacle Street.
It was created as a general store and today you can buy food, ice cream, candy, and more when you visit.

St. George, Utah is a hidden gem in the American southwest that's definitely worth a visit!
You can fill your itinerary with hiking and sightseeing at some of the country's best national parks as well as shopping, exploring historic sites, and more while you're in town.
If you're not sure what to pack for your trip to St. George, check out this handy guide to make sure you're prepared with essentials for a hiking trip.