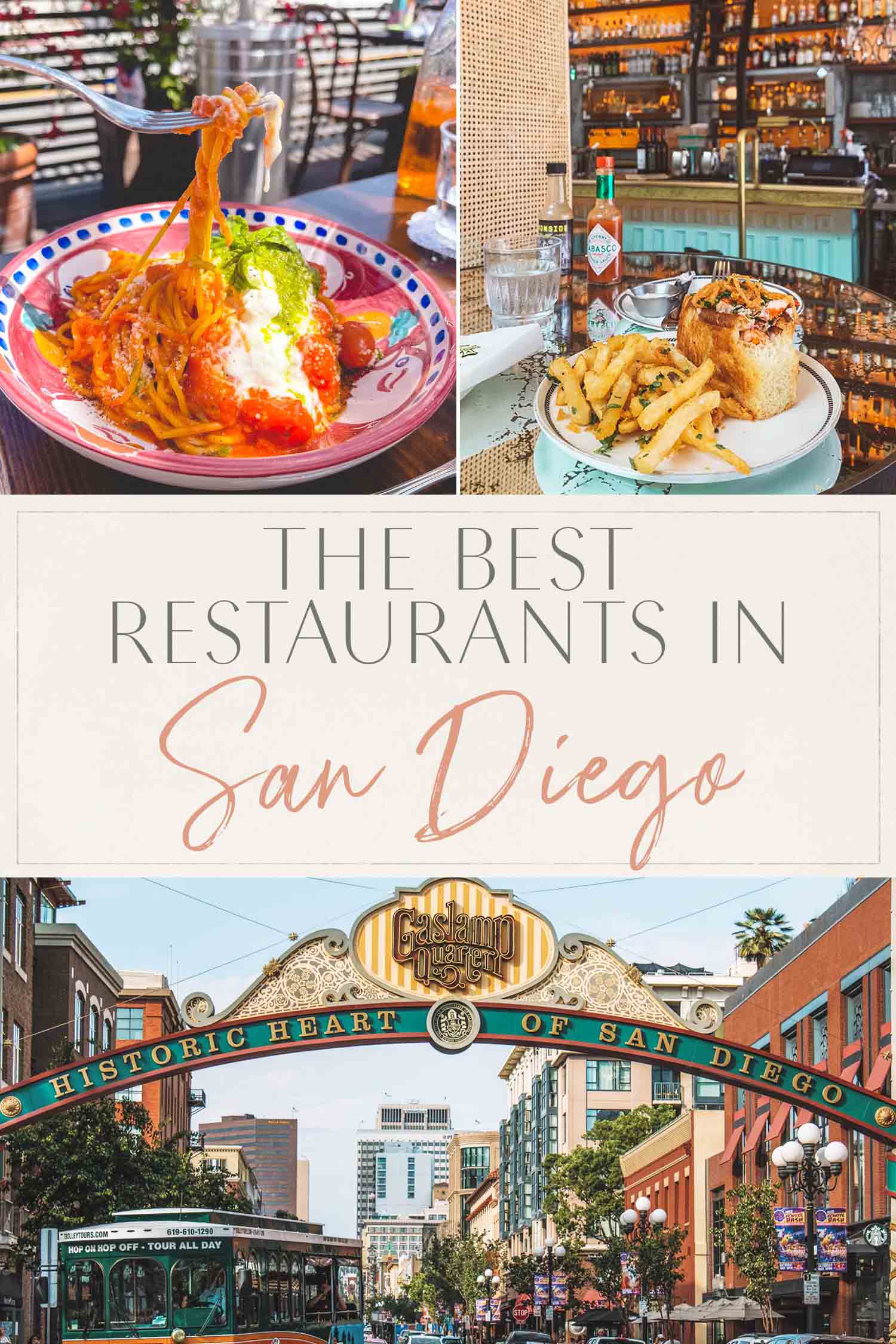 I'm on a mission very near and dear to my heart. From the moment my plane landed, I've been on a tireless quest to find the best restaurants in San Diego.
Now that I'm based in San Diego, I've worked my way through countless bottomless brunches, Taco Tuesdays, and jambalaya jamborees — it's a tough job but somebody's gotta do it!
San Diego is brimming with an ever-changing array of foodie hotspots. There are flavors from every corner of the globe and more five-star eateries than you can experience in a lifetime.
Disclaimer: I tried to avoid ultra-touristy places in favor of more local picks in this round-up.
While some incredibly popular spots do live up to the hype, you can easily find their names anywhere. This list is all about the spots that you might not hear about unless you're a local.
Categorized by neighborhood, here are the places that I am still dreaming about long after setting down the fork. These are the best restaurants in San Diego. Bon appétit!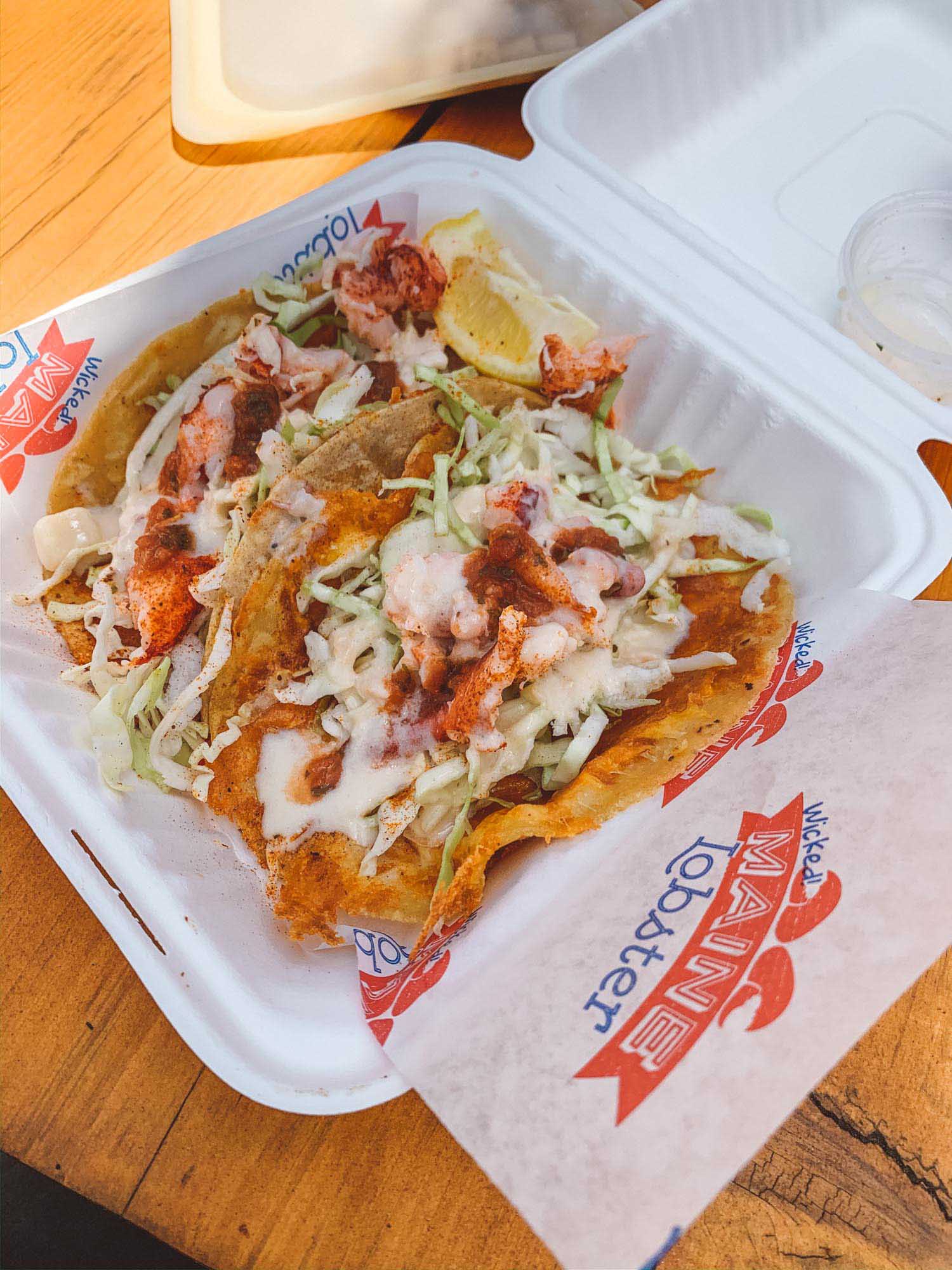 Liberty Station Public Market Maine Lobster Tacos
Point Loma
Liberty Public Market is one of my go-to spots. With just under a dozen restaurants, it is always a crowd-pleaser where everyone can find something they like.
Just across the street from the market, Stone Brewing World Bistro & Gardens is a hip gastropub that serves up local craft brews and a range of international eats.
For a drink earlier in the day, Moniker Coffee is an artisanal coffee must-try.
Helpful Tip:
Thanks to expansive outdoor seating options around Liberty Station, this is a perfect place to linger over a meal or drink. It's easy to wander until you find a place with a cozy patio seat then dig in.
This Mexican eatery is loved as much for its vista as the food. With sweeping views of Downtown San Diego from Point Loma, the view here is unbeatable.
Coasterra / 880 Harbor Island Dr
This Polynesian spot is known for the two mai tai limit and dreamy vantage point of the bay. While the food is so-so at this old-school eatery, the kitsch vibe has an undeniable draw.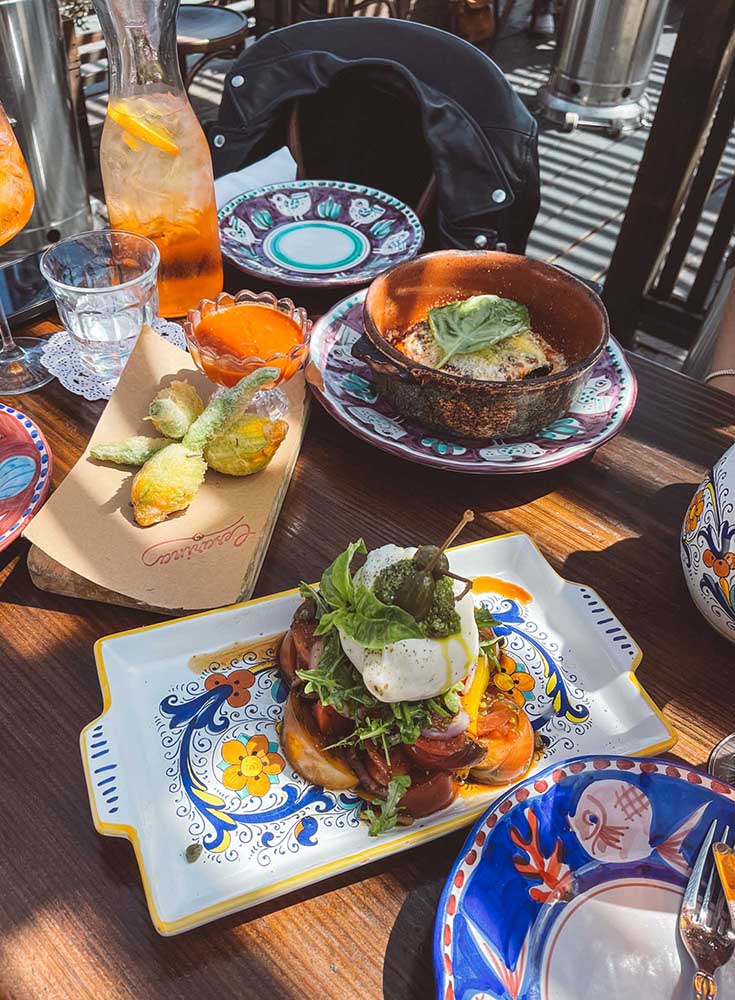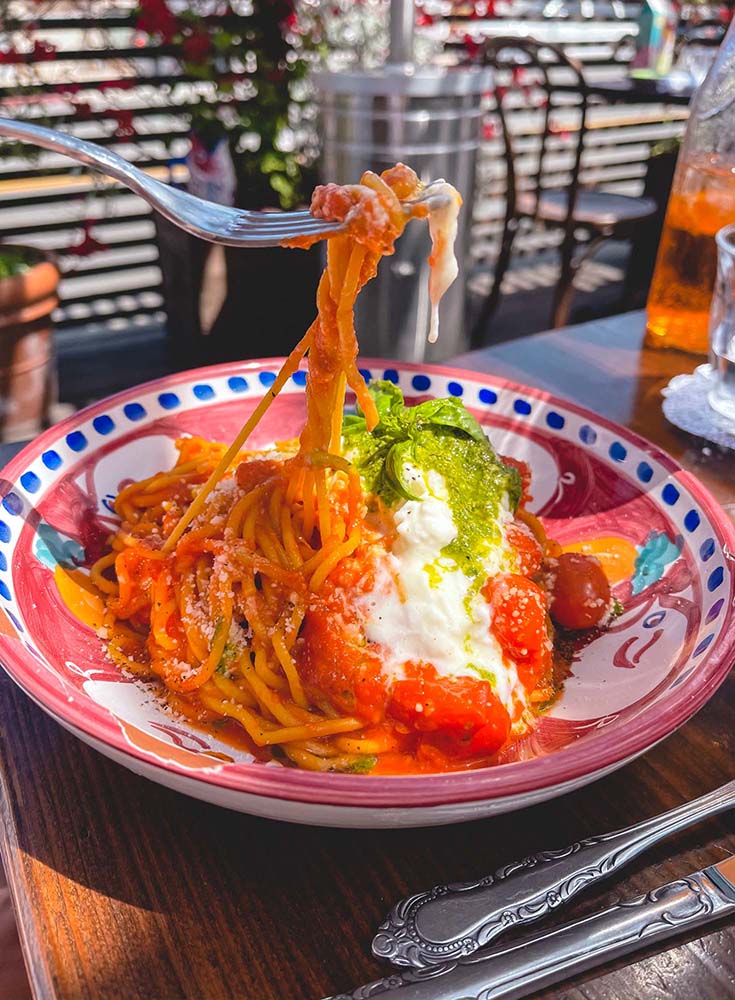 Whether you are after a bottom brunch or a special dinner out, this much-loved Italian spot is serving up the goods. With delicious vegan options along with traditional faves (and oh, that tiramisu!), this place is a surefire hit.
For ultra-fresh seafood by the bay, look no further than this neighborhood favorite.
Mitch's Seafood / 1403 Scott St
Just a bit outside of Liberty Station in Ocean Beach, this is the place to go for sunset.
There is ample seating and you are right on the beach for a prime viewing point of the sunsetting. This bar and grill have some decent food options or you can just grab a drink.
Wonderland / 5083 Santa Monica Ave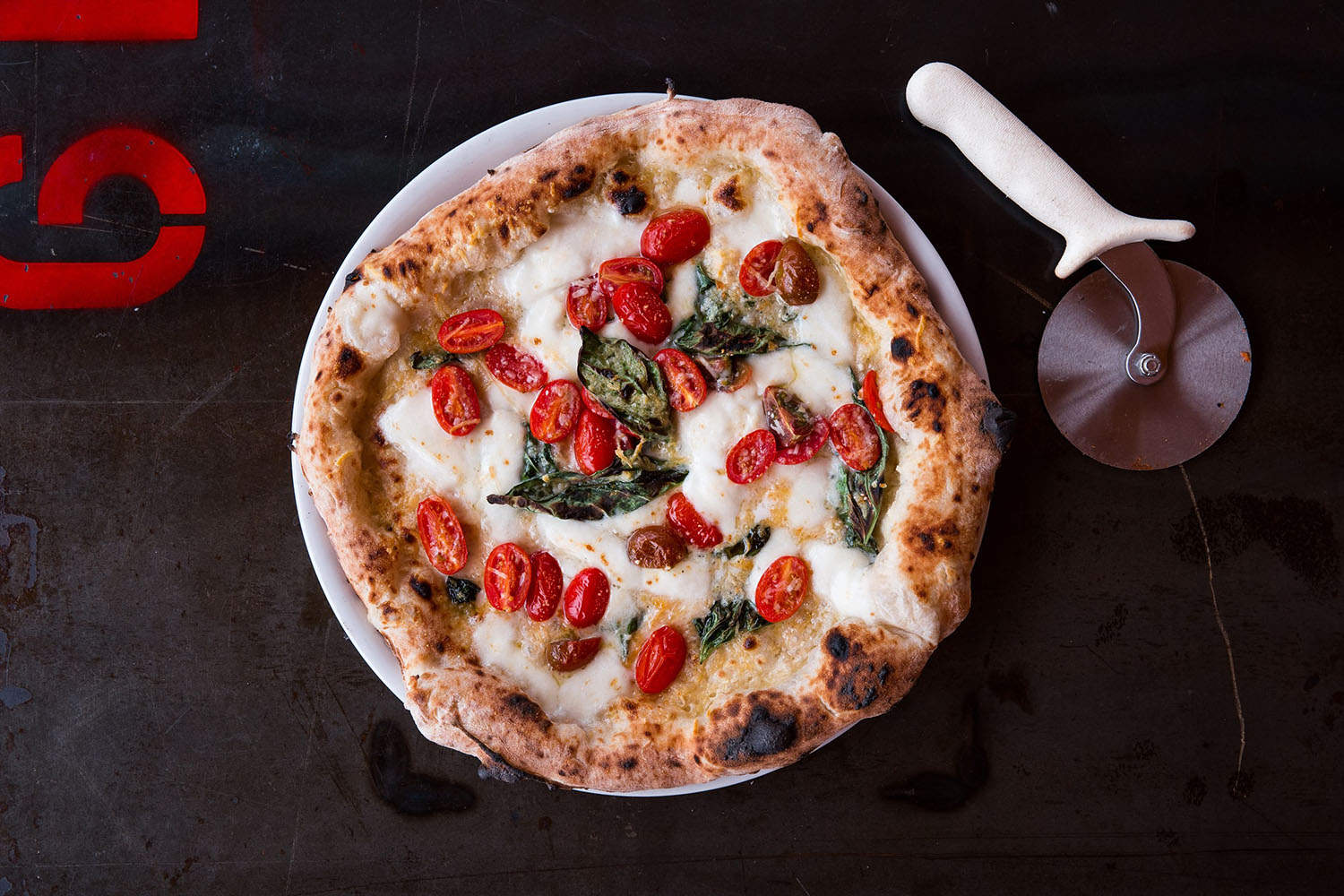 Buona Forchetta
image courtesy of Buona Forchetta
North Park/Normal Heights/South Park
In North Park, this wood-fired pizza place has top-notch focaccia bread, vegan options, unique options like chile relleno pizza, along with your old faves.
Tribute Pizza / 3077 North Park Way
This vegetarian restaurant in the heart of University Heights has a range of Thai-inspired veg dishes. They are now fully vegan at dinner time and have a great range of Asian beers to check out.
Plumeria Thai / 4661 Park Blvd
Get a taste of Italy in South Park!
With wood-fired pies, freshly made pasta, and an impressive wine list, this place is the real deal. Better yet, they have special dietary picks like ultra-delicious gluten-free bread that you won't find in more traditional spots.
Buona Forchetta / 3001 Beech St
More than just a cute name, this South Park eatery is said to have the best Indian food in town. With a great atmosphere and deals like Naanstop Monday, it's well worth coming in to have your day.

 Mission Beach/Pacific Beach/La Jolla
This upscale Mexican restaurant in Pacific Beach has rooftop seating and an impressive menu of Mexican coastal cuisine. Come for happy hour, stay for an enchanting evening on the patio.
A taste of Spain in Pacific Beach, you'll find flavors from the Basque Country and Catalonia along with unique tapa inspiration from Castile and Extremadura.
Pull up a seat on the patio, sip sangria, and transport yourself across the Atlantic.
This seafood market in La Jolla has been serving up the day's freshest catch since 1974. Sample the best of the Pacific in a sandwich, taco, or salad.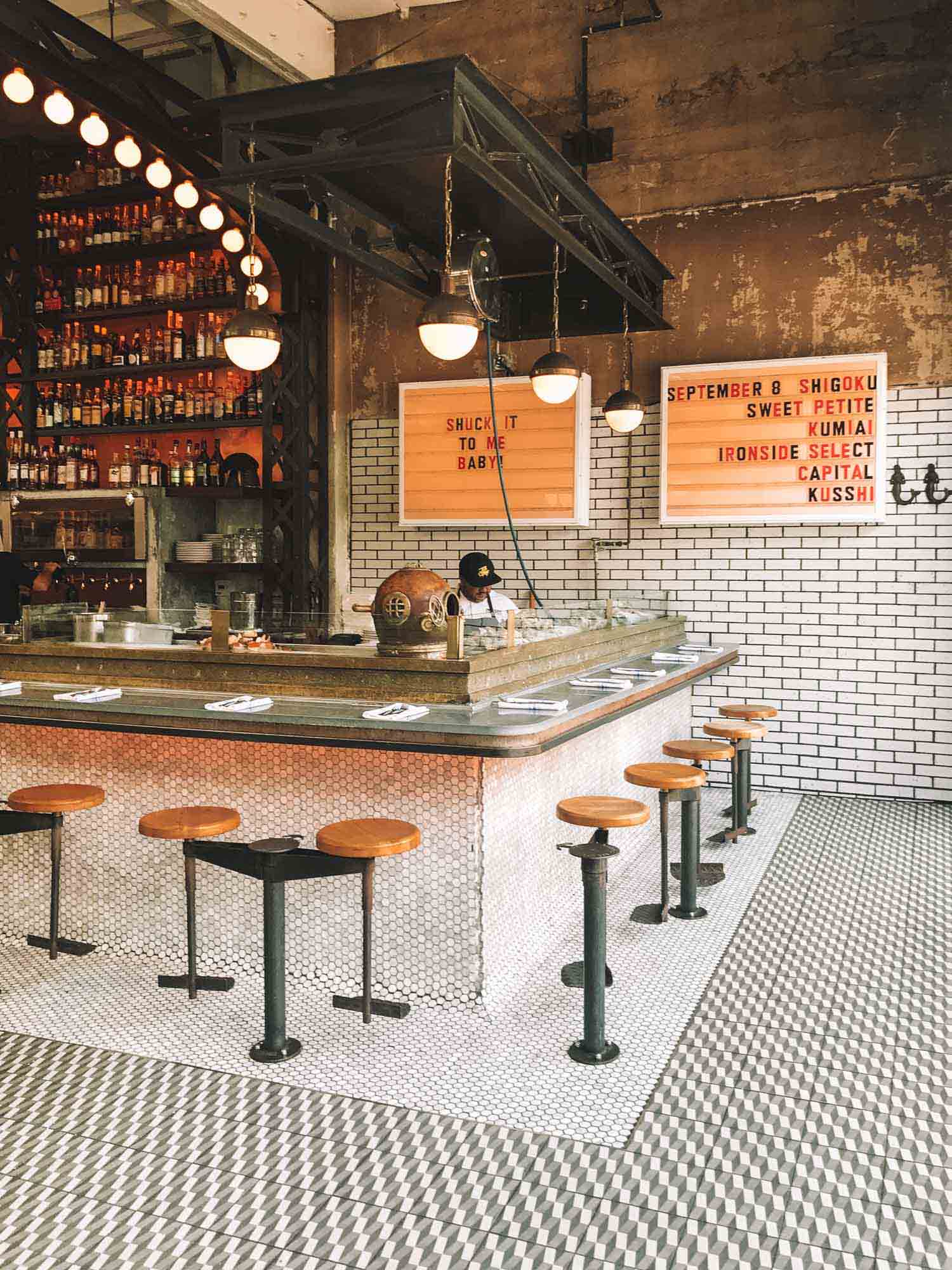 Downtown/Little Italy/South Park
Downtown and Little Italy are filled to the brim with some of the best restaurants in California. There is a thriving restaurant scene throughout the area and there are countless big-name spots on every street.
Little Italy is one of my favorite places to eat.
There is a great atmosphere and you can walk through the door of virtually any restaurant there and have a five-star meal. It's hard to go wrong here!
Carnivores are going to love this swanky steakhouse with a rooftop patio and craft cocktails.
Born and Raised / 1909 India St
For the vegans, sample the seasonal fare and fresh kombucha while you lounge amongst the on-site herb gardens surrounding the cozy patio.
This fine-dining hotspot is the prime destination for special dinners out. With hand-selected, seasonal ingredients from the city's best chefs, you will be impressed at every turn.
Juniper and Ivy / 2228 Kettner Blvd
Another much-loved steakhouse, this is the place to get for a hearty meal of meat, mushrooms, and whisky.

Bonus: Taco Spots
San Diego is known for having the best Mexican food this side of the border so let's finish with a quick rundown of my favorite local Mexican places:

Whether you're coming for one week or a girls' getaway, there is so much to see and do!