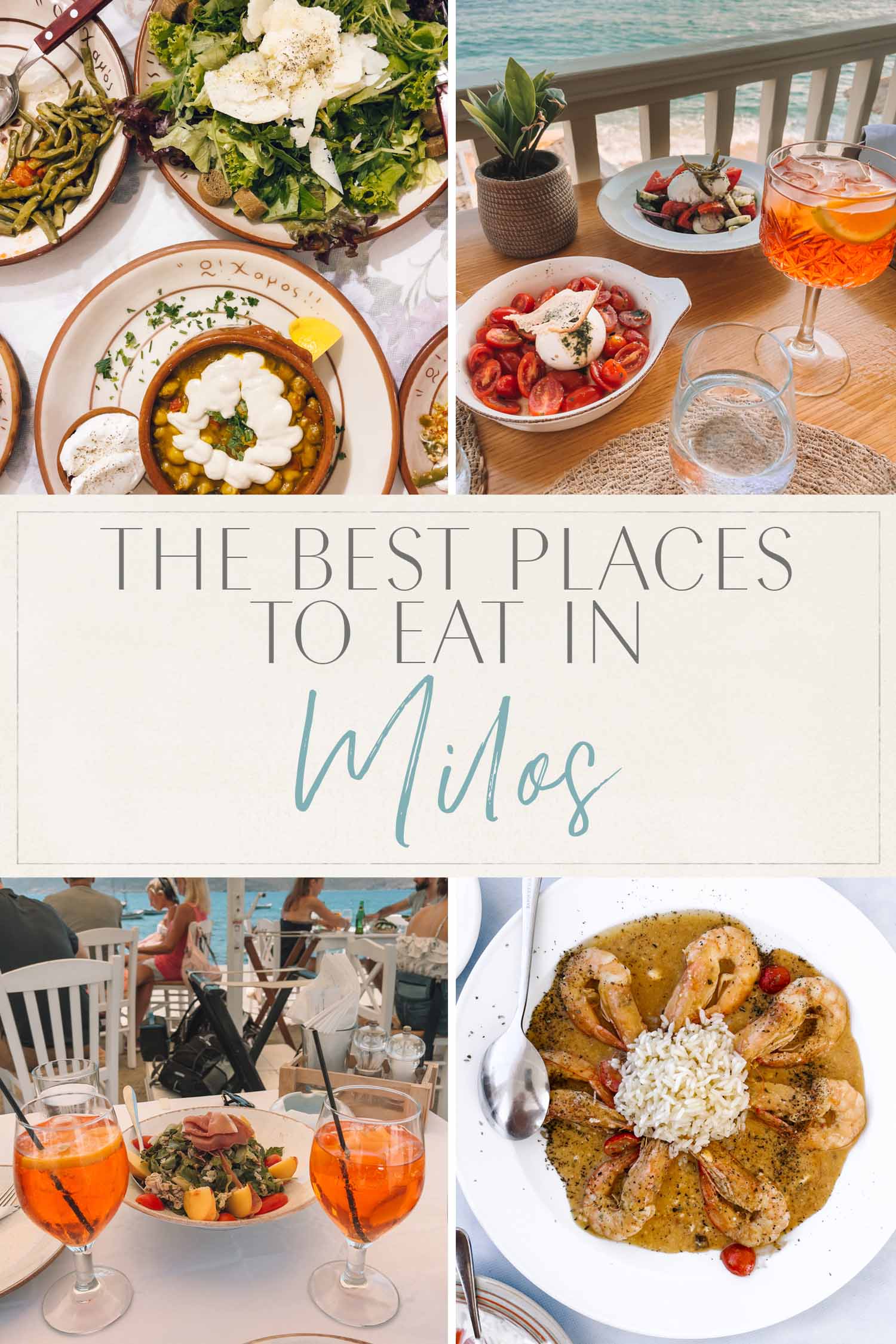 One of the Mediterranean's most underrated gems, Milos (or Melos as it's sometimes written) is a volcanic island in the Aegean Sea. Just north of the Sea of Crete, you'll find this gorgeous island at the southwesternmost end of the Cyclades island.
One of my favorite things when it comes to traveling? Sampling all the local delights! Greece has some of the best food on the planet and you'll want to eat your way from the top to the bottom of Milos.
Here is your guide to the best restaurants and places to eat on Milos!

Planning Tip
As a general note, a lot of places on Milos are first-come-first-serve. That's not to say places won't take reservations — there certainly are ones that you can book well in advance, and if you're able to do so, I would highly recommend doing so.
However, a number of restaurants require you to put your name and wait…even if that means two hours. So make sure to plan accordingly and don't try to get into a restaurant when you're famished.
That said, a majority of places have gorgeous areas to walk around or are located near the beach, so it can be an enjoyable wait. Just make sure to plan ahead — especially during the high season.
Note that a number of these places are seasonal and correspond with tourism, so they may only be open from summer to mid-fall.

Best Restaurants Near Pollonia, Milos
Pollonia is a top spot to eat and, it's a particularly good place to start your day. It's just near the port and many sailing excursions leave from here. On the day of our trip, we had a lovely breakfast stop just before we set sail.
Here are a few spots you'll definitely want to try around Pollonia:
Come for the chocolate and orange pies then stay for the garden!
This cute little patisserie shop opens at 8 am and closes at 2 pm for siesta, then reopens again from 6 to 11 pm. It's a friendly little spot to start your day with a kick of sugar.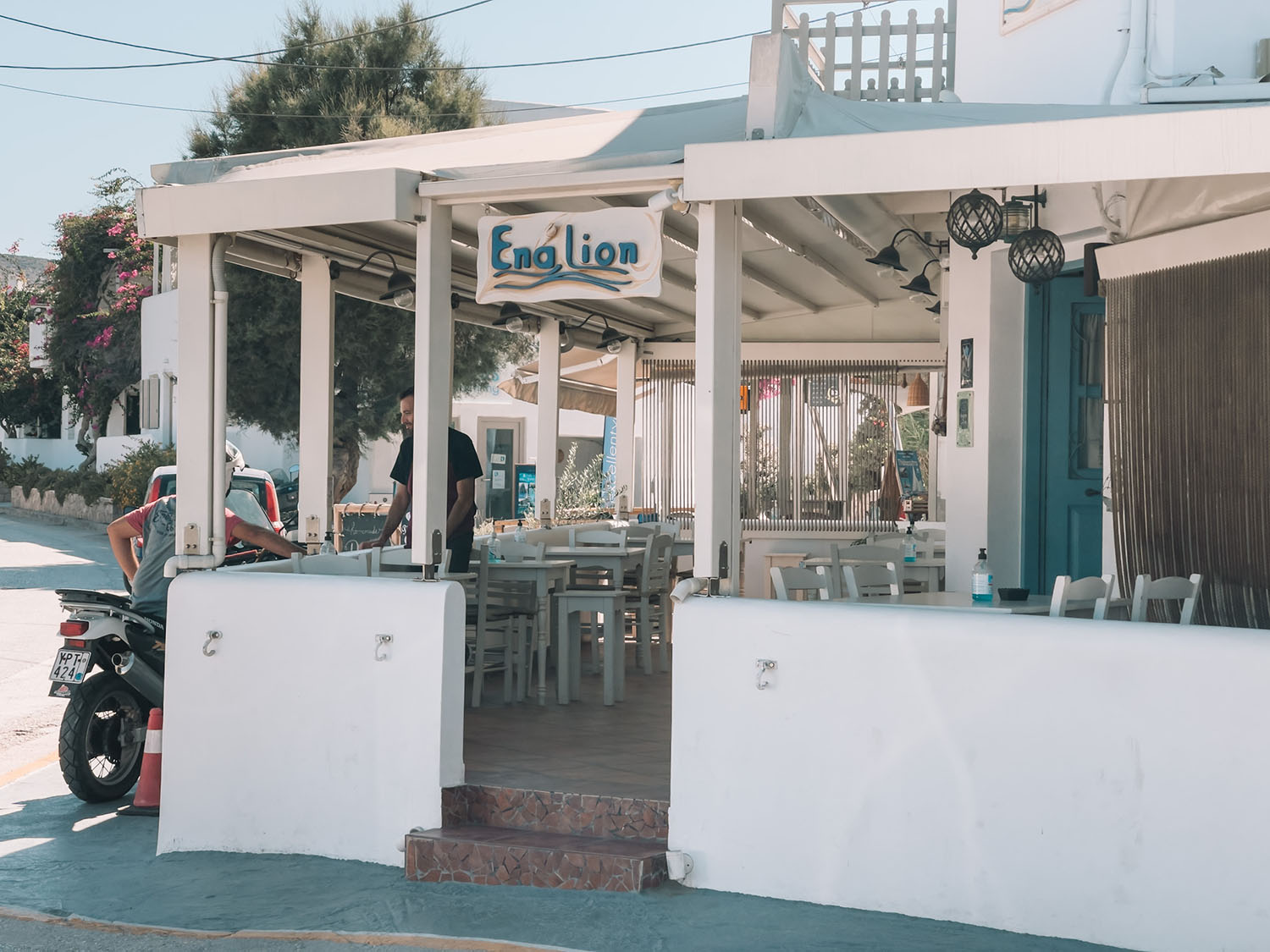 Enalion
One of the best restaurants on the island, this is a good spot for lunch or dinner. If you go for dinner, be sure to book ahead of time. Earlier in the day, you might be able to snag a table. We grabbed one at lunch with no reservation.
Whenever you go, try the seafood! I had the sea urchin dish and that famous shrimp saganaki, and it was easily one of my favorite meals of the trip (which is saying a lot in Greece).
This place has incredible views of the water and their seafood is a dream. Expect some twists where they take local delights and add a unique spin on it. You'll definitely want to call in advance to make a reservation.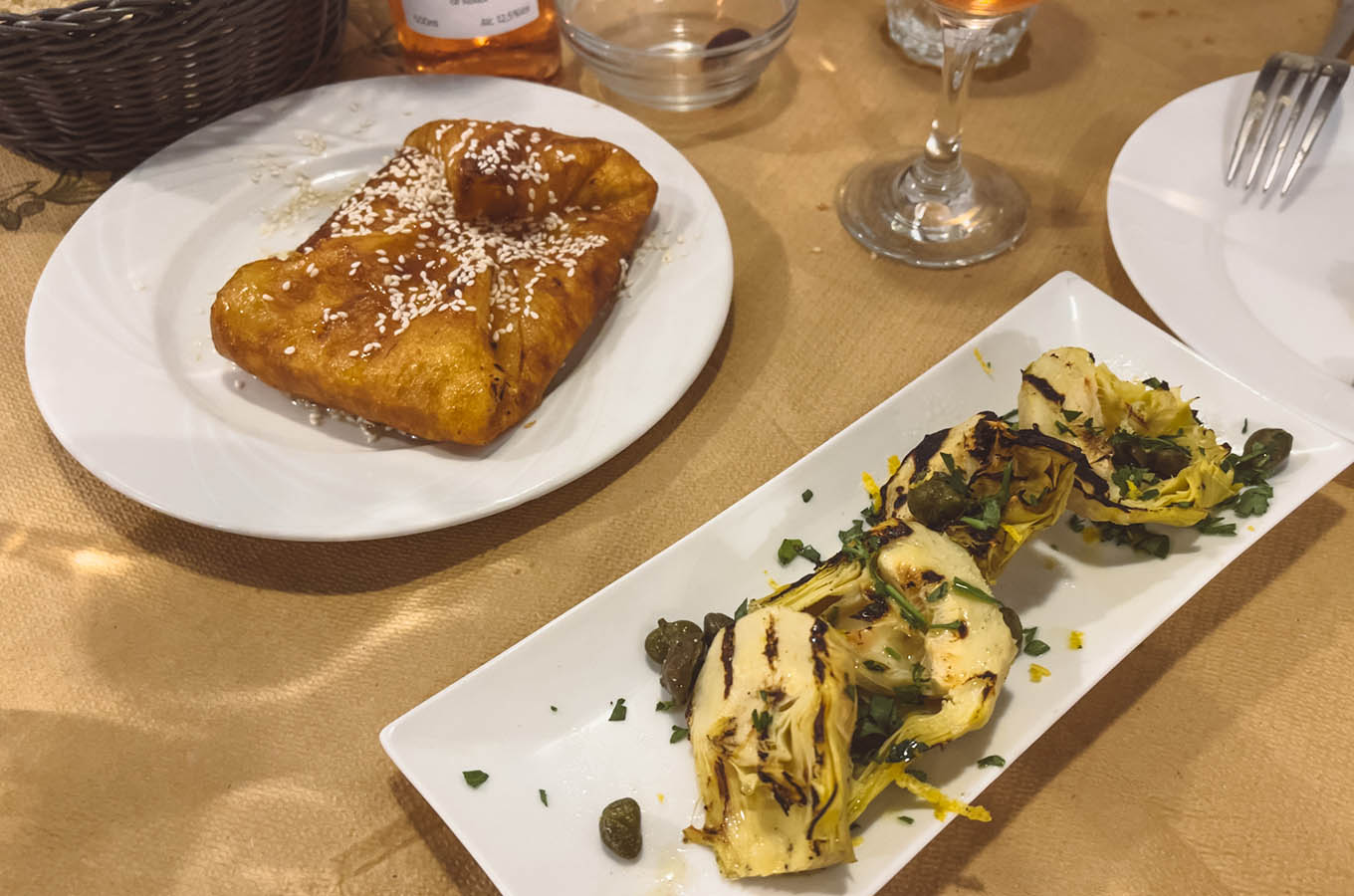 Best Restaurants Near Plaka, Milos
In Plaka, we found quite a few top-notch spots for dinner. Here are a couple of my absolute must-try spots. Make sure to do dinner in Plaka one night (go visit the castle after!)
This was the best meal we had during the entire Greek escapade!
We tried saganaki shrimp, a common appetizer with fried cheese and seafood. You'll see it all over Milos but no one does it like they do here. It's worth coming here just to sample this unforgettable mouth-watering dish.
We also loved the traditional Greek atmosphere. And we weren't alone in adoring this place so before to book ahead of time! If you just find yourself in the area, try to go during an off time or just come ready for a wait.
We walked by and thought this place looked fabulous.
They have live music going on every night of the week and a buzzing atmosphere. We didn't get in for dinner so I can't say firsthand about the food but it certainly seems worth checking out for a drink.
Located on Klima Beach, this is the place to be at sunset.
Even though we went during the peak of the tourism season, we were able to walk in the door with no wait. There were plenty of tables just beside the water that offer a beautiful view of the nearby boathouses and the sunset.
One of the institutions of the island, this is a traditional-style restaurant with grandma's home cooking and friendly staff.
Unlike many Greek eateries, this place had no seafood on the menu.
As a vegetarian, I found it very meat-heavy and the menu was limited. All of the cheeses, lamb, goat, and other meats are produced from their farm, which is quite cool though.
While leafy greens are hard to come by in the Greek islands, we got a big salad along with huge portions of scrumptious green beans, spicy cheese, and a chickpea dish. It was more than we could eat and amazing from start to finish.
There are no reservations here so expect a wait at the door. I would recommend going as early as possible to put your name in.
Once you do that, it's not a bad wait. While we waited around two hours (traveling at the busiest time of year), we were able to go to the beach to sit and get drinks. We were able to watch the sunset, so it was hardly like standing outside the door.
Just be aware that there is a wait pretty much any time of year, so come prepared.
Go here for dessert!
This traditional yogurt ice cream was one of my top dessert spots. While Greece seems to be in love with waffles, you can come for a cool treat here. Ask for the yogurt with sour cherries and thank me later!
This sort of tart froyo with fruit on it was good that I'm still dreaming about it.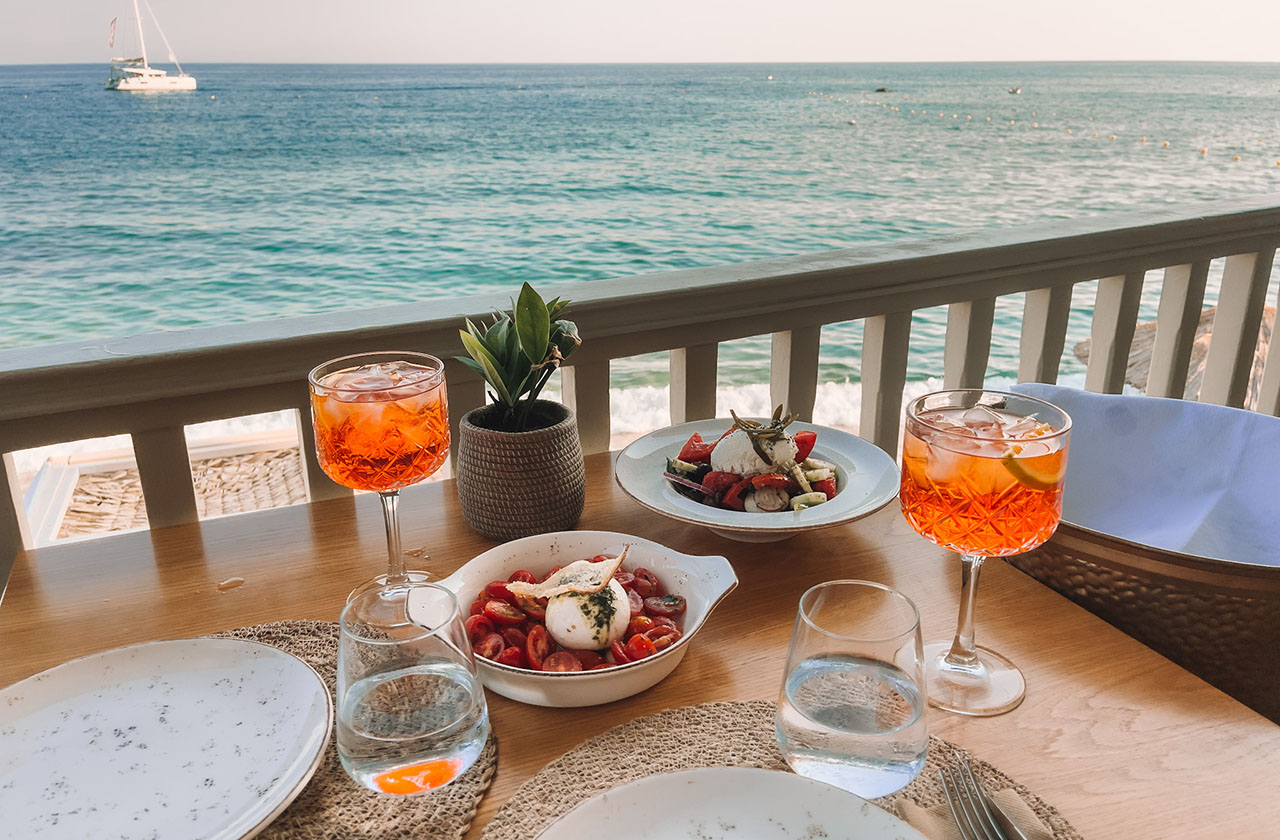 I loved the cool beachy boho aesthetic of this gorgeous little dinner spot.
Best Restaurants Near Paralia Paleochori
This hopping beach hotspot is indeed beside volcanic activity and they utilize that natural thermal heat to cook fish and meat in the volcanic sand.
It's a very cool concept where you order fish by the kilo then they would prep it and bring you across the beach where see can you could see steam escaping. There's a thermostat to check the temp then it's time to start cooking!
To prepare your meal, they dig a hole on the beach and then bury your fish.
Once it starts cooking, you wait for about 45 minutes to an hour for it to be piping hot.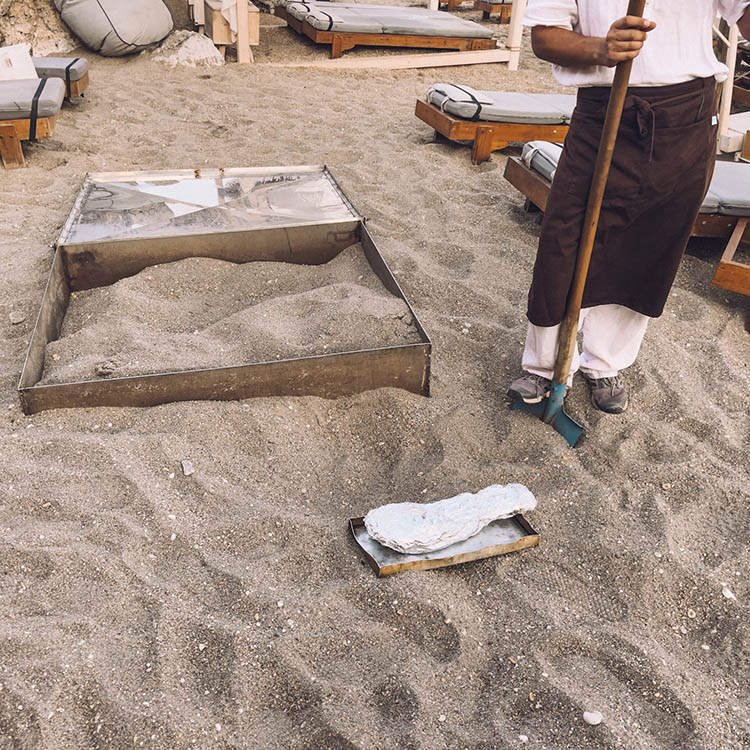 In the meantime, we sipped on Aperol spritz and lounged on the beach. We arrived 30 minutes before sunset so we had a prime view and enjoyed lingering over the long dinner.
We ordered a burrata starter and a Greek salad with watermelon. One of the highlights was a bottle of local Greek Sirocco rose that we tried.
It was a unique pink color that was unlike anything I'd seen before.
While Sirocco is a bit touristy and on the pricey side (the fish was around 60 euros per kilo), it was a great experience.
It's also one of the only places in Milos that allows you to book a table online without emailing or calling, which is handy. Just be to book as early as you can at this popular spot!
Near Sirocco, you can find the Psaravolada Resort with its famous in-house restaurant. It got an amazing island view and top-notch eats. I didn't personally get a chance to go, but it looked lovely!

Wondering what to order? Here are ten locals foods you've got to try in Greece.