Every time I share a photo from Idaho, I get the same "that's Idaho?!" comments.
That's what I love so much about this state – it's full of hidden gems that are unexpected, and often so impressive you've got to see and experience them firsthand.
That goes double for Southern Idaho, where you can easily pass by a beautiful canyon or crystal clear swimming hole without having any idea it's there. I aimed to see as many as I could during my last visit. These are the best things to do in and around Twin Falls, Idaho:
1. See Perrine Coulee Falls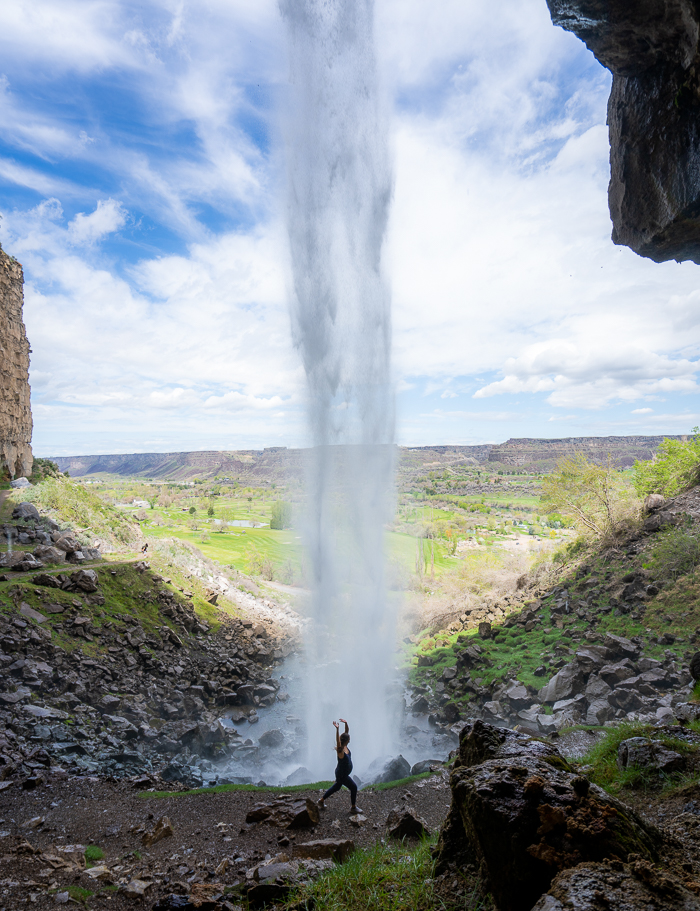 I'm starting strong with my favorite waterfall of the trip right in Twin Falls. Perrine Coulee was reminiscent of Iceland's Seljalandsfoss — also a waterfall you can walk behind — but this one I could easily get all to myself!
This waterfall is accessible from a short hike up near Centennial Waterfront Park, or you can pop down from a roadside pull-off on the hairpin turn on Canyon Springs road. It requires minimal rock scrambling. You'll see a few parallel parking spots on the right side of the road.
I've also seen photos of it in the winter with icicles along the canyon walls, and it looks magical.
2. Watch Base Jumpers at the Overlook at the Twin Falls Visitor Center
One of few bridges where base jumpers can jump year-round, the Perrine Bridge overlook is a great spot to admire both the bridge and the jumpers from above.
If you dare, you can sign up to do a tandem jump. Though I have not personally done it Tandem Base gets rave reviews.
3. See Shoshone Falls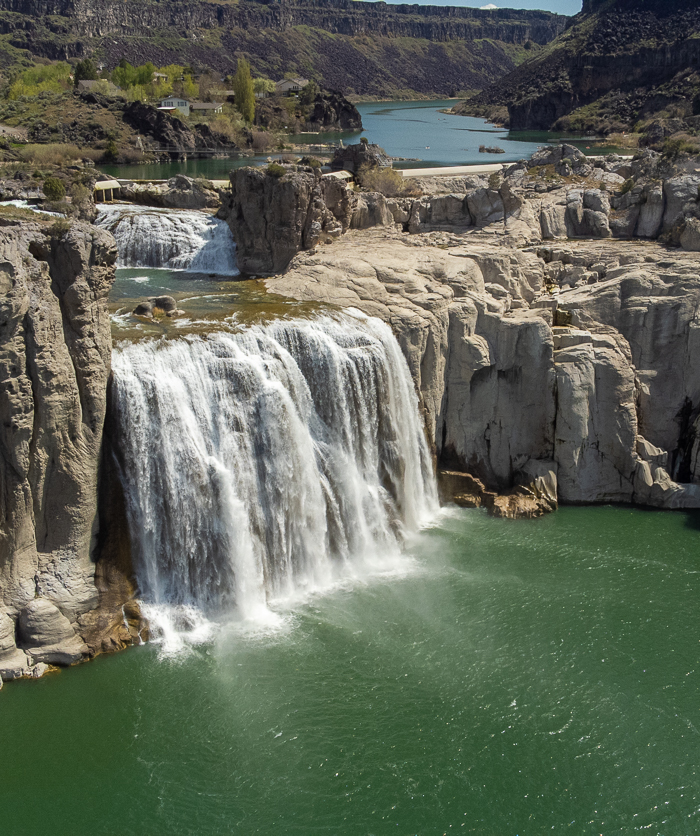 Arguably the most famous falls in Twin Falls, Shoshone Falls is 212 feet high — 45 feet higher than Niagara — and flows at nearly one thousand feet in width when pumping at her full glory. How much water you'll see when you visit depends on snowfall, irrigation needs, and hydroelectric demands.
I was also lucky to witness Shoshone Falls After Dark, a light show displayed on the falls typically in the Spring. Check out this year's dates here.
4. Hike the Mogensen Trail
For an easy, 2-mile hike into the canyon and under the Perrine Bridge, park just up from the Centennial Waterfront Park and hike the Mogensen Trail. It's an easy trail that takes you past a few waterfalls and gives you a chance to see the base jumpers closer up, if they happen to be jumping that day.
5. Hike or Kayak in Centennial Waterfront Park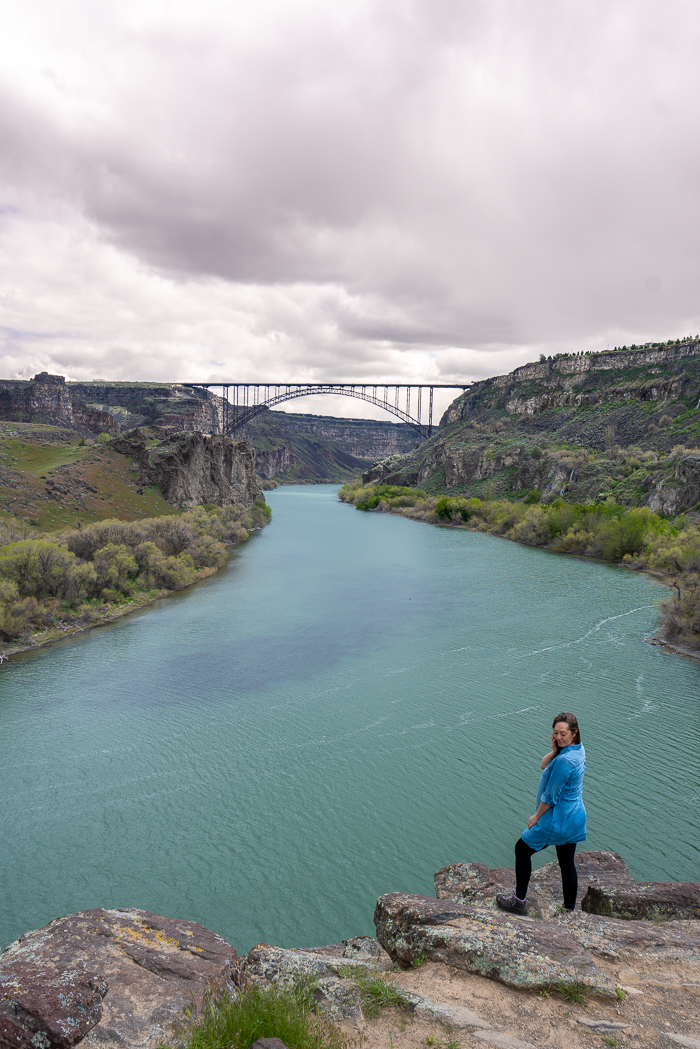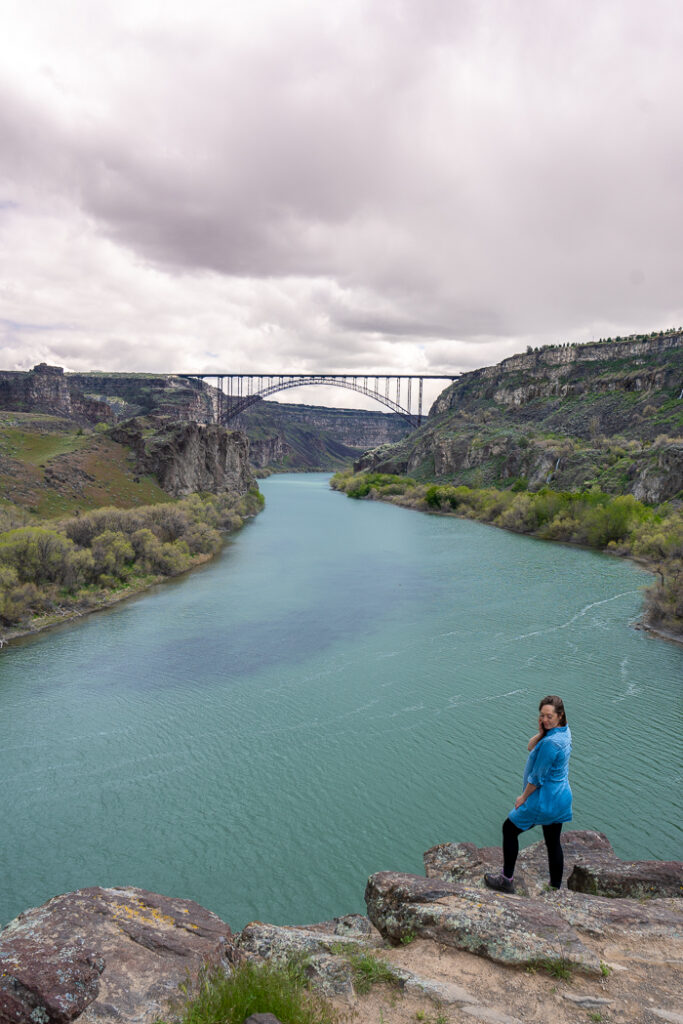 How many cities have a beautiful canyon running through them with multiple waterfalls and a beautiful river? I can't think of many! The Centennial Waterfront Park gives you a chance to admire the beautiful scene, whether you choose to explore on foot, launch a kayak, or watch the sunrise or sunset from one of the many vantage points.
6. Hike or Bike the Auger Falls Loop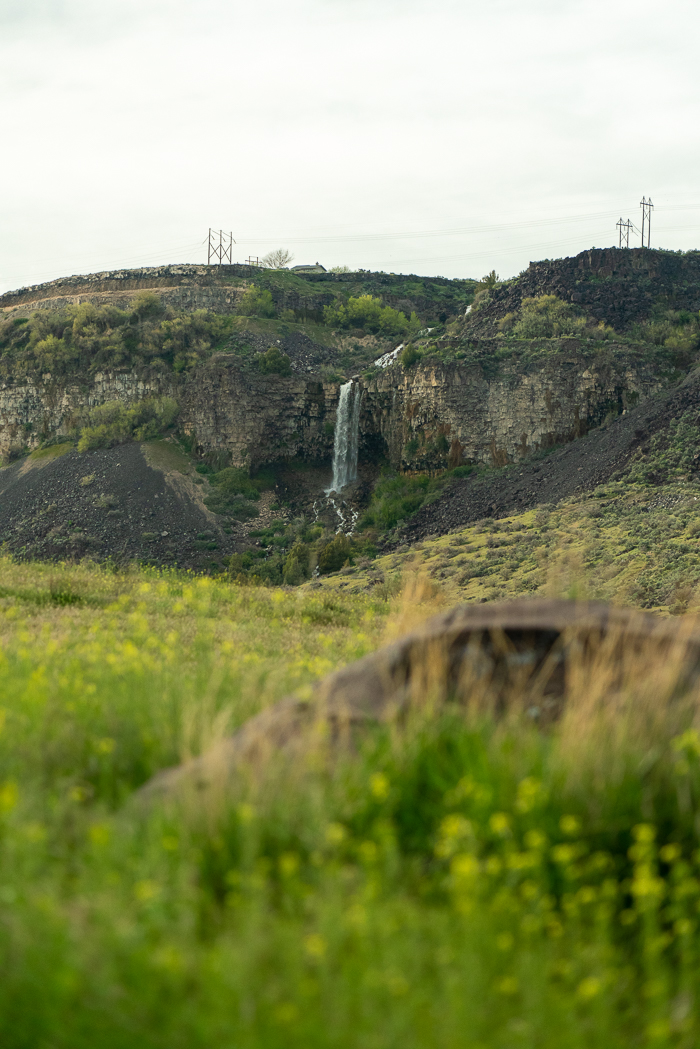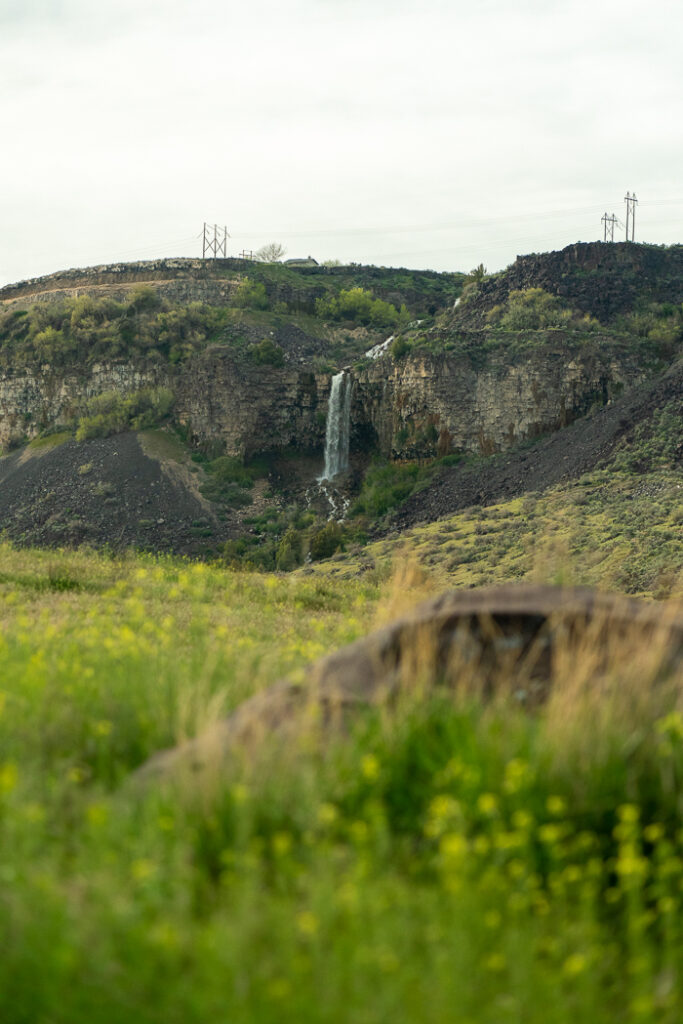 This 4-mile loop takes you close to the snake River, seeing several waterfalls along the way. You'll be seeing them mostly from a distance as you walk along this fairly easy trail. When I visited in May, there were little wild flowers in bloom! This trail is also popular with bikers, but I didn't find it to be very crowded and therefore not an issue to share.
7. Eat at Elevation 486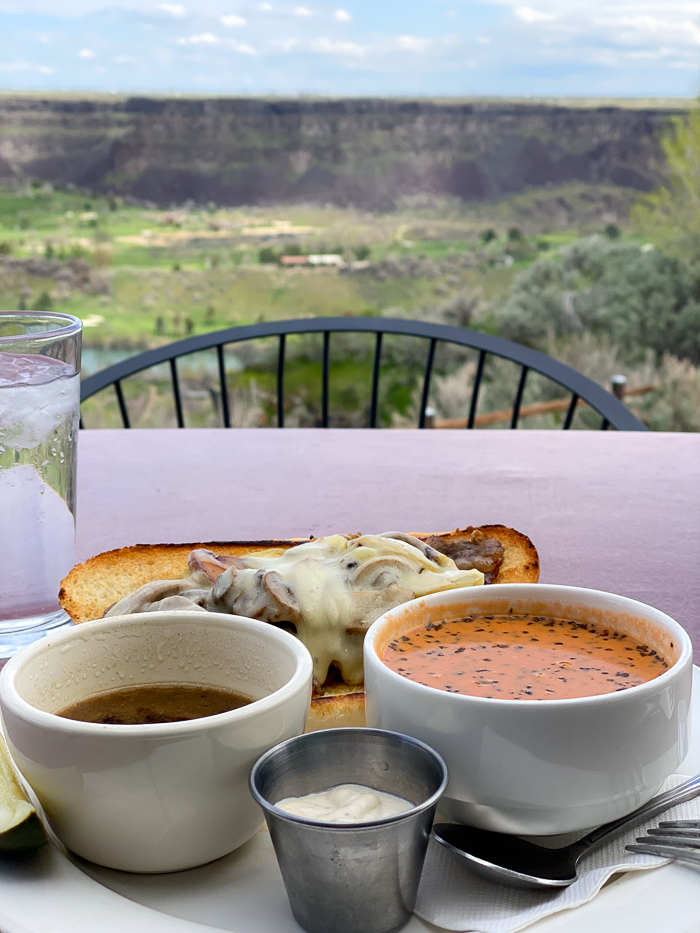 This perfect lunch spot offers a spectacular view from their patio. If it's a cooler day, they have big windows from the indoor portion of the restaurant for great views, too. They mostly have sandwiches, salads, and soups. I enjoyed the French dip, pictured above!
8. Stay at the Fillmore Inn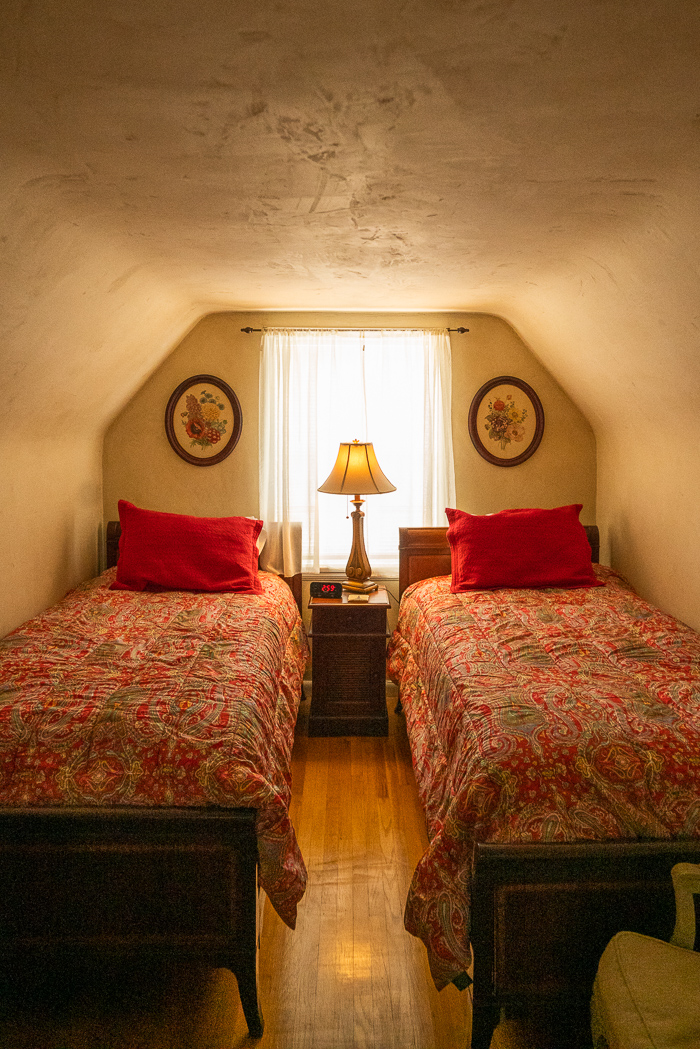 This adorable inn has one of the best accommodation ratings in the whole city of Twin Falls, and when you stay there, it's easy to see why! It's so charming, with each room offering its own personality. You've got everything from a twin room to an entire suite complete with big jetted bathtub. My favorite part was chatting over breakfast with the lovely owner, Denise. The home-cooked breakfast is delicious, but her hospitality is what really makes this an amazing stay. Plus, it's centrally located and walkable to downtown! Book it here.
9. Hike at Box Canyon State Park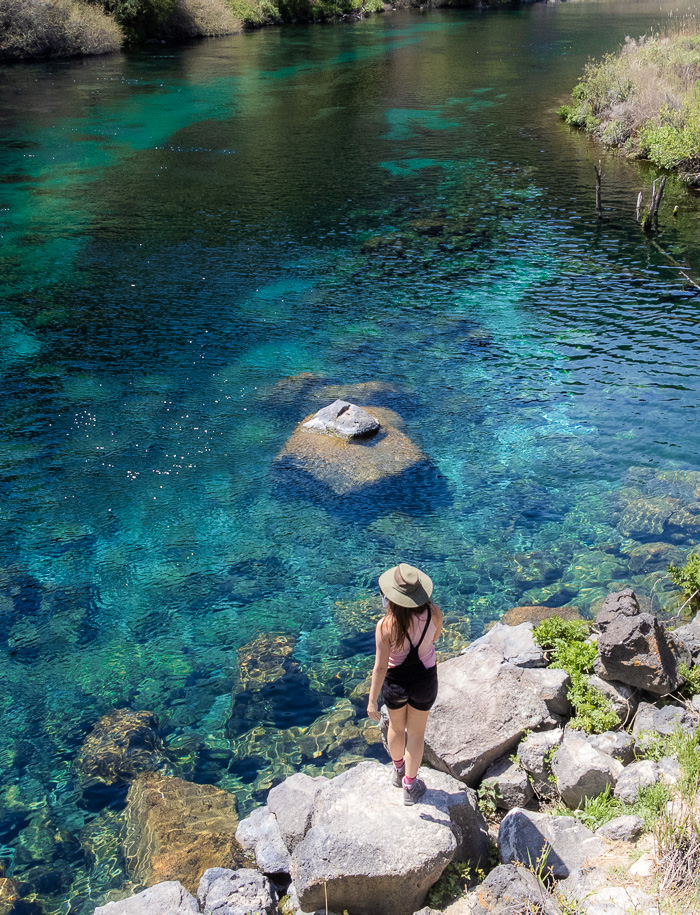 Moving a bit outside of Twin Falls, the Box Canyon State Park is my favorite stop on this trip! Just look at this incredibly clear water! It reminded me ever so slightly of my local lake, Lake Tahoe. Though you can just enjoy the views from above, I highly recommend hiking down into the canyon to see the water close up.
You'll also pass at waterfall, and if it's a hot day, there's a little beachy area perfect for a swim! The hike is about 3 1/2 miles with a steep part at the beginning when you climb down, but you can avoid that by hiking to the end of the canyon and rounding the corner in. This can be done as a loop, but I did it as an out-and-back so that I could pass the waterfall twice. Read my full Box Canyon guide here.
10. Relax in Miracle and Banbury Hot Springs
One of my favorite things about Idaho is the abundance of hot springs. All throughout the state you've got both primitive and developed springs and as a hot spring enthusiast, I've got to say this state has some of the most beautiful. You can book private pools or use the large, geothermal pool, and massages and accommodation are available as well.
11. Eat at Bullzz-Eye BBQ in Hagerman, Idaho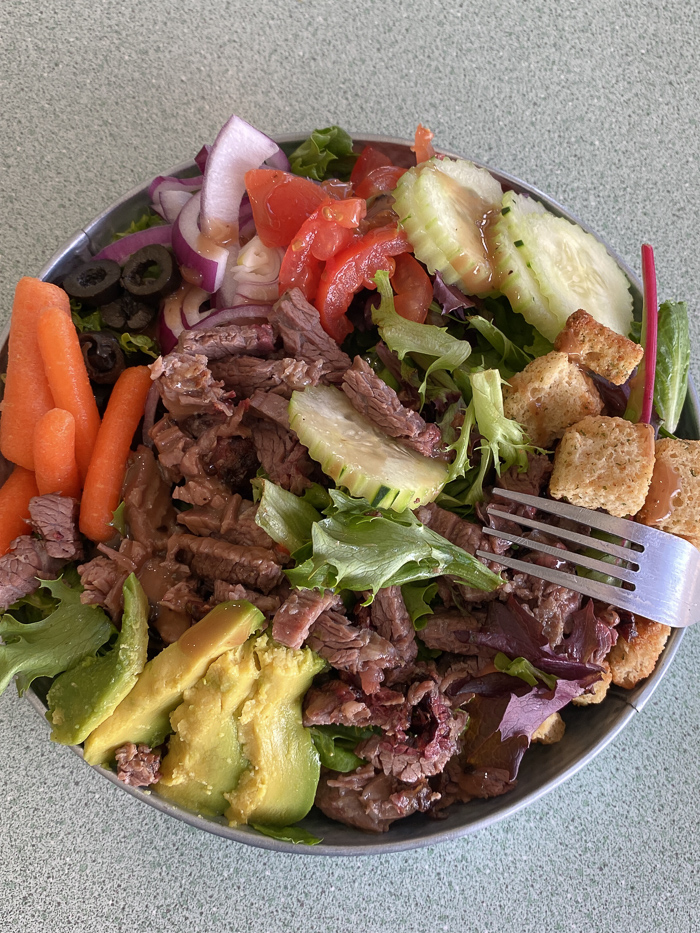 While you're in the area, if you work up an appetite, be sure to stop in at Bullzz-Eye BBQ for some of the best noms in the area. Although all the smoked ribs and chicken looked amazing, I got the brisket salad as I was aching for some veggies, and I got the best of both worlds! The whole place smelled amazing, and I'm betting everything on the menu is delicious. They also have pie and lemon bars on offer.
12. See Lemmon Falls in Thousand Springs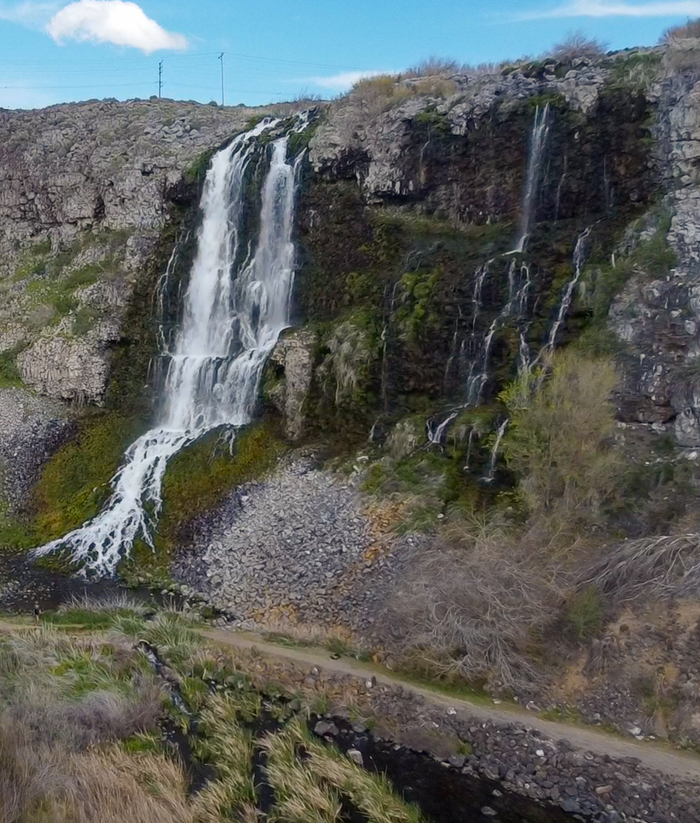 Tired of waterfalls yet? Me neither! Lemmon Falls in the Thousand Springs area, just across from Ritter Island, is worth the pit stop. This is an easy, quick walk of no more than a minute or two from the parking area to a dazzling waterfall, with the lovely Snake River behind you.
13. Eat Ice Cream at CloverLeaf Creamery in Buhl, Idaho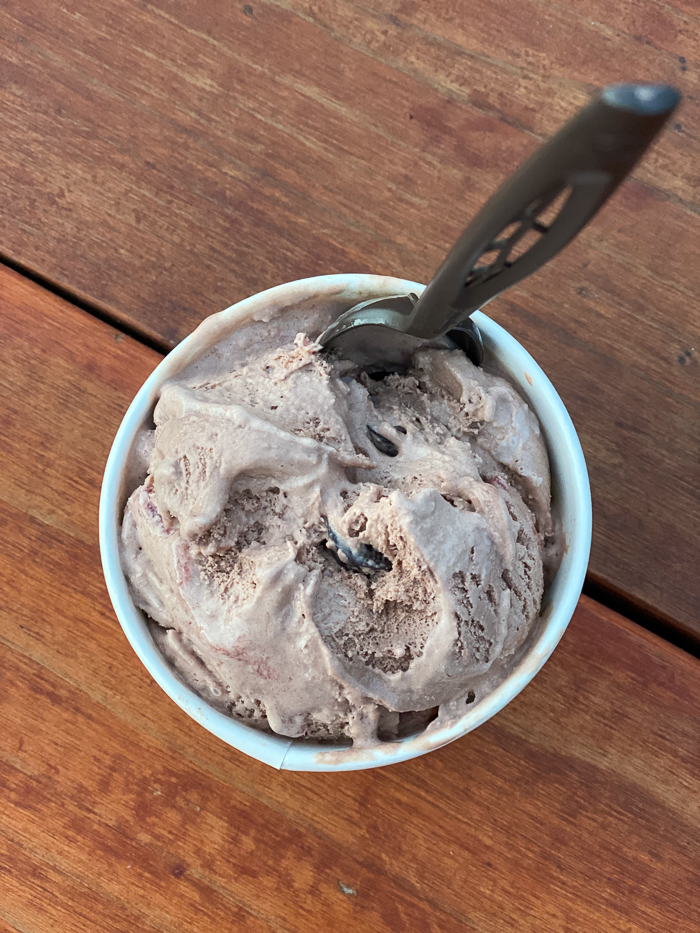 The best thing about being an adult is being able to eat ice cream whenever you want, am I right? The ice cream from CloverLeaf is the kind worth eating before you've finished your vegetables! It's made using dairy products from the local producers you've no-doubt been seeing along the trip so far. Pictured above is the raspberry chocolate truffle ice cream and believe it or not, that is a single scoop! I told myself I would only eat half of it but 10 minutes later I had eaten it all – it was that good! If you won't be passing by Buhl, you can also get some CloverLeaf at 2nd South Market in Twin Falls.
14. See the Balanced Rock and Relax in the Park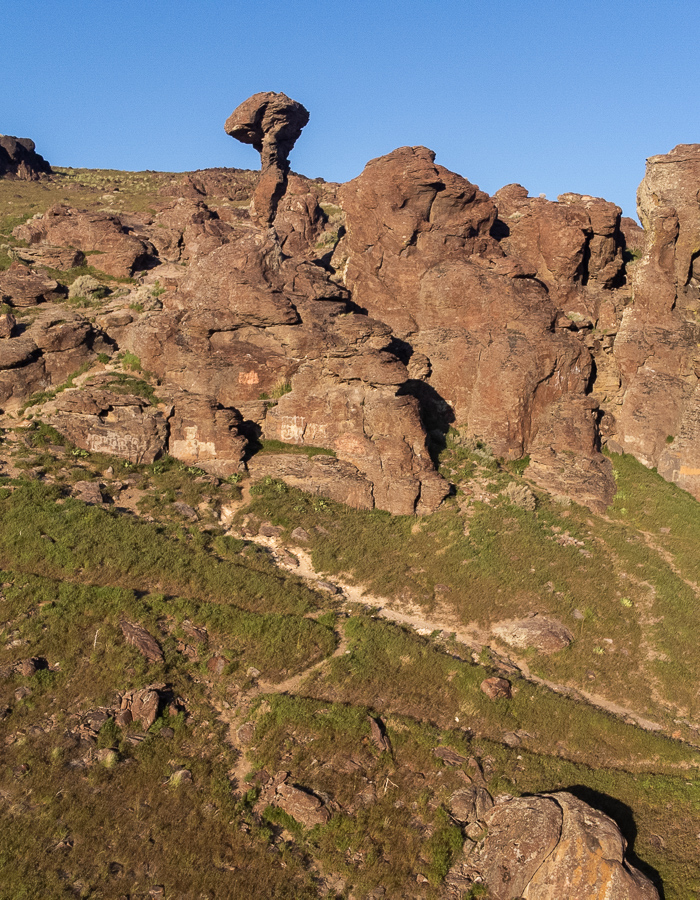 Near Hagerman, the balanced rock is a sight to behold. The rock is 48 feet wide at the top, and fewer than 4 feet around at the base! You can easily see it from the road and park right in front of it, with short hiking trails taking you to the top.
Be sure to continue down the road just a minute or two and you'll see the turn off for the park to the right. It's tranquil, well shaded, and the perfect summer oasis away from it all. Entry to all of this is free.
15. Hike, Camp, or Climb in the City of Rocks National Reserve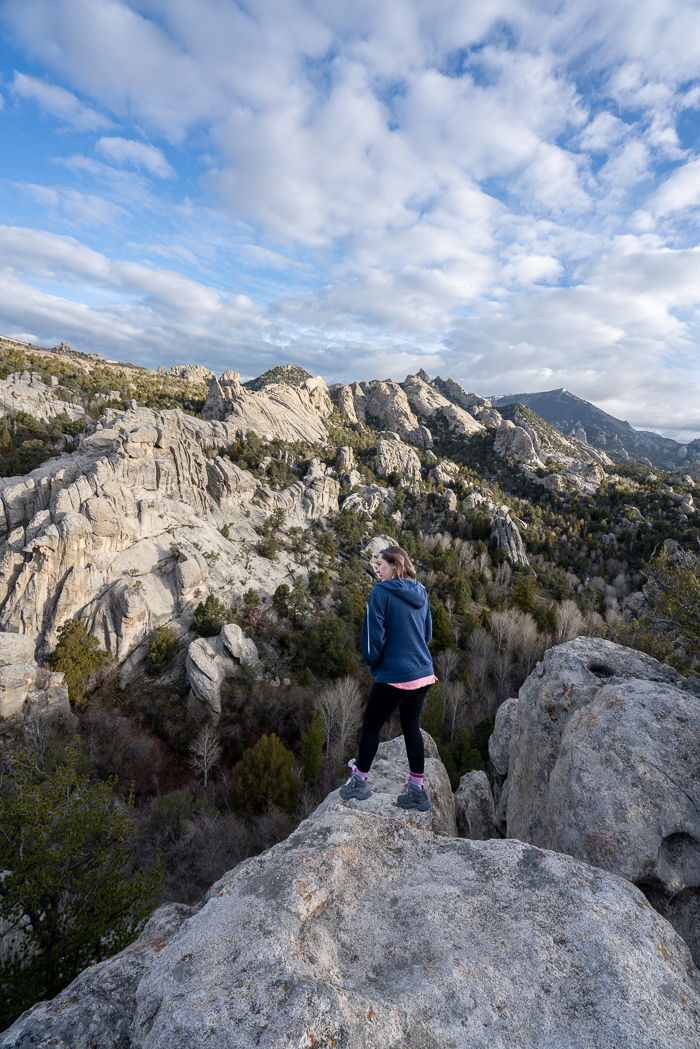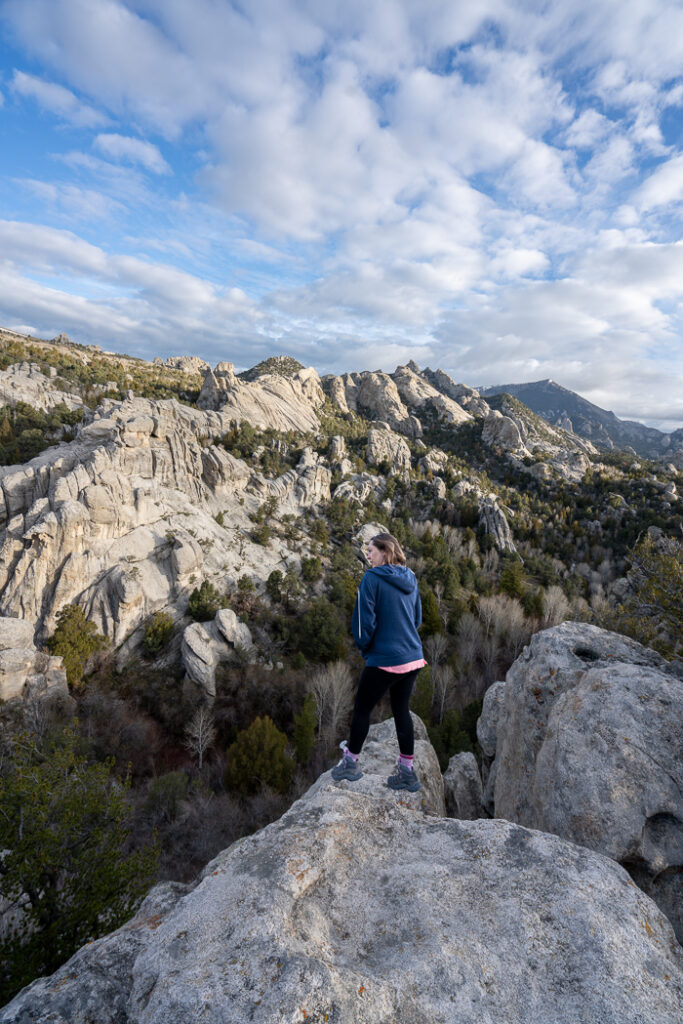 Now moving more south, the City of Rocks is a hidden gem truly in the middle of nowhere, closer to the Utah border. It's characterized by the mass of granite rocks that seem to rise out of nowhere. Depending on how far you get into it, you feel as though you're in a city of towering rocks, which is how the area earned its name from emigrants along the California Trail. This area is popular with climbers, but it's also great for hiking, camping, and especially stargazing. Book your campsite here.
16. Visit the Historic Wilson Theater in Rupert, Idaho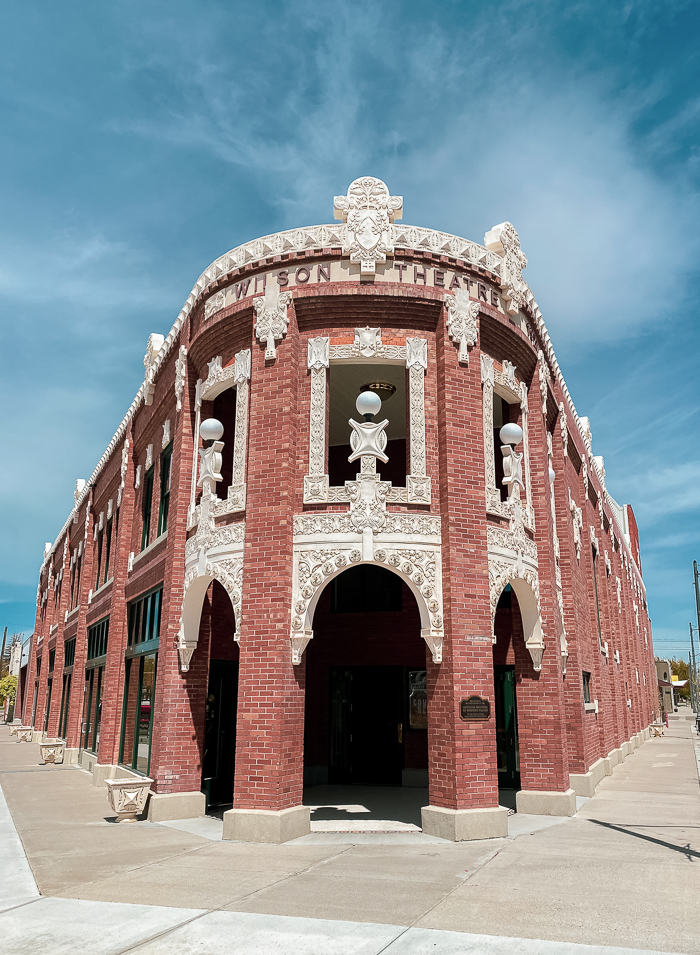 While you're in the vicinity of City of Rocks, check out Rupert's historic square for a blast to the past. There are interpretive signs all around town talking about the history of how the town came to be, as well as buildings from the 1920s like the historic Wilson Theater. If you're hungry, Sofie's Chatterbox has a generously-sized breakfast burrito.
17. Eat at Morey's Steakhouse in Burley, Idaho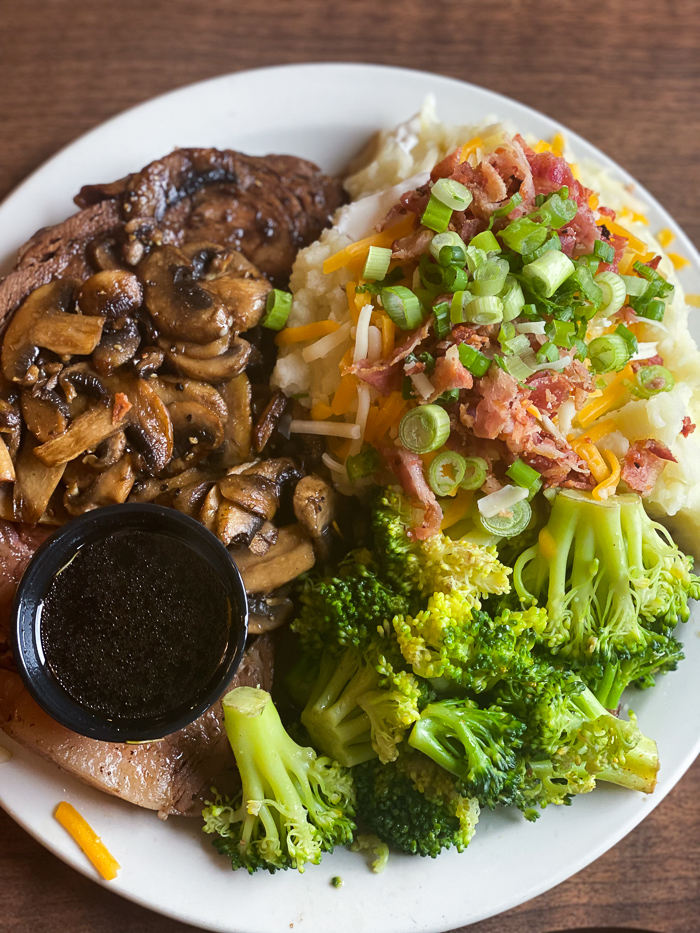 If you'll be staying in Burley to enjoy the City of Rocks without actually camping in them, be sure to stop by Morey's Steakhouse for their delicious prime rib. The portions are huge, and their view on the Snake River is nice, too. On a sunny day, sit out on the patio and enjoy both!
18. Check out the Shoshone Ice Caves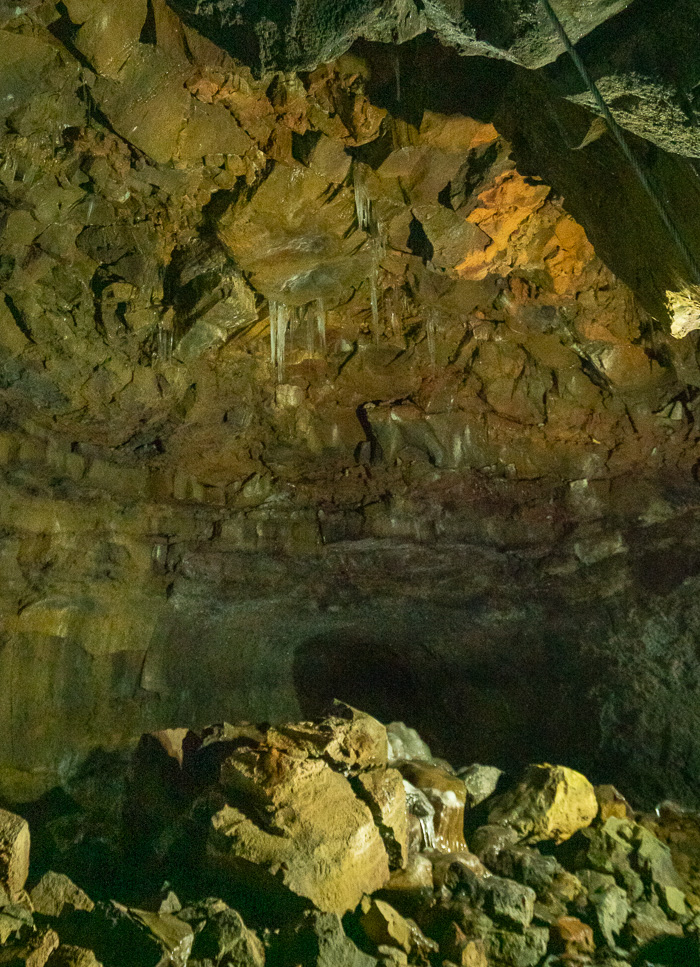 North of Twin Falls, Shoshone has two caves that are perfect for cooling off in the summer months. The Shoshone Ice Cave even takes it to the next level, with ice reserves year-round, including in the heat of summer. Prior to electricity, this ice was harvested and shipped around the country, creating a local economy for Shoshone. These days, it's a tourist attraction with tours departing hourly for $12 per person.
19. And the Mammoth Caves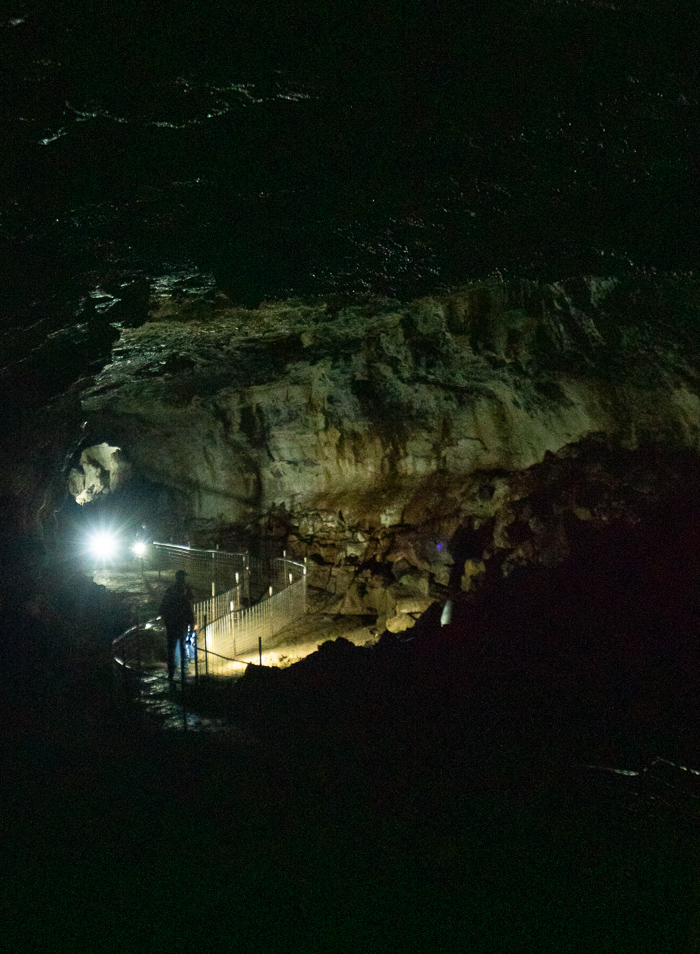 Part of the same cave system as the Shoshone ice cave, the Mammoth cave is just a few miles away, either on your way to the ice cave or a pit stop on your way back into town. This quirky stop is not just a cave, but a peacock haven as well as a museum full of taxidermy. If that's not your thing and you only want to see the cave, you'll only have to pay half price – $6 – to self guide yourself through.
20. Visit Craters of The Moon National Monument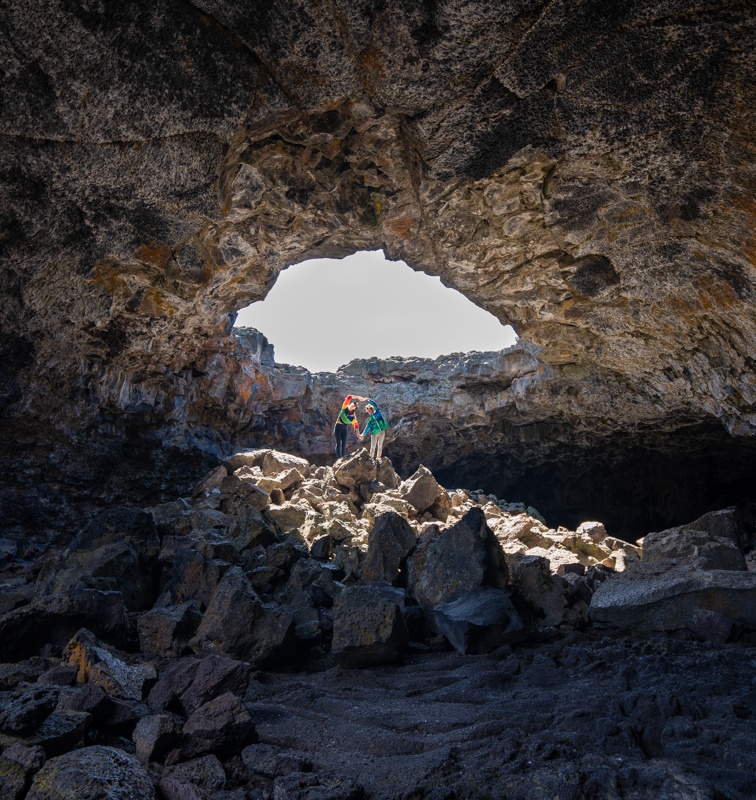 This monument covers over 300,000 acres, encompassing three major lava fields. It's also home to the deepest known rift crack on Earth at 800 feet! For geology nerds, you'll find examples of almost every variety of basaltic lava. There are hiking trails, great opportunities for star-gazing, and my favorite, the lava tubes that you can walk into. Be forewarned that in the summer months, the heat can top 100 degrees F and with the rock radiating the heat back at you, you're better off exploring in the very early hours of the day, or during a full moon. Note that the caves and roads are mostly closed when snowy and icy. Check here for current conditions.
21. Enjoy the Perrine Bridge Scenic Overlook at Sunset
Finishing back up in Twin Falls, for a final goodbye to this beautiful area, I recommend stopping on either side of the Perrine Bridge's scenic overlooks for sunset. You'll see ample parking on either side, offering options regardless of which direction you're coming from.
did you have any idea this area had so much to offer? Whether you're into climbing, hiking, kayaking, or just enjoying beautiful views, there's something for everyone here.
Please remember to always pack out your trash with you, take only pictures, and leave only footprints.
Pin me for later: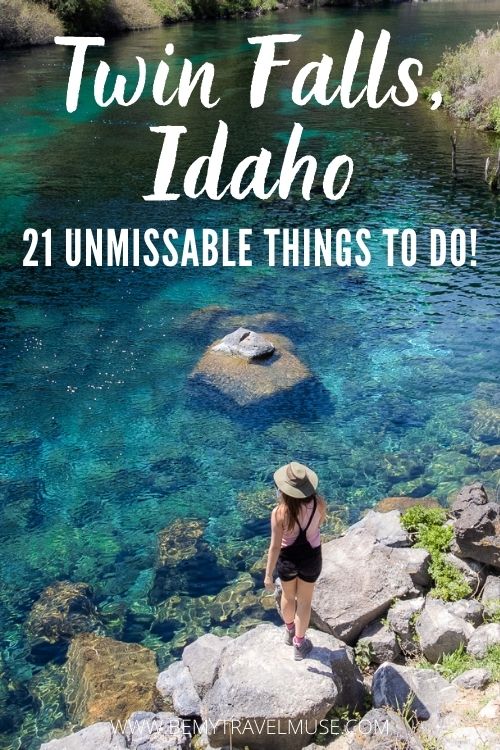 *This post was brought to you in collaboration with Visit Southern Idaho. All thoughts on the beautiful sights and things to enjoy are my own.