Costa Rica is one of the most naturally beautiful countires I've ever been to. Even though I spent a month there, I feel like there's so much more to explore. All these most beautiful places that I found are just the beginning of what the country has to offer.
From the mystical cloud forests of Monteverde to the black-sand beaches of Cahuita and quaint surf towns along the Pacific, these are the spots in Costa Rica whose beauty has no bounds:
1. Monteverde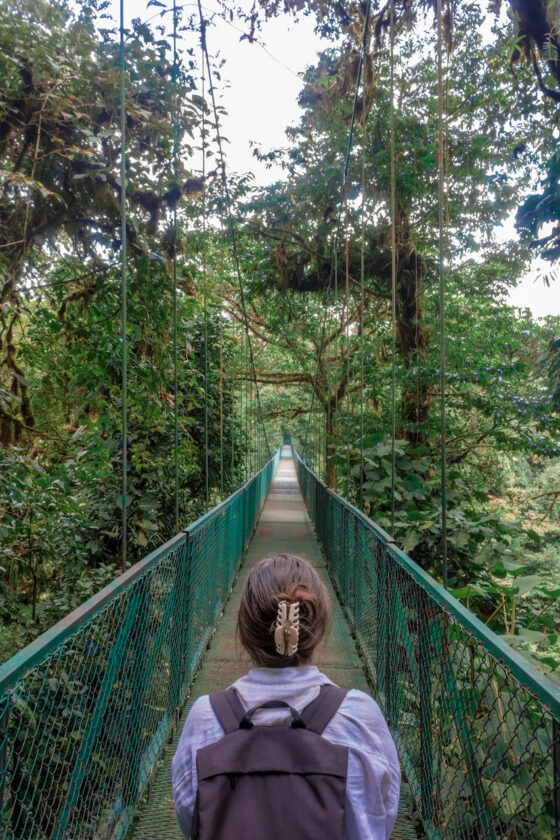 Imagine somewhere bright green moss filters sunlight in misty forests and ficus tree roots form hidden caverns. The Monteverde Cloud Forest Preserve is such a place, one of those destinations that leaves a huge impact due to its immense beauty. From the quintessential hanging bridges over thick forest canopies to the nearby waterfalls and miles of hiking trails, it has everything to make a nature lover's heart sing.
Monteverde, at an elevation of 4,500 feet, has one of the most unique climates in Costa Rica. In fact, you can hike to the continental divide in the Cloud Forest and feel the difference between the Pacific and Caribbean air. Monteverde is also humid and rainy, which actually makes it even more magical, as the low-hanging clouds and mystical fog are what give it such a special feeling.
Where to stay: I loved my time at Hotel El Bosque, which is affordable (only $36/night!) and in a great location, very close to the Cloud Forest.
What to do: Visit a sloth sanctuary, hike through the Cloud Forest, Santa Elena Reserve, or El Bosque Eterno de Los Niños. You can also go zip-lining, visit waterfalls, or check out an orchid garden. Find out more about Monteverde here.
Best time to visit: For less rain, visit between December and April (high season, with many more tourists). Shoulder season (May and November) is also a great time to visit for mild weather and fewer crowds.
2. Manuel Antonio National Park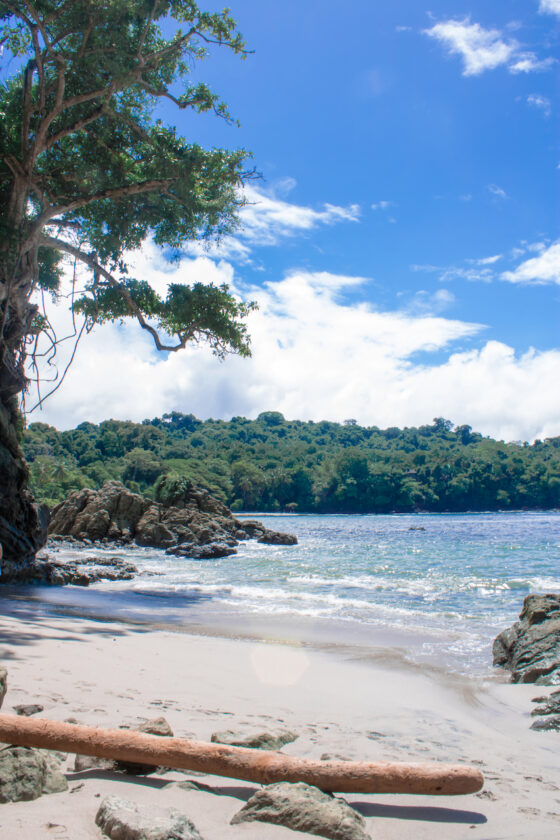 Although Manuel Antonio is one of the most touristy places in Costa Rica, it's far from overrated. Truthfully, I think this national park deserves every ounce of hype it gets. Not only is there an abundance of wildlife, but the beaches in the park and around town are fantastic. There are several to choose from, all with soft golden sand and clear water. I fell in love with the semi-secret Biesanz Beach, where there are small coves and shallow water perfect for floating the day away.
Where to stay: I stayed in this Airbnb, which I 100% recommend for any female travelers, although it would also be great for couples. It's one of the cheapest accommodations ($25/night!) in Manuel Antonio, but you wouldn't guess it because of the ample amenities, spectacular hospitality, and ideal location.
What to do: A night tour through the jungle is a must. Plan to spend at least one full day in the national park, and see if you can do a mangrove tour. Read about what else to do in Manuel Antonio here.
Best time to visit: This destination gets extremely crowded during high season (December to April), so I recommend visiting in May, June, or November for great weather and fewer people.
3. Uvita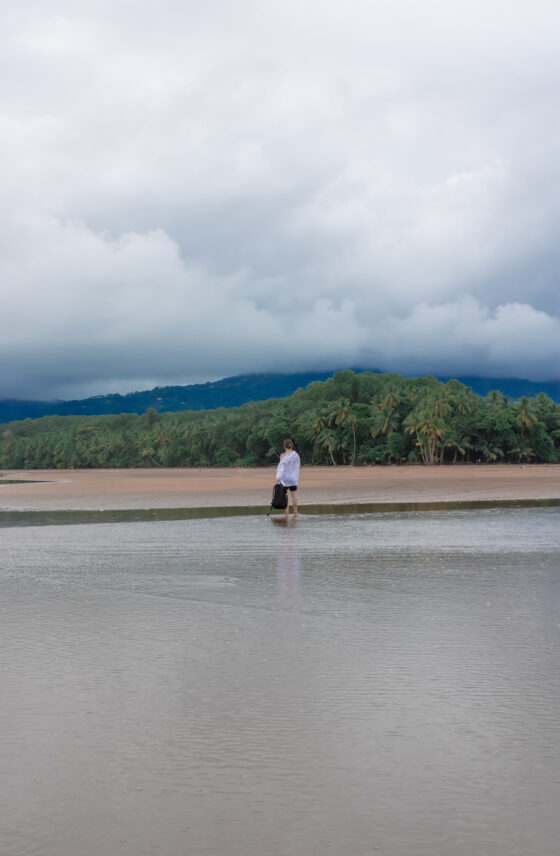 Home to Marino Ballena National Park (which could have its own spot on this list), Uvita is one of the most beautiful treasures on Costa Rica's Pacific coast, what with its baby-blue river, quaint waterfall, and thick jungle landscapes. It's definitely high on my list of destinations I hope to return to, as I feel like I only just skimmed the surface of everything there is to love about Uvita. The beaches here are fantastic, the jungle is dense and teeming with wildlife, and there are plenty of opportunities to get off the beaten path and find your own special slice of nature.
Where to stay: My stay at Cascada Verde Hostel exceeded my expectations. Outside of town, perched on the side of a mountain, the hostel has a treehouse feel. I had a great ocean view from my room, which had one side exposed to the jungle and I could listen to the rain and animal noises at night. Staying there felt like an experience all on its own.
What to do: Check out the whale-tail sandbar formation at Marino Ballena National Park, or venture to a hidden part of the park at Playa Arcos. Spend time at the Uvita Waterfall, and venture down the river to a secret swimming hole. Find out what else there is to do in Uvita here.
Best time to visit: I visited in July, one of the rainiest months of the year and thought it was still a great time to visit, because there weren't many tourists. Similar to Manuel Antonio, May, June, and November seem to be excellent times to visit Uvita if you are hoping for better weather and few tourists.
4. Tortuguero National Park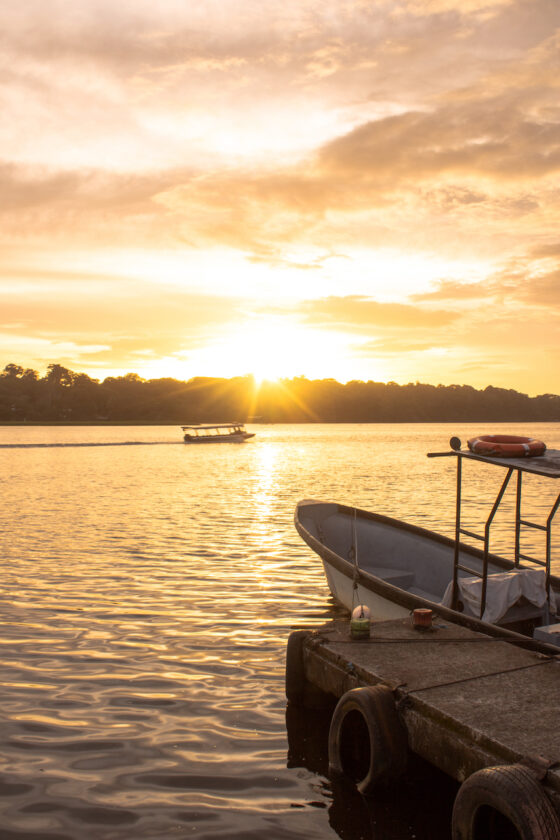 Tortuguero stole my heart from the moment I stepped onto the boat to reach this tiny island on Costa Rica's Caribbean coast. With a network of Amazon-like canals on one side of the island and the roaring sea on the other, you truly get the best of both worlds here. Besides the rugged landscapes, mysterious coves, and abundant wildlife, what makes Tortuguero one of the most beautiful places in Costa Rica is its people, who were not only warm and friendly but extremely hospitable and genuinely cared about preserving nature and supporting wildlife.
Tortuguero is named after the various sea turtle species that lay their eggs on the beaches here. Green sea turtles, giant leatherbacks, hawksbills, and loggerheads all come to its shores at different times of year to lay their eggs, and the national park allows them a safe place to do so. I got to see this in action since I visited in July during green sea turtle season, and it was the most impactful experience I had in Costa Rica by far.
Where to stay: I stayed at Aracari Garden Hostel, which is a great choice for budget travelers. If I were to go back though, I'd stay at Miss Junie's Lodge, just for the chance to spend more time with the owner's amazing family.
What to do: Take a tour through the canals via canoe (not motorboat, as they can scare away the wildlife), spend some time on the beach (but don't swim, it's too choppy), and try all the delicious Caribbean food. See what else there is to do in Tortuguero here.
Best time to visit: The climate is different on the Caribbean side of Costa Rica than it is in the rest of the country, so while September and October see the most rain elsewhere, it's the driest time of year in Tortuguero. Another benefit of visiting during these months is you'll catch the end of green sea turtle egg-laying season, as it overlaps with hatching season. That means you can see turtles laying eggs at night, and then watch babies crawl to the sea in the morning.
5. Río Celeste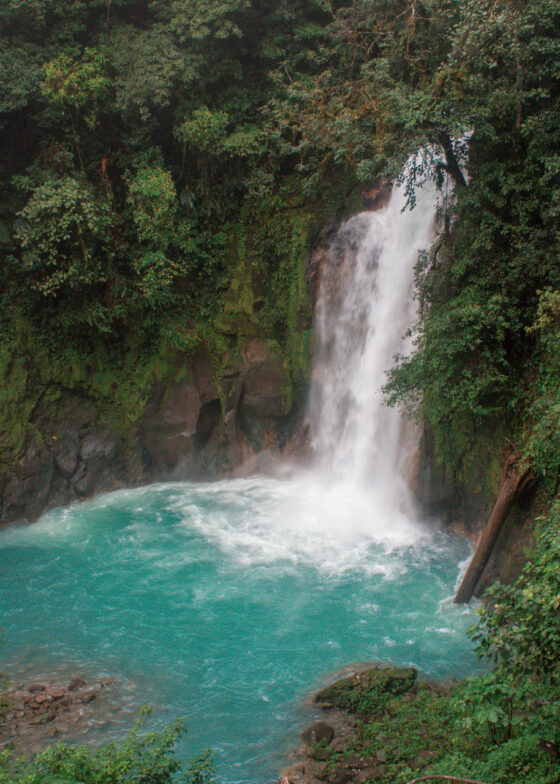 Río Celeste is part of Tenorio Volcano National Park, which is close to La Fortuna and makes for the perfect day trip from there, which is how I visited it. The river gets its name from its celestial blue color, which is so saturated that it feels unreal. Here you can also see the massive Río Celeste Waterfall, and then hike along the river to the point where the water seems to change color, called "God's Paintbrush." The optical illusion that creates the sudden change in the water's color is truly remarkable. Another feature of the river is that you can visit a part of it where sulfuric bubbles rise to the surface due to underground volcanic activity.
Where to stay: Celeste Mountain Lodge is a favorite among travelers to this area, and gives guests the full experience of being in the volcanic mountains.
What to do: Hike through Tenorio Volcano National Park, stop at the a hot river right outside the park, visit the Río Celeste Waterfall, and make a day trip to La Fortuna.
Best time to visit: Since the bright blue water of Río Celeste changes color quickly to a dark brown when it rains heavily, I don't recommend visiting during the rainy season (June through October). However, I visited in July early enough in the day to avoid the rain and still got to see the river and waterfall in all their colorful glory.
6. Dominical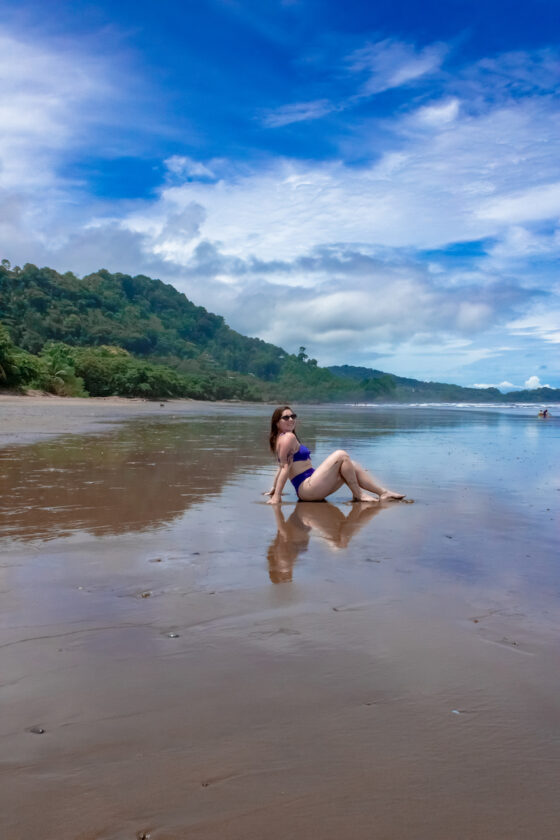 As one of Costa Rica's chillest hippie surf towns, I wish I would have stayed longer than just a day in Dominical. Its vibe enchanted me, but the views even more so. It has miles of pristine beaches, with plenty of sandy real estate to find your own quiet nook to hang out in. My favorite part about Dominical was that there were no big hotels right on the shore, but instead what looks like rugged and virtually untouched coastline. The sunsets were absolutely stunning as well, as the wet sand reflected the orange hues beautifully.
Where to stay: You can get a great bang for your buck in Dominical, as hotels and hostels have lower rates here than in other, more touristy areas of the country. Bamboo River House and Hostel is a great example, with a pool, garden, and terrace. Rooms start around $75/night.
What to do: Take a surf lesson, find a secret swimming hole at Poza Azul, or simply relax on the beach.
Best time to visit: Since I visited during rainy season and still had a fabulous stay, I think anytime is great for visiting Dominical. However, if you want a better chance of catching an epic sunset, visit between December and April when there's less rain.
7. Nauyaca Waterfalls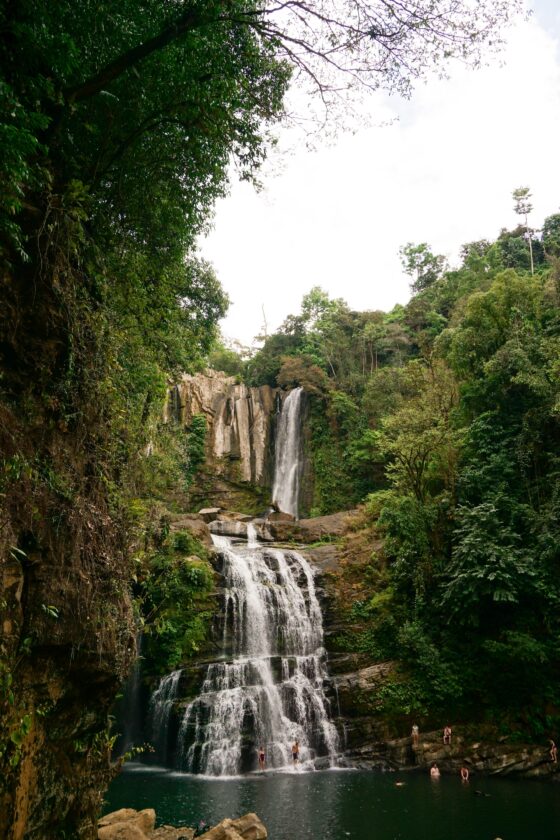 The Nauyaca Waterfalls are just a 20-minute drive from Dominical — but require a 1.5-hour hike each way to reach them. The hike is totally worth it, though, as these are some of the best falls in Costa Rica, and perhaps the best that you can swim close to. The two-tier waterfall stretches a combined total of 200 feet. Swim in the pools by visiting the lower falls area, where there's also a small cave you can explore. There's also a popular jumping-off point where daring visitors can leap into the pools.
Where to stay: There aren't many accommodations close to the entrance to the Nauyaca Waterfalls, so I recommend staying in Dominical (see above). From there you can either drive yourself to the waterfalls or take a bus to San Isidro and then a taxi.
What to do: Besides doing the 1.5-hour hike to the falls, there's also the option to ride on horseback or take a 4×4 jeep there. Both cost $30-40 per person and limit the time you'll get to spend at the waterfalls because they run on a schedule.
Best time to visit: You can visit Nauyaca any time of year and have a blast, even in the rainy season. No matter what month you choose, aim to arrive at the entrance to the falls as early as possible (it opens at 7am), as this place gets quite crowded. Visiting in the morning is also the best way to avoid the rain if you visit between June and October.
8. Playa Cocles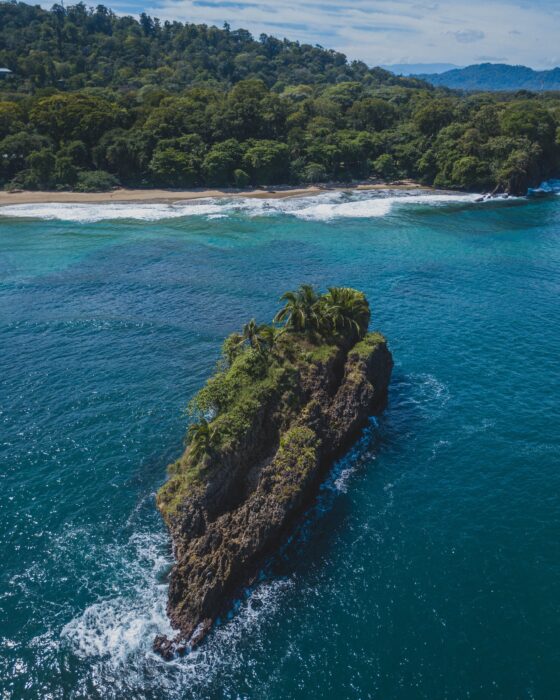 On the Caribbean coast near Puerto Viejo lies Playa Cocles, one of the most magical beaches in the country, with the finest white sand imaginable and idyllic blue waters usually full of surfers. Playa Cocles is quite a bit more developed than other beaches on this list, but it retains its laid-back atmosphere. It's popular among surfers because of the killer waves, so it's not always the best place for a swim. It makes up for it by having about a mile of soft, sandy beach, the perfect spot to chill out for the day.
Where to stay: One of the most beautiful accommodations nearby is Finca Chica Lodge & Villas. It has a rustic cabin feel, but with luxury touches throughout. I like that it's close enough to the beach to walk, but far enough to avoid the noise of town.
What to do: Take a surf lesson, do a day trip to Cahuita National Park, catch a quintessential Caribbean sunrise, play volleyball or try slacklining on the beach.
Best time to visit: The driest times to visit Playa Cocles are from February to April and from August to October. The latter sounds more appealing to me, because it doesn't overlap with the tourist high season.
9. Playa Samara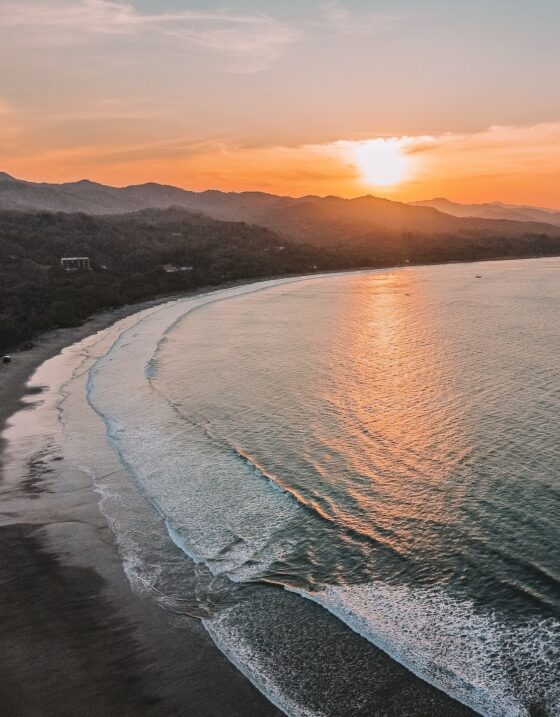 This pristine beach is located on Costa Rica's northern Pacific coast, which is generally much more developed and crowded. However, Playa Samara remains a bit of a secret and still has a wild charm, sans luxury villas dotting the whole beach. Since it's not as developed, there's more wildlife here, plus a down-to-earth feel. The sand is golden and soft, and the water is perfect for a swim due to a coral reef offshore that breaks the intensity of the waves. If you're looking for a serene beach destination, Playa Samara is the place for you.
Where to stay: Playa Samara is a great budget destination, because accommodation prices are some of the cheapest in the area. You can snag a dorm bed for just $15/night at Woodstock Hostel, or an entire eco-cabin with pool access for around $70/night.
What to do: Hang out on the beach, go hiking at Werner-Sauter Biological Reserve, go sea kayaking or snorkeling.
Best time to visit: Similar to Manuel Antonio and Uvita, the best time to visit Playa Samara is during the shoulder seasons: May, June, and November.
10. Santa Teresa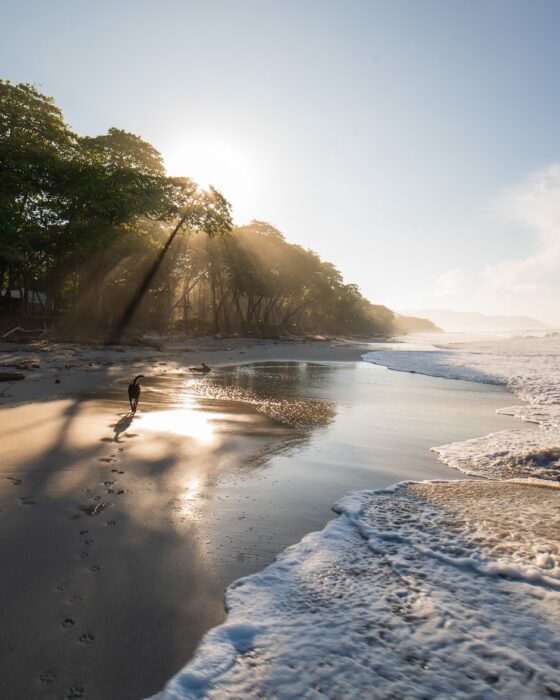 On the southern tip of the Nicoya Peninsula on Costa Rica's Pacific coast, you'll find a hippie haven: Santa Teresa. Along with Manuel Antonio, it's one of the most beautiful places in Costa Rica and therefore one of the most booming towns in the country. But for good reason: the beaches here are astonishingly beautiful, with towering palm trees, calm waters, and pillow-soft sand. The lush green hills inland create a gorgeous backdrop to the gorgeous beach — and there's a chance you'll see all kinds of wildlife, from howler monkeys to scarlet macaws and even whales in the distance.
Where to stay: Despite being a hugely popular destination and a bit on the ritzy side overall, there are great budget spots in Santa Teresa, like Selina Hostel, which has dorm beds for around $12/night. You can also get an entire condo for less than $100/night at Cuatro Vientos.
What to do: Go for a ride on horseback along the beach, rent a bike and explore downtown, take a yoga class, or go surfing on the legendary waves.
Best time to visit: Santa Teresa gets quite crowded between December and April, so aim to visit between May and November. There are heavy rains from the end of July through September, which could put a damper on your beach plans, although it usually only rains in the afternoons.
11. Cahuita National Park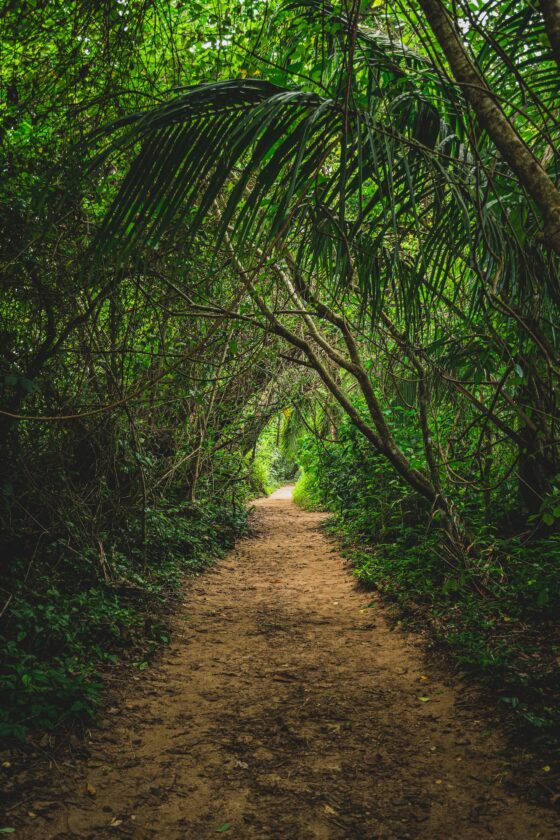 If there's one place I feel like I truly missed out on in Costa Rica during the month I was there, it's Cahuita National Park. I kept hearing from locals that I had to go because it's one of the best spots in the country to see wildlife. Considering I'd just been completely flabbergasted by the number of animals I saw in Manuel Antonio, Monteverde, and Tortuguero, I couldn't imagine it could get better than any of those.
Cahuita is a popular national park for those visiting Puerto Viejo (near Cocles), but it doesn't receive as many visitors as other parks. Here you can spot various species of monkeys, sloths, lizards, snakes, birds, and many other animals. Within the national park, you can also find some of the most spectacular beaches on the Caribbean coast, many of them boasting unique black sand.
Where to stay: Cahuita has a small-town feel, which is apparent in the accommodations there. For example, guests from Bidgitte's Ranch say their sojourn felt like a homestay in the best way. There are tons of budget-friendly options in Cahuita as well, like Secret Garden Hostel, where you can grab a dorm bed for as little as $10/night.
What to do: Go snorkeling in the national park or take a guided tour with a guide who specializes in spotting wildlife. Go to Playa Negra to surf, or visit a jaguar sanctuary.
Best time to visit: Any time is a great time to visit Cahuita, as long as you're prepared for rain in the rainy season. However, a general rule of thumb for the Caribbean coast is to visit during the driest months, September and October.
12. Poás Volcano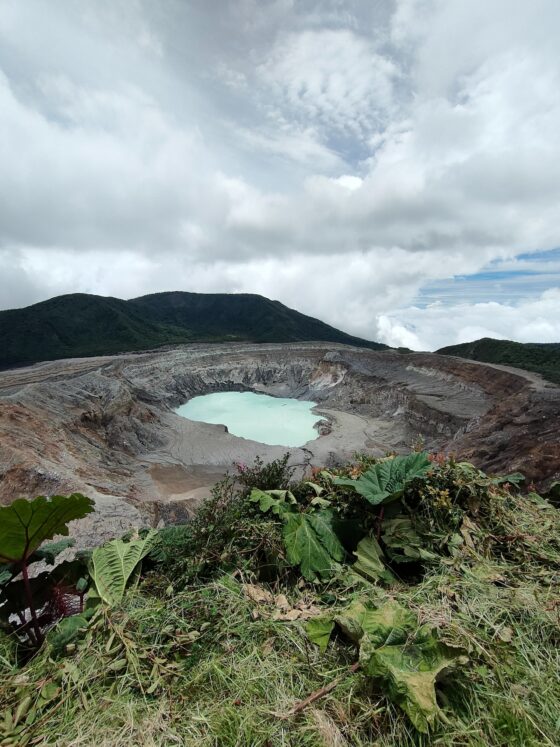 For many travelers flying into San José, Poás Volcano is one of the first stops on their Costa Rica itinerary. This iconic volcano has a bright blue lagoon in its crater, which is truly a beauty to behold. It's also one of the country's most active volcanoes, further adding to its majestic nature; it last erupted in 2017.
Poás is one of the most beautiful places in Costa Rica partly because of its fascinating geology, but also because of its elusiveness. Due to the altitude of the crater, there's a chance the clouds will be too thick to see it. If you do get lucky, the sight is truly special.
Where to stay: Since Poás is easy to get to from San José, consider spending a couple days in the city. I stayed in this Airbnb, which was in the hippest and safest neighborhood, Barrio Amón.
What to do: The best way to visit Poás is on a tour like this one from San José, because your guide will be able to fill you in on all the specs of the volcano. Also, many tours allow you to reschedule if the weather conditions aren't right so you can see the crater in all its glory.
Best time to visit: Visiting during rainy season means there's a good chance you won't be able to see the crater, so opt to visit between December and April when there's less rain.
Pin me for later: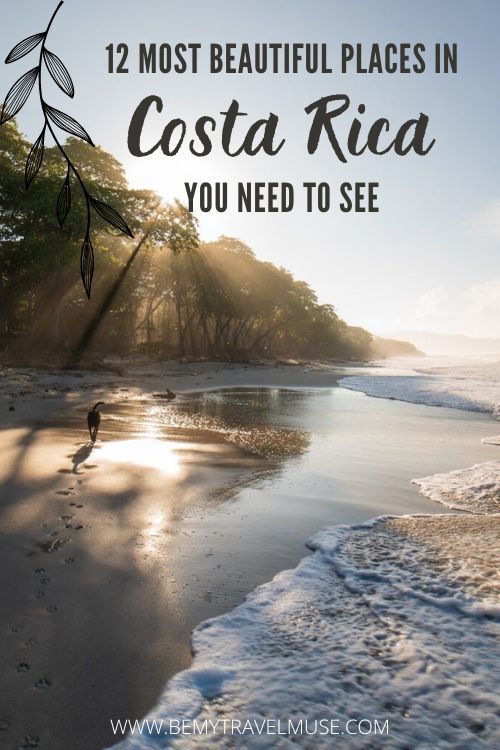 To be honest, I doubt there's anywhere in Costa Rica that isn't gorgeous in its own right. My favorite thing about the most beautiful spots in Costa Rica is how diverse they are. There are so many different landscapes to enjoy here, from the cloud forests to tropical beaches and steamy volcanoes.
Which place do you think is the most beautiful on this list?