Río Celeste ("sky-blue river" in English) is one of Costa Rica's most beautiful places and definitely worth a visit if you're in the La Fortuna area. While it's possible to go on your own, it can be tricky to get to without a rental car, which I didn't have.
Instead of having to figure out all the transportation details, I opted to go on a full-day tour from La Fortuna. Stick around to find out: is the Rio Celeste tour worth it?
My Experience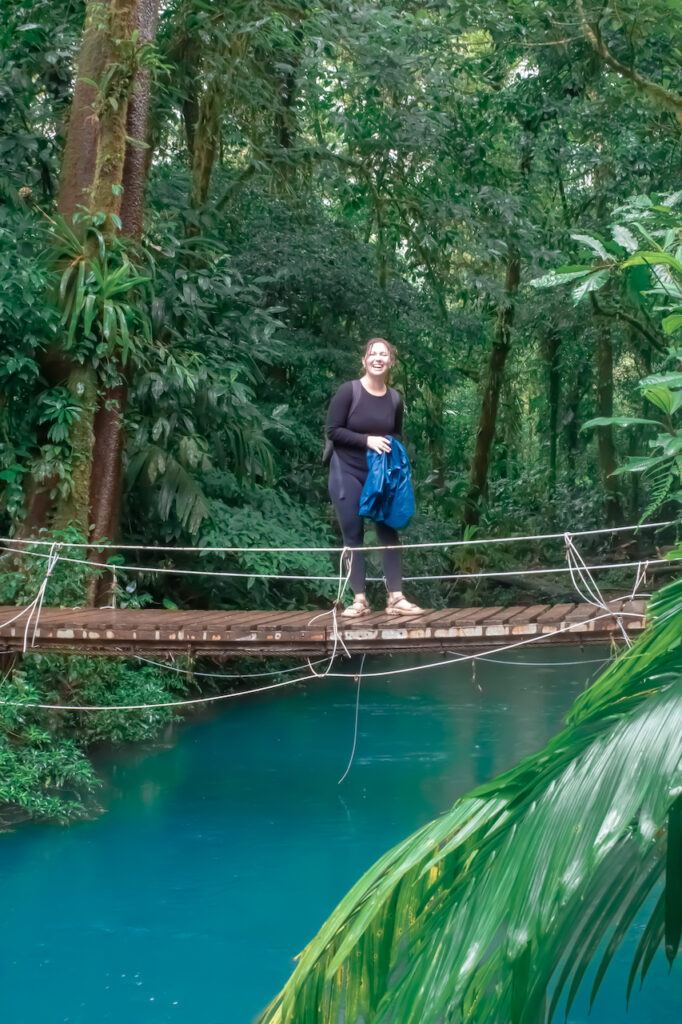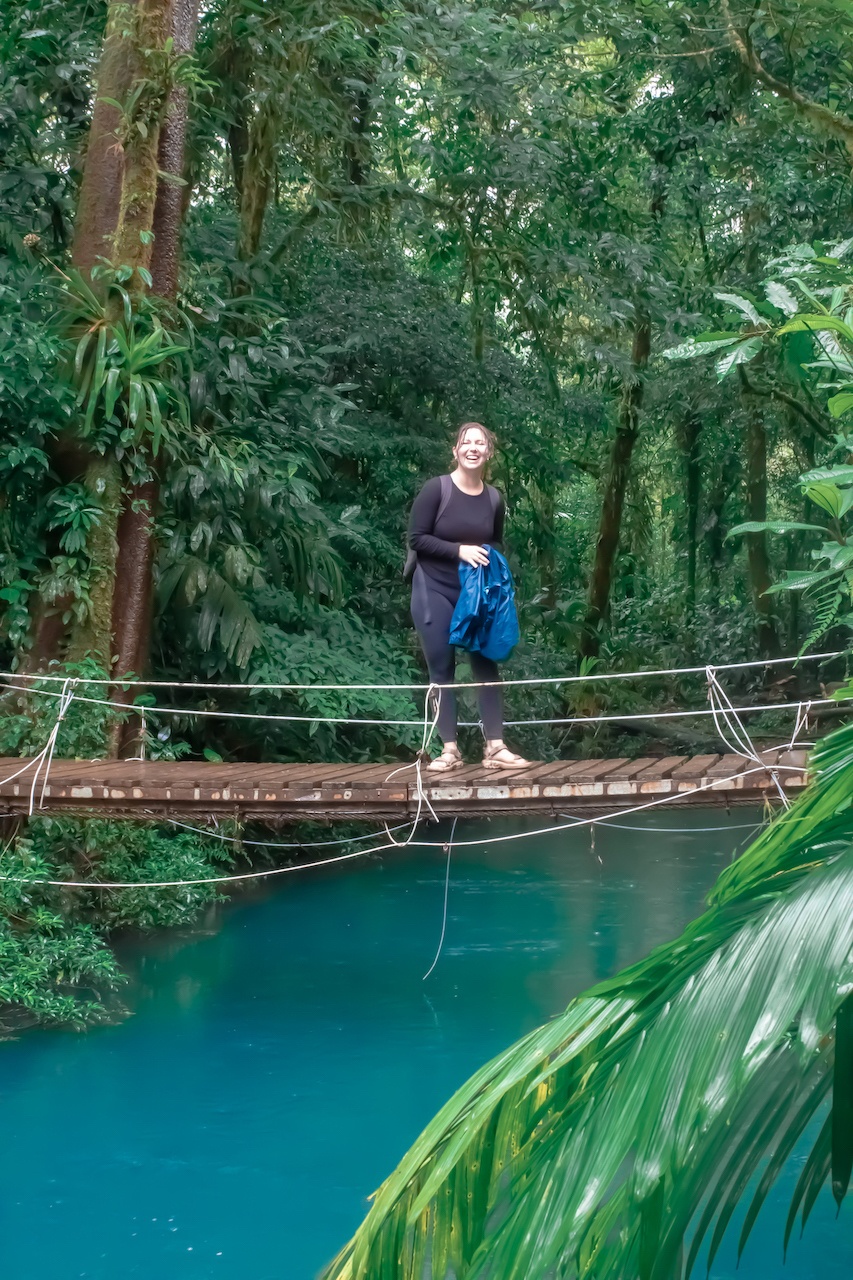 I booked a full-day tour of Río Celeste and Tenorio Volcano National Park, not really knowing what to expect. I had heard about Río Celeste and it was definitely on my mind when I got to La Fortuna, but it's a 90-minute drive from where I was staying, and I hadn't rented a car. A spur-of-the-moment decision led me to book the tour, especially after I did the math on how much it would cost to get there on my own, factoring in the admission fee to the national park, snacks, and meals.
The $85 price tag seemed a little hefty at first, but at the time, I wasn't exactly sure how to get to Río Celeste via public transportation, and paying a taxi to take me would have been about $50 each way, so that was a big no for me.
Considering that the tour includes transportation, lunch, the entrance fee to the national park, and a naturalist guide, I thought it was worth the price, and so I booked it the day before. The van came around to pick me up early, around 6am, and I was greeted by my guide, Carlos.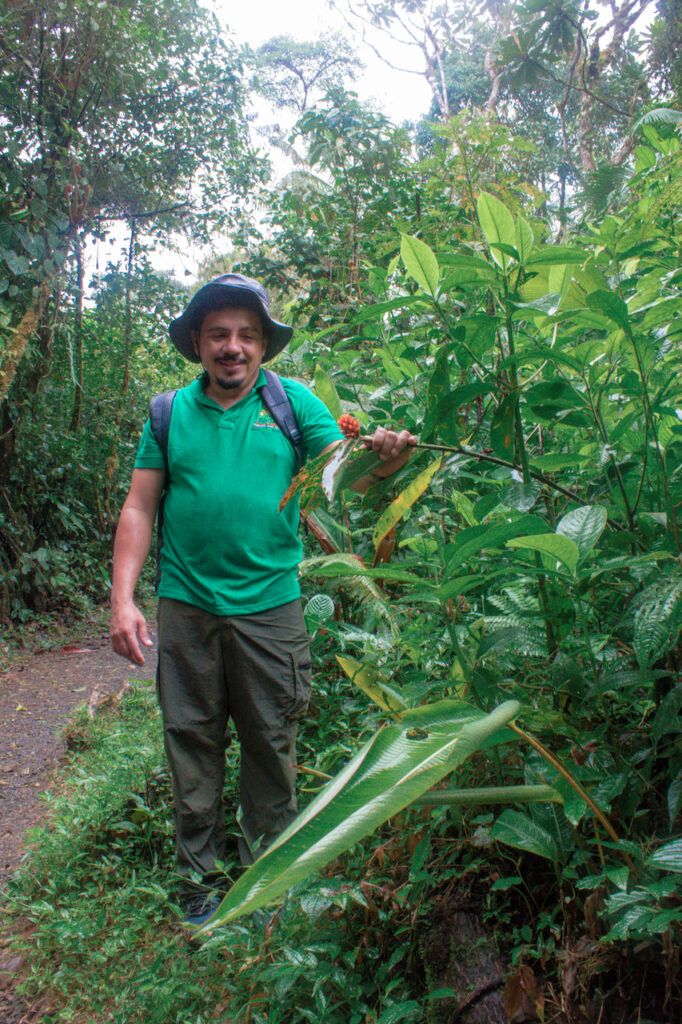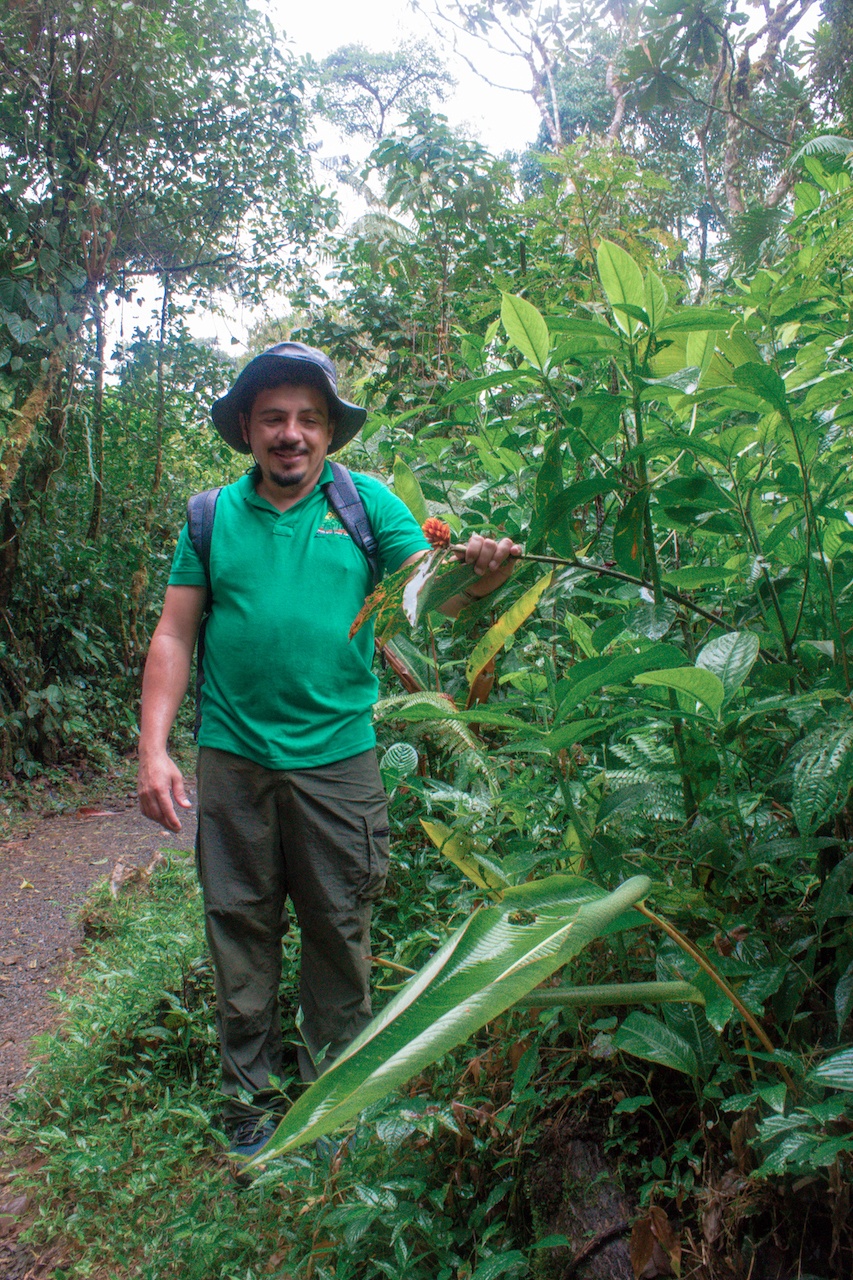 The drive to Tenorio Volcano National Park, where Río Celeste lies, was about 90 minutes but took a bit longer because the guide spotted a sloth in a tree on the side of the road. How he was able to see it from so far away is a mystery to me still, but I was grateful for the stop, because I'm always down to see those little guys munching on leaves way up in the trees.
Once we got to the park, the foggy atmosphere was a bit daunting. I wondered aloud if we would be able to see Río Celeste's bright blue color, and our guide reassured us that there was time to check it out before the rains came and made the water murky. I took a deep breath and prepared myself for disappointment.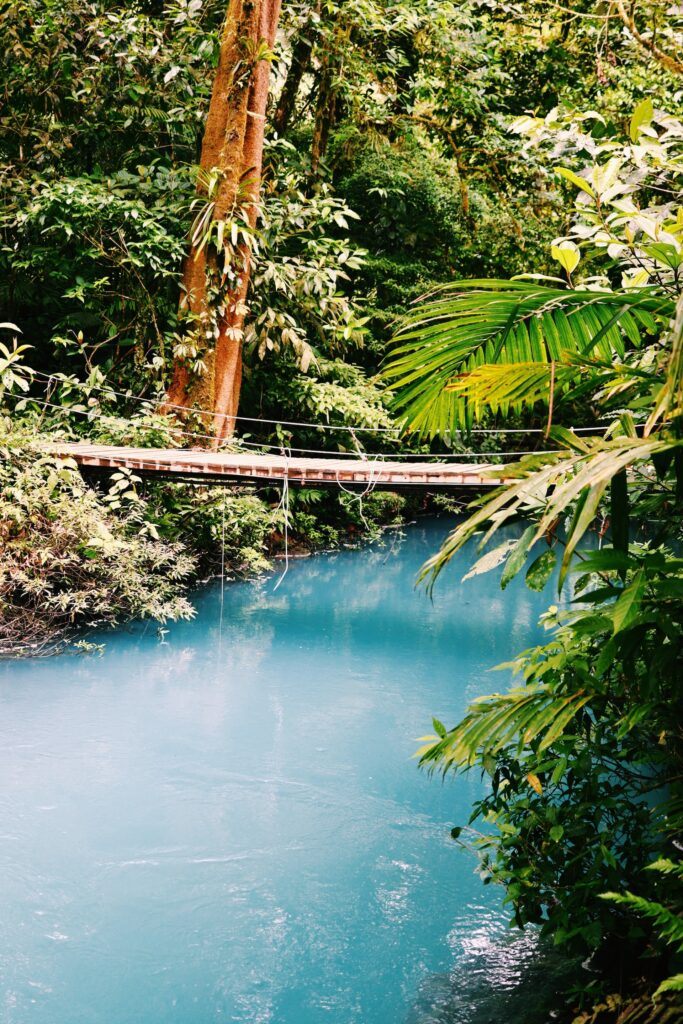 As we hiked through the jungle, checking out the different plants and animals along the way, I was getting excited about our first stop: the Catarata Río Celeste waterfall. As we approached, I could hear the thunderous roar of the thousands of gallons of water pouring into a pool below.
There are hundreds of steps leading down to the waterfall, and the path was crowded with other visitors, but the view on the way down was spectacular the whole way. Unlike the Fortuna waterfall, you can't swim at the base of the Río Celeste waterfall, but you can admire its beauty and namesake blue color from a platform near the base.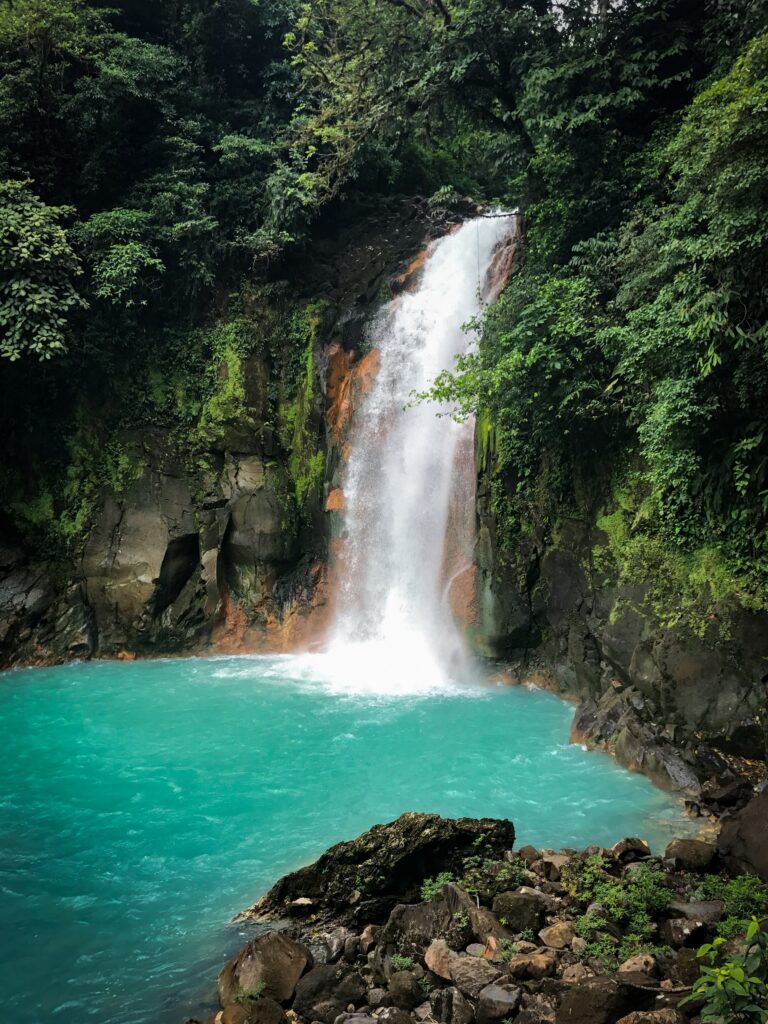 After climbing back up the steps (and getting a good workout in the process), we continued along the trail and stopped at various points on the river to get the scoop on how it gets its blue color, as well as the geothermal activity below it. Two notable stops were Los Teñideros, where we saw where the river changes color from clear to blue, and Los Borbollones, where sulfuric bubbles rise to the surface, emitting an eggy smell.
After traversing through the national park (more on that here), our guide brought us to a "secret" hot river just a kilometer away. It was just beginning to rain, so I decided to go for a quick soak. It was a blast to take a dip in a hot river while feeling the chilly, misty rain come down.
We then had lunch at a local soda (a small open-air restaurant), which was filling and delicious. The other tour participants and I had a chance to pick our guide's brain, asking all kinds of questions about Costa Rica's geography, wildlife, and more. Besides having a knack for spotting wildlife and knowing the science behind Río Celeste, I found that our guide had a whole treasure trove of knowledge on the national park and beyond.
Is the Río Celeste Tour Worth It?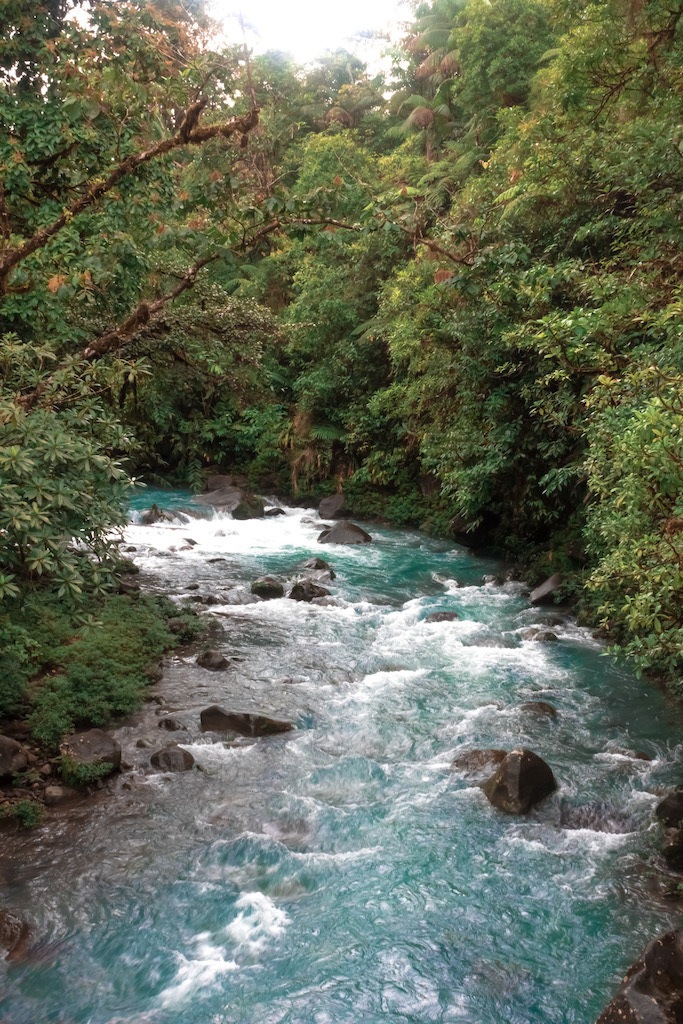 As a traveler who didn't have a rental car, the Río Celeste tour was worth it for me. Not only did it take the pressure off of trying to get there via public transportation, but having a guide was fantastic. There are so many things you can learn about the river itself that might otherwise go unnoticed if you visit on your own. I loved having the opportunity to ask questions about it, as well as the wildlife and flora.
Additionally, the hot river we also visited might have flown under my radar, as I hadn't heard about it before. It came as a pleasant surprise!
If you're wondering if the tour will be worth it for you, there are a few things to consider. First, transportation. Car rentals and gas prices in Costa Rica are quite expensive, so it's not worth it to rent a car just for the day, as it'll end up costing around the same as the tour, just for transportation alone. If you've already rented a car and want to add Río Celeste to your itinerary, go for it without the tour. You'll just be missing out on having a guide unless you hire one at the park which is an additional $30-50 on top of the $12 admission fee.
If you are traveling via public transportation through Costa Rica, as I did, this tour is definitely worth the price. Since it includes lunch, the entrance fee, transportation, and a guide, it works out to be about the same price as if you were to go on your own from La Fortuna via public transportation. I thought it was an incredible bang for my buck and would do it again if given the choice.
The only drawback of visiting Río Celeste on a tour is that you don't have the freedom to choose when to go. Since the waterfall and other key sites along the river can get pretty packed in the late morning and early afternoon, I wasn't able to find some solo time to enjoy them. By the time we reached the waterfall, there were so many people there that it was difficult to snap a good photo or just hang out unbothered. If you are hoping to get an epic shot of the waterfall or traverse the trails on your own time, a tour like this one probably isn't for you.
***
Río Celeste definitely deserves a spot on any Costa Rica itinerary, as it was one of the highlights of my time there.
Are you heading to La Fortuna soon? Let us know what else you're excited to do there!