Costa Rica's jungles come alive after sunset with the sounds of hundreds of species of animals, many of which are nearly impossible to see during the daytime. Throughout the country, many parks offer night tours so that visitors can witness the magic of seeing so many creatures in their natural habitat.
During my visit to Manuel Antonio National Park, I decided to book such a tour to see what all the hype was about. Keep reading to find out whether or not it was worth it:
What You'll See and Do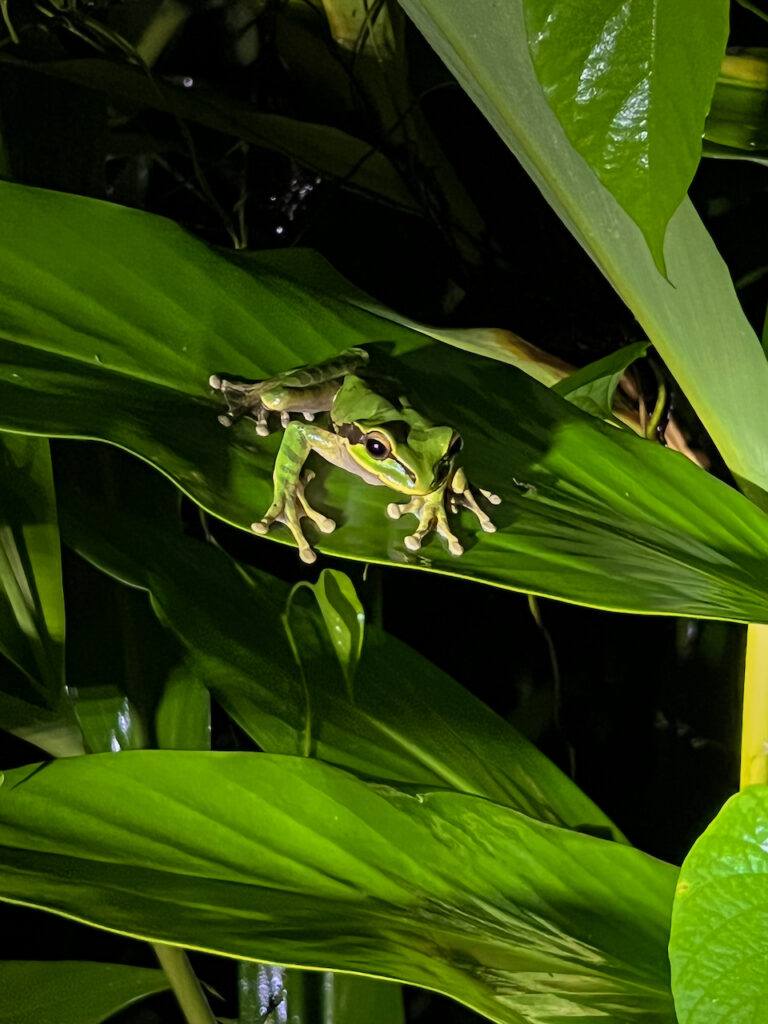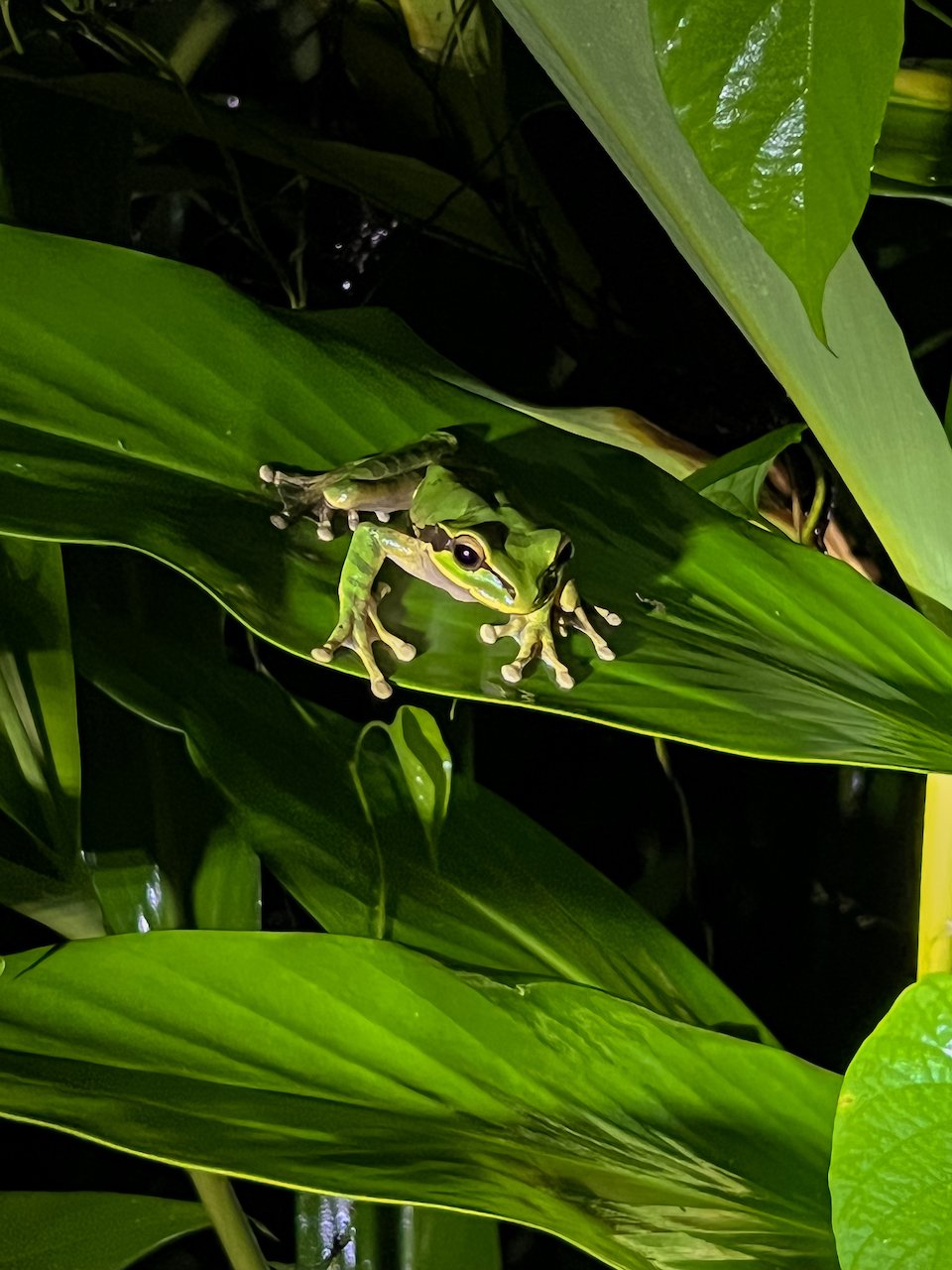 First thing first: Manuel Antonio National Park is not open to the public (or tours) at night. That's why this night tour takes place on private property, Rainmaker Conservation Park. Even though many people are bummed to know that it doesn't actually go through Manuel Antonio, I thought it was completely fine. Rainmaker is about an hour away and doesn't have the same variety of animals, but there was still plenty to see. Let's get into what you can expect:
Mostly small critters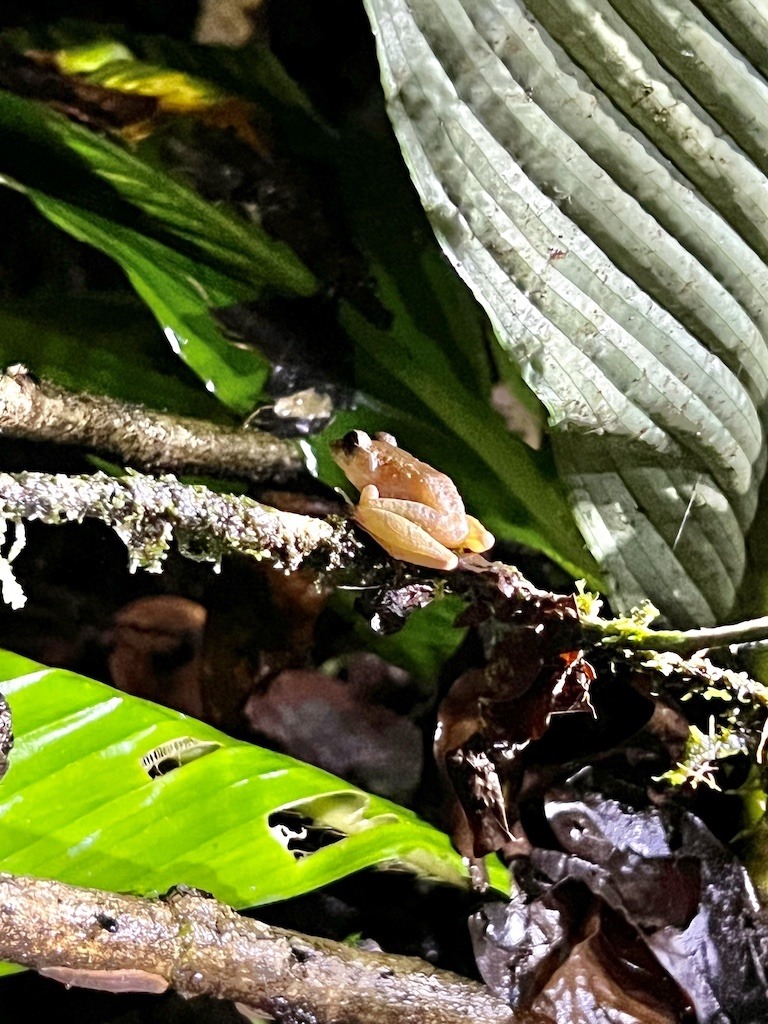 Rainmaker Conservation Park specializes in preserving the natural habitat of a variety of frogs, snakes, insects, and arachnids. While the night tour occasionally witnesses a mammal or two, these sightings are rare. What you can expect is to see a whole host of tree frog species, plus some toads, snakes, spiders, and other bugs. The guide is a certified naturalist, with a special eye for spotting them. It was amazing how easily he could find such small creatures, most of which I probably wouldn't have been able to find on my own.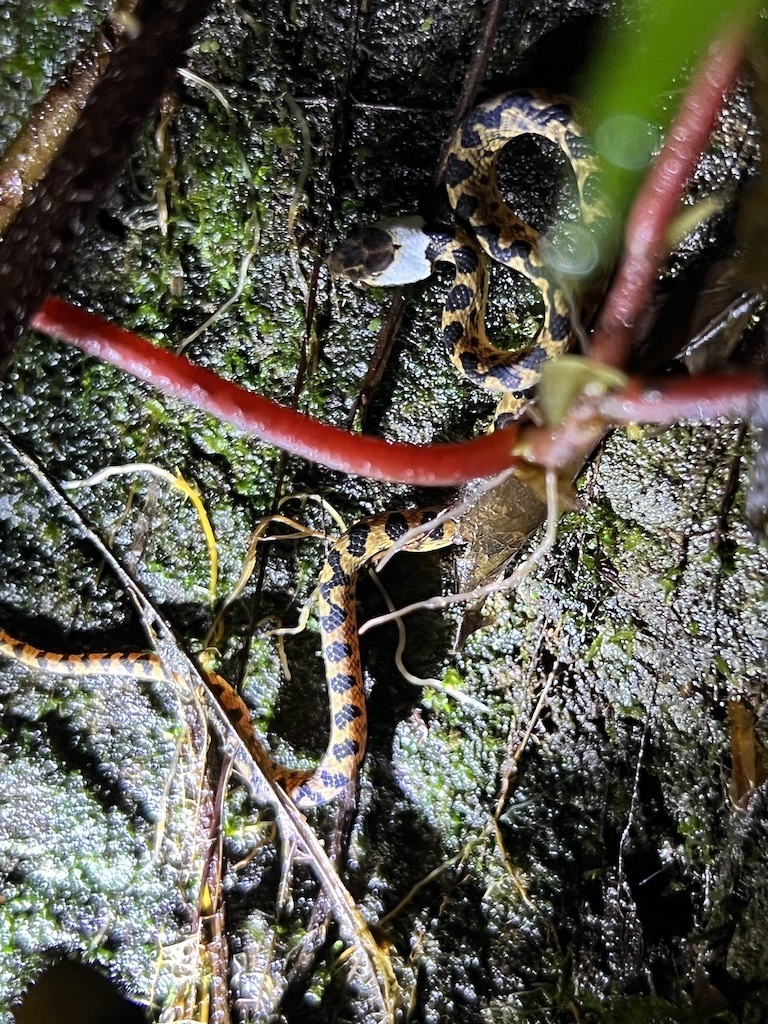 The tour has two parts: first, we walked through the dense jungle, then we did a lap around the edge of a lagoon, which was interesting because of the abundance of toads both in the water and hopping around in the grass. Some of them were bigger than my foot, so I appreciated them from afar.
Sights & sounds of a nocturnal jungle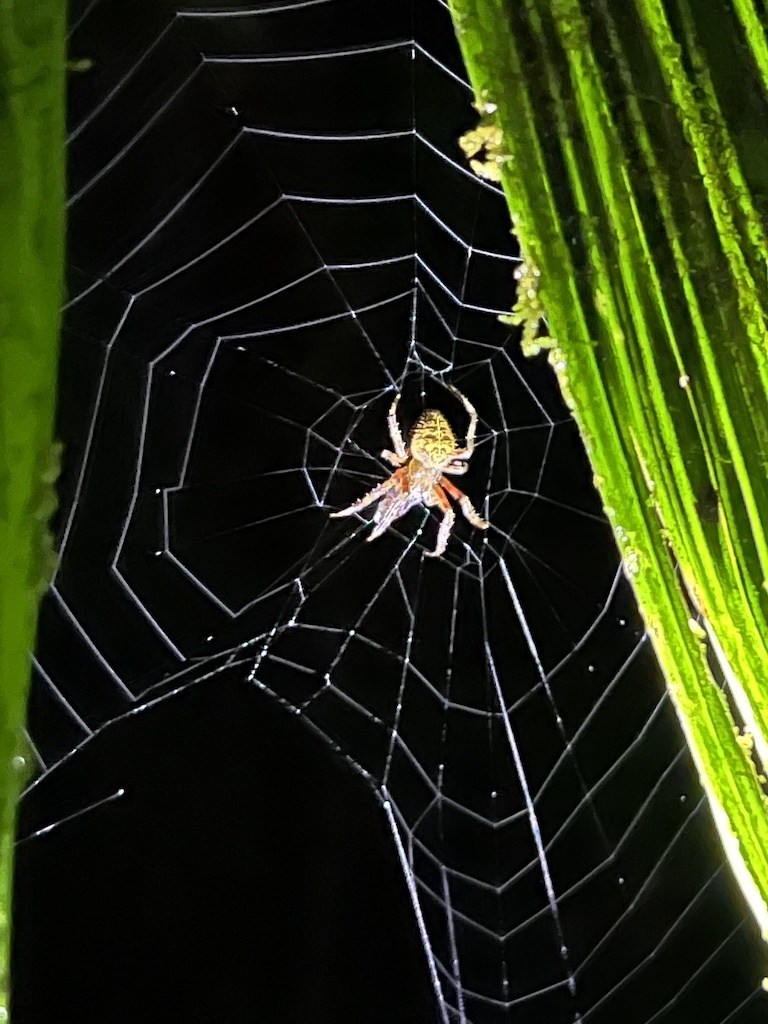 Even though I hadn't seen Rainmaker during the daytime, I could imagine how distinct the jungle would be from night to day. Since it's completely dark, it feels like the sounds of the trickling river, boisterous waterfalls, and various animals and insects are a hundred times louder and more vivid. The experience was unlike any other I'd had before and was a treat for my senses from start to finish.
The walk through the jungle takes about 2-2.5 hours, but the time went by in a flash because of how lively it was. It seemed like there was something to look at around every corner, and the guide did a fantastic job of pointing out plants and animals to the group.
Traditional Costa Rican cuisine after the hike
I was pleasantly surprised at how delicious and filling the dinner was after the hike. I didn't know what to expect, but after we wrapped up our trek, there were full plates of rice, beans, and a protein ready for us. It was an ample display of Costa Rican hospitality and made for a sweet end to the experience, as we could still hear the sounds of the jungle all around us as we ate.
Variations of Manuel Antonio Night Tours
I did this tour through Jade Tours Costa Rica, which is $59 and includes transportation, a naturalist guide, the park entrance fee, and dinner. Considering what it includes, I thought it was completely worth it.
There's another night tour, which goes to a different park, called Biophilia. It's the same price as the one I did but doesn't include dinner. This one looks like it has the same wildlife, but the hike is shorter, as the whole tour is two hours.
Another company, Manuel Antonio Night Tours, has three options: a Manuel Antonio Night Tour (just outside the national park), a Mangrove Night Tour, and a Rainmaker Night Tour (which looks identical to the one I did). The mangrove tour is by boat and looks like the most interesting of the three.
How to Prepare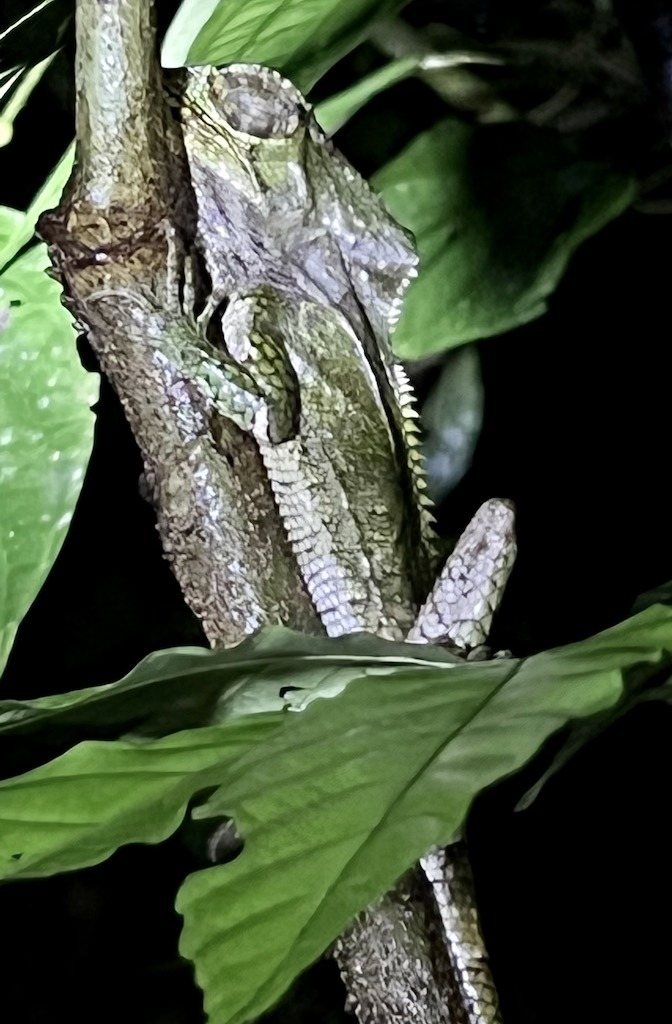 If you get easily frightened by creepy crawlies, the Manuel Antonio night jungle tour might not be a great option for you. I don't get easily freaked out by insects, snakes, or spiders, so it was a blast for me. However, I can imagine that it could be a scary experience for those who don't particularly love the idea of being up close and personal with them.
To prepare, I recommend wearing long pants or leggings. The tour company will also tell you to wear close-toed shoes and to bring bug spray. Bring water with you as well, along with a light rain jacket, just in case it gets chilly or rains, which can happen any time of year in Costa Rica.
Best Time to Go
I went to Manuel Antonio during the rainy season in July and had a great time on this tour. It rained a little bit, but with a jacket, I was prepared and didn't mind. The best time to go is during the dry season, though, from December to April, as there's a greater chance you'll see some nocturnal mammals and birds.
While most places that I went to in Costa Rica during the rainy season weren't as buggy as I thought they'd be, Rainmaker was an exception. There were quite a lot of mosquitos, so keep that in mind if you'll be doing the tour between May and November.
Pin me for later: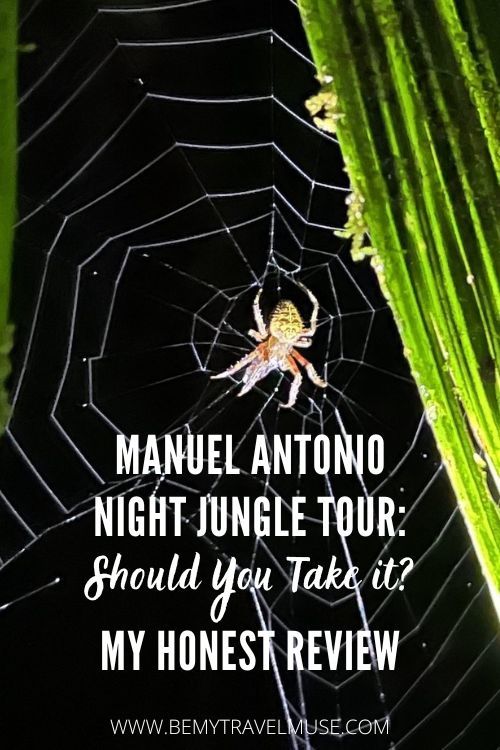 So, was the Manuel Antonio night jungle tour worth it? Completely. This tour was one of the best that I went on in Costa Rica. It felt adventurous, while also being totally safe, which is ideal if you want to see what the jungle is like at night. (In case you missed it, here's the link to book.)