If you're considering traveling to Costa Rica on your own, you're in for a world of natural beauty, friendly people, and adventure around every corner. From the dense jungles of the country's interior to the idyllic beaches on both coasts, you're in for a treat no matter where you go.
Is Costa Rica safe, though? I mean, it is in Central America, after all, which has a complicated reputation.
There are a lot of opinions about what qualifies a country as "safe" or not, which I feel severely underqualified to determine. However, the feeling of safety often comes from within, and how well we prepare ourselves to travel in a particular place.
That said, these are my safety tips for solo travelers making their way through Costa Rica, with special consideration for my fellow ladies who are heading there alone:
Costa Rica Safety Tips
Leave your expensive jewelry at home.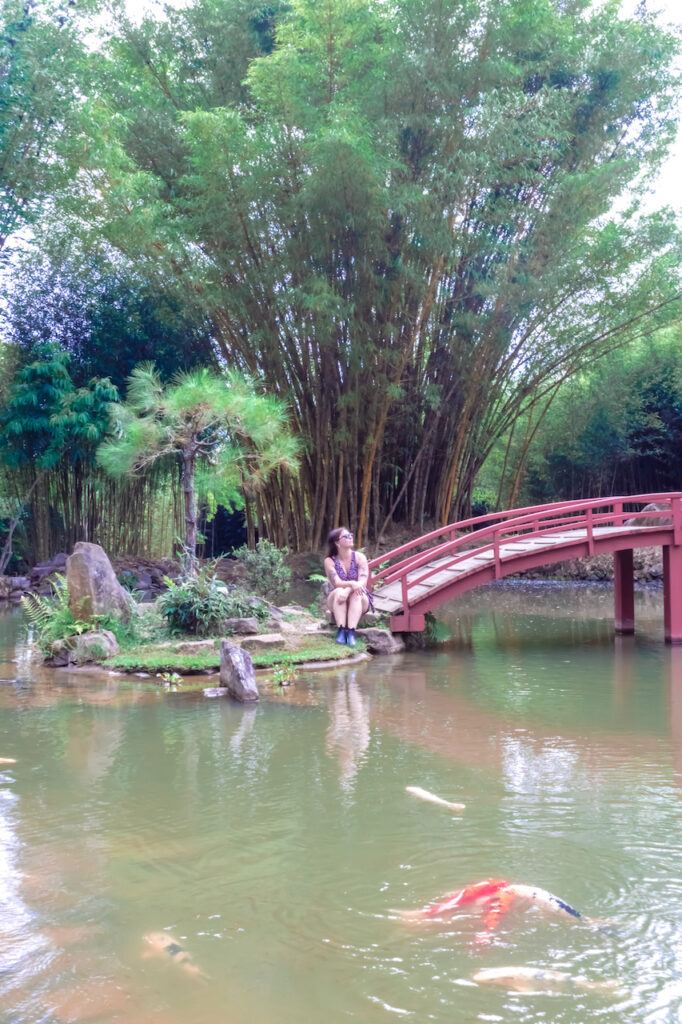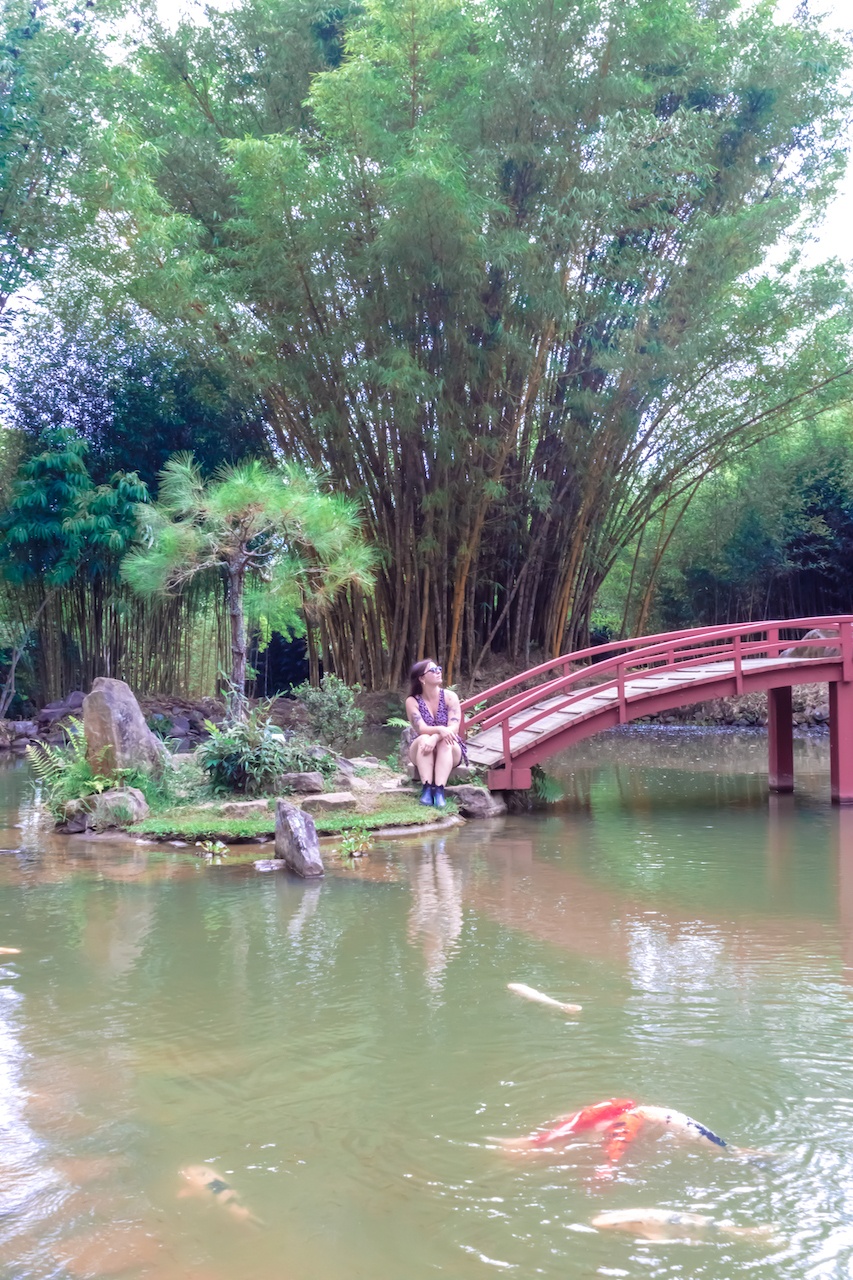 This tip goes for almost anywhere you travel and certainly applies to Costa Rica. Wearing flashy jewelry can make you an easy target for petty theft or pickpocketing. Since these are two of the most common crimes against tourists here, it's important to avoid making yourself a target.
This isn't to say that you can't or shouldn't wear any jewelry at all while in Costa Rica. Just keep in mind that the flashier it is, the more attention you may get from petty thieves, especially in big cities like San José.
Lock your valuables in a safe place.
I realized quickly that not every hotel, hostel, or Airbnb in Costa Rica has a safe for your valuables. In order to ensure that you'll have somewhere to lock up your things, you can do one of two things. First, you can ask your potential accommodation before booking if there are safes in every room. Or, you can take matters into your own hands and travel with a portable safe, which is basically just a theft-proof bag that you can attach to a fixed object.
I went with the latter, and brought my portable safe from Pacsafe with me. This thing was a lifesaver. Having my computer, passport, cards, and extra cash stowed away inside it really helped me have peace of mind while I was out and about during the day. It's small enough to fit easily into your backpack or suitcase, and can easily attach to a fixture in your hotel room.
Only bring small amounts of cash with you when you go out.
Since my bank charges me per international cash withdrawal, I tend to withdraw large amounts at a time. However, I don't carry all that cash with me while I'm out doing things. Leave most of your cash in a safe place inside your room, only taking with you what you think you might need.
I was surprised at how many places in Costa Rica take cards, so running out of cash while you're out is no big deal, as it's likely you can use your card in a pinch. Just watch out for steep international point-of-sale (POS) fees.
Keep your bags with you on public transportation.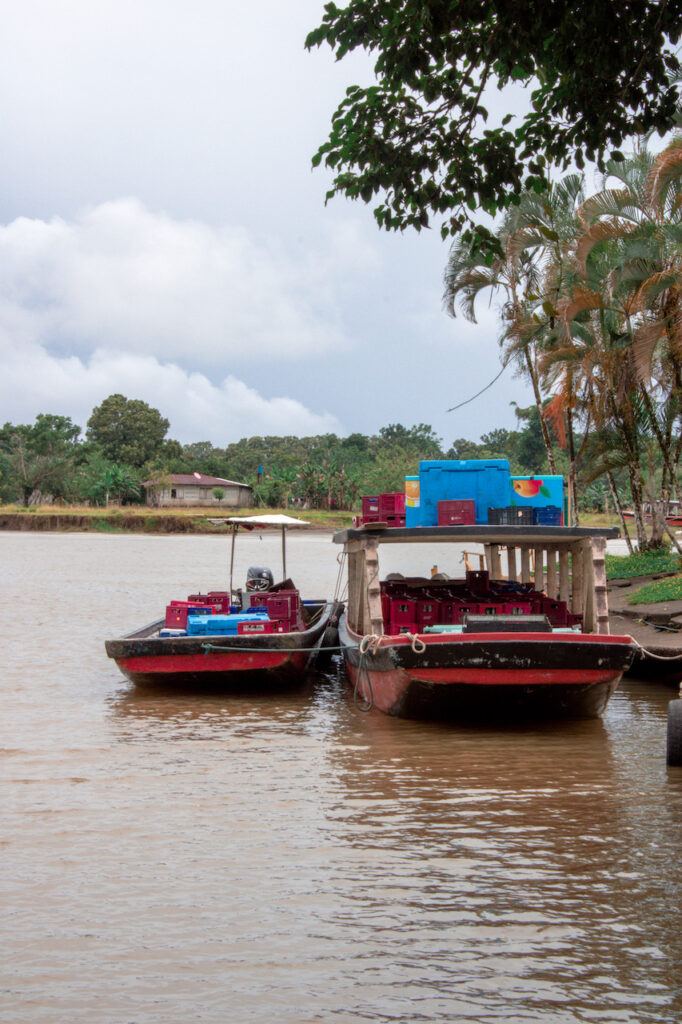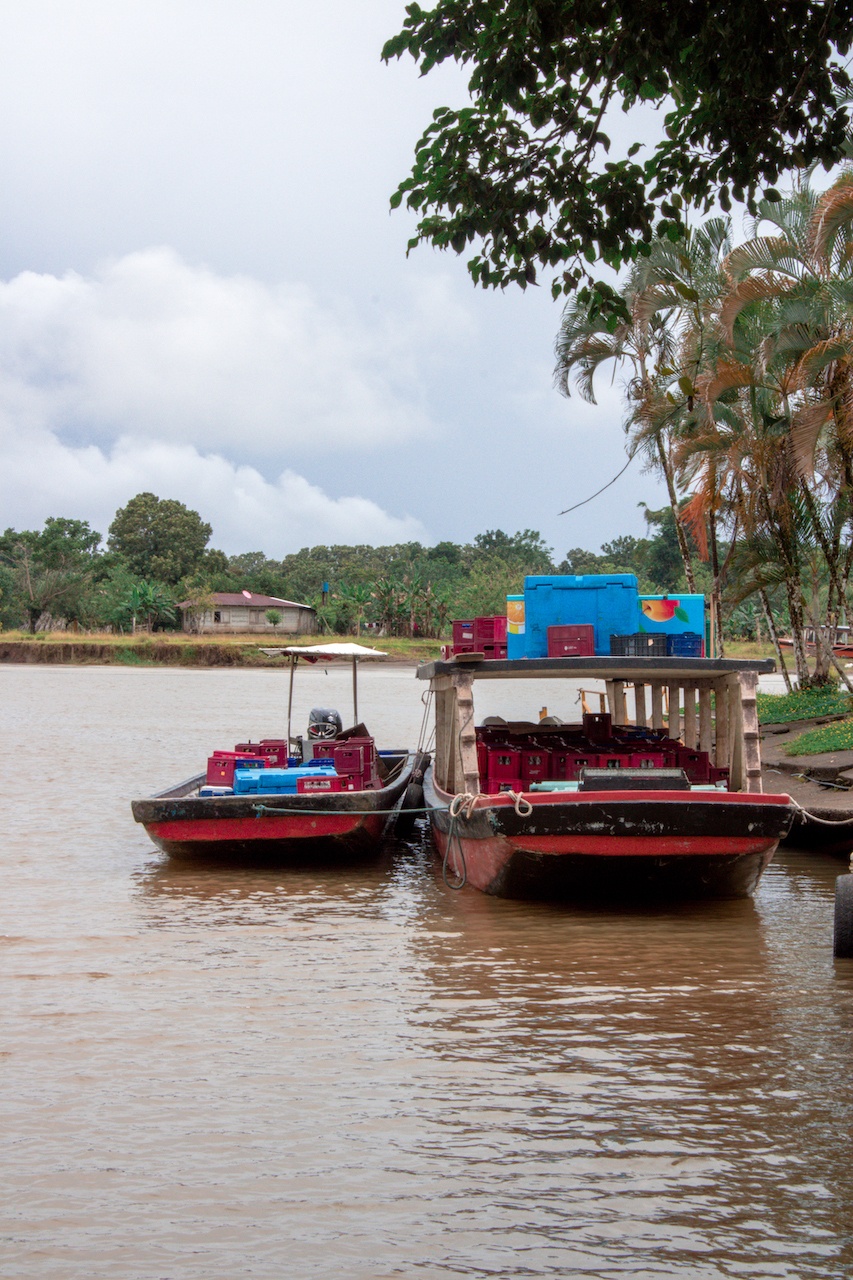 Occasionally at bus stations or taxi pickups, you might notice people going around asking if you need help with your bag. These are most likely scammers, so do not give them your belongings under any circumstance. While you ride public buses or take public boats, keep your bags with you instead of placing them in the overhead bins. Pickpocketing here is extremely common, especially on public transportation. There's also a risk that your whole bag could be stolen if you leave it unattended.
If you are taking a longer bus ride to another destination in Costa Rica, you can check your bag into the compartment below the bus. Make sure the driver puts a tag on your bag and gives you a slip of paper that corresponds to it. That is how you ensure that nothing happens to your bag, and it's also how you'll get it back when you get off the bus, so don't lose the slip of paper!
Be careful with unofficial taxis.
In Costa Rica, all official taxis are red. Even if the model of the vehicle varies, only the red ones are official taxis, and all of them should have a taxi number. In some places like Uvita, official taxis are very rare. The unofficial taxis have all but monopolized the market there, and without Uber, they're the only option.
In Uvita and some other small towns in Costa Rica, the unofficial taxis are no big deal. However, do not for any reason take one of these in big cities like San José, Jacó, Manuel Antonio, etc. If there's the option to take an official red taxi, take it.
The reason for this is that taxi scams are common in Costa Rica, and getting into an unofficial taxi in some places is just as risky as hitchhiking. If something happens, it's harder to track these guys down and hold them accountable. Whenever possible, take pictures of the license plate of the car before you get in, just in case you need to report a driver to the police.
Uber is illegal in Costa Rica.
I'm torn on how I feel about Uber in Costa Rica. On one hand, it's illegal there. Drivers might ask you to sit in the front seat with them in order to deter suspicions that they're driving for Uber, which can be uncomfortable as a rider.
However, at least in San José, Uber was a more reliable option and even felt safer for me. It was cheaper than taxis, too.
Usually I can wholeheartedly say that Uber is a safer option for solo female travelers, because it gives you the opportunity to report a driver if something goes wrong. However, considering that Uber is illegal, I don't know how this process would go down if you did have to report a driver.
Avoid walking alone at night.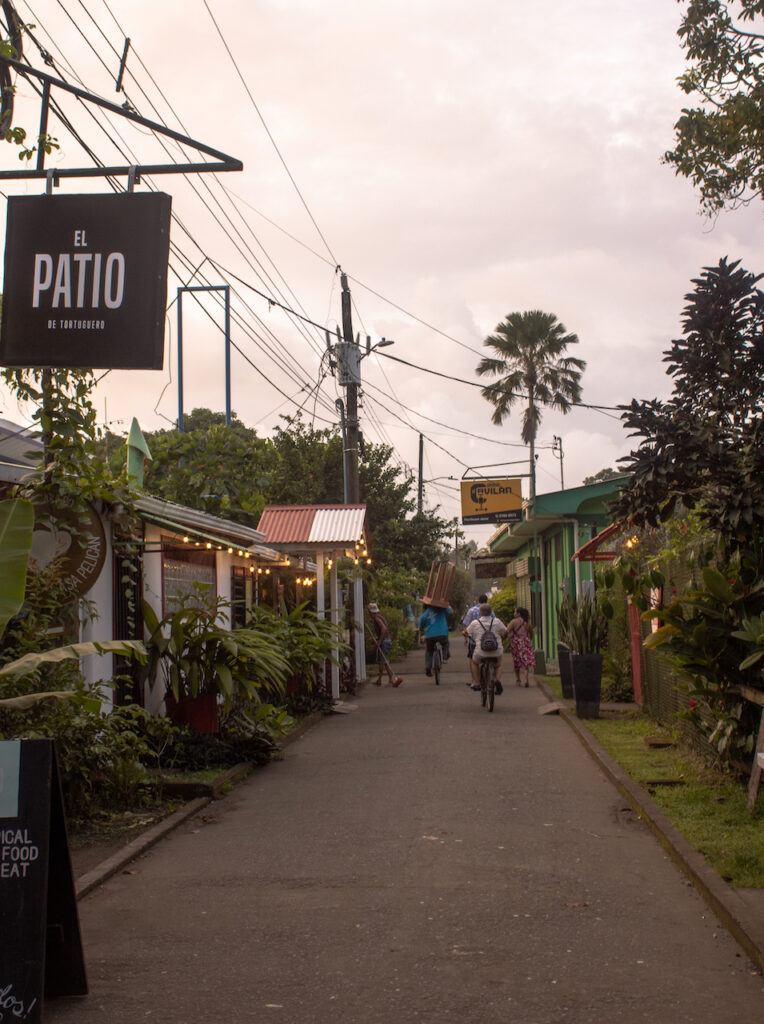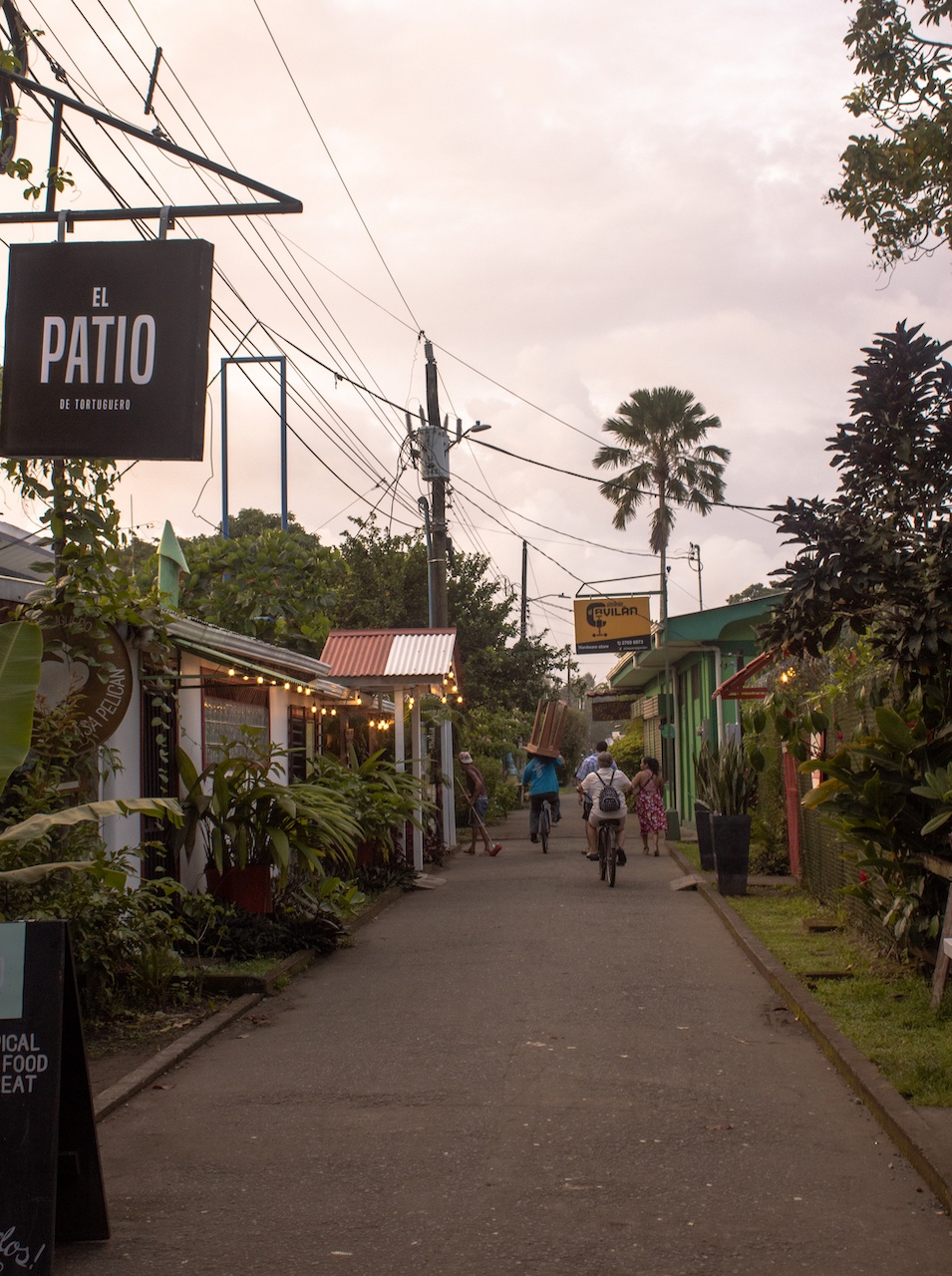 I touched on this a bit in my post about Tortuguero National Park, but it applies anywhere in Costa Rica. It is not a good idea to walk around alone at night here, just as it wouldn't be in most places. I noticed that especially in Tortuguero, San José, and Monteverde, there are many streets that are not well lit at night.
To avoid walking alone at night, always have a plan for how you'll get back to your accommodations. If you're out for dinner (you know I love a solo dinner date), take a taxi or simply choose a place that is just a couple minutes away.
Make sure you have travel insurance.
Whether you're heading to Costa Rica to chill on the beach and not much else or planning to pack in a ton of adrenaline-pumping activities, make sure to get travel insurance. Between the possibility of getting sick, injured, or robbed, having travel insurance will have your back in case of an emergency. Especially at private clinics and hospitals, medical costs can be quite high in Costa Rica.
If you're unsure about which travel insurance is right for you, check out this review of World Nomads or this comparison between World Nomads and SafetyWing.
Pay no attention to catcallers.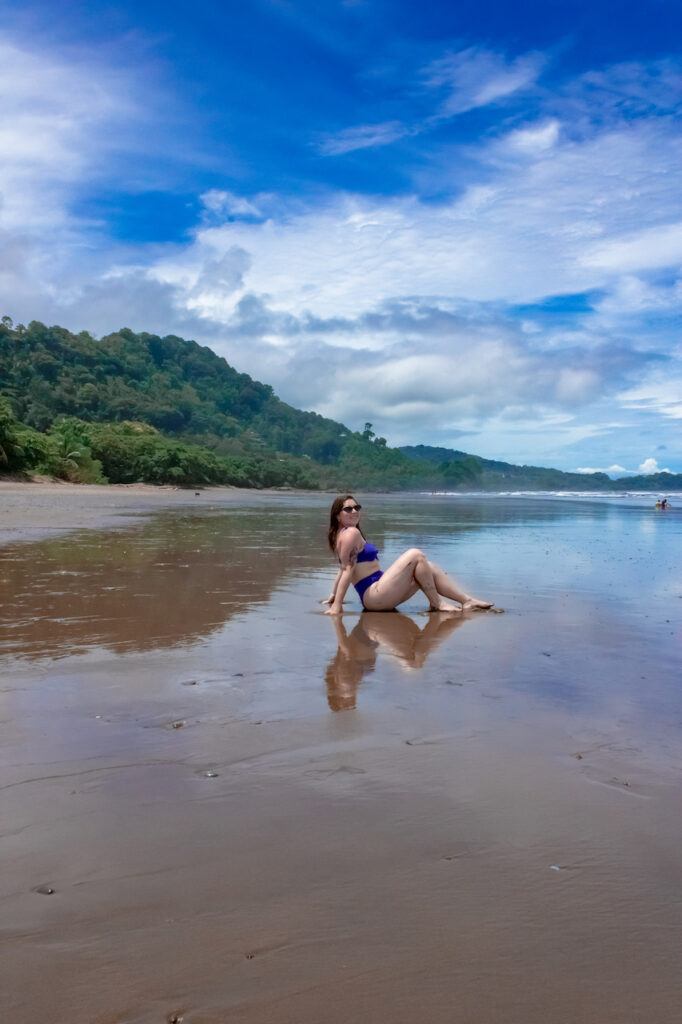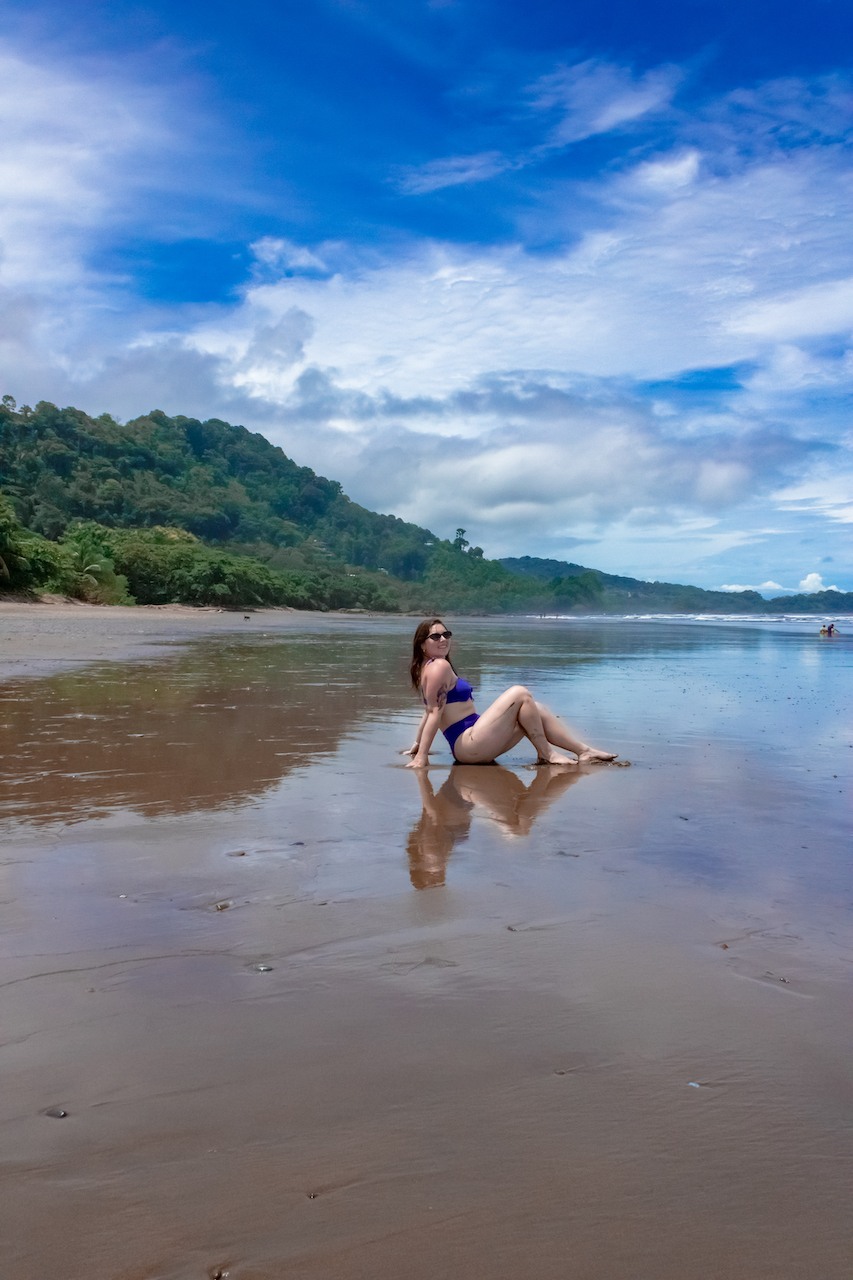 I have to admit that sometimes in Costa Rica the catcalling was brutal. Especially when walking alone through San José and La Fortuna, it seemed like every few minutes a new catcaller appeared out of nowhere. This gets under my skin, like it does for many women, but after years of traveling, I know better than to give these guys a reaction.
Sometimes holding your tongue feels really unfair. Like, "Why do I have to be careful with my words when this dude is blatantly disrespecting me?" I get it. However, if somebody is bold enough to catcall, they might be bold enough to follow you, stalk you, or worse. If you ignore them, it's less likely that they will have a reaction to your reaction. It's hard, but it's the best way to take care of yourself.
Speak up if you feel uncomfortable.
Although Costa Rica still has machismo engrained into its culture in many ways, I realized quickly that local women would have my back. I had a bad experience with a guide in La Fortuna who made inappropriate remarks to me during the tour. I wasn't sure if I should say anything, worried about how he might retaliate. After all, he knew where I was staying, since I was picked up there that morning.
I decided to speak up and went to the tour office afterward and was greeted by the manager, a woman, who was horrified when I told her about the comments. I don't know what happened after that, but it felt good to get it off my chest.
I'm sharing this, because I think it's important that we speak up when things like this happen. There's no guarantee that there will be consequences for the creeps that make us uncomfortable, but I still have hope that reporting them will make it harder for them to continue with their BS. After all, I felt like I was speaking up for all the other women who he had made uncomfortable who didn't feel safe enough to come forward.
Don't buy into fake tours.
In Costa Rica, there is a popular scam wherein fake tour companies offer extreme discounts for popular tours in the areas. Usually these swindlers will hang out in bus stations or around other popular landmarks. They'll require a deposit to reserve the tour, take your information, and then never show up the next day to pick you up for the tour. Scammed.
A rule of thumb for avoiding these fake tour companies is making sure to book either through your hostel, a reputable third party like Get Your Guide, or directly at the company's office. If the tour company doesn't have a storefront or office, that's not a good sign.
Never leave your things unattended at the beach.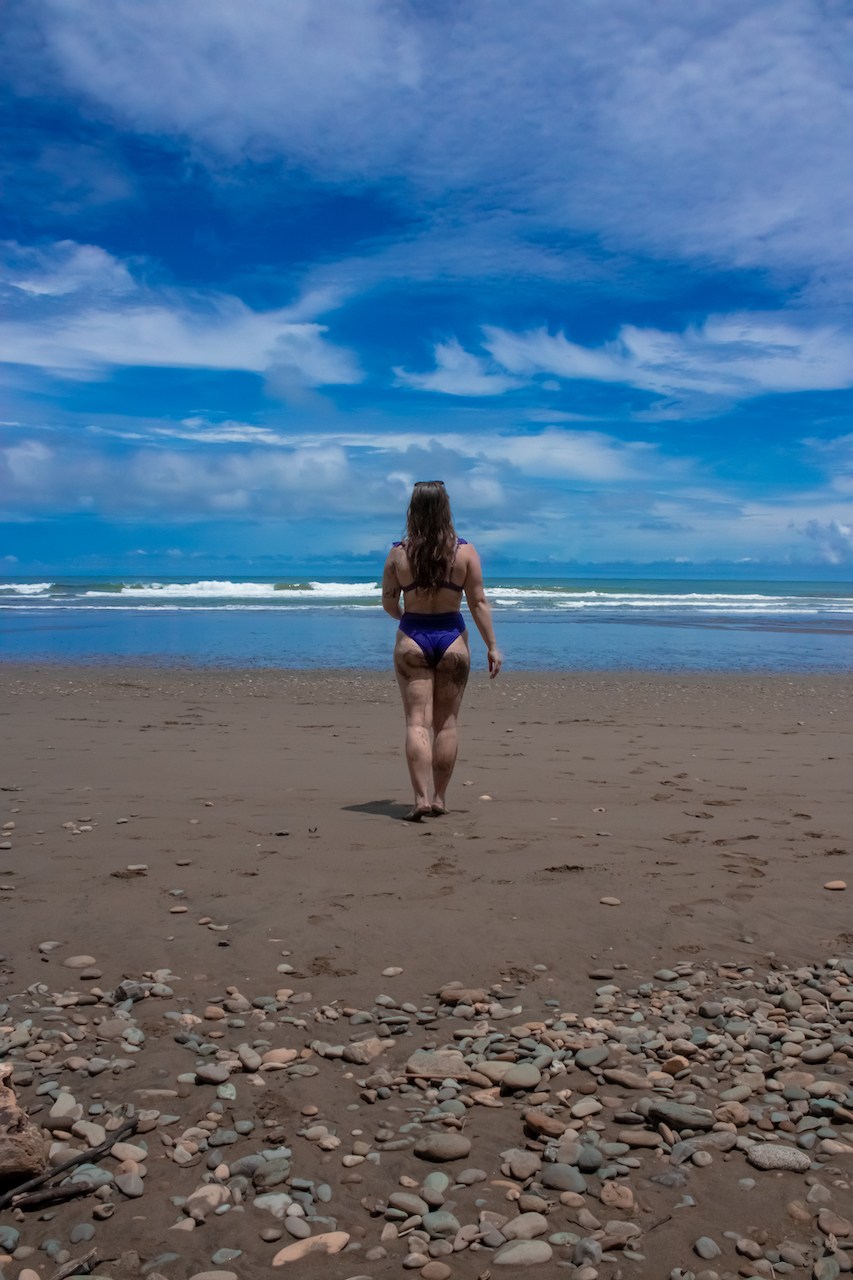 Thieves are very common on beaches in Costa Rica, even in the national parks. Do not ever leave your things unattended at the beach. If you're traveling solo, this can be tricky, as there probably isn't anybody with you that can keep an eye on your things when you decide to take a dip in the water.
To make sure your possessions are protected, consider bringing a bag protector, like this one from Pacsafe. This would still allow someone to slip their hands in and pull out any valuables from your bag, but they wouldn't be able to steal the whole thing in one go. A more secure option would be a portable safe that you can clip onto your beach chair or even a nearby tree. Since the thief won't be able to get into the bag or take it without taking the whole beach chair or cutting down the tree, your stuff will be safe.
Be careful about what you consume.
I probably sound like a broken record with this one, as I put this tip in every solo female travel safety guide I've ever written, but it's a very important thing to remember. Alcohol or other substances can cause us to lower our guard and therefore make us less aware of our surroundings. They also might inhibit our better judgement, making us more susceptible to poor decision making.
In some parts of Costa Rica, especially on the coasts, there's a pretty heavy drinking and partying culture. This is definitely true for tourist hot spots. If you do drink, make sure not to lose control and always have a plan for how you'll get back to your accommodations safely.
In recent years, drug trafficking has also become more common in Costa Rica. As tourists are among the largest market for traffickers, they are often targeted to buy. Besides the fact that drugs are illegal and heavily penalized in Costa Rica, it's very dangerous to partake, because you simply do not know what you're getting for sure (i.e., it could be laced or worse). Plus, do you really want to get mixed up with such a dirty business? Probably not.
Protect yourself against critters.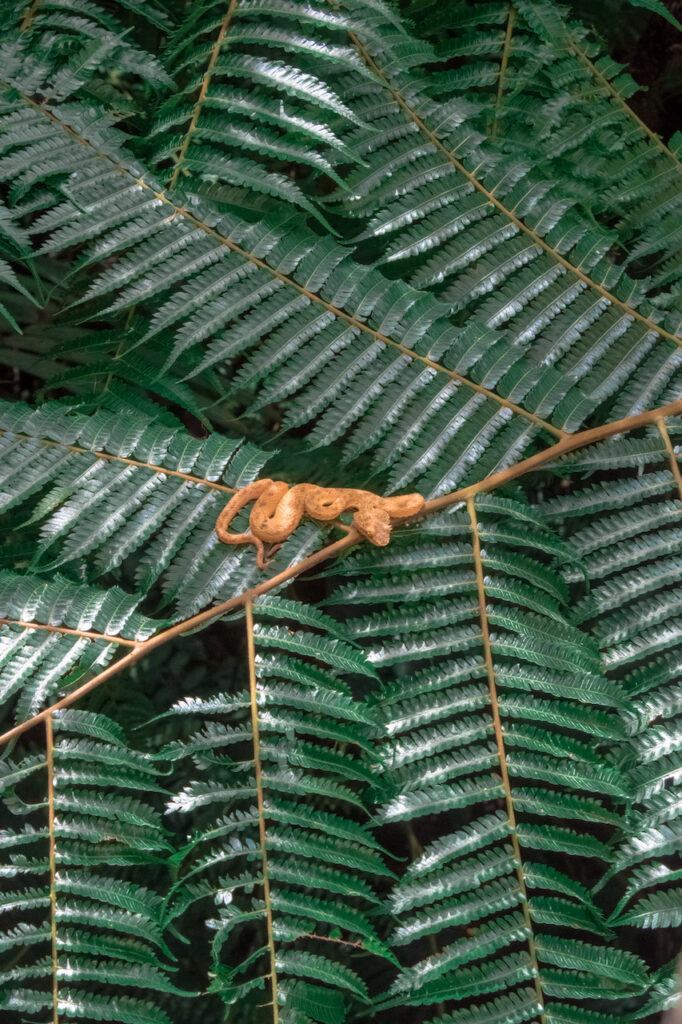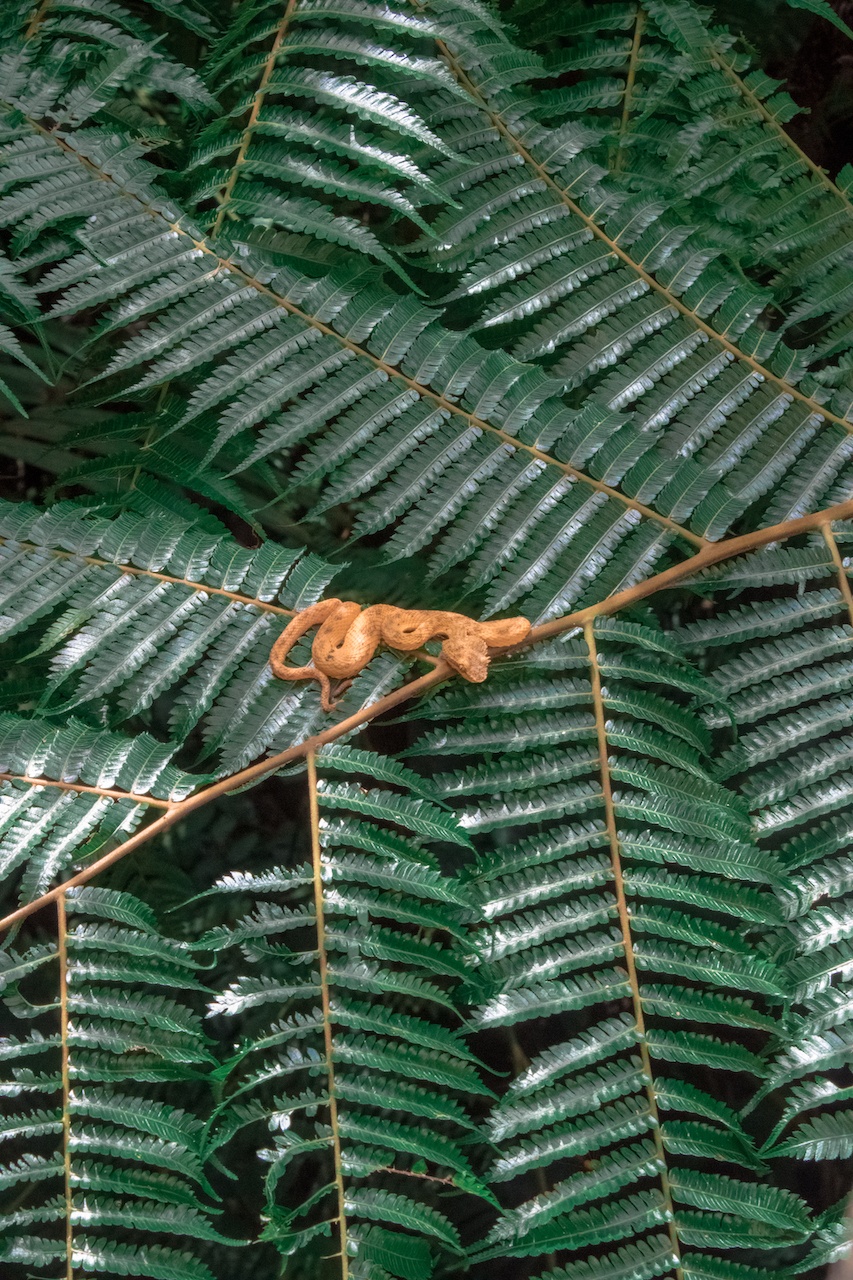 Costa Rica's lush jungles are full of creatures that are mostly harmless. Besides the fact that most of the spiders and snakes are not even venomous, they certainly don't go out hunting people at night and are definitely more afraid of us than we are of them. It's clichéd, but it's true.
That said, it would be wise to have a flashlight at the ready for late-night walks to the bathroom. Scorpions and spiders come out at night and sometimes make their way into hotel rooms, and stepping on one is unpleasant, to say the least. Also make sure to bring bug spray for the mosquitos, as mosquito-borne illnesses are still a fairly common occurrence in Costa Rica.
Is Costa Rica Safe for Solo Female Travelers?
The short answer is yes. It's perhaps the safest country in Central America for solo female travelers, maybe even all of Latin America. However, like any other place in the world, it's important to be careful with yourself and your things. I felt safe taking public transportation everywhere on my own, hiking alone in the national parks, and venturing to parts of the beaches where there were no other people around. That said, I followed all of the tips above and still had a couple weird, unpleasant encounters here.
No matter who you are, walking around alone as a woman puts a target on your back. It doesn't matter if you're a local or a foreigner: there are risks associated with being a woman, unaccompanied by a man. I hate that the world is this way, but it's the truth.
My experience
Besides the bad experience with a tour guide that I mentioned above, there were a handful of other unsavory moments throughout my trip through Costa Rica that made my skin crawl. It was mostly catcalling on the street, but occasionally I'd hear a comment here or there from a taxi driver, waiter, or tour guide that was just uncalled for. Unfortunately, it seemed very common for men to behave this way toward solo women in Costa Rica, which was unsettling for me.
I don't want to scare anyone or deter anybody from traveling to Costa Rica solo. Quite the contrary! I still think it's a fantastic place for solo female travelers. However, knowledge is power, and the more you're prepared, the easier it is to ignore the creeps and focus on having a good time (at least in my experience).
Keep in mind that my travel tips and experiences are solely my own. What you do to feel safe in a new place is totally up to you.
Pin me for later: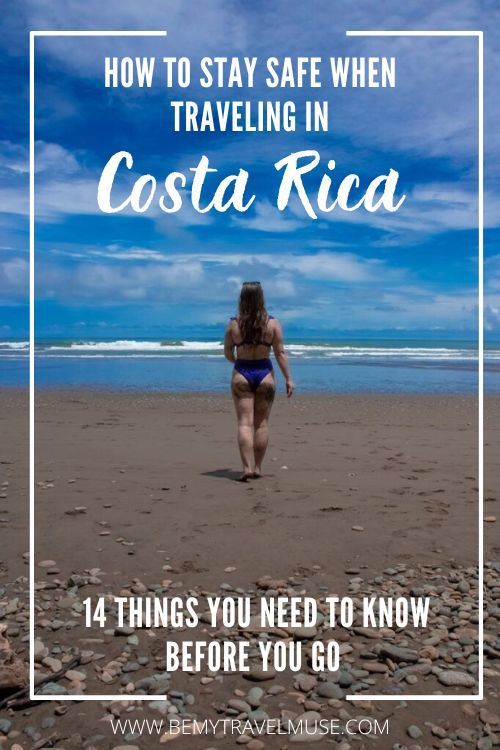 If you've traveled to Costa Rica, what other safety tips do you recommend?