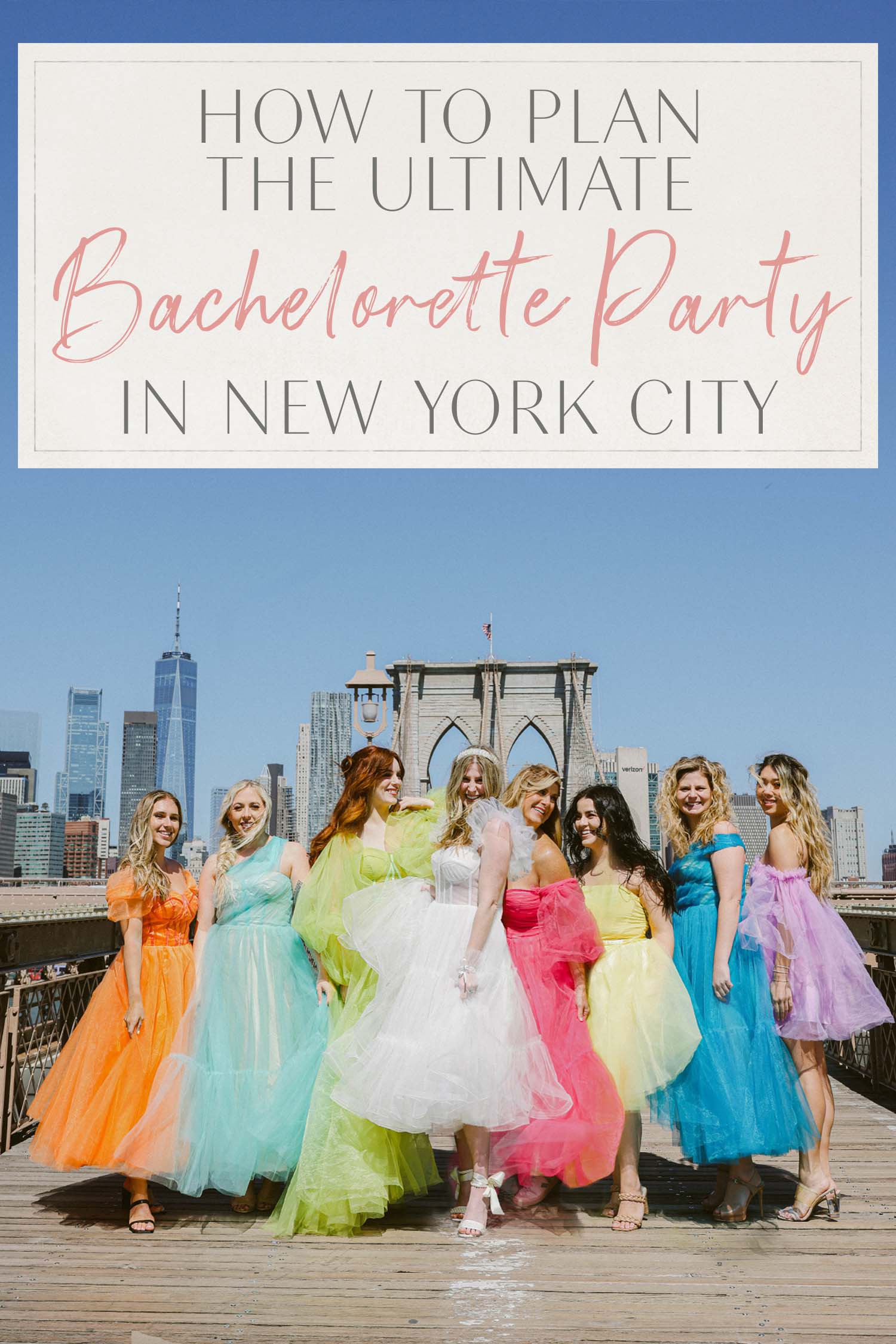 Who needs bachelorette tiaras and sashes when you can strut down the sidewalks of Manhattan wearing Sex and the City-worthy heels?
I'm Chelsea, the Blog & Content Manager at The Blonde Abroad, and my friends joined me in NYC for the most glamorous bachelorette party!
From a photoshoot with a private driver to a food tour to getting permanent bracelets and having drinks at the iconic Campbell Bar — it was definitely an NYC itinerary for the books.
As someone who absolutely loves to plan trips and figure out all the details, I figured I'd share the wealth and share my NYC bachelorette party ideas so you can navigate the concrete jungle with ease.
Here's how to plan a legendary bachelorette fête with your friends in NYC!

Gather Essential Details
The main things: when is everyone available and what budget are we working with?
Start Planning Early
My friends and I started talking about this trip about 6 months in advance; this gave us time to figure out a date that would work for everyone in the group and set a budget.
Talk to your girlfriends and make sure everyone has an idea of what to expect in terms of what activities you're looking at booking, along with pricing. Things add up quickly and you don't want to have any violation of expectations or hard feelings.
Figure Out the Date
I took a poll across three weekend dates to see which one would work the best for my girlfriends and had them rate in preference order. From that, we decided on the last weekend of April — and the weather was pretty good (aside from some serious wind and cold gusts, it was all sunshine — but I think we got a little lucky with no rain!)
The best times for NYC are typically in the spring (April-May) and fall (September-November).
Book the Big Stuff
From there, book the hotel, flights, and activities (tours, Broadway tickets, etc).
I'll chat more about our hotel down below but definitely take into consideration how many people are in your group and how much space you'll need. Most NYC hotels are notorious for being small.
Other Things to Consider
This is a great time to ask each of your friends their size and any color preferences if you're putting together gifts. Also, take note if anyone has any food allergies!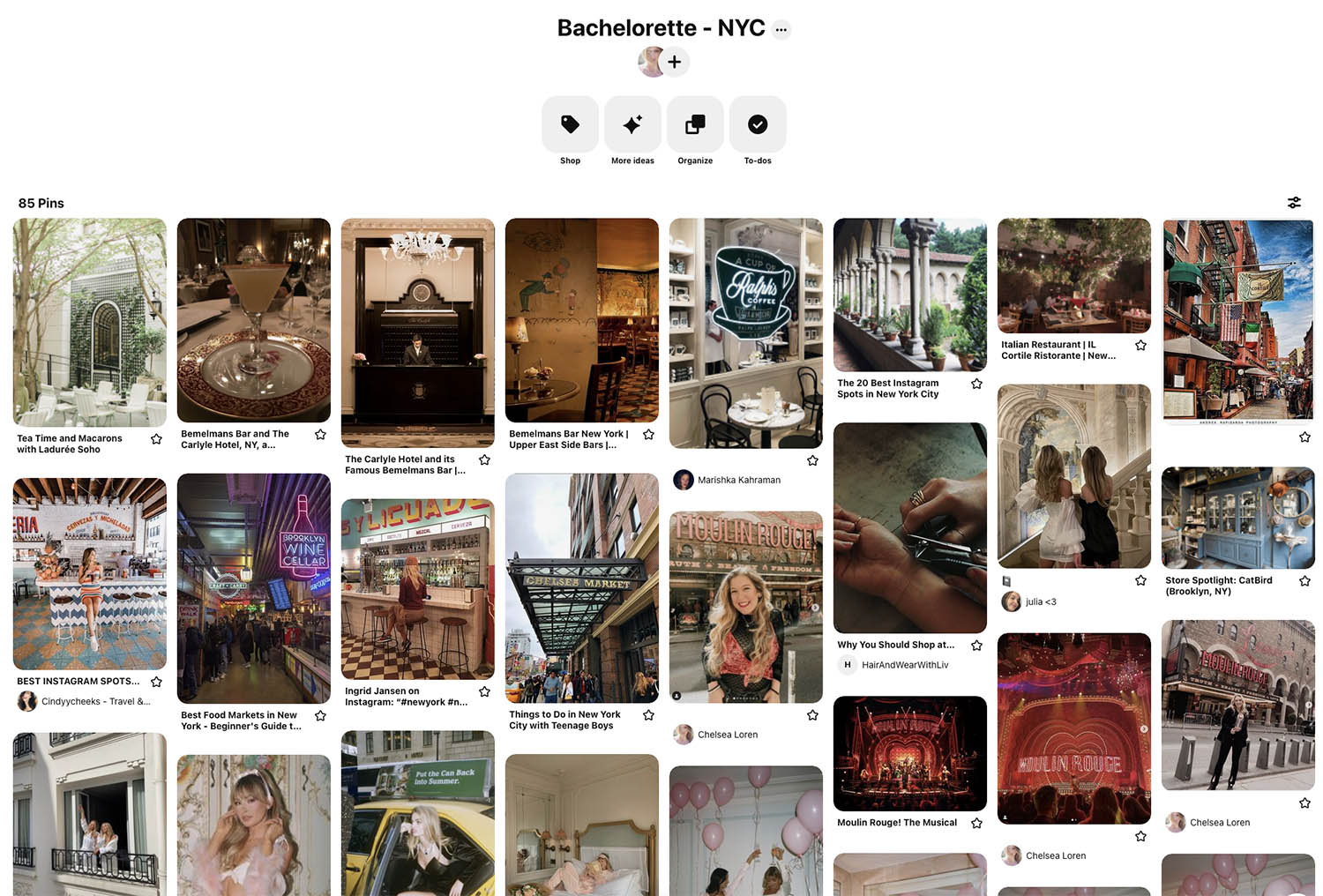 Create an Aesthetic on Pinterest
I'll be the first to tell you that I am a planner and I love to style things. As a branding photographer, styling events is my jam and I don't think any of my girlfriends were surprised when I sent them a mood board of what I was thinking!
While you don't need an *aesthetic,* my philosophy is it's so much more fun to get dressed up, and when else would you?
The vibe for this trip: a bit of classic New York meets splashes of color.

Map Out & Plan Your Itinerary
Figure out the key things you'd like to do, for me those were: a photoshoot, food tour, drinks at a swanky cocktail club, and seeing a show on Broadway (Moulin Rouge, in particular).
One thing to note as you plan out days and activities — pay attention to where things are located and what kind of transport is needed (subway, time to walk, Uber, etc.).
Make sure to account for transportation time when making the schedule!
Helpful Tip
The subway system in NYC has upgraded to contactless payment, which is SUPER convenient! It's no longer necessary to buy a metro pass and load it with funds, rather if you've got a Tap and Go Card, Apple Pay, or your card on your smart device — you can scan it and it will automatically deduct the fare for your trip.
And, as an added bonus — if you're continually taking the subway and worried that you might miss out on reduced fare pricing, you can take unlimited rides per week for no more than $33 (it's like a 7-Day Unlimited Ride Pass, only you don't have to buy it upfront).
I'm looking forward to this being adopted in more cities as it was super convenient! 
Here's a quick look at the itinerary we created:
Thursday: Casual Day – Brunch & Themed Y2K Night
Friday: Photoshoot with Driver, Permanent Bracelets, and Dinner in Little Italy
Saturday: Food Tour, Drinks at The Campbell Bar, Moulin Rouge
Sunday: Free Day to Explore
One of my girlfriends took our final itinerary and printed it out for everyone (these were placed on the beds upon arrival).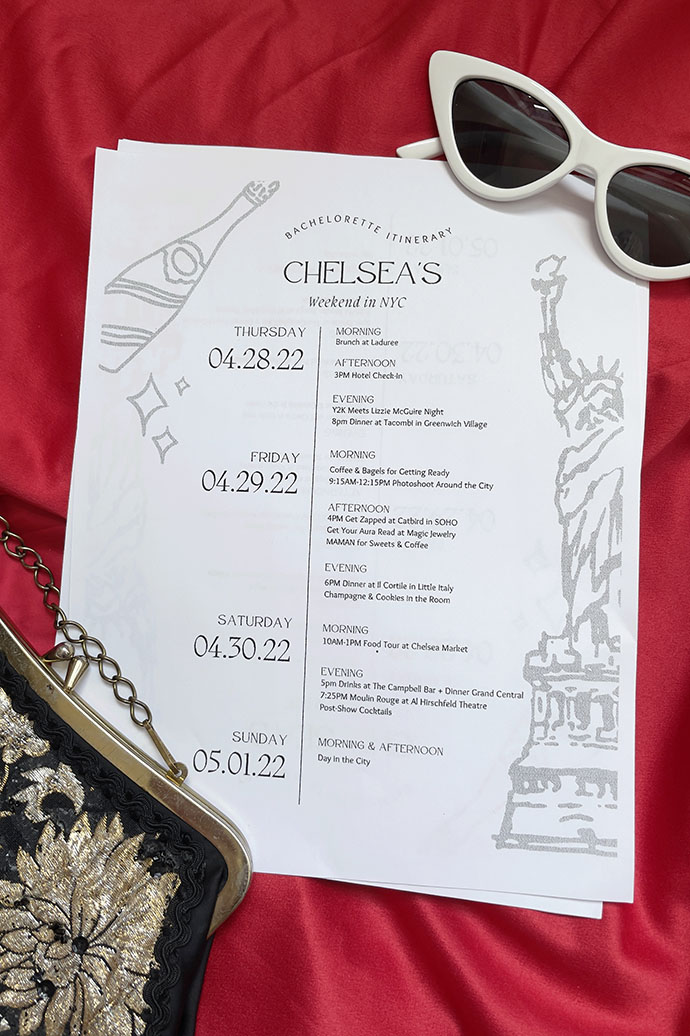 Unique Bridesmaid Gifts
My love language is gift-giving, along with quality time — so I had a lot of fun putting together unique bridesmaid gift boxes for my girlfriends to open once they arrived in the city.
Here's what I included in the gift boxes to give you some ideas:

Helpful Tip
Because the Fujifulm Disposable Cameras contain undeveloped film, I kept them separate from the boxes (in my carry-on luggage) and had them inspected at airport security, so as not to ruin the film with the X-ray.
It's a bit of a hassle, but I had other film that needed to be checked, too. Ultimately, you paid for the film and you don't want it to get ruined.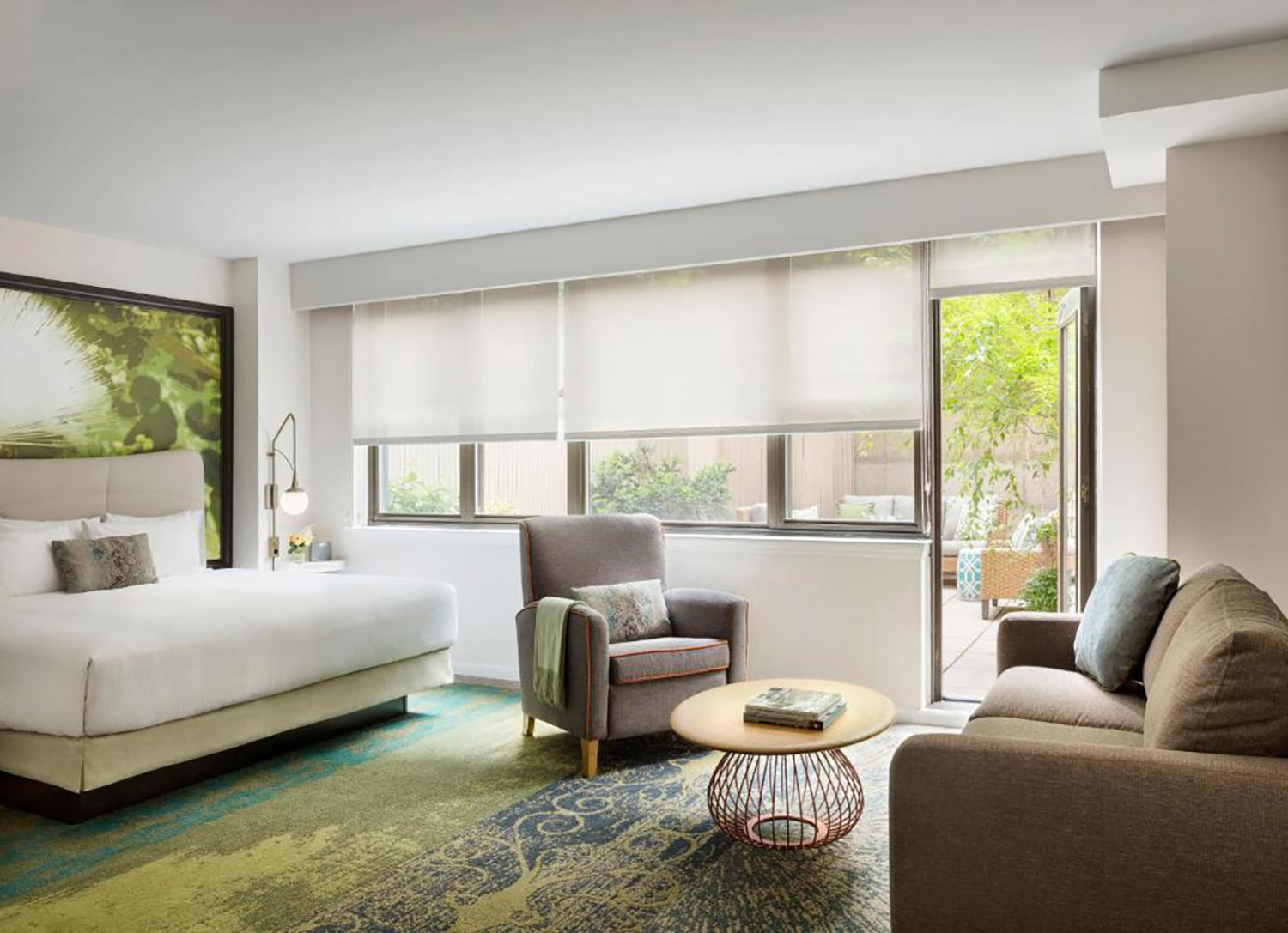 The Gardens ES Suites New York
Where to Stay
Where to stay in NYC for Bachelorette Party was one of the biggest questions we had — especially with a group of 8 girls.
I would highly recommend The Gardens ES Suites New York in the Upper East Side! While there are definitely more charming boutique hotels around the city, you cannot beat the size or price of The Garden ES Suites.
We were able to get a 2-bedroom, 2-bathroom suite for 8 girls, and it was plenty of space. I'm sure you can imagine how easy it is for things to be cramped and confined in NYC, so finding this hotel was a breath of fresh air.
This also included a large dining/living room, and a full kitchen. Seriously impressed!
It's about 10-blocks from Central Park and just a few minutes from several subway entrances. Definitely a fantastic NYC hotel pick for a big group!

Thursday: Arrival & Y2K Night
Thursday was our "casual day," as everyone was arriving to NYC from various places.
Ladurée Brunch
Start festivities off early with brunch at Ladurée. There are a few locations in the city, so take your pick. This was also an ideal spot to hang out as their SoHo location has a gorgeous garden (and our hotel room wasn't ready quite yet).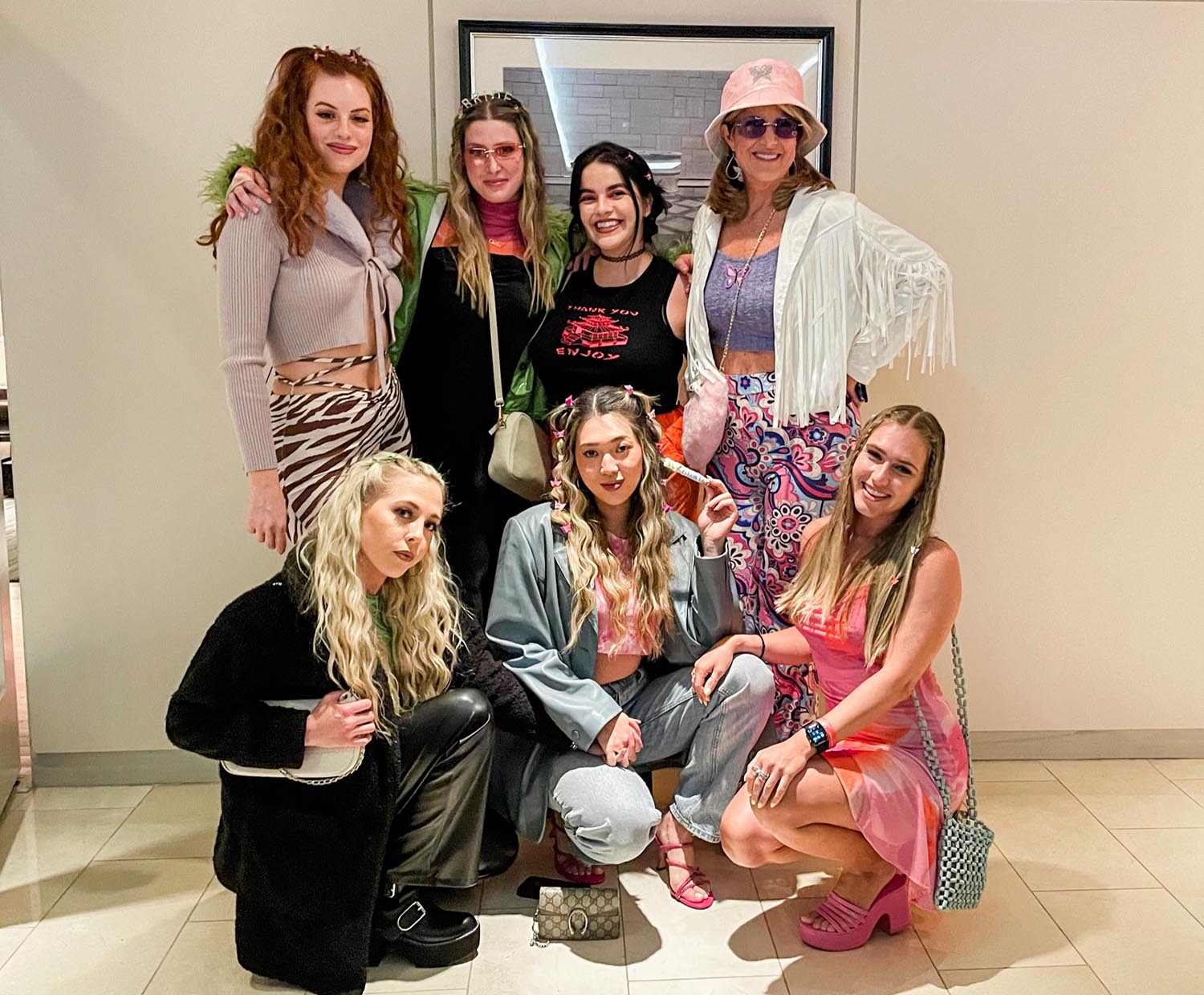 Y2K Night in Greenwich
When it comes to bachelorette party themes, pick a theme you love and go for it! As a '90s baby whose childhood was dominated by Lizzie McGuire, my friends were THRILLED with the idea of a Y2K-themed night.
Reservations were made at Tacombi for (the best) fish tacos and pitchers of margaritas. Dinner was followed by more drinks and classic NYC pizza.

Friday: Photoshoot & Little Italy
Morning: Photoshoot Around NYC
 My fiancé and I did our engagement shoot in New York City and it was such a memorable experience that I wanted to do something similar with my girlfriends.
In high school, we were absolutely obsessed with the show, Gossip Girl (to be honest, we still are), so I thought it would be fun to have a Gossip Girl meets Sex and the City-inspired photoshoot.
While I clued all my friends into our itinerary and they knew we were doing a photoshoot…they didn't know what we were wearing — and this was such a fun surprise!
What You'll Need:
Hire a Photographer
Coordinate Outfits
Hire a Driver
Plan Out Locations
Have Food Beforehand/Bring Snacks (we had Bagels & Coffee delivered to the hotel early in the morning)
To pull this off, I sent them a sizing chart and they let me know which size would fit them best. (Just in case, I brought clothing clips should anyone's garment be too big).
I purchased custom labels from Lucy March Studio on Etsy with each gal's name so they could find their dress on the clothing rack. 
My mom (who also happens to be my best friend) is a professional photographer and was already going to be in NYC for all of the festivities…so that part was taken care of.
Obviously, this will take a bit more work if you don't have a built-in photographer. That said, Google searching "NYC Photographers," looking for an Airbnb Photographer Experience, or scouting on Instagram may be great resources to find your photog. 
While you can Uber around, it makes it a lot easier to hire a driver to take you to certain destinations throughout the city — and honestly a lot more fun. Instead of waiting 5-10 minutes for an Uber pick-up, our car was right there when we finished at a location, we could leave bags with lipgloss and brushes in the car, and blast throwbacks through the speakers.
The colorful tulle dresses are custom-picked colors from Needle Meets Threads on Etsy, with a couple of them from Amazon. My white dress is by Ava Gowns.

Great Photo Locations in NYC
DUMBO (Down Under the Manhattan Bridge Overpass on Washington Street)
Brooklyn Bridge
Central Park
Washington Square
Met Steps/Food Carts in Front of Museum
Evening: Permanent Bracelets & Dinner in Little Italy
Once we had rested from all the chaos of the morning, we got cleaned up and out of the fluffy tulle for a night in Little Italy.
Several of us had appointments to *get zapped* at Catbird—aka getting permanent bracelets.
This was such a cool momento!
You can take your pick from a number of chains they have, from delicate gold ones to those that sparkle with a diamond; the chain is sized to fit you perfectly and welded on to last forever. Talk about the ultimate friendship bracelet!
We had dinner at Il Cortile in Little Italy and it was *chef's kiss.* Delicious Italian food in a darling restaurant with an indoor garden patio.
My fiancé surprised us by coordinating with one of my girlfriends and having several bottles of wine sent to our table, along with the sweetest note.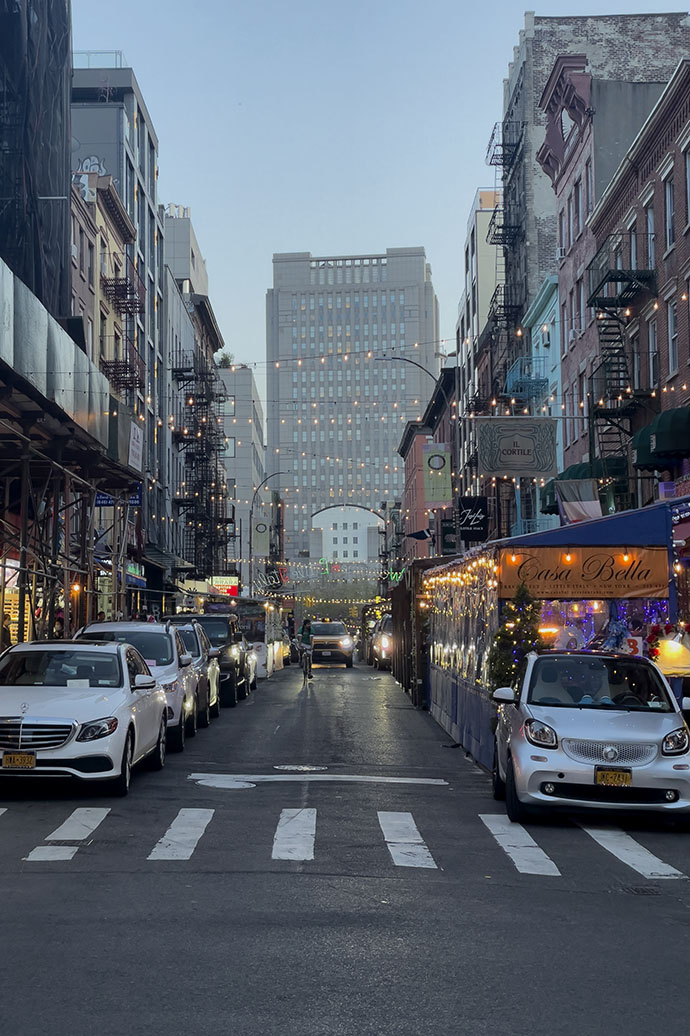 Late Evening: Cookies and Champagne
We had custom cookies created for the Bachelorette Party by The Sweet Shack (local to Southern California).
As a nightcap, we had cookies, champagne (or tequila, depending on each gal's preference!), and watched a movie (The Princess Diaries!). We also had these darling white chocolate ombre pretzel sticks to snack on (from Treats by Taryn via Etsy).

Saturday: Food Tour & a Swanky Evening
Morning: Food Tour
Food tours are one of my favorite things in the world as they combine my love of history with food, and I take pride in introducing my friends to them.
I've taken the Heart & Soul Greenwich Village Food Tour with Foods of NY before, and I loved it so much — however, I wanted to see a different part of the city, so we headed to the Meatpacking District to explore Chelsea Market & The Highline with Foods of NY!
Originally the NABISCO Factory, the Chelsea Market is now a converted food hall and indoor market. It's lined with so many cool eateries (all of which have to be invited to have a shop in Chelsea Market — you won't find any fast-food chains here).
We sampled artisanal NY hot dogs, Sicilian Pizza, a delicious Italian Crostata, a buttermilk biscuit and homemade jam, gelato, and more!
One thing to note — take into account if any of your friends have food allergies and let the tour company know well in advance!
Cocktails at The Campbell Bar
Since we spent all morning walking around The Chelsea Market, naps were in order before getting glammed up for the evening.
Definitely allocate more time than you think you need to get ready — especially for a large group! Remember you'll likely be limited on bathrooms/showers and mirror space…and generally, large groups take ample time to get ready. So just a heads up!
Being a diehard Gossip Girl fan, we had reservations at The Campbell Bar located in Grand Central Station (this is the iconic bar where Nate and Serena are seen hooking up in the first episode).
Reservations open up two weeks in advance and you absolutely need them.
I'd highly recommend trying their Lychee Martini and/or their Espresso Martini — so delish! While they don't serve proper meals at The Campbell, you can order lite snacks like Pretzel Bites, Chips & Guac, or a Cheese & Charcuterie Board.
Looking for something heartier? Head down to the Grand Central Dining Concourse and have your pick from a number of different eateries!
Moulin Rouge on Broadway
This was my second time seeing Moulin Rouge on Broadway…and I'd see it again! It's *THAT* good.
But if Moulin Rouge is not your thing, there are so many shows to pick from that are on Broadway. Definitely get tickets well in advance if there's a particular show you have your heart set on!
After the show we grabbed food down the street, you could definitely get dinner before (and we had planned to, but the Campbell Bar ended up being too cool to want to leave!).

Sunday: Free Day
Because my friends and I had differing flight times as we were all heading back to different parts of the country, Sunday didn't have a set itinerary.
This allowed us time to get our luggage sorted, pack up the room, have a leisurely brunch, and do some last-minute shopping in Soho.

Overall
And there you have it — my ultimate New York City bachelorette party! Truly one of the coolest trips and I'm so thankful I got to share it with my best girlfriends…and now you! I hope as you (or your friends) plan the bachelorette party of a lifetime, you create memories just as beautiful as I now have.
Having those special people in your life is truly something to celebrate in a big way.
As a Note
The only thing I would have done differently is added in more "downtime" to relax at the hotel. When you're traveling with a bigger group of friends, you should ALWAYS count on it taking longer to get out the door than you think. Definitely add a buffer time for reservations (or call the place to let them know you're running late).
Additionally, it would have been helpful to have designated one person to pay for all the Ubers/meals/everything and split the costs after, instead of doing a spreadsheet and calculating who owes who what.
Any planning questions? Feel free to leave them in the comments below!