Let's be honest, Bora Bora with its exclusive overwater bungalows isn't known for being cheap.
French Polynesia, the island nation it's part of, is many things including remote, pristine, beautiful, and truly special – but not at all cheap.
That said, I'm spent years bootstrapping my way around the globe, finding budget ways to enjoy the Maldives, Iceland, and other 'expensive' places. I'm a firm believer that you can make Bora Bora affordable with some effort. Here are your options from fancy to cheap:
Bora Bora Accommodation
Out of all the islands of French Polynesia, where I've spent a cumulative 4.5 months now, Bora Bora is easily the most expensive. Expect to pay twice as much for an overwater bungalow on Bora Bora as you would on Tahiti or Mo'orea.
That said, Bora Bora is, in my opinion, more beautiful than both Tahiti and Mo'orea, and its fame as a honeymooner's destination has made it that much more expensive and exclusive. That said, you can find a place to stay on Bora Bora for as little as $100, or upwards of $3k. Read on:
The Most Luxurious Bora Bora Hotels
Four Seasons Bora Bora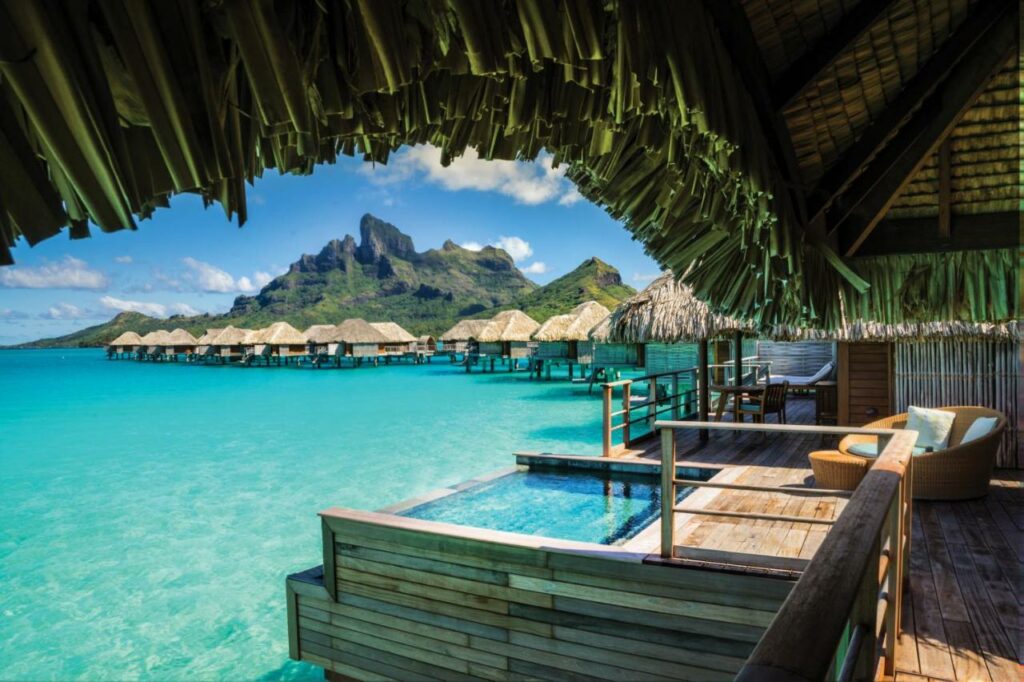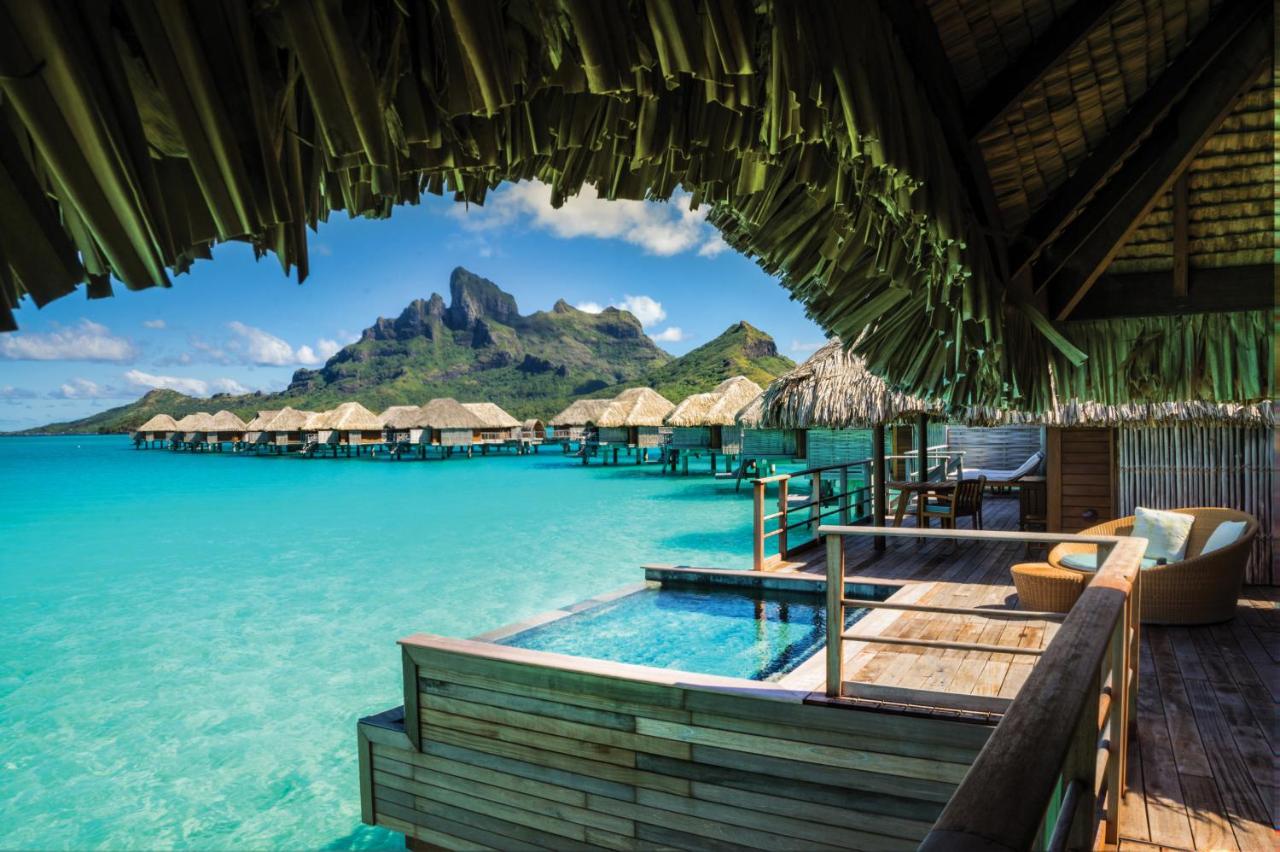 The Four Seasons Bora Bora offers overwater bungalows that are over 1000 square feet, is on a motu (small coral island) with a gorgeous view of the main island's volcanic cliffs. It features an infinity pool, private beach, lagoon sanctuary with free snorkeling tours, a beachfront spa, tennis courts, and a gym. This is one of the best-rated resorts on Bora Bora and costs an average $2000/night for an overwater bungalow during high season.
Conrad Bora Bora Nui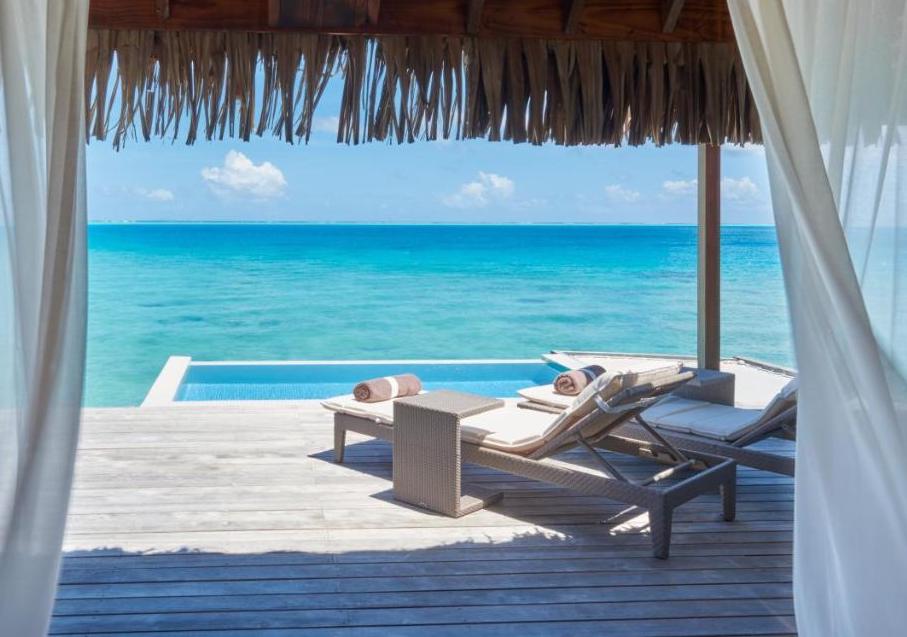 If you're looking for an overwater bungalow with its own pool at a resort on a private cove, the Conrad Bora Bora Nui has you covered. With gorgeous views of the main island, you'll be spoiled for views, lagoon swims, and all-marble bathrooms. The overwater bungalows with both a pool and sunset view run $3000/night in high season.
St. Regis Bora Bora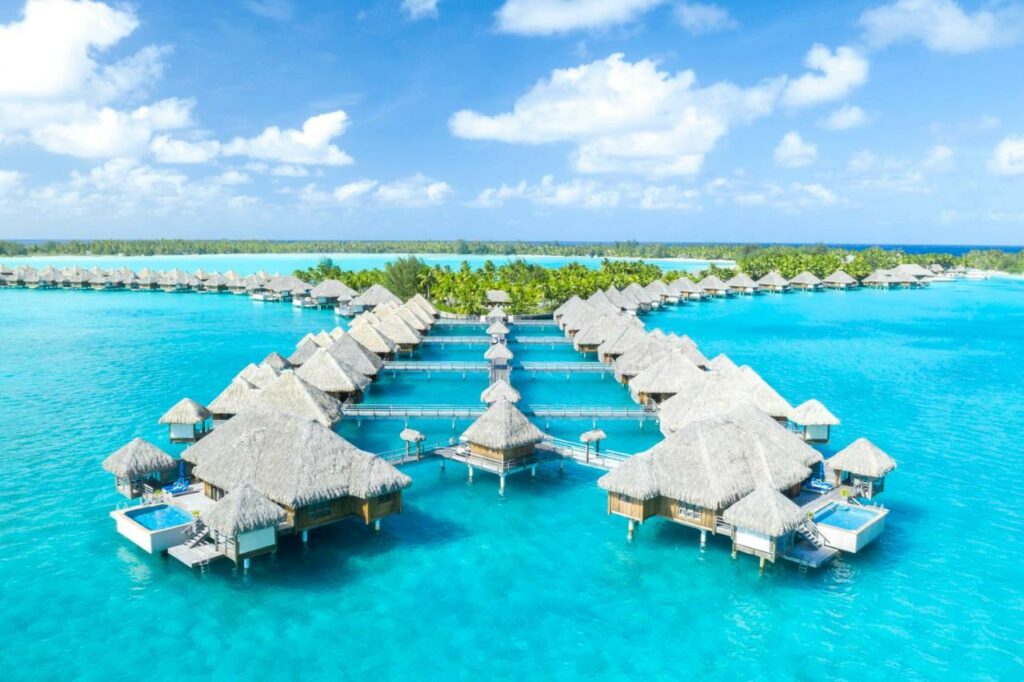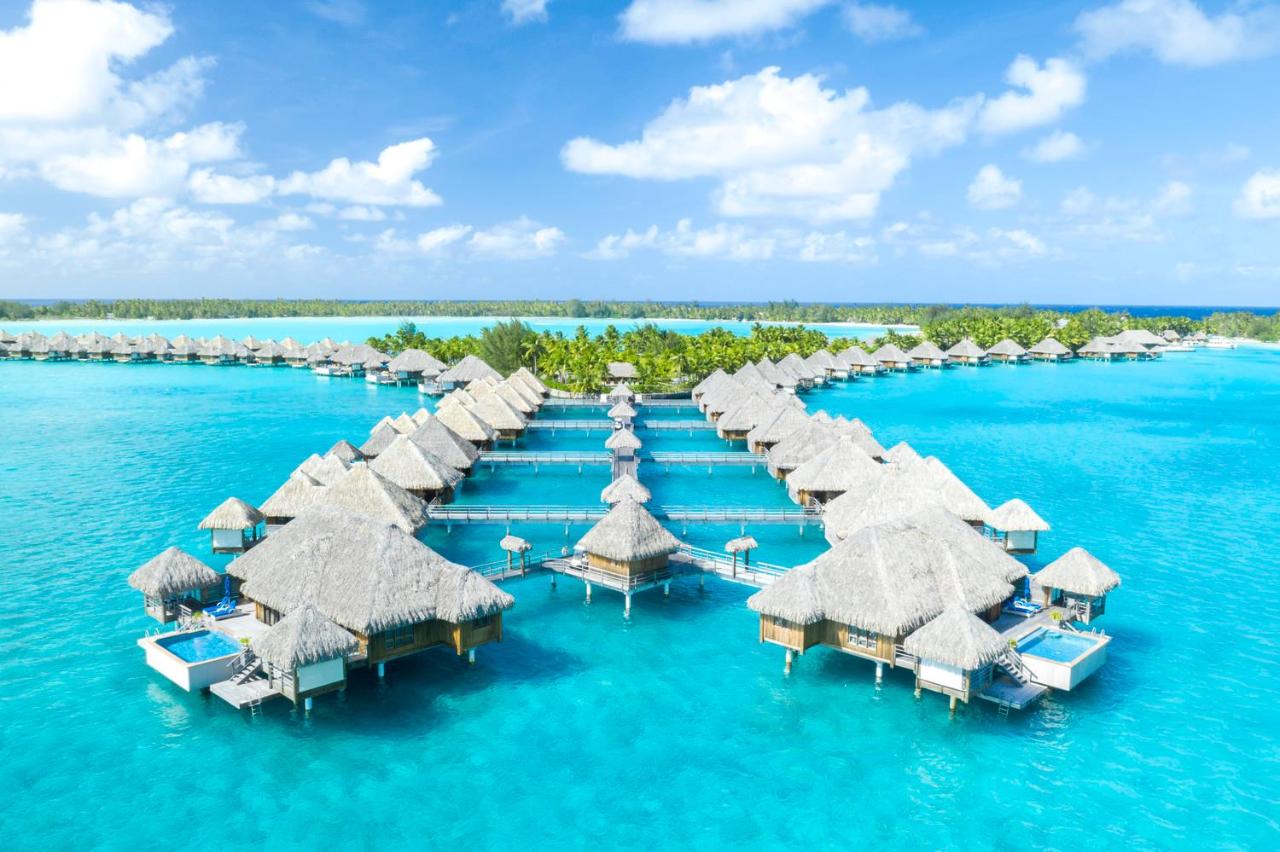 Another luxury option that reviewers love, the St. Regis Bora Bora is built over a gorgeous lagoon and features large bungalows, also with marble bathrooms, and some with their own pools. Guests have access to free snorkeling and wind surfing equipment, and the resort offers a butler service and has its own Hammam. Overwater bungalows range from $2100-$3500 during high season.
Mid-Range Options
Intercontinental Bora Bora Le Moana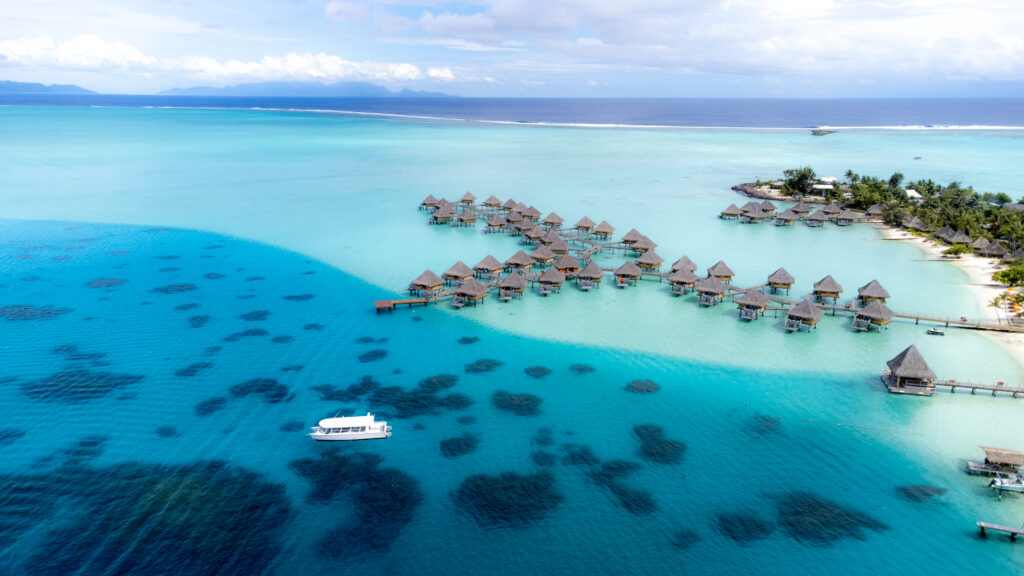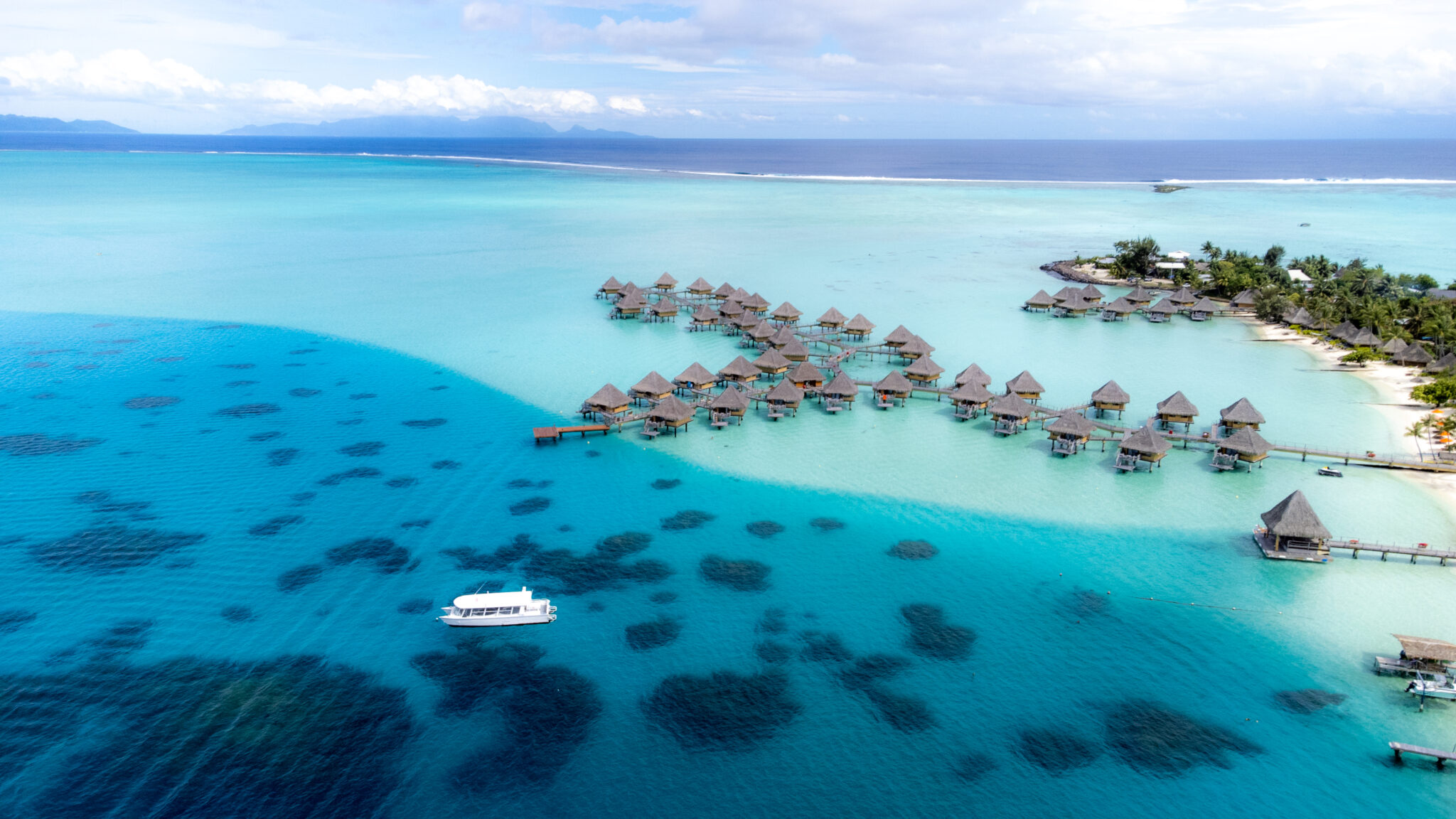 Though still somewhat pricey, and not exactly a 'mid range' hotel if compared with any other island, the Intercontinental Le Moana offers an opportunity to get into an overwater bungalow for closer to $1000/night during high season. This is where I stayed in Bora Bora. I liked that it was located on the main island, which gives you a bit more flexibility to roam, hike, and eat outside of the resort. It was stunning, with a gorgeous lagoon view.
Royal Bora Bora
Practically next door to the Intercontinental Le Moana, you'll find the Royal Bora Bora, which features beachfront rooms on a white sand beach on the main island. You can book a twin room for as little as $267/night here during high season, making it the cheapest mid-range find on this list. The rooms are certainly less fancy than the others you'll find on this list, and so is the pool, but for 1/10 of the price of the luxury bungalows, it's easier on the wallet.
Fare Ahuna
A locally-owned option on a small motu on Bora Bora, Fare Ahuna offers a private escape that can accommodate up to four people in its two bedrooms. This offers a more local experience on Bora Bora – which for those who crave more authenticity and less of a resort vibe, can be a special experience when in French Polynesia. This is typically what I look for when I travel in this part of the world. Speaking some French is a plus.
Affordable Hotels and Pensions
Villa Yrondi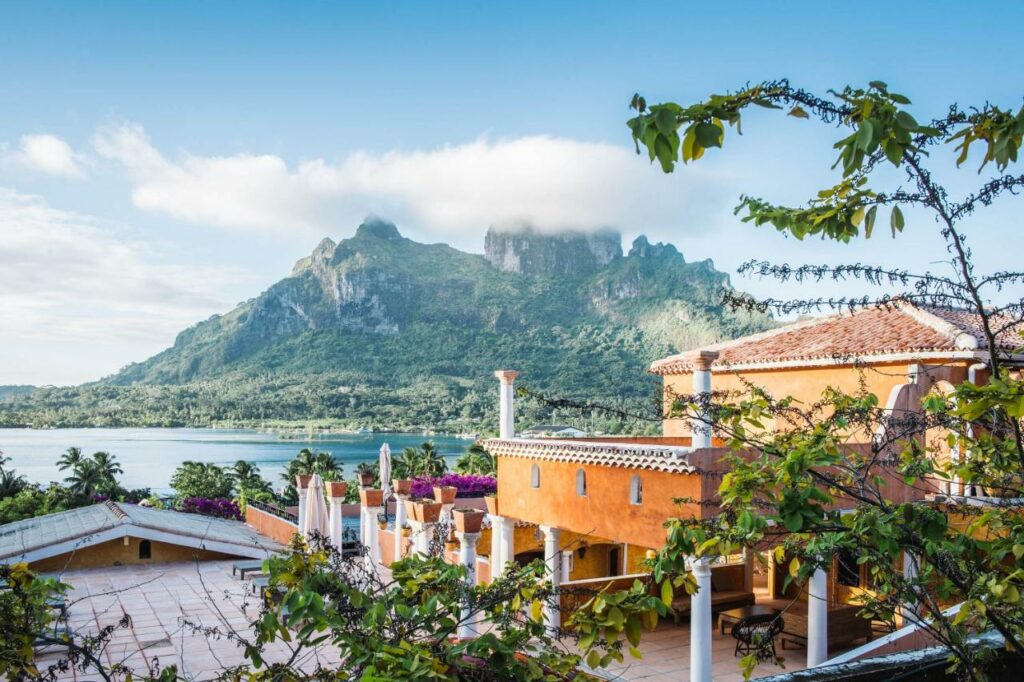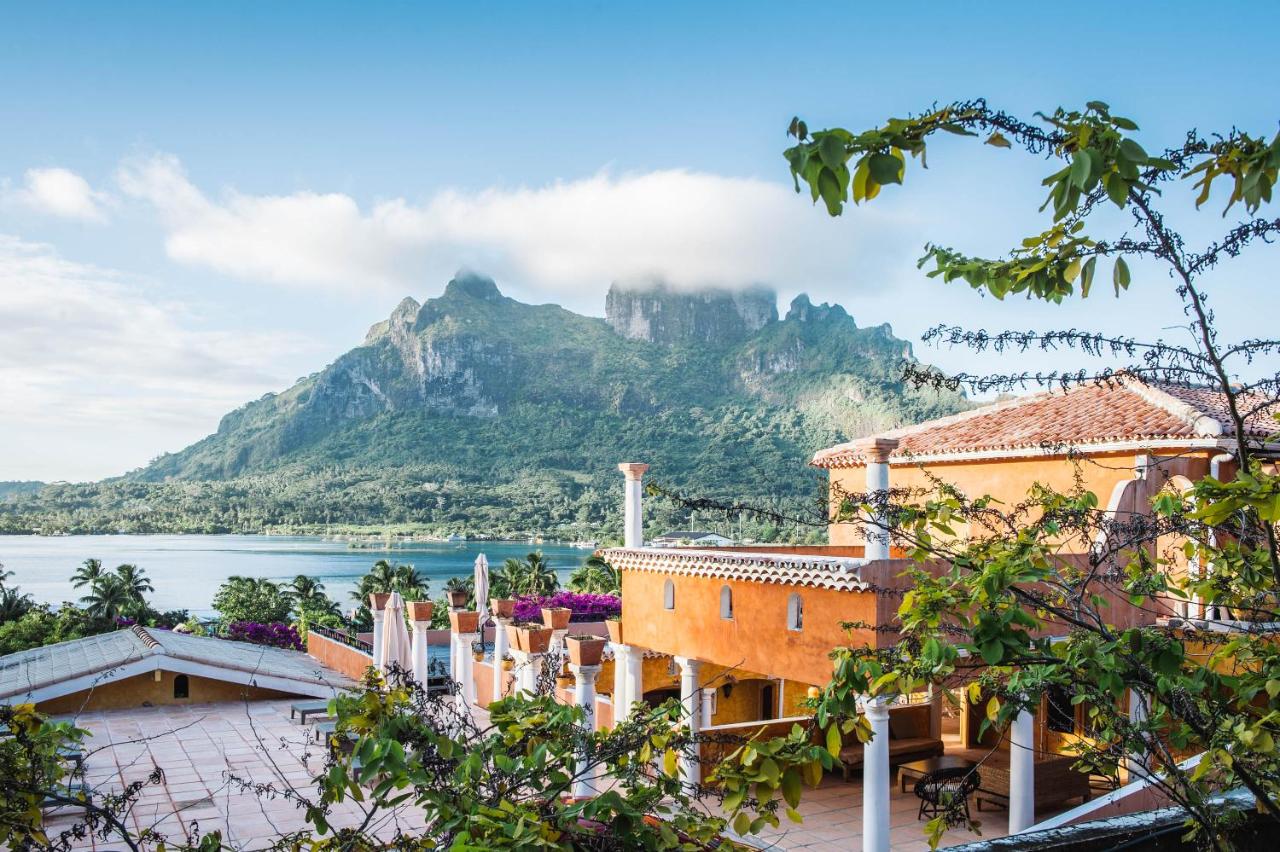 Is it Amalfi or is it Bora Bora? The work of art that is Villa Yrondi offers gorgeous rooms ranging from $172-$313 for an ocean view. The home features a pool, continental breakfast, and free bikes for use.
Chez NoNo Lodge
For villas right on the sand, this pension offers more of the local feel one typically finds in the smaller islands of French Polynesia. Located on Matira Beach, reviewers love this accommodation, which also offers lagoon tours to see the sharks and rays of Bora Bora. Rooms range from $150-$325 per night. You can book it here.
Oa Oa Lodge
The cheapest option on this list, rooms at the affordable Oa Oa Lodge go for as little as $102 per night! The accommodation is located on the main island close to places to eat, the supermarket, shops, and more. Reviewers praise the staff and of course, it's hard to find a cheaper option on an otherwise expensive island!
Bora Bora Transport
When getting to and around Bora Bora, there's a wealth of options as well. If you're staying on one of the fancy resorts on a small private motu, chances are good that the transportation is included. However if you're staying in more of a mid-range place, they will likely charge for the airport transport. I was quoted $75 per person where we stayed! But you don't have to pay these higher prices, there is a local option.
If you're staying on the main island, then you have the option of taking the airport ferry, which runs on a fixed schedule that you'll see posted at both the airport and the port (typically running every hour) for free. Once at the port, you'll find taxis waiting. They typically can take you to the other side of the island for the equivalent of $25 USD. If you have a full taxi with 4+ people, they will probably charge closer to $50 total. If you're on a motu, you'll have to take the hotel's transport.
Once on Bora Bora, you can rent a car, scooter, or bicycles to get around. If you're staying at a more exclusive resort that is on a private motu, you won't have as much flexibility as you'll need to take the resort boat to get to the main island, but once you're there, these rental options will be available to you, as will taxis.
Bora Bora Food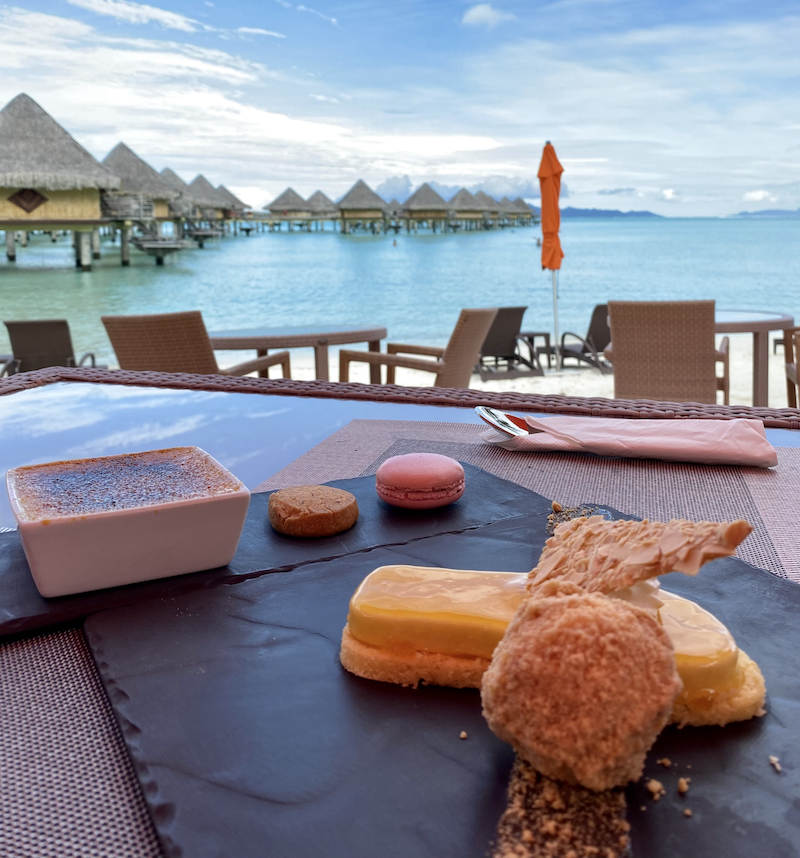 Food on Bora Bora can cost a pretty penny, too. If you're staying at one of the more expensive resorts, expect to pay up for food, and especially alcohol, at the restaurants. If you're on a remote motu, you'll be stuck with these options, unless you take a boat to the main island. In this way, your Bora Bora trip costs can add up a lot faster.
Most of the budget accommodation is located on the main island, which is going to make it easier for you to shop at the market if you have access to a kitchen. That said, don't expect the market to be particularly cheap. Even groceries are very expensive in Bora Bora and French Polynesia in general.
The cheapest food that you will find are at local "snacks". In French Polynesia, small, local eateries are called snacks (usually with the name following, like "Snack Elda"). They serve up no-frills local food including Poisson Cru – a raw, cured tuna dish that is known all over French Polynesia. You'll typically also find raw sashimi dishes and carpaccio, which has been different on every island I've sampled it on, though they always feature raw, sliced fish, usually tuna, and olive oil with other toppings. These snacks typically have rice, fries, and sometimes sandwiches on offer as well. They are usually open during lunch hours, though some are open in the evenings, too. Expect to find plates for $15-$20 on Bora Bora at snacks. Personally, I prefer snacks to all else when in French Polynesia.
In case you can see a running theme here, French Polynesians love fresh, raw seafood. Most of what you eat is so fresh it has never even needed to be chilled. This is one of the things I love most about French Polynesia, but if you're not a seafood lover or can't stomach raw fish, you will probably have to go with options that cater to tourists and may be a bit more expensive. However I have heard that you can find pizza on the main island for around $25.
Bora Bora Things to Do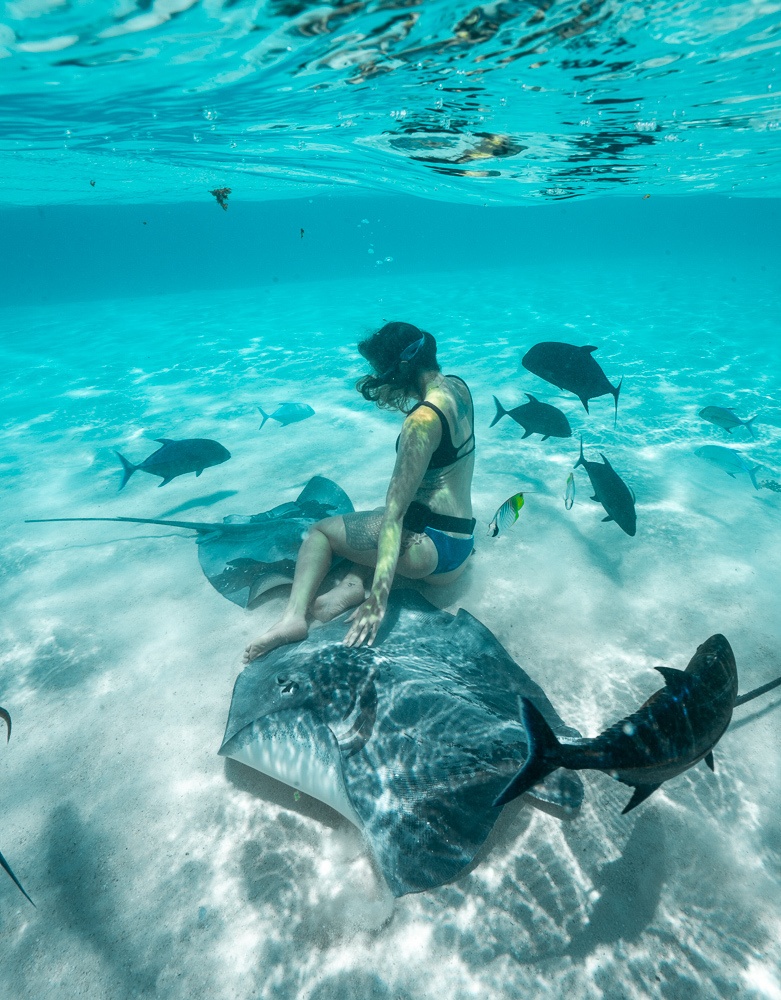 Lagoon Tour
One of the most popular things to do in Bora Bora is a lagoon tour. This is where you will see the famous rays and reef sharks. Pretty much everyone who visits Bora Bora goes on one of these tours. You can book it here for under $90, or, If you're lucky and you stay somewhere local, you may even be able to go out on a smaller boat with a local.
Swim with Humpback Whales
Swimming with Humpback Whales is what brings me back to French Polynesia every year. I actually lead an all women's experience swimming with them on another island, but if you're only visiting Bora Bora, consider taking a private boat out to swim with the whales. The best months for viewing are from the middle of August until the middle/end of October.
Land and Sea Safari + Snorkel
For the best of land and sea, take a day tour that includes a 4×4 adventure on land, and the lagoon tour. Get panoramic views as well as lunch at a local restaurant. Book it here.
SCUBA Diving
One of the best ways to experience French Polynesia is from under the sea. Some of the best (and unfortunately most expensive) scuba diving I have ever done is in this part of the world, and if you're a diver as well, I highly recommend taking a couple of tanks out and experiencing the underwater menagerie of Bora Bora. Book it here.
Hike Mt. Pahia
Want a free activity? From the main town, you can access the trail to Mt. Pahia, a 4-hour hike that is best attempted only in dry weather as the unmaintained trail can become muddy and slippery. It will give you a gorgeous view over Bora Bora, and best of all, you don't have to pay to do it!
Read all of my favorite things to do on Bora Bora here.
Overall, Bora Bora is probably one of the more expensive places that I have visited, but that doesn't mean that you can't enjoy it if you're on a budget. With rooms that can be as low as around $100 per night, eating Local cuisine at snacks as often as possible, and choosing hiking over expensive tours, you can still splurge on what matters most to you while saving where you need to.