This post was written by Nicole Edwards, a solo-sailing freelance writer for BMTM.
When I think of Florida, I think of beaches. But surprisingly, Key Largo has few if any natural ones! Instead, its 33-mile east and west coasts are blanketed with mangroves. Any beaches you do find there are most likely manmade, and the ones I discovered are absolutely gorgeous. I truly loved how the nature-inspired architectural designs created safe and beautiful swim areas with breathtaking views of either the mangroves or the ocean. Because they were built with people in mind, they are also equipped with public bathrooms, picnic tables and enough trees to provide shade. 
These beaches were one of the highlights in my Key Largo explorations, and one of my favorite things to do in the Florida Keys. The article I've written focuses exclusively on beaches located in Key Largo. I explored the island twice, first aboard my sailboat and then with a friend who had a car. 
(When I visited on my sailboat I learned that it's really not an easy city to navigate without a car, as most public transportation is designed to bring people from key to key, and Lyft and Uber were out of my budget. If you don't want to rent a car, you can easily explore the 33-mile island on a bike.)
We visited as many public beaches as I could find. Here's what I discovered, including a hidden gem.
1. Far Beach – perfect for a quiet meditation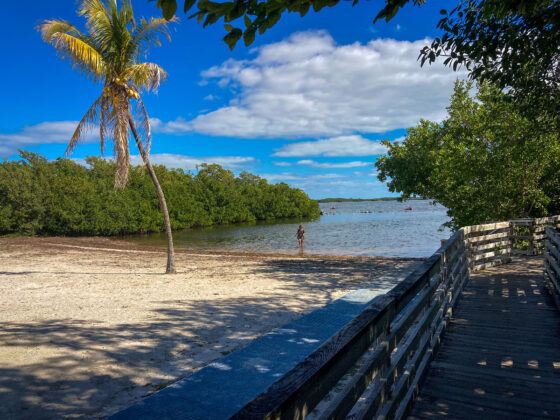 John Pennekamp Coral Reef State Park has a $5 entrance fee but once you're in, you can enjoy two of Key Largo's best and most well-protected beaches. It also offers kayaking, paddleboarding, and snorkeling excursions to nearby reefs. 
The park is located on Largo Sound, which is a perfectly calm rectangular bay off the Atlantic Ocean that is surrounded by mangroves in all directions, except for a tiny boat navigation channel that leads to the open water. Because of this, I found that both of Pennekamp's beaches would be great for skipping rocks or going for a gentle float.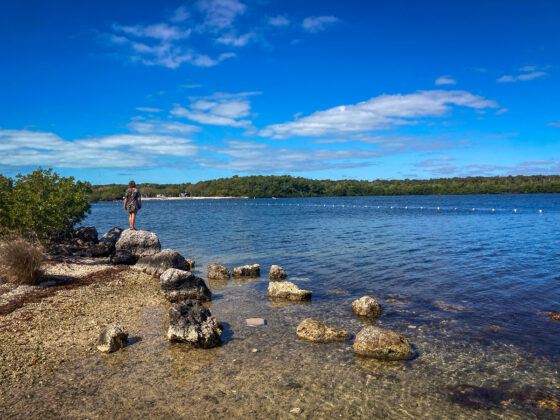 First up is the wraparound Far Beach, which is split in two by a beautiful wall of mangroves. Each of the adjoining beaches has its own swim area blocked off by buoys on a rope. One has a nice boardwalk to the short Mangrove Trail (under construction from a storm). The other has a scattering of large rocks that I used as stepping stones to look over Largo Sound. 
The beach itself was mostly sand, but the calm surf was full of mangrove pods and seagrass that had washed ashore. I tiptoed into the surprisingly chilly water, where my feet settled into a soft layer of sandy mud. I could walk a good 50 feet into the shallows before ever approaching the deeper swim zone. 
The small area with trees, set aside from the beach and the parking lot, had picnic tables, and there was a bench on the left-hand section near the quiet road. My favorite part of Far Beach was the artsy layout of the boardwalk, the mangroves, and the surprise shore on the other side. 
It's a wonderfully quiet place to recharge or to go on a few short nature walks. I saw kayakers go by, and there was so much exploring to do! 
Because it's a little pebbly, which discourages the presence of small children, I would recommend a good pair of sandals.
2. Cannon Beach – great picnic beach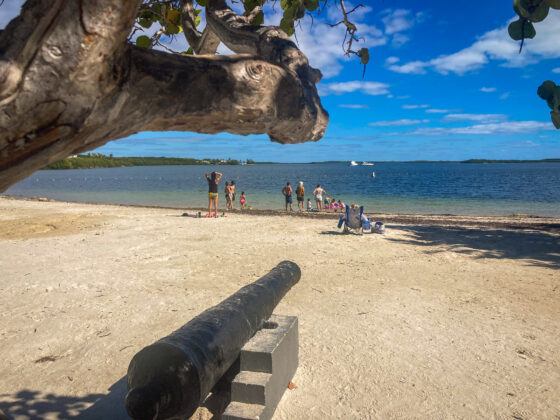 As the name implies, there are retired 17th-century cannons on this sandy recluse, also located in John Pennekamp. Though slightly larger than Far Beach, this is more of a family area, with excellent water access. It definitely had quite a few sharp pebbles, but the area to the right was sandy enough to play in. Plenty of small children were building sand castles and splashing in the ripples. 
To the right is a wall of mangroves with rocks placed a step apart from each other. Over to the left I saw a tent, probably for one of the families, as you are allowed to camp out for free.
The water did get deep much more quickly than at Far Beach. I thought the swim zone here was a lot bigger and more inviting, though, because there was not a patch of mangroves in the middle. Out beyond the swim zone, there were several boats anchored in Largo Sound.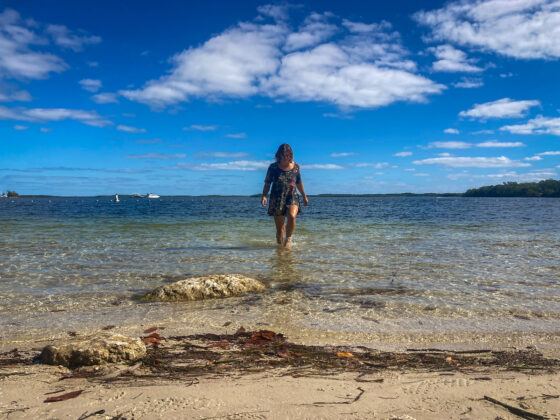 I liked this beach because of its openness. Even though it was small compared to the ones I'm used to in North Carolina, it still felt like there was room to breathe and to have my own space. Plus, the small trees were perfect for climbing, so I hung out for a few minutes in the arms of one of them. 
I think it would be the perfect spot for enjoying a lunch and taking a quick stroll along the shore before continuing on with your travels for the day. If you bring a towel and a change of clothes, it would also be nice for a refreshing swim in clean and calm water.
3. Harry Harris Park – beautiful swimming tidal pool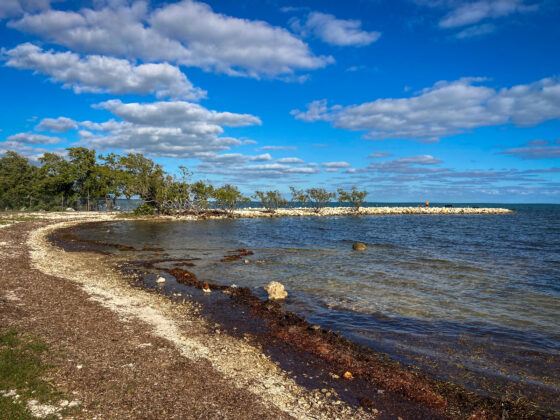 I anchored at Tavernier Key and came to shore here where the beach is split in half by a public boat ramp. The part near the public ramp and fishing jetty is not ideal for swimming, as it's mainly full of pebbles, especially at low tide. There is also a lot of boat traffic. This portion of the park is good for a very short hike though; if you were to walk along the shore, definitely wear your shoes. But it's a fun stroll over to the jetty, which is paved and gives great views of the mangrove islands and the rest of the coast.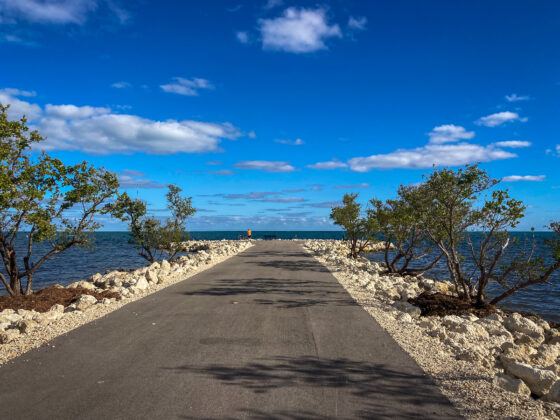 The beach to the right of the public ramp is perfect for swimming and suntanning, though. The sand is fine and clean and gently slopes into the designated swim area. Unlike the other beaches, where the swim area is blocked off by buoys, here there's a beautiful breakwater that arcs around the beach, creating a calm and deep tidal pool that no large or dangerous sea creatures can enter. 
The concrete path along the arc takes you out into the Atlantic Ocean, providing views of this vastness and also of the shore and the rest of the park, creating a great photo op. Be sure to bring your camera and a tripod or a friend!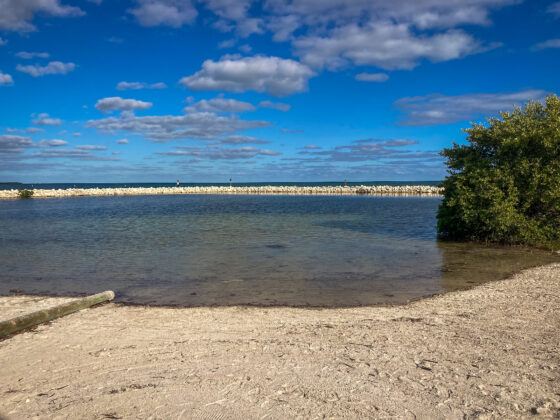 Harry Harris has public restrooms and showers, and also a playground, a basketball court, baseball fields, and a bike path. I explored the surrounding neighborhood, which featured artsy mailboxes and tropically decorated front yards.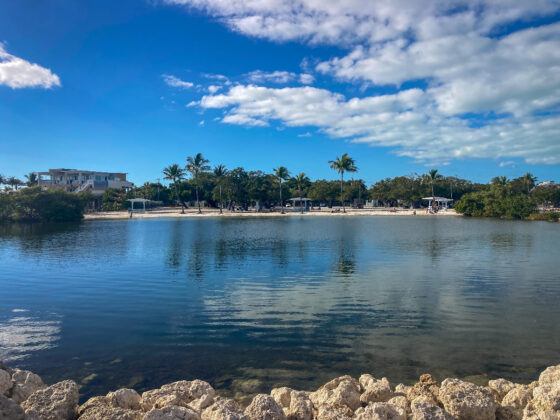 When I visited, the beach was primarily populated by families with kids because of the safer swimming area and the park's amenities. But the park is large enough that you could easily pass a few hours watching recreational boats pull into the ramp, having a picnic lunch, and enjoying the tidal pool. If you perch out on the breakwater to scan the Atlantic Ocean, you'll probably even see a few sailboats anchored out between the mainland and the uninhabited mangrove island, Tavernier Key. 
The park is open from sunrise to sunset. It is free for nonresidents on weekdays. On the weekends, it will cost out-of-state guests $5.
4. Rowell Park – a Key Largo hidden gem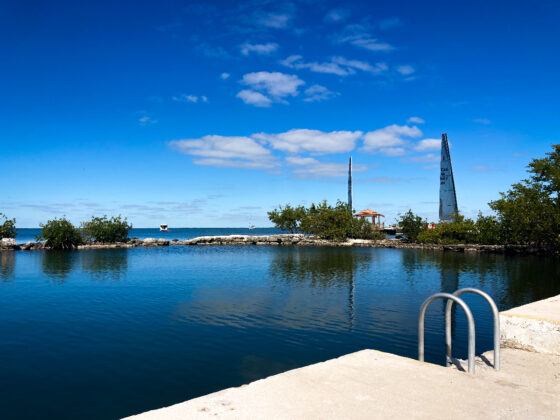 This beach almost passed me by. As I was leaving Key Largo, I saw it out of the corner of my eye, turned around, and checked it out. I'm so glad I did! 
This is where the Key Largo Sailing Club launches their boats, so there is a pretty large yard of green grass before the beach. The sandy shore itself does not merge with the water. Rather, there is a concrete breakwater that helps with erosion, and there are swim ladders you can use to climb down into very deep water of the comfortably sized tidal pool. The pool is completely blocked off from the ocean by a gorgeous line of breakwater rocks, which makes Rowell Park an excellent place for lap swimming. It felt a lot like a swimming pool.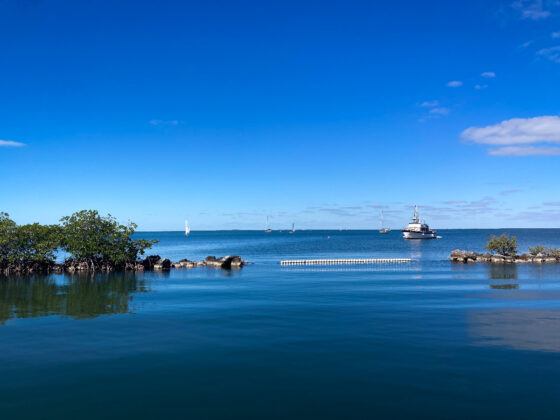 Over to the left, there's an outlook with a small concrete block that I stood on just for fun. To the left of that outlook was a very small sandy patch that you can use to access the tidal pool. 
Because it's one of the lesser-known beaches, at least according to my Google search, it was very quiet, with only a few elderly people enjoying the breathtaking views. I loved watching the racing boats get ready for launch and then sail by.
My favorite part about this beach was the private environment. There was a scattering of trees, but no picnic tables, so bring a chair if you don't want to sit in the sand. Or just sit on the concrete wall and drape your legs into the chilly water, knowing that most tourists will race past this hidden gem.
Private Beaches
Key Largo is studded with private beaches that come with your stay at a particular resort. Many have stunning water access and views, complete with stand-up paddleboards, kayaks, and sailboats for exploring the mangroves, either on your own or sometimes with a guided tour. Some of these beaches are on the Gulf side, where the waters are more protected by mangrove islands; the water is also much shallower, averaging about 3-6 feet deep. The ones on the Atlantic side typically have clearer water but are also more susceptible to choppy waves. 
I explored the beaches at two private resorts. Keep in mind that these are only accessible if you are a guest of the hotel:
5. Rock Reef Resort
This hotel offers a gorgeous slice of waterfront property, open only to guests. I love this private beach for its sandy peninsula, which overlooks a beautiful open bay framed by mangroves. There are docks on one side and a sandy boat launch on the other. The end of the peninsula is covered with a small gazebo with picnic tables. There are hammocks and beach chairs scattered about and several kayaks, peddle boats, and stand-up paddleboards (complimentary for guests), so you can go on your own little mangrove exploration.
6. Bayside Cottages
This tropically decorated property is nestled on the bay side of Key Largo. Rather than having docks, there are two sandy peninsulas that arch around to create a beautiful protected swim area. The sand on these peninsulas are held in place by a seawall, making them sturdy enough to walk out on, just as if they were docks; you can also sit in beach chairs at the end of them. The swim area is great for launching kayaks and stand-up paddleboards because of the small tidal pool that's created by the peninsulas, from which you can explore the whole bay, complete with mangroves and moored sailboats.
***
So it's time to grab your hat, sunglasses, swimsuit, and towel, and lather up in some reef-friendly sunscreen! As you can see, Key Largo holds its own when it comes to beautiful beaches. 
There are plenty of options, from public swim areas nestled in the sanctuary of mangroves, to nature hikes, picnic lunches, and more serious swimming opportunities, to private places to collect your thoughts and read a book. I enjoyed going to each one, appreciating them for the views, the refreshing and clear water, and the chance to explore. 
Which beach do you think you'd like to visit first? Let us know in the comments!
About the author: Nicole Edwards is a solo sailor who is currently cruising around the world on her 1968 Columbia 26, the S/V Arta. She has visited Costa Rica, Russia, Ukraine, Germany, Poland, and about half of the United States, including Alaska. Her favorite part about traveling is making connections with locals who share inside knowledge, in addition to being introduced to another part of her home on planet earth and adding it all to her heart.