Even before many people quit their office jobs or were switched to a completely remote lifestyle, Mexico was one of the top spots for digital nomads and retirees to resettle. Considering the colorful culture, gorgeous beaches, and breathtaking mountains the country has to offer, it's no wonder why so many people emigrate here.
I've been living in Mexico for over two years, and I can honestly say there's nowhere else I'd rather call home. While I still identify very much as a nomad, Mexico is my permanent home for the foreseeable future.
Below are my top recommendations for destinations in Mexico that are especially ideal for foreigners like myself who hope to move here.
But first, what makes Mexico a great place to live?
I'll preface this with a reminder that not all cities and towns in this huge country are the same. There is a wide range of diverse places to visit in Mexico, each with their own quirks, challenges, and benefits. While I and many foreigners love residing here, I also must acknowledge that living in Mexico is not everyone's cup of tea. Some people find the slow pace of life, frequent stomach bugs, language barrier, and other challenges to be overwhelming.
However, even with the drawbacks, I think Mexico is a great place to live as a foreigner. Generally speaking, Mexican nationals are warm and hospitable, especially toward those who at least try to speak Spanish and/or the local indigenous language. I've never been anywhere where the people embraced me as their own family more than in Mexico. That's a beautiful, sacred thing to feel.
Another huge plus is the food. Lordy, the food! It's fresh, flavorful, and sometimes surprising. It's nothing like the Tex-Mex you find in the States and elsewhere. There's no comparison.
Last, but not least, the scenery! From white, sandy Caribbean shores to volcanic peaks and everything in between, Mexico has some show-stopping natural areas that continue to take my breath away.
Anyway, this isn't a meant to be list of reasons you should move here, so let's move on to the best places to live in Mexico:
Best Beachy Places to Live in Mexico
1. La Paz, Baja California Sur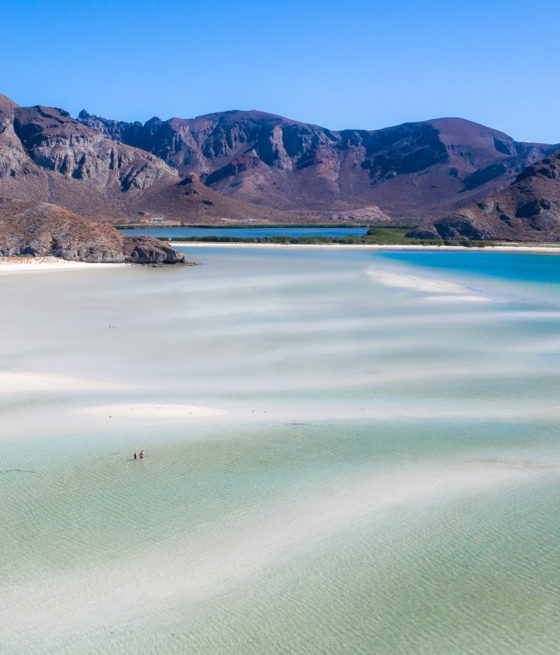 When it comes to beaches with crystal-clear water shallow enough that you can wade out for what feels like miles, Balandra Beach may be reason enough to entice you to relocate to La Paz in Baja California Sur. With the Sea of Cortez laid out before you, you'll love ending your days with a stroll on the malecón (boardwalk) to catch a radiant sunset that La Paz is known for.
Besides the seaside views and uncrowded beaches, La Paz gets its reputation as a great place to live because it's relatively safe; has a cosmopolitan vibe, with people from all over the world; and a high standard of living for a fraction of what it costs to live in the States, Canada, or Europe.
La Paz is also in a great location for exploring Baja California Sur, including destinations like the pueblo mágico (magic town) of Todos Santos, which has enchanting cobblestone streets that wind along the coast.
One drawback of La Paz is the extremely hot temperatures from July to October, with highs reaching nearly 100 degrees. During this time, locals tend to adjust their daily schedules to avoid being outside in the afternoon heat. If you don't mind doing that, you'll fit right in.
2. Puerto Escondido, Oaxaca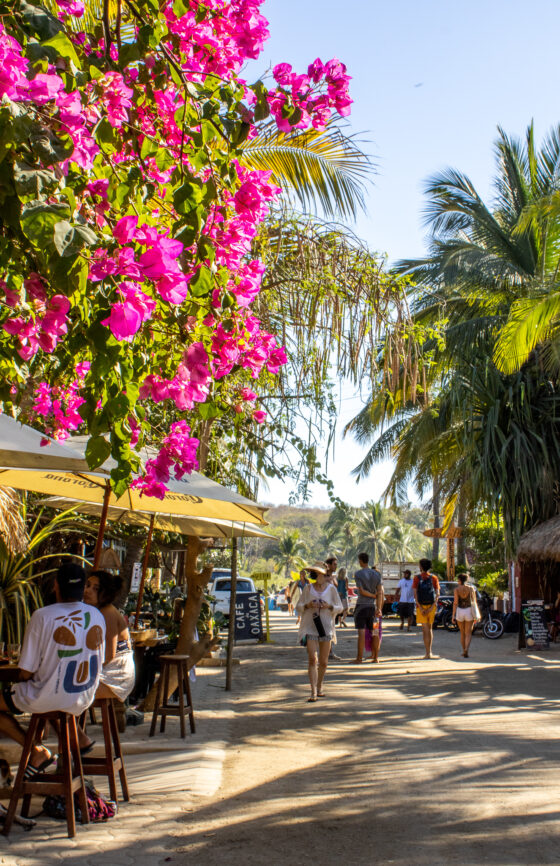 Puerto Escondido is a great place to relocate to if you're young, or at least young at heart. The surf culture is strong here, and you'll notice that an overwhelming majority of visitors in hot spots like La Punta are in their 20s and early 30s.
Sure, it's a big spring break destination, but the rest of the year in Puerto is quite laid back and uncrowded. This sleepy town used to be much more off the tourism radar than it is now, but it still maintains a quiet atmosphere and is safe for foreigners.
If you're a beach lover, Puerto may be for you because of how many beaches there are nearby, each with its own distinct vibe. In the town of Puerto Escondido alone, there are almost a dozen to choose from, with others in towns just 30-60 minutes away.
One downside to relocating to Puerto Escondido is the occasional power outages. Due to the city's rapid expansion as tourism continues to grow, infrastructure has struggled to keep up with the population. However, these outages have become less frequent in the last year, and residents report that even the internet speeds are improving as the city adapts.
The biggest perks of Puerto Escondido besides the beaches include great restaurants, relatively cheap rent (compared to other beach towns), and an exciting nightlife scene. This is the place to live if you want to make new friends, learn to surf, and enjoy a carefree atmosphere. If you want to check it out before making the move, definitely don't miss out on our complete Puerto Escondido guide.
3. Sayulita, Nayarit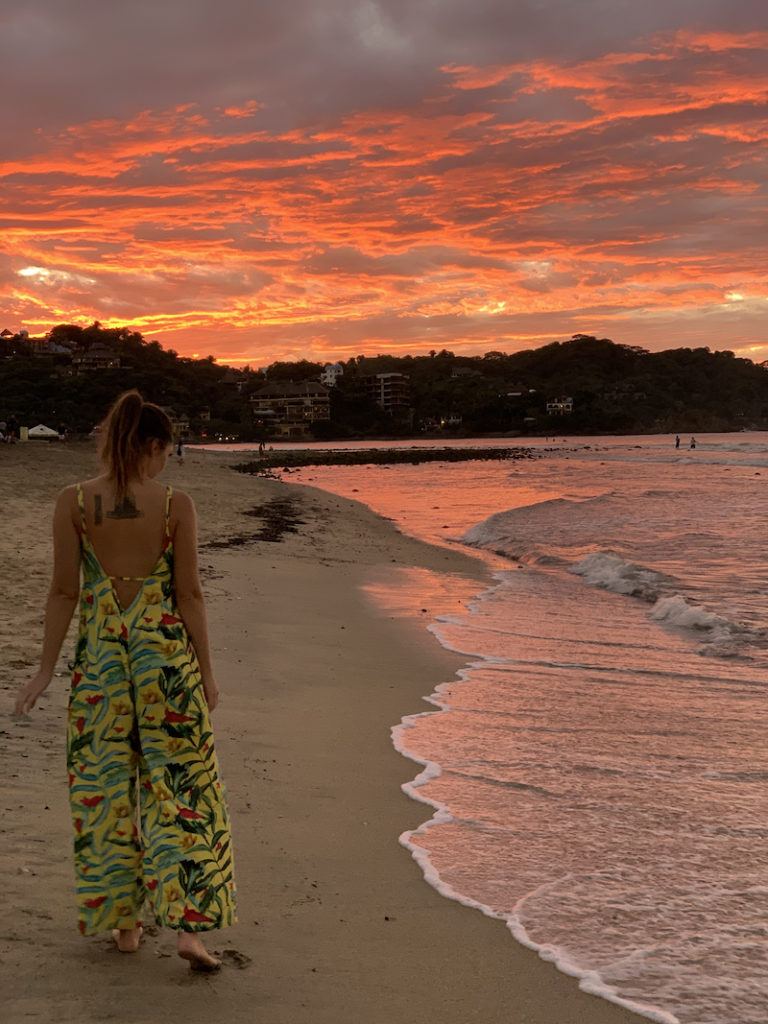 In many ways, Sayulita is very similar to Puerto Escondido in its overall atmosphere. You'll see a lot of young people living and vacationing here, and enjoy a vibrant nightlife scene and the town's hip, contemporary touch. Sayulita is definitely on the tourist track, especially for those who are visiting the big resorts in nearby Puerto Vallarta, but it's still a laid-back spot to settle in.
Like Puerto Escondido, Sayulita has an impressive surf scene fit even for beginners. There's also a big yoga culture, with plenty of studios to choose from and teachers from around the world. Surrounded by nature, Sayulita is also a great place for outdoorsy folks who need to get out into the jungle once in a while to explore. Plus, it's close to dreamy San Pancho, which is a quiet town to escape to if the tourist crowds get too overwhelming.
Sayulita is well equipped to receive foreigners, with plenty of things to do and other nearby destinations, but locals report that sometimes internet speeds can be slow. If you don't require high-speed internet for your job, or are willing to get creative about seeking the internet you need, this won't be an issue.
As Sayulita is a known party destination, it is not for you if you're looking for somewhere totally quiet. But if you don't mind a bit of noise, go for it. Still, remember that in many Mexican towns, parties can last until 4am or even later, something that isn't unique to places like Sayulita.
4. Puerto Morelos, Quintana Roo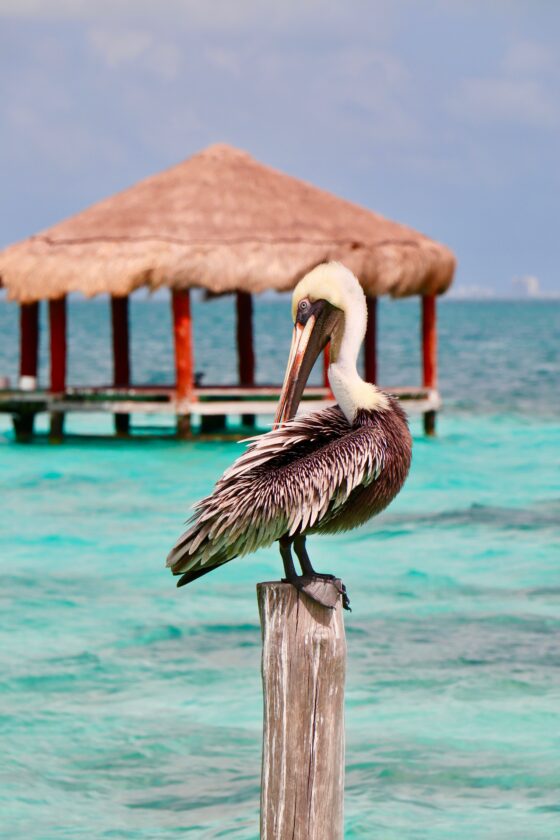 Want to enjoy the beauty of the Riviera Maya, but turned off by the mega-tourism of Cancún, Tulum, and Playa del Carmen? Puerto Morelos has all the great parts of each of those spots, without as many of the drawbacks, making it the ideal Riviera Maya beach town to live in. It receives a small fraction of the tourists, it's right on the sugary beach, and it has a cool balance of modern infrastructure and dirt roads leading to secret spots on the shore. The cost of living is a little bit higher than elsewhere in Mexico, but you still get a great value for your money.
Puerto Morelos has a decent number of locals living there still, unlike other beach towns on the Caribbean coast, meaning it's an excellent place to connect with people from the area and learn about about their culture. I've visited many times, and each time I'm overwhelmed by how friendly people are. There are quite a lot of foreigners living there too, so there's a robust "expat" community where it's easy to be social without the main activity being partying.
Another big plus for Puerto Morelos — or really anywhere you choose to live in the Riviera Maya — is that the healthcare is of high quality and affordable. In fact, people from all over the region go to Puerto Morelos just to see the doctors and dentists there.
Considering how much there is to see in the Riviera Maya — from secret beaches to breathtaking cenotes and quaint towns — Puerto Morelos is a beautiful and underrated place to live.
Best Mountainous Places to Live in Mexico
5. San Cristóbal de las Casas, Chiapas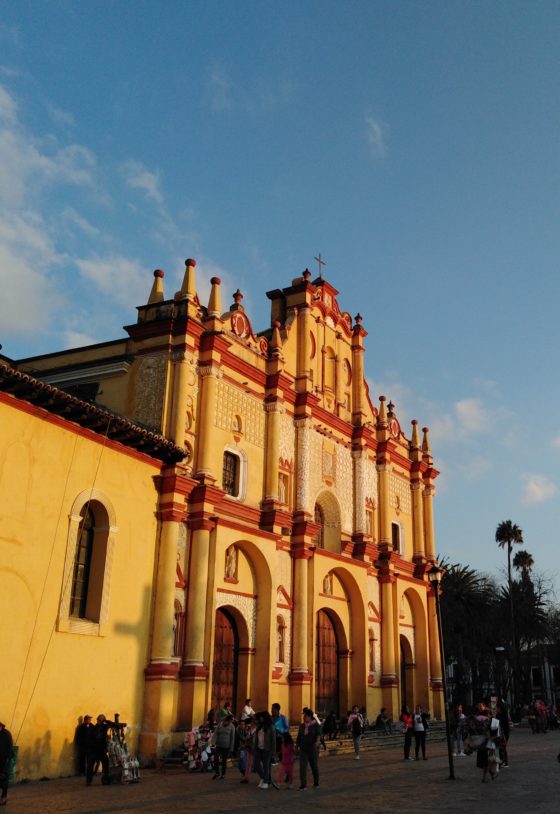 San Cristóbal de las Casas has been my home for nearly two years now, and I wouldn't have it any other way. Given that, this is the place on this list that I can speak to from experience the most.
Nestled in the heart of mountainous Chiapas, "San Cris" is one of the country's most beloved "magic towns." It has characteristic chilly weather, a vibrant indigenous culture, and colorful colonial buildings throughout the town's center.
Not only is the town a hub for all kinds of healers, from herbalists to yoga teachers to traditional temazcal (Mexican sweat lodge ceremony) leaders, but its history is one of resistance to the status quo, one reason why many people choose this as their temporary or permanent home. This area was the site of the legendary 1994 Zapatista uprising, a fight for indigenous rights in Mexico that still is active today. Here you'll also see many people working hard to safeguard Mother Nature, and her most precious resource: water.
Speaking of water, it's not so great here in San Cris. The tap water here is questionable, at best. After two years, I can't even count how many times I've seen other foreigners get sick (myself included) from accidentally drinking contaminated water or accidentally washing their vegetables with it. There's also generally less infrastructure, with occasional power outages throughout town and unstable internet. However, I managed to get fiber-optic cables where I live, which completely solved the internet problem. So it's possible to avoid some of the main drawbacks here.
Consider visiting San Cristóbal de las Casas before you commit to moving here. Keep in mind that compared to some other places on this list, it's definitely more of a full immersion in Mexican culture, meaning that having an open mind and heart is key. I hope you love it as much as I do!
6. Tepoztlán, Morelos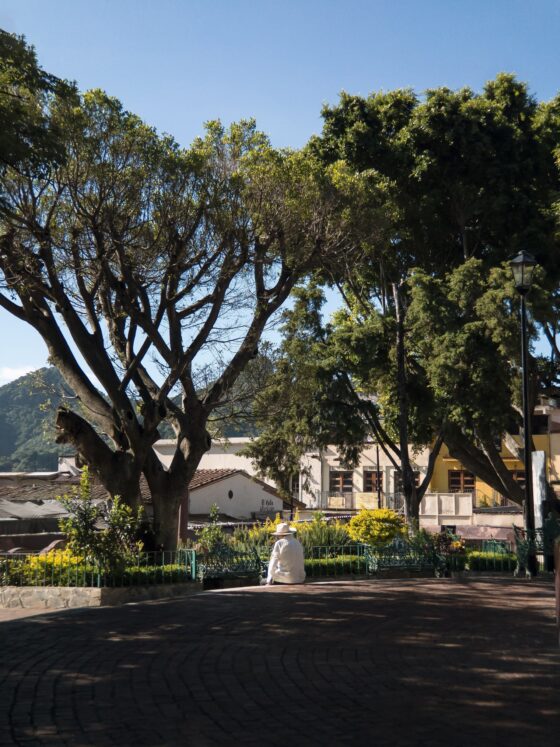 Like San Cristóbal de las Casas, Tepoztlán attracts a more bohemian crowd while maintaining its traditional Mexican flair. Foreigners looking for a more unconventional way of living tend to find themselves settling in Tepoztlán. This is likely due to the laid-back nature of the town, its proximity to nature, and it overall mystical setting. After all, this is another one of Mexico's designated "magic towns."
In Tepoztlán, you'll find quaint cobblestone streets lined with colonial buildings. As you walk through town, you'll be able to gaze up at the green mountains that surround it, breathing in the crisp air as you go. Tepoztlán is known for its gastronomy, which is another reason why people are delighted to stay here. From traditional mole to the famous cecina (cuts of beef or pork marinated in a blackberry sauce and served up in tacos), it's a foodie's paradise.
Another big plus for Tepoztlán is its close proximity to Mexico City, meaning that international travel is much easier than other places that only have small domestic airports. From Tepoztlán, you can get to the capital within two hours, depending on traffic. This is especially attractive for frequent travelers, or those who need a dose of city life every now and again.
As it's such an old town and one with a strong rural Mexican identity, this is another place where it's important to remember that you are a guest. Loud fireworks, bands of street dogs, and occasional parties lasting until the wee hours are common here. Don't expect to come to "Tepoz" and change your neighbor's habit of having loud music on all day. Some foreigners find this difficult to adapt to, so it's important to consider these potential drawbacks before moving here.
7. Guanajuato, Guanajuato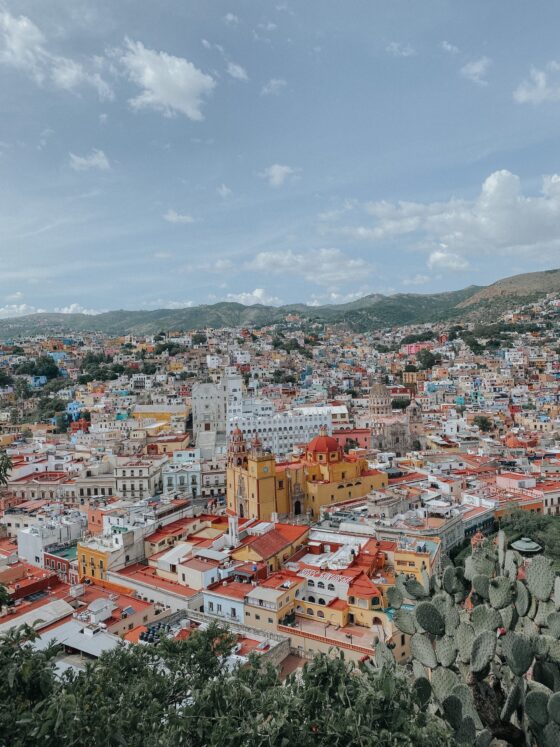 Guanajuato is a former silver mining town that slowly became one of Mexico's top tourist destinations. It's also one of the most popular in the country for retired foreigners to emigrate to. With characteristic yellow to rose hues throughout its streets, this is one of the most picturesque cities I've ever been to.
Even though so many foreigners and nationals alike decide to retire in Guanajuato, the city remains fresh and vibrant, thanks to the University of Guanajuato, which alone has around 17,000 students, about 10% of the city's population. There's always something going on in town, from festivals to theater performances to concerts and everything in between. Plus there is an abundance of neat museums and the food is incredible. Convinced to move here yet?
One of Guanajuato's best features is its super pedestrian-friendly streets. Several are even pedestrian only, perfect for long walks around town. Another huge bonus is the weather. It's mostly dry year round, with the rainy season only lasting a couple months. Plus, the temperature stays warm mostly, only dipping during December and January. It's not too hot, not too cold — just right!
A drawback of Guanajuato is that recently droughts have become much more of an issue, making water shortages more common than ever. Even with this in mind, it's one of the most foreigner-friendly cities in Mexico because it's clean and safe and has great access to healthcare and excellent infrastructure. There's no wonder why so many people move here!
Best Big Cities in Mexico to Live in
8. Mexico City, Estado de México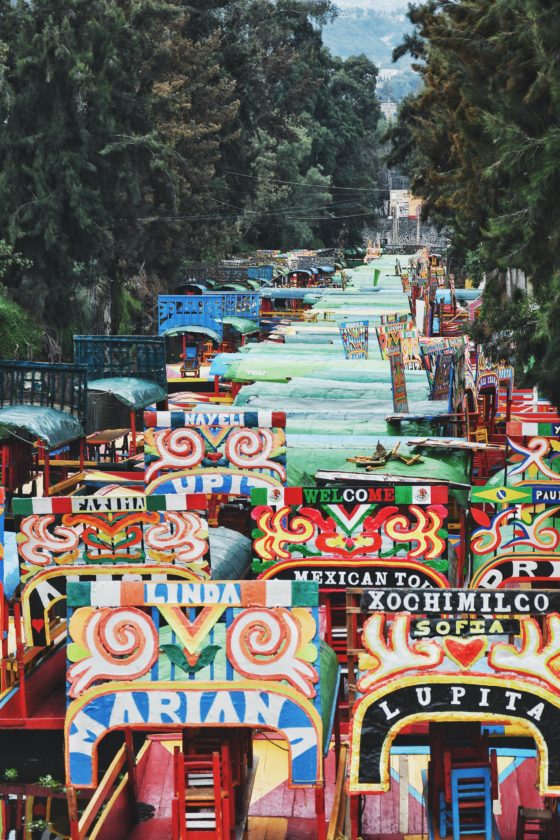 If you are a ride-or-die city person and not intimidated by the mega-metropolis that is Mexico City — the absolute epicenter for nearly everything in the country — here you'll find the best restaurants, nightlife, concerts, you name it. There are seemingly endless things to do, which makes it a no-brainer that so many people leave feeling like they've only scratched the surface.
The neat thing about living here is that every neighborhood has its own personality. From the floating parties in Xochimilco (pictured above) to the sweet art museums of Coyoacán and posh cafés of Reforma, jumping around the city never gets boring. You'll find people from all around the world living here, which creates a truly cosmopolitan atmosphere unmatched anywhere else.
Plus, the food in Mexico City is to die for, especially from street carts and in the markets. People from all around Mexico rave about how amazing the cuisine is here, so that's how you know it's extra special.
I don't have to tell you that living in a city as large and hectic as Mexico City has its drawbacks. Some of them include overcrowded rush hour transportation, not the cleanest streets, and its own basket of safety challenges. However, if you can avoid rush hour, don't mind a little urban grime, and find ways to stay safe in Mexico City, you'll be just fine.
9. Oaxaca de Juárez, Oaxaca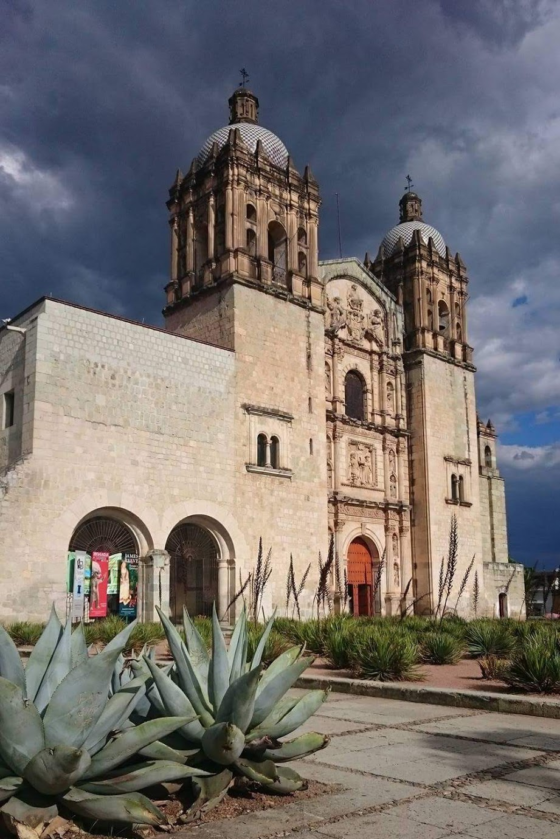 If you're looking to experience the best parts of Mexican culture on a daily basis, Oaxaca is truly one of the best places to immerse yourself. Every time I visit, I discover a new reason to plan another trip, because there never seems to be enough time to explore the whole city. Maybe because I always trap myself in an endless loop of eating all the delicious food in the market? Nah, couldn't be.
Oaxaca's vibrant murals, wide pedestrian streets, bustling markets, and fascinating museums are all part of the city's unique charm. There are a lot of people — Mexican and otherwise — who have creative projects here, as it's a hub for music, theater, dance, and art. The state of Oaxaca is especially famous for its grabados, an art technique similar to linocut printmaking. You'll see shops everywhere selling these stunning pieces.
In a nutshell, there's loads to do in Oaxaca whether you're settling here or just planning to visit.
The city is about a six-hour, winding, mountainous drive to or from the coast of Oaxaca, which has some of the best beaches in the country, in my opinion. It may sound like a long drive, but I've done it and found it to be extremely beautiful and worth it, especially if you're staying in Oaxaca for a long time.
Before settling in San Cristóbal, I considered moving to Oaxaca but decided that the heavy party scene wasn't for me. However, if you are looking to dance the night away on any day of the week, Oaxaca is the place to be. After all, it is the mezcal capital of Mexico.
Another concern here might be safety, as petty crime rates are relatively high here compared to other locations on this list, so check out these ways to stay safe in Oaxaca.
10. Mérida, Yucatán
Settling in Mérida, one of the friendliest cities in Mexico, makes total sense if you're a social butterfly and want to truly experience authentic local culture. I'm charmed by it every time I go, and I spent three months living there as a university student in 2017. I absolutely loved Mérida, and therefore completely understand why it's such a popular place for foreigners to relocate to.
The warm hues of the colonial buildings, constant cultural events in the main square, and fantastic food scene all embody the best aspects of Mexico. For a big city, Mérida has a surprisingly chill vibe, which you'll find mostly outside of the center of town.
Also, there's a custom in this part of Mexico during the hottest summer days in which people will sit on their front porch or in lawn chairs on the sidewalk around the same time each day. They call it tomar fresco, or taking some fresh air. This is also prime time for chisme (gossip) around the neighborhood.
There's plenty to do in Mérida for any length of stay, with different festivals happening throughout the year. You can catch a show at the symphony, check out a museum, or do a nighttime walking tour to hear about the city's unique colonial past. After three months here, I did and saw a lot, but still felt like there was more to discover.
The biggest drawback of Mérida for many foreigners, especially those like me who come from a cold climate, is the heat. The city is known country-wide for its raging summer temps, so beware and prepare yourself to avoid being outside from mid-morning to mid-afternoon.
Another drawback is the often-congested traffic and subpar public transportation. Even though it's a large city, the only public transportation are the buses and colectivos (vans), which generally have long routes and take ages to get from place to place. Some people simply rely on Uber, though, which is pretty cheap. I preferred to walk whenever I could, but you could also bike quite easily here.
Best Small Cities in Mexico to Live in
11. San Miguel de Allende, Guanajuato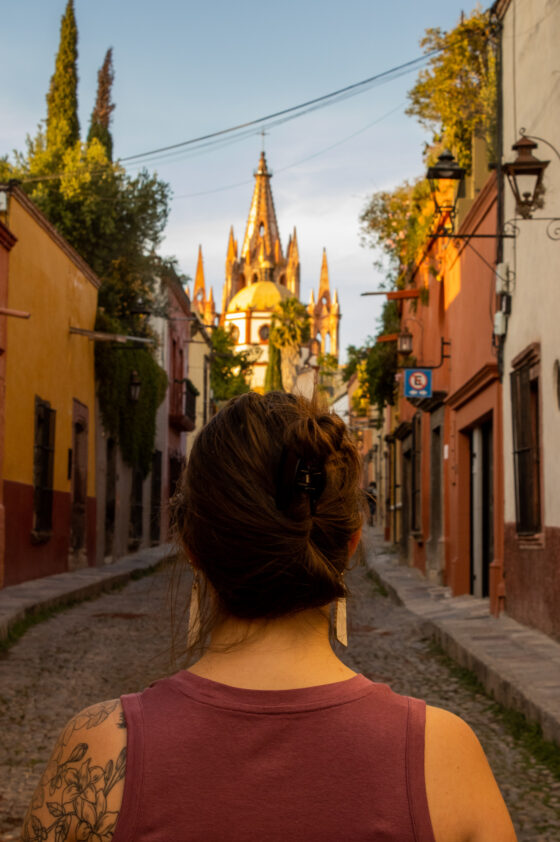 This cobblestone-filled city is truly enchanting, and you'll immediately understand why so many people come here as soon as you arrive. I spent three glorious weeks in San Miguel de Allende and felt like I was cheating on San Cris a little bit, because of how much I was falling in love with the city. Perhaps it was extra cute because it was around Christmastime and there were lights sparkling everywhere, but I digress.
San Miguel is a small, centrally located city just an hour from Querétaro, 1.5 hours from Guanajuato, and three hours from Mexico City. Its great location is just the beginning, though. This charming, foreigner-friendly destination has a robust art scene, a national culinary reputation, and scenery to die for. The climate is mild all year round, with warm, sunny days most of the year. Even in December, it was only chilly at nighttime; during the summer it also gets cool in the evenings.
There's a huge population of retired American and Canadian citizens here, which could be a plus or a drawback depending on what you're looking for. I tend to notice that in places like this, sometimes foreigners expect the rest of the population to adapt to them rather than the other way around. People say this about San Miguel, but I didn't experience that in any of my interactions.
That said, San Miguel has a reputation for being the gentrified version of other lesser-known cities in Mexico, so take that for what it's worth. Overall, I recommend visiting first to see if the vibe suits you before deciding to move there.
12. Bacalar, Quintana Roo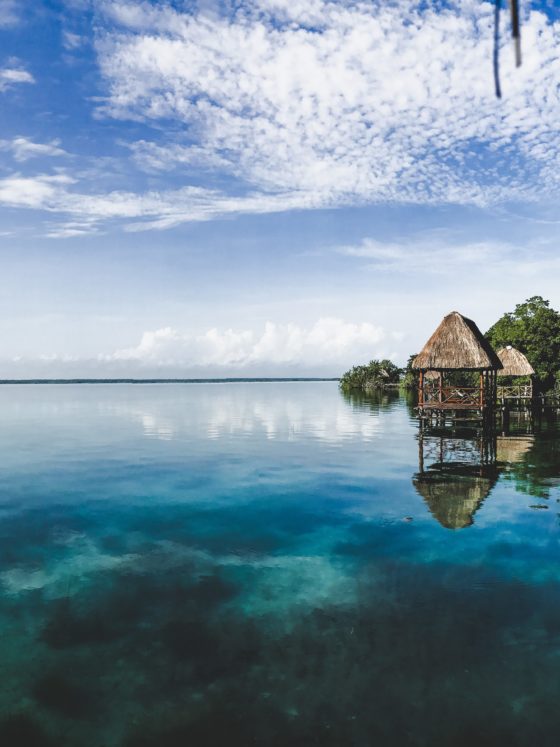 Home to "the lagoon of seven colors," Bacalar has a lot to offer nature lovers and those looking for a laid-back and quiet place to live. It's about 2.5 hours south of Tulum and has a character all of its own. The town sits on a long, skinny lagoon, with an isthmus on the other side that creates a barrier to the Caribbean Sea.
The lagoon itself is reason enough to pay Bacalar a visit, but is it worth it to move there? That all depends on what you're looking for. A big pro of living in Bacalar is that it's close to a lot of other incredible spots on the Riviera Maya, like the cenotes near Tulum and Cancún. It's also just a 20-minute drive from Chetumal, a sleepy seaside city close to the Belize border.
In Bacalar you'll be able to enjoy the absolute best and most well-preserved nature in the region. This is because the municipal government shows tremendous dedication to preserving the area's natural resources. You will still find lots of tourists milling about, but no big resorts on the lagoon's waterfront. Even though it's a popular tourist destination, there's still a small-town feel here, making it easy to get to know your neighbors.
A con of living in Bacalar is that it's a bit more expensive than other places in the country, and buying a property is difficult, because building restrictions are tight due to the government's preservation efforts. Some also claim that Bacalar is the next Tulum, so if you are turned off by Tulum, perhaps Bacalar wouldn't be a great long-term option.
13. Izamal, Yucatán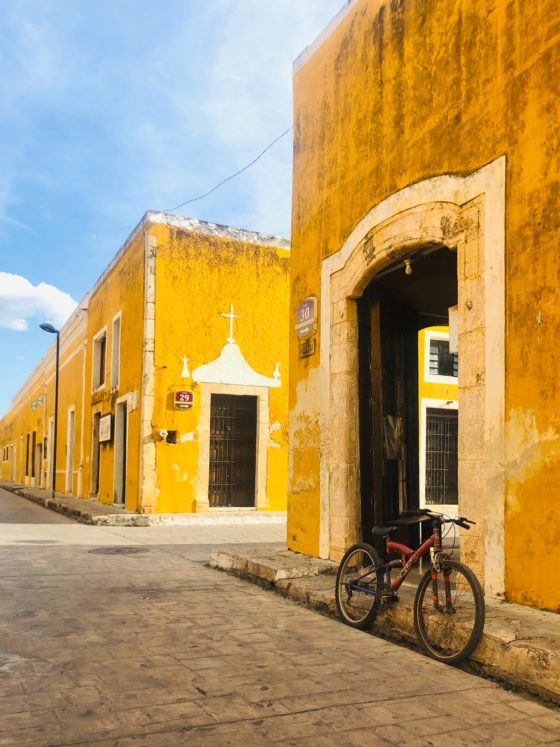 Izamal's nickname is "the yellow city," which is quite obvious, considering much of the town is painted in vibrant dandelion hues. This is the spot to move to if you want to learn about Yucatec Maya culture, enjoy the heat, and don't mind being among few foreigners. Out of all of the places on this list, Izamal has the lowest population of foreigners, which could be a huge plus for some people.
Besides living in a bright, beautiful Mexican town, a huge perk of Izamal is its location. It's only about an hour from Mérida, an hour or two from the Gulf of Mexico, and two hours from Celestún, where you can find herds of flamingos for as far as the eye can see. There are also tons of small Mayan pueblos nearby, which are cool to visit just for a quick meal and chat with the locals.
As it is in many small cities in the Yucatán Peninsula, people are extremely warm and friendly. To me, this is where you'll find the peak of Mexican hospitality. As a foreigner living in Izamal, your kindness and openness to learn will be very well received, I'm sure of it.
A con of living here, like Mérida, is the heat. There are also fewer healthcare facilities here, meaning you may have to drive to Mérida for any procedures or emergencies. There are also no shopping malls or movie theaters in Izamal, so prepare yourself for authentic small-town life here.
Pin me for later: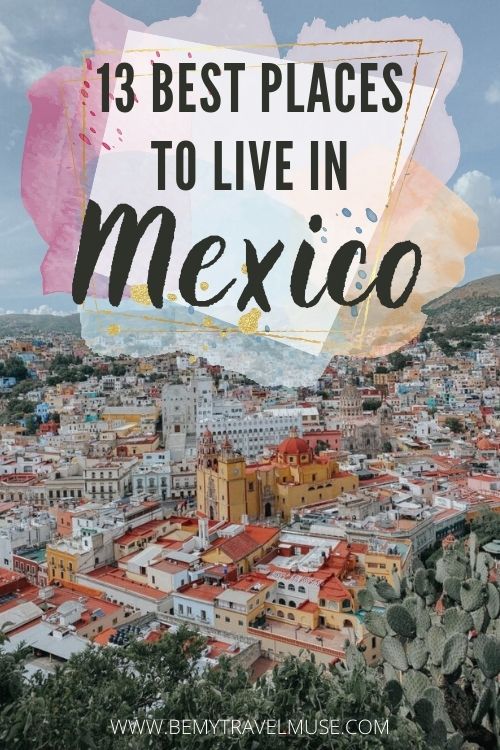 Any of these places could be your future home in Mexico. How exciting is that?! Moving to Mexico was the best choice for me as a digital nomad, but it certainly isn't for everyone, though. As I said about many of these beautiful locations, make sure to visit first before you commit to moving. Stay for a month or two, get your bearings, and you'll be able to make a more sound decision.
Which place sounds like the best to you?