Things are changing rapidly – please double check what's open before your trip and follow all local guidelines to keep yourself and others safe! Also, ads are how we pay our bills and keep our blog free for you to enjoy. We also use affiliate links; if you make a purchase through them, we may receive a small commission at no cost to you.
Ancient mountains, misty forests, waterfalls, a ghost town, underground caverns, and a scenic road to nowhere: welcome to the country's most visited National Park! Hikers, sightseers, spelunkers, white-water rafting fans and waterfall enthusiasts flock to Great Smoky Mountains National Park throughout the year to enjoy this enchanting swath of Appalachian wilderness located on the border of eastern Tennessee and North Carolina.
Unlike the jagged Rocky Mountains of the West, the Appalachians (including the Smokies) are now shorter, rounded, and generally tree-covered. These ancient mountains are some of the oldest in the world – and they've been worn down over the last 300 million years. Along with being, well, old… the southern Appalachian mountains have a lot going on, biologically speaking. In fact, thanks to high humidity and lots of rain, the Great Smoky Mountains is the most biodiverse park in the National Park System!
With all of the mountain scenery, Appalachian culture, and plant and wildlife biodiversity, Great Smoky Mountains National Park makes for a fantastic National Park vacation. Pack a rain jacket, lace up your hiking boots, and get ready for a Smoky Mountain adventure!
Psst: Looking for more National Parks inspiration? We have been exploring as many as we can! Browse all of our National Parks travel guides or take a look at some of our favorites:
Great Smoky Mountains National Park FAQs
Here are some things to know before you start to plan your trip to Great Smoky Mountains National Park!
How do I get to Great Smoky Mountains National Park?
There are three main entrances into Great Smoky Mountains National Park: Gatlinburg, TN; Townsend, TN; and Cherokee, NC.
If you'll be flying to Great Smoky Mountains National Park and then rent a car, the closest airport is McGhee-Tyson – just south of Knoxville, Tennessee. From there, it's a 30-mile drive to the Townsend entrance or about an hour and half drive to the Gatlinburg entrance.
You could also fly into Asheville, North Carolina – 60 miles east of the Cherokee entrance.
Whether you're driving the entire way or coming from a nearby airport, you'll pass through either Cherokee, NC; Gatlinburg, TN; or Townsend, TN. Each gateway town has its own vibe, and all three make a great basecamp for your visit to the Smokies if you choose not to stay in the park. 
Travel Tip: Booked your flight and rental car yet? We recommend using Kayak to price-compare deals and dates to save money… so you can spend more on food during your trip (#letsbehonest). If you're lucky enough to snag a campsite in a few of the parks, consider renting an RV so you can road trip and sleep under the stars in style! We recommend using RVShare, which lets you borrow RVs directly from their owners.
How do I get around Great Smoky Mountains National Park?
You'll definitely want a car when visiting the Smokies. Besides the fact that you'll want the freedom to explore every nook and cranny of this extensive park, you'll also need a car to get here in the first place. 
When you get to the Smokies, it's time to put away your GPS: those beautiful mountains tend to mess with navigation systems and turn them into unreliable co-pilots! But you can pick up a map at one of the visitor's centers or download a topographic map. A guidebook is incredibly handy to bring along in the car with you – we recommend this Moon Guide!
There isn't a NPS-run shuttle system (like there are in Zion or Yosemite, for example), though the Gatlinburg Trolley can get you to a couple of the main attractions — Sugarlands Visitor Center, Laurel Falls, and Elkmont Campground. There are also some private shuttle services that service the surrounding towns. But if you want to hit everything on your list and have complete freedom within the park, driving yourself is the way to go.
When should I visit Great Smoky Mountains National Park?
There isn't really a bad time to visit the Smoky Mountains — it's beautiful in every season. But if we're going to recommend one season to visit the Smokies, it's gotta be the fall.
Summer is packed, but the crowds start to thin out when fall rolls around. The forested mountains create some of the most spectacular fall color displays in the country, and the hikes become even more magical.
To top it off, the weather is basically *perfect*. This season's highs range from the 50s to the 70s. It's also the park's dry season, so you're much less likely to get soggy while exploring this typically (very) wet park.
While fall's our favorite, you can expect some highlights during every season.
Spring brings wildflowers, gushing waterfalls, and warming temps. Expect highs in the 70s and 80s by May. Early spring is unpredictable, but it's a great time to find some solitude on the usually busy trails.
Summer brings the crowds, and there's no trying to deny it. Waterfalls, trails, and campsites will be busy, but you can still find some quiet if you wake up early enough. This time of year, highs creep into the 90s. This is the season for rafting, swimming, boating, and tubing. 
Winter happens in the Smokies, but it's not so intense as to scare off hardy visitors. Highs in the valleys can reach the 50s, but dustings (and sometimes truckloads) of snow on the higher peaks gives the park some serious snowglobe vibes. If you dress well and prepare, this is a fantastic time to take advantage of the park's deserted trails.
Travel Tip: Weekends during peak fall color season get busy, too. Visiting the park during the week can help you have a quieter experience.
Why are the Smoky Mountains smoky?
There's a blue haze that settles on the Smoky Mountains and the nearby Blue Ridge Mountains… but is it really smoke? Actually, it's more of a fog.
The lush, biodiverse forests and mountains of the Smokies give off a vapor that settles into a misty, blue haze, but it's completely harmless (and mostly not air pollution). For a more detailed explanation, read this article.
Who are the original inhabitants of the Smokies?
The Cherokee people have called the Smokies home for more than a thousand years. The Cherokee considered the mountains to be a sacred place and referred to the area as "Shaconage" (Sha-Kon-O-Hey): land of the blue smoke They hunted, fished, and farmed the land until conflict arose with arriving white settlers.
Not long after introducing disease and war to the Cherokee, the US government (led by President Andrew Jackson) forced the Cherokee people off their land. Turns out, there was gold there, and white people thought they deserved it. 
In 1838, 14,000 Cherokee began the journey west on the Trail of Tears. Of those that began the journey, 4,000 died due to disease, hunger, and exposure.
However, back in North Carolina, another group of Cherokee, who considered themselves separate from the Cherokee Nation, were allowed to stay. This group, the Oconaluftee Cherokee, had an advisor – William H. Thomas – who grew up among them and helped them with legal matters. 
The Oconaluftee Cherokee, along with some members of the Cherokee Nation who hid in the mountains to avoid relocation, became the Eastern Band of the Cherokees.
Today, there are about 11,000 members who mostly live within the reservation in western North Carolina. The reservation is a big part of the local Smoky Mountain tourist economy, with campgrounds, hotels, and attractions.
Like many of our nation's national parks, Great Smoky Mountain was established on land already inhabited by Indigenous peoples and white settlers. Like the Cherokee before them, these later inhabitants had a hard time holding onto their land as ideas and support behind the National Park gained traction. Visiting the park today provides a glimpse into these early settlers' lives and the culture built around this land.
Anything else I should know about visiting Great Smoky Mountains National Park?
There's no fee to get inside the park. The states of Tennessee and North Carolina paid to build Newfound Gap Road, and when ownership of the road transferred to the federal government, it was under the condition that there would never be a fee to travel it. 
It rains a lot in the Smokies, especially at higher elevations. It rains more on the higher peaks (as much as 85 inches) than anywhere else in the country except the Pacific Northwest. Some of the upper elevation areas are classified as temperate rainforest. Check the forecast, and prepare for some soggy weather.
Wildlife is a highlight in the Smokies — and you should know how to be safe when you see it. There are a lot of animals you might see while hiking in the Smokies – including snakes, owls, deer, elk, and bears. Generally, keeping your distance from these animals is enough to keep you safe. You should stay at least 50 yards away from bears – wilfully getting any closer is a park violation. Make noise when you're hiking, don't leave food unattended, and give wildlife their space. 
Expect crowds. This park had more than 12 million visits in 2020. That's about 8 million more visits than the next most popular park of 2020, which is Yellowstone. Even if you're visiting during a busy season (summer, peak color season, weekends), you can find some solitude by waking up early and avoiding the most popular areas.
Things to do in Great Smoky Mountains National Park 
With impressive swaths of wilderness, legendary whitewater rivers, scenic waterfalls, and quaint nearby towns, there is no shortage of things to do in the Smokies.
Here are our favorite ways to explore this Appalachian region — though you may have to come back for a second (or third) trip!
Take a Scenic Drive
Great Smoky Mountains National Park covers more than 500,000 acres — so there's a lot to see. In addition to the more than 800 miles of trails, there are almost 400 miles of roads crisscrossing the park.
A scenic drive is a great way to see the far-off corners of the park or a fun way to sightsee on a rainy day. Just be prepared to take it slowww.
And don't try to cram a scenic drive into a small gap in your itinerary. With crowds, traffic, and opportunities for short hikes, photo ops, and wildlife spotting, you don't want to rush a scenic drive in the Smokies! We recommend making a full day of it.
Self-guided scenic driving tour: This self-guided audio tour will guide you around the park while you learn about Cherokee history & legends, Appalachian life, and much more. Plus, the guide will point you to all the best spots to take in the timeless wonders of the mountains, like Clingman's Dome, Cades Cove, and Rainbow Falls!
Cades Cove Loop Road: Cades Cove on the Tennessee side of the park is a large valley home to lots of wildlife. Prior to the park's establishment and European settlement, Cherokee people hunted here. In the 1820s, white settlers arrived, built homes and other structures, and began farming. As more people settled in Cades Cove, churches and schoolhouses popped up. With the designation of the national park, however, residents were forced out of the valley (not unlike the Cherokee before them). Today, it's a popular area of the park, so avoid taking your scenic drive in the middle of the day. The 11-mile one-way road takes visitors on an enchanting trip through verdant meadows, alongside historic buildings and under canopied trees, all while in the shadow of forested mountain peaks. You might see black bears, wild turkeys, white-tailed deer, and coyotes while exploring the area. There are lots of vehicle pull-outs where you can park and explore the historic buildings (churches, mills, homes, barns) and nearby trails. There's also a visitor center, campground, and several trails in the area, so if you don't mind the crowds, you can easily fill a day by exploring Cades Cove!
Newfound Gap Road: If you're not from the Southeast, you may be wondering what the heck a "gap" is — and it's a good question! A gap is a low point along a mountain ridge – what we call a "pass" in the West, or a "notch" in the Northeast. A journey over Newfound Gap will take you up to 5,046 feet, the lowest (and therefore easiest) route to drive through the mountains. Either way you approach Newfound Gap, you'll gain about 3,000 feet of elevation — and the corresponding changes you'll notice in vegetation are comparable to those you'd see while driving from Georgia to Maine.
Roaring Fork Motor Nature Trail: Roaring Fork is named for the fast-moving, forceful stream that parallels this scenic drive. This 5.5-mile, one-way road winds along the stream near an old-growth forest, historic cabins, and wildflower blooms. Before beginning the scenic drive, you can stop for a self-guided tour of an old mountain farmstead. You can also pick up a guide for the Motor Trail that provides more of the history of stops along the way.
Little River Road: If you're heading to Townsend from Gatlinburg (or vice versa), you may as well take the scenic, winding Little River Road. Beginning at the Sugarlands Visitor Center and ending at Cades Cove, this road covers about 25 pleasant miles of overlooks, campgrounds, trailheads, swimming holes, and waterfalls.
Take a Hike
One of the best ways to spend your time in Great Smoky Mountains National Park is to hit the trail on foot. Not only will you be able to escape some of the more crowded areas of the park, but you'll also get to explore some of the country's best trails.
In fact, the Appalachian Trail (AT), a National Scenic Trail that runs more than 2,000 miles from Georgia to Maine, travels the length of this park. Several hikes overlap with the AT, so you may share the trail with hardcore thru-hikers!
Note: More hikes are included in the "Waterfall" section of this post. 
Clingman's Dome: (1 mile, 330 ft elevation gain) At 6,643 feet, Clingmans Dome is the highest point in the Smokies, in Tennessee, and along the Appalachian Trail. Visitors can reach the dome tower via a paved (but steep – and not wheelchair accessible) 1-mile round trip hike from the parking lot. At the top, you're rewarded with 360-degree views of the park and beyond. Because of its elevation, the peak is often foggy, cold, and wet – it's actually considered a temperate rainforest up there! Note: While Clingmans Dome observation tower is open year-round, the 7-mile long road to the trailhead is closed from December 1 through March 31 due to winter weather conditions.You can still hike up to the tower, just be prepared for wet, cold, and wintry hiking conditions.
Rocky Top: (14 miles, 3600 ft elevation gain) For an all-day thigh-burner with both distance and a climb, the hike to Rocky Top is a perfect choice. This 14-mile out-and-back hike gains about 3,600 feet – so you can expect a quieter hike away from the crowds. It begins in Cades Cove and winds through rhododendron (which blooms in June, if you want to be blown away by this flowering beauty), pretty meadows, and mountain laurel, with spectacular views along the way. The bald top of this peak gives you incredible views of the Smokies – and heck, you deserve it! 
Andrews Bald: (3.6 miles, 900 ft elevation gain) This moderately difficult hike is a great option for those wanting to summit a bald without giving up their entire day. This is a great Goldilocks option — long enough to feel like a big hike (and escape some of the crowds), and short enough that you don't have to be an elite athlete to do it. The hike starts with a descent down Clingman's Dome before climbing up Andrews Bald. Like other balds in the Smokies, you can count on some amazing views up top. Unless it's cloudy… So pick a clear day for this hike!
Schoolhouse Gap: (3.8 miles, 500 ft elevation gain) Choose this hike for a relaxing, leisurely walk through the forest, and —  in the spring — to enjoy the carpet of colorful wildflowers, too. The elevation gain during this out-and-back hike is about 500 feet, which isn't nothing, but is what you might call "pretty flat" when you're hiking in the mountains. Part of this hike follows a creek, and with the peaceful forest and wildflowers, this is the perfect trail for those who want to zen out.
Chimney Tops:  (4 miles, 1400 ft elevation gain) This is one of the most popular hikes in the park, and for good reason – it's relatively short, and has amazing views from the top. But just because it's popular doesn't mean that it's easy: this hike gains 1,400 feet over two miles. This hike is difficult, strenuous and rocky – in fact, Chimney Tops is unique in that it's one of the only peaks in the Smokies with an exposed rock summit.
These are just a few of the endless number of hikes you could piece together in the Smokies. With hundreds of miles of trails zigzagging this way and that throughout the park, you can really just pick one and start walking — as long as you've got your map and proper hiking gear in tow.
Hit the Trail and Go Backpacking
If you love hiking and want to kick it up a notch by embarking on a multi-day hike, the Smoky Mountains are a fantastic park for backpacking. With some outdoor experience and careful planning, you can head out into the woods for a couple of days to experience these mountains in a unique way. 
The Smoky Mountains are known for hosting a section of the Appalachian Trail, the 2,000 mile trail that follows the spine of the Appalachians on its way from Georgia to Maine. While completing the trail takes months of hiking (and a huge sense of adventure), you can always backpack a small section of the trail. If you do, you'll need to figure out transportation from either end of your hike. 
Fun Side-Note: in thru-hiker terminology, this is known as "section hiking," and it's a perfectly valid way to complete the entirety of the Appalachian Trail over the course of a lifetime!
With hundreds of miles of connecting trails, there are endless backpacking loops to choose from. For simplicity's sake, though, here are a few options for great 2-3 day routes: 
Big Creek Loop: (~18 miles, 4,200 ft elevation gain) This loop begins at the Big Creek Campground. From the Big Creek trailhead, you'll follow a gurgling mountain creek complete with idyllic swimming hole (Midnight Hole) and waterfall (Mouse Creek Falls). The first campsite is 5 miles in, and on Day 2, you'll climb Mt. Sterling. All that climbing pays off, though, when you get to camp atop this gorgeous mountain. On Day 3, you'll take Baxter Creek trail down the mountain back to Big Creek Campground.
Twentymile Loop and Gregory Bald: (~16 miles, 4,400 ft elevation gain) Twentymile loop isn't quite 20 miles… but it's almost 16. Close enough! Perfect for a one-night trip, this less populated trail features the summit of Gregory Bald, where you'll be rewarded with views of Fontana Lake, Clingman's Dome, and Cades Cove. You can camp on the bald, too, and head back down to the trailhead the next day. This loop begins and ends at the Twentymile Ranger Station.
Tricorner Loop: (31 miles, 8,100 ft elevation gain) For the super-adventurous who want a longer trip and a lot of elevation, the Tricorner Loop gives backpackers the opportunity to summit 8 peaks along the way. Some peaks sit right on the loop while others require a quick out-and-back climb off the main loop. After the initial few miles (and couple-thousand feet of elevation gain), you can decide how much those peaks really mean to you. For two bigger days followed by a quick, 4-mile hike out, plan your stays (hiking counterclockwise) at the Tricorner Knob Shelter and the Enloe Creek Shelter. This trail begins and ends at Round Bottom Campground.
Remember that backpacking, like camping, requires lots of planning. In the Smokies, you'll need to plan your route and get permits beforehand.
Great Smoky Mountains National Park also has some regulations around backcountry camping, including storing food, building fires, and wildlife safety. Make sure you're familiar with all of the park's guidance before heading into the backcountry – being unprepared isn't fun, and can negatively affect wildlife and other park visitors.
Go Rafting on a Mountain River
Whitewater rafting is a pants-wetting, heart-racing thrill – and it's so much fun! The Smokies, with abundant rivers and dramatic elevation gradients, is the perfect place for a rafting adventure.
If the thrill of whitewater doesn't sound like your cup of tea, no worries. Similar to hiking, you can pick your level of adventure – just be prepared to get wet no matter what!
Depending on where you're staying in or near the park, there are tons of options when choosing a rafting guide. Different companies offer different levels of intensity – from gentle river cruise to wild water thrill.
This trip down the Upper Pigeon River is for those looking for a thrill. You'll spend two hours on the water, tackling Class III to IV rapids. Beginners are welcome, but prepare to get soaked!
For those who want a little bit of excitement without too much thrill, this Lower Pigeon River trip has just the right amount of splash. You'll take on Class I and II rapids, just enough to balance out the otherwise relaxing float down the river.
Paddle on Fontana Lake
Even if wetting your pants from the thrill of whitewater rapids isn't your thing, you can still enjoy spending time on the water in the Great Smoky Mountains. Fontana Lake, just west of Bryson City, is a 29-mile long reservoir with lots of peaceful coves and islands.
Since it's bordered by National Park and National Forest lands, the shoreline is mostly undeveloped, making this lake a camper's, paddler's, and angler's paradise. The dam built in the early 1940s to provide electricity during World War II is the tallest in Eastern US, and the Appalachian Trail crosses it before entering Great Smoky Mountains National Park.
Renting a kayak or paddleboard or hopping on a guided sunset cruise are all great ways to enjoy the splendor of the Smokies from a different perspective. 
Bryson City Outdoors, in Bryson City and Cherokee, NC, offers kayak and stand up paddleboard rentals from Almond Boat Park and Marina. Their stores offer all of the outdoor and paddling gear you may have forgotten, and their taproom serves up the perfect beer to accompany or conclude your day on the lake. 
If you'd rather leave the navigation to a pro, join a guided paddleboard tour with Sunny Day Adventure Co. The guides know the lake's best secluded nooks and coves, so you can be sure you'll find a little peace and quiet near the nation's most popular National Park. If paddleboarding is still more adventurous than you'd like, how about sippin' a cold one on a guided sunset cruise?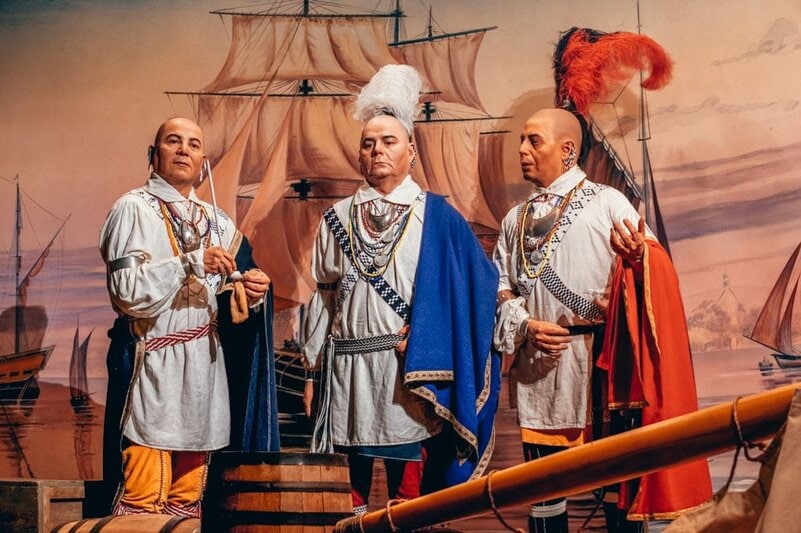 Learn about the Cherokee People and Appalachian Culture
While there's definitely a lot of wilderness to explore in the Great Smoky Mountains, you can't skip over the cultural attractions that celebrate this area's Appalachian heritage. You'll notice old cabins, settlements, and villages inside the national park, but these nearby museums are also great places to learn about the local history.
Museum of the Cherokee Indian: To learn about the history of the people who've called this place home for thousands of years (which you should definitely do), check out the Museum of the Cherokee Indian in Cherokee, North Carolina. This attraction has been called a "model for museums," and shares Cherokee stories in an engaging, authentic way. It's not a huge museum, but offers a lot of information for those willing to take their time.
Great Smoky Mountains Heritage Center: This museum captures the spirit and culture of the Smoky Mountain Region. It offers events, festivals, educational programs, indoor exhibits, and an Appalachian village containing historic buildings. You can learn about native history, logging, and the birth of the park. The museum is a quick drive east of Townsend, TN, on your way into the National Park.
Mountain Farm Museum and Mingus Mill: The Mountain Farm Museum in Cherokee, NC includes a collection of historic buildings that were original to different locations in what is now the National Park. You can see old buildings like a house, barn, smokehouse, and blacksmith shop — most of which were built in the late 1800s and moved to their new location in the 1950s. In addition to seeing the structures, you can pick up a guide and take a self-guided tour, or take a walk on one of the two nearby trails.
Admire a Waterfall
Great Smoky Mountains National Park is chock-full of majestic, inspiring, fairyland-esque waterfalls. These picturesque natural features are a favorite site for many tourists, from the hundred-foot drops to the delicate drips.
Why so many waterfalls? Well, there's no shortage of water in the Smokies. At higher elevations, this region can get as much as 85 inches of rain annually. The other crucial ingredient for waterfall magic is a change in elevation —  and the mountainous terrain of the Smokies fits this bill, too.
You can enjoy waterfalls on just about every hike and scenic drive throughout the park, but follow the Park Service's safety warnings. Rangers deal with a lot of swift water rescue scenarios when people swim too close to waterfalls, attempt a dangerous stream crossing, or climb the rocks around a waterfall. Use your common sense, and follow park safety guidelines. 
While there are waterfalls everywhere you look in the Smokies, here are some of the most notable:
Rainbow Falls: This waterfall is the tallest single-drop falls in the park. When it's sunny out, the mist from the falls creates — you guessed it — a rainbow. Seeing this waterfall requires a moderate hike. It's 5.4 miles round trip with over 1600 feet in elevation gain.
Ramsey Cascades: While Rainbow Falls is the tallest single-drop waterfall in the park, Ramsey Cascades is the tallest overall, at 100 feet. This waterfall tumbles down rocky outcroppings before falling into a pool at the base. These falls are accessible by an 8-mile (round trip) hike, and it won't be easy. This strenuous walk takes you up 2000 feet of elevation gain through old-growth forest and along rushing mountain streams.
Go Spelunking in Tuckaleechee Caverns
While the idyllic landscape of the Smokies attracts millions of visitors every year, fewer people are aware of the crazy formations that draw people under the Smokies. That's right – nature's awe doesn't end with the mountains, wildlife, and rivers aboveground.
Heading underground into Tuckaleechee Caverns, a mile-long limestone cave system, rewards you with otherworldly views of towering stalagmites, sparkling streams, and Silver Falls, a 210-foot underground waterfall.
Tuckaleechee Caverns is also home to the most sensitive seismic station on the planet. These caves, estimated to be between 20 and 30 million years old, became home to a seismic station when the Tennessee Valley Authority was building dams in the area and wanted to know the impact of the water on the underlying tectonic plates.
Because of the caverns' deep, solid, limestone formations, the caves can pick up on sounds on the other side of the globe. The US military now uses this seismic station to monitor nuclear testing around the world. So basically, if the Earth has an ear… this is it! 
There are few different stories about the caves' "discovery." Most likely, Cherokee peoples found and used the caves long before white settlers did. Some stories say that some Cherokee even used the caves to hide from white settlers. 
"Discovery" of the cave system is most often described in the tale of two young boys finding the opening to the cave, climbing down into it, and "playing Tom Sawyer". Another story links the cave's discovery to sawmill workers who noticed rainfall pouring into a nearby sinkhole.
Today, you can take a guided 1-mile walk through the cave system, witnessing subterranean streams, waterfalls, and geologic oddities. The tour also includes a stop at the "Big Room," an aptly named 400-feet-long, 300-feet-wide, and 150-feet-deep absence of earth. It's so big, it can nearly hold a football stadium.
While exploring dark, subterranean crevices might be more of a turnoff for the more claustrophobic traveler, this is a rather comfortable, roomy experience!
Visit a Historic "Ghost" Town
The park's largest campground, Elkmont, is just steps away from a true ghost town, where visitors can explore the remains of a logging community and two turn-of-the-century-era resorts.
Once a mountain playground for the wealthy, this ghost town doesn't look so glamorous now, but it's where the area's huge tourism industry got its humble start—and where the movement to create the park was born.
Elkmont got its start in the mid-1800s as a small settlement of homesteaders, hunters, and loggers. Thanks to the lumber boom and an influx of tourists, it grew to become the second-largest town in the county and included a hotel, a store, a church, a school, and a post office.
Soon, though, the surrounding mountains were bare — as tends to happen when subject to aggressive logging. The Little River Logging Company stopped their operations in this area in 1926, and talk of creating a National Park began. 
Eventually, with the development of the park, Elkmont's residents headed elsewhere. What was once a thriving lumber and tourist town now sits empty — a true ghost town in the Smokies! Where before there were glamorous resorts, homes, stores and a post office, there's now eerily empty buildings, spirits, and a ghost office. Ghost jokes!
In the last few decades, the park started restoring some of the remaining buildings in this historic logging town. In 1994, Elkmont was listed on the National Register of Historic Places. The Park Service is actively restoring some of the buildings so that visitors can catch a glimpse of life (or the afterlife…) in this once-prospering town. 
Wander around this historic area to learn about life before this land was designated as a National Park. You can also hike the Jake's Creek and Little River trails to walk past old chimneys and stone structures. 
To get to Elkmont from the Sugarlands Visitors Center, head west on Fighting Creek Gap Road (toward Cades Cove). After about 4.5 miles, you'll take a left onto Elkmont Road.
Eat and Drink
You may not think about food as a highlight on a trip to a national park. Because, like, it's the wilderness, right?
Well, lucky for the foodies out there, Great Smoky Mountains National Park is surrounded by quaint Appalachian towns that know how to feed a hungry hiker. There's plenty of southern fare, authentic barbeque, and even craft beer to satisfy after a big day in the park!
Restaurants near the Gatlinburg, TN Entrance
In Gatlinburg, there are seemingly endless dining options to choose from, and the crowds can be overwhelming. Head to these favorite spots – but plan ahead to beat the crowds:
For breakfast, get an early start and head to The Donut Friar at The Village Shops. And by early, we mean early – this place opens at 5 am. While you can't go wrong with any of the donuts, this place is known for its cinnamon bread, which sells out most days. Again, get there early! Get a latte and pastry to go, and get to the park before the rest of the town even wakes up.
For dinner in Gatlinburg, you can find a top-notch meal off the beaten path at The Greenbrier. This lodge-style restaurant sits on the edge of the National Park and serves an upscale, steakhouse-style menu. Splurge on a steak or seafood entree, and make sure to take a look at their creative craft cocktails and extensive whiskey list. 
A little further north from Gatlinburg, Pigeon Forge offers its own cozy culinary attraction:
In Pigeon Forge, cozy up on a rainy day at Pottery House Cafe – though if the sun's shining, they've got a charming patio, too. Indoors, the dining room and crackling stone fireplace make a great place to enjoy a warm southern lunch, like a bowl of soup and pimento cheese-topped fresh-baked olive bread. And if it couldn't get more lovely, all of the food is served on handmade pottery made next door.
Sevierville, Pigeon Forge's neighbor to the north, is a little further from the park – and a bit bigger of a town. If you want to escape the crowds of Gatlinburg and get an amazing meal on the Tennessee side of the Smokies, Sevierville's got some great options.
Applewood Farmhouse Restaurant serves up no-nonsense southern dishes like chicken pot pie, fried chicken, and slow-roasted pot roast — and the famous apple fritters that come with every meal. Set on a beautiful farm among apple trees and rolling countryside, you'll love this place for the vibes as much as the food.
You can't leave Sevierville without eating (and drinking) at Graze Burgers. Try the Southern Jam burger (with pimento cheese, caramelized onions, and bacon jam) and a Maple Bourbon milkshake (yeah, it's boozy!) for possibly the best end to southern Appalachian hike.
Restaurants near the Cherokee, NC Entrance
Of course, we can't neglect the North Carolina side of the park, which is well worth a culinary excursion.
A visit to North Carolina isn't complete without eating some barbeque, and Haywood Smokehouse in Dillsboro is the place to indulge. Get a platter of your favorite – brisket, chicken, ribs, sausage – and choose from a list of classic (but not ordinary) sides. Hint: Get the mac & cheese! Oh, and save room for dessert — Bourbon Chocolate Pecan Pie, anyone?
In the little town of Bryson City, you'll want to visit Nantahala Brewing Company. The brewery and taproom that emerged from an old warehouse now serves up mountain-inspired beers like the Bryson City Brown and Little Tennessee Logger. While the taproom doesn't serve food, you're welcome to bring your own (or even use the grills that they've provided on the deck!).
Explore the "Road to Nowhere"
Outside of Bryson City, there's a road that leads to… well, nowhere. And it's not a theme park ride, practical joke, or tourist trap.
In fact, the Road to Nowhere is a bit of a gloomy story. Your first hint that the road isn't just a tourist attraction? A wooden sign that reads – "The Road To Nowhere – A Broken Promise."
There's still some speculation and controversy over how the Road To Nowhere came about. But here's the general story:
In the 1930s and 40s, the Federal Government and The Tennessee Valley Authority took over control of previously private land in Swain County. Under new management, the land would be the home of the future Fontana Dam (and the resulting Fontana Lake).
With the waters of Fontana Lake rising behind the new dam, Swain County residents were forced to leave their homes and villages behind. In an attempt at restitution, the government promised to build a road to replace the flooded one that led to their old communities and family gravesites.
Construction of the new road began, but stopped after only six of the proposed thirty miles were built. The halt was a result of an environmental issue that was apparently too costly to fix. The road never made it past the tunnel at the end of what is now Lakeview Drive. 
The displaced families weren't able to see the government's promise fulfilled, and never regained access to their homes. In 2010, an effort to appease the former landowners and their descendants began. In 2018, the US Department of Interior paid Swain County $52 million for the road that was never built.
Instead, this lonely road sits hauntingly incomplete, with a large dark tunnel ominously denoting the end.
Getting to the Road To Nowhere requires a winding six-mile drive on Lakeview Drive out of Bryson City. Along the way, you'll be rewarded with gorgeous mountain views around nearly every bend in the road.
Despite the area's dreary (though certainly not novel) history, visitors today can take a beautiful — if not a bit spooky — hike near the Road to Nowhere. Several trails begin at the tunnel parking lot. Hikes ranging in mileage and difficulty include streams, views of Fontana Lake, old farms, and even a 365-foot journey through the tunnel itself.
The tunnel can get dark, so bring a flashlight! And if walking through a dim, ghostly, forgotten tunnel is a little too spooky for you, there's a bypass around the tunnel that lets you access the same trails.
Take a Day Trip 
Unlike many national parks that have a single, tiny gateway town near the park's entrance, Great Smoky Mountains is surrounded by several little Appalachian mountain towns that are full of character.
While each of them offers more amazing access to the trails, sights, and waterways of the Smoky Mountains, they offer some interesting cultural experiences too. And their proximity to the park – and to each other – make a day trip a breeze.
Visit Gatlinburg, Tennessee
Gatlinburg, Tennessee sits immediately outside the Sugarlands entrance of Great Smoky Mountains. This little town's population hovers around 4,000 residents – but there's no shortage of things to do.
For great views of the neighboring mountains, hop on Gatlinburg's aerial tramway. It takes you a distance of 2 miles while gaining 1500 feet — from downtown Gatlinburg to Ober Gatlinburg Ski Area. For a different perspective, the Gatlinburg Space Needle provides riders with a 400-foot lift into the sky (via glass elevator) to a 360 degree observation tower. 
For a rainy-day activity, visit the 100+-year-old Arrowmont School of Arts and Crafts. The school began as a way to serve the local rural community before formal schooling became available. It evolved to showcase the beautiful, handmade crafts of this region and to later teach and preserve Appalachian craft. Today, the public can visit the galleries hosting permanent and rotating exhibits to learn about traditional Appalachian artwork.
Visit Pigeon Forge (& Dollywood)
Pigeon Forge, also on the Tennessee side of the park, is a quick 8-mile drive north of Gatlinburg and has its own unique array of things to do.
This small town is probably best known as the home of Dollywood, where you can find amusement rides, a waterpark, concerts, local arts and crafts, and sometimes even the queen, Dolly Parton, herself! Dollywood could take up an entire blog by itself, so it goes without saying that this attraction is something to see. 
Another notable attraction in Pigeon Forge is the Titanic Museum Attraction. Yep, despite being landlocked, Pigeon Forge is also home to a 30,000 square foot replica of the Titanic. And you can go aboard, too. The museum was built with actual Titanic blueprints, recreating the majesty of this ship. 
Finally, drink your way through Smoky Mountain country with a Moonshine and Wine tour. This half-day tour covers tastings at three distilleries and three wineries, as well as a guide to talk you through the history of moonshine and prohibition in the Pigeon Forge area.
Visit Byson City
Bryson City is the North Carolina gateway town into Great Smoky Mountains National Park. Like much of western North Carolina, Bryson City is charming, outdoorsy, and beautiful. With fewer than 2,000 residents, Bryson City is a little town with a lot to offer. 
If you want to sit back and see more of the surrounding country, you can hop aboard the Great Smoky Mountains Railroad. You can choose from a number of different routes on either a steam or diesel engine, chugging along sights like the Tuckasegee River, Fontana Lake, and the Nantahala Gorge. If you're visiting in the fall, this is a great way to see the season's explosion of color.
On a hot day in Bryson City, rent a tube at Deep Creek Tube Center & Campground for a splashy day on the river. Pick up a tube at the campground, and after a short drive inside the National Park, walk your tube to the river put-in. This 1-mile section of river is divided into two sections — a "lazy river" section, or a borderline whitewater section.
If the splashes from your ride aren't enough, you can take a dip in the natural swimming hole along the river. There's no better way to spend a hot day!
Where to stay in Great Smoky Mountains National Park
With the many surrounding towns near Great Smoky Mountains National Park, it's no exaggeration that there are a ton of places to stay. Accommodations within the park, however, are limited, unless you want to camp.
When deciding where to stay, it really depends on where you want to spend your time. Here are some options both in the park and in the surrounding towns.
Stay in the Park
Within Great Smoky Mountains National Park, there are two options: camping or hiking up to LeConte Lodge.
Great Smoky Mountains maintains 10 campgrounds within the park. Cades Cove and Smokemont campgrounds are open year-round, and the rest are open seasonally. All campgrounds have running water, flush toilets, picnic tables, and firepits — but no showers or electrical hookups. Book your campsites in advance at Recreation.gov.
If you plan to backpack and need a backcountry campsite, you'll have to get a permit in advance. Read up on regulations, trail closures, and permitting here.
If you want a roof over your head and you're willing to work for it, check out the only indoor accommodations within the park — LeConte Lodge. LeConte Lodge sits atop Mt. LeConte, the third highest peak in the Smokies, and is the highest guest lodge in the eastern U.S.
No roads lead to this lodge, and getting here requires hiking one of the trails (ranging in length from 5 to 9 miles). This charming accommodation offers beds in cute, rustic log cabins as well as meals in a shared dining room.
Stay Near the Park
If you want to stay outside of the park, you've got options everywhere you look. This area is chock-full of the quaintest mountain cabins, many of which feature Smoky Mountain views, wraparound porches, and cabin-chic interiors. Here are a few of our favorites:
Tennessee
The Romantic Luxury Cabin sits between Townsend and Gatlinburg, just north of a nondescript entrance into the park. This place is what you think of when you hear "log cabin" — but a million times better. This ultra-cozy cabin has all you need for a comfortable Smoky Mountain vacation, including a beautiful hot tub, rustic furniture, and wooden rockers for relaxing at the end of a long, fun-filled day.
If you're traveling with your pup, this Pet-friendly Cabin east of Gatlinburg is perfect for you. It's got a hot tub and spa tub – meaning you can really soak your worries away. The cabin sits on the edge of the forest and is sufficiently distanced from the activity in Gatlinburg. It's the perfect place to rest and refresh before a busy day in the Smokies.
The brand new Cliff's Edge Cottage is only 4 miles from Great Smoky Mountains National Park and 3.5 miles from downtown Gatlinburg. This place is a modern, mountain cabin dream — and can we talk about that shower? After a long hike in the mountains, soak in the hot tub while enjoying an unbeatable Smoky Mountain View. 
North Carolina
A few miles outside of Bryson City, this Cabin on the Tuckasegee River welcomes couples or solo travelers looking for a serene, modern home base. This cabin sits right on the bank of the Tuckasegee River, where you can enjoy the peaceful waterway from the private hot tub. At the end of the day, relax on the deck before cozying up in a king-sized bed. Heaven!
The Blue Moose is as cute as it gets — I mean, come on, that name? This little cabin is less than a mile from Bryson City, but has a view of the mountains that you'd only expect much further from civilization. Hot tubs are *a thing* in the mountains, and this cabin does not disappoint. Enjoy a glass of wine while you soak, and gawk at the incredible mountain view just past your doorstep. And when it gets chilly outside, start a fire in the firepit or head inside to warm up by the cozy stone fireplace.
If you're interested in having a few more amenities at your disposal, check out Nantahala Village Resort. Just ten minutes from Bryson City, this resort offers an array of "treehouse" cabins, stone cottages, and mountain view rooms. There's also a full restaurant and bar on site, swimming pools, and horseback riding. And of course, everything's nestled in the gorgeous mountain foothills. 
About Our Guest Poster: Emily is a copywriter, nature lover, and art dabbler who lives in the northern Michigan town of Traverse City. Her favorite parts of travel are the outdoor pursuits unique to the destination — and the best local food and drink she can find. Learn more at emilycarolcopy.com
---
Which thing to do in Great Smoky Mountains National Park are you excited to do first? Is it the hikes or the waterfalls? Tell us in the comments below
Psst: Exploring the area? We've got plenty of posts on nearby destinations since Lia grew up in Kentucky! Read all of our posts about destinations in the South here or for Lia's hometown of Louisville, Kentucky check here.

FOLLOW US!
Psst: Save this post for later on Pinterest!