Idyllic blue-domed churches, breezy sea views, sparkling sunsets, and colorful beaches all await you in Santorini. No doubt you've seen the "no filter needed" social media humble-brags about the charming scenes of this picturesque Greek island all over the place. In case you just can't wait any longer for your slice of Grecian heaven, we've got everything you need to begin planning your Santorini getaway with this perfect guide.
What to Do in Santorini
1. Hike the Santorini volcano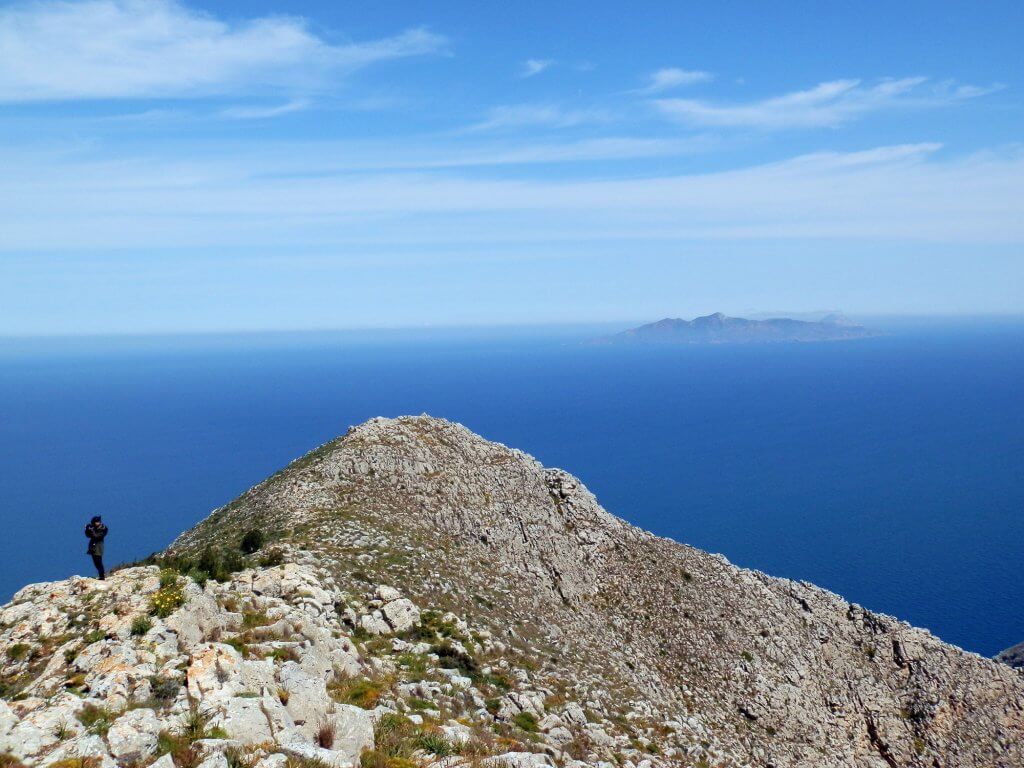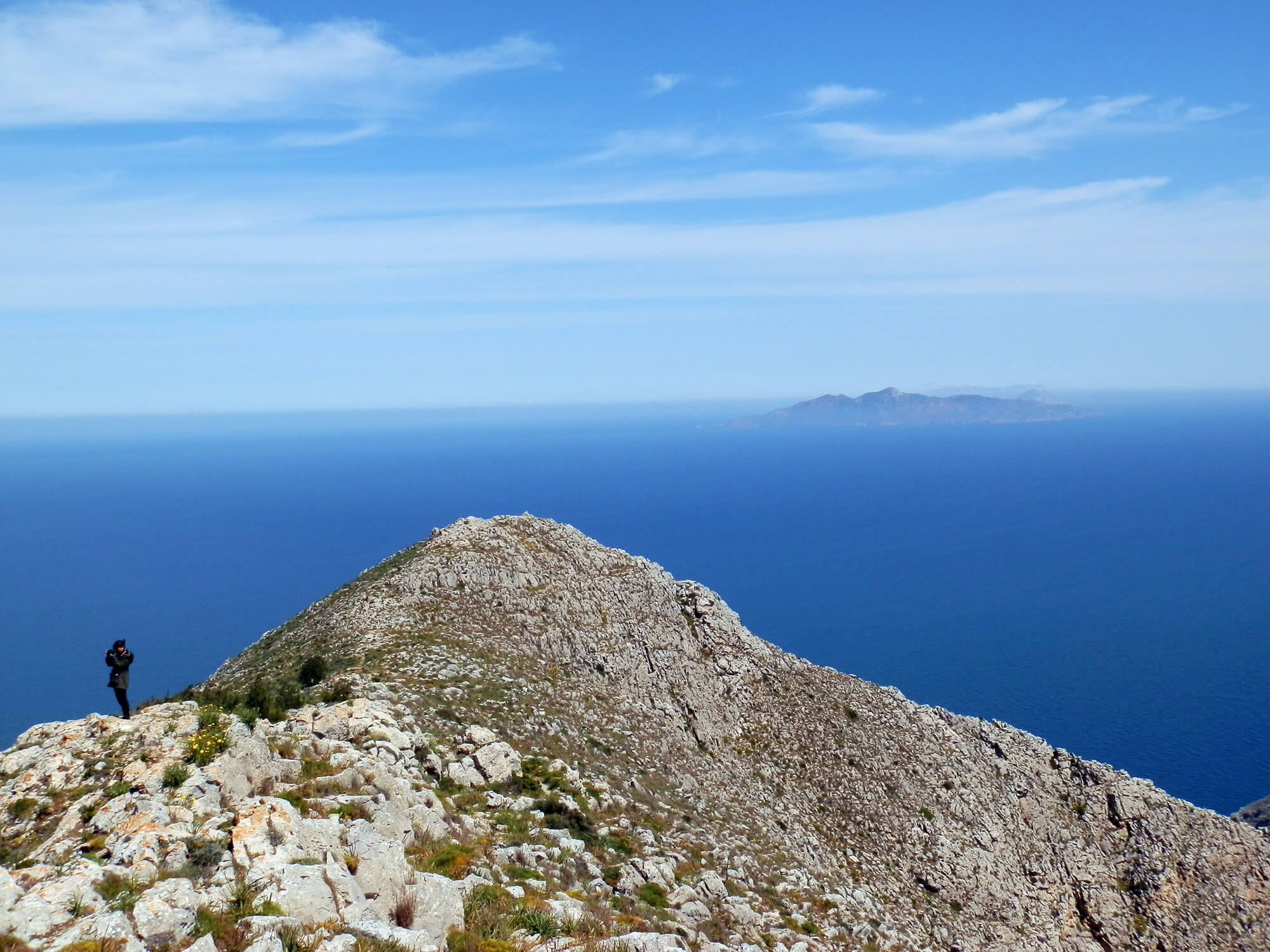 This is an absolute must-do on Santorini. A small boat will take you to Nea Kameni Island, where you can hike a volcanic crater. The volcano is dormant at the moment, but the barren landscape from the previous eruptions makes for a unique change of scenery.
Bring your swimsuit! There are several great swimming spots on the island that you won't want to skip after your sweaty hike.
2. Visit the Red Beach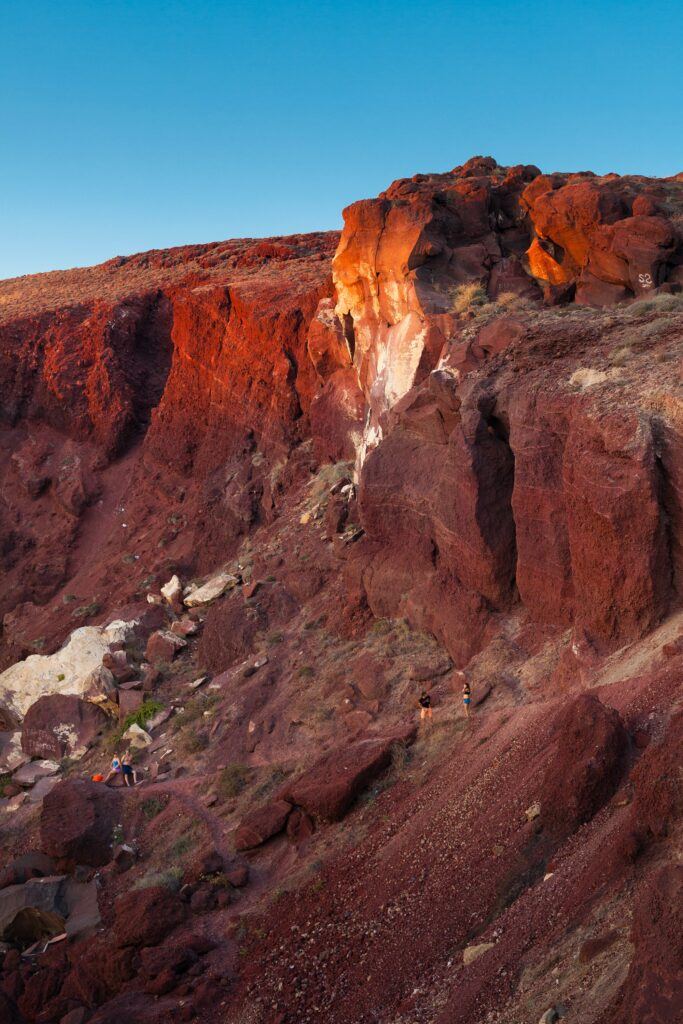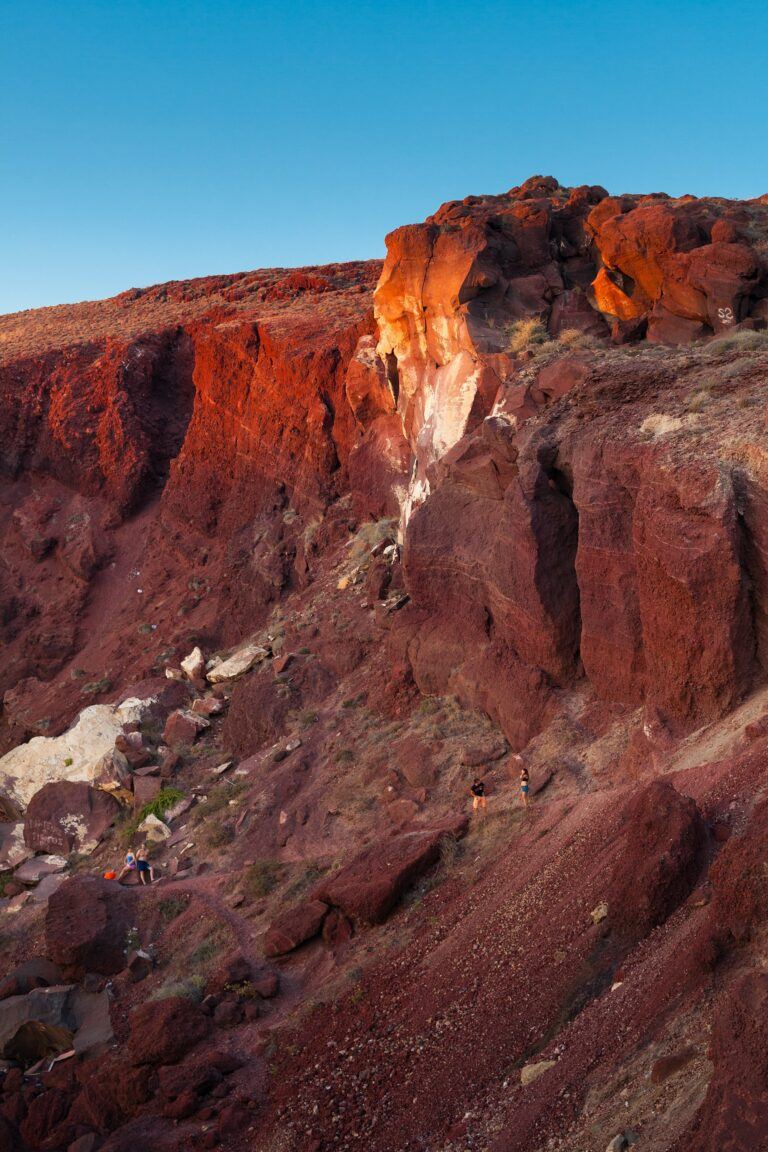 While you're fulfilling your volcano dreams at the Santorini volcano, don't miss the vibrant Red Beach while you're there. The unique red-colored sand comes from pulverized volcanic rock. Since this area is prone to landslides, make sure to check with a local guide to make sure it's safe to visit.
3. Then visit the Black Beaches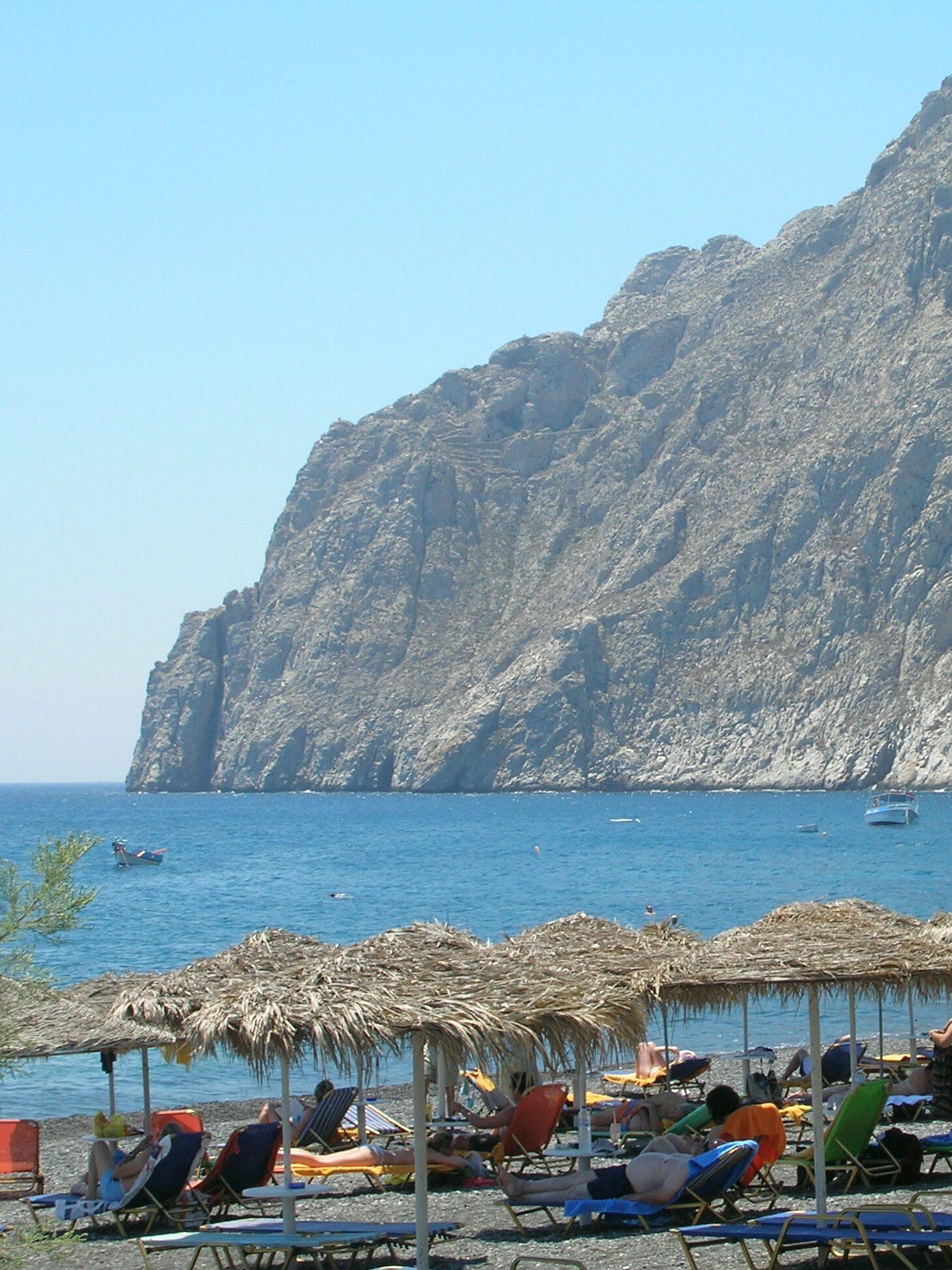 Santorini is known for having different-colored beaches, so you might as well see how many colors you can find! Perivolos, Perissa, and Kamari are a few beaches that have black sand. Just like the Red Beach, the black beaches also get their color from volcanic rock that has been eroded into sand.
Perissa and Kamari are very close to one another, and all three of these black beaches have plenty of amenities, including restaurants and places to relax.
4. Transport yourself to the moon at Vlychada Beach
Have you ever wondered what a beach on the moon would look like? I hadn't either… but now that I think about it, I'm curious. Vlychada Beach is also known as Moon Beach, due to the wacky rock formations that line it. It truly feels like you have stepped onto a lunar seaside heaven. It also has black sand, which makes for a truly unique beach experience.
5. Go sailing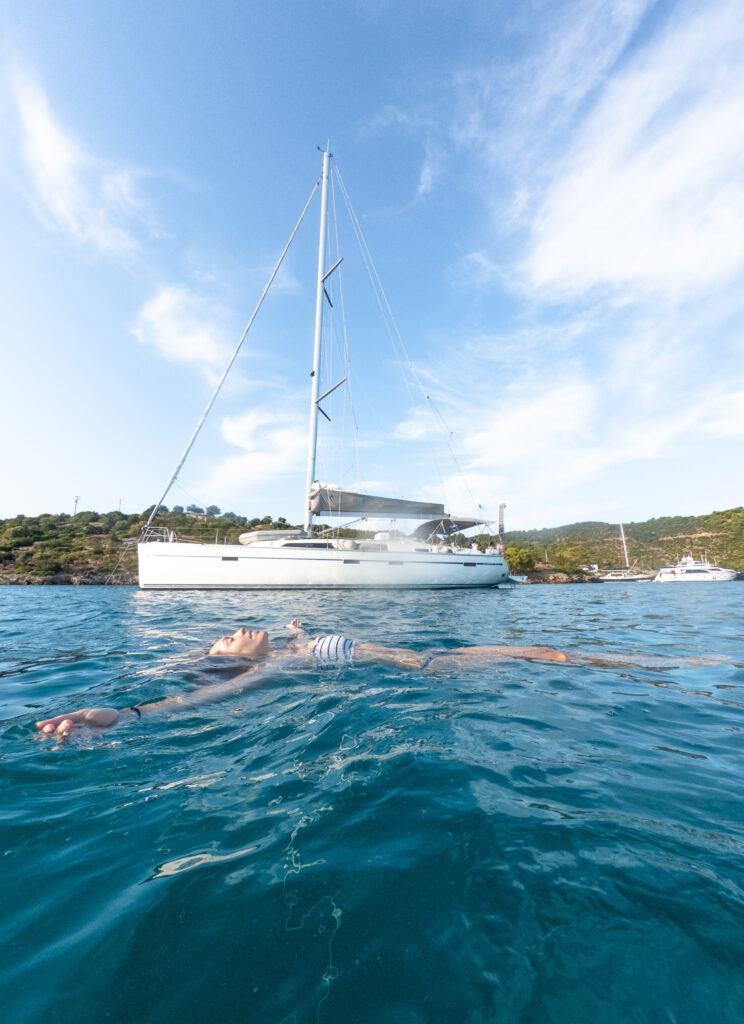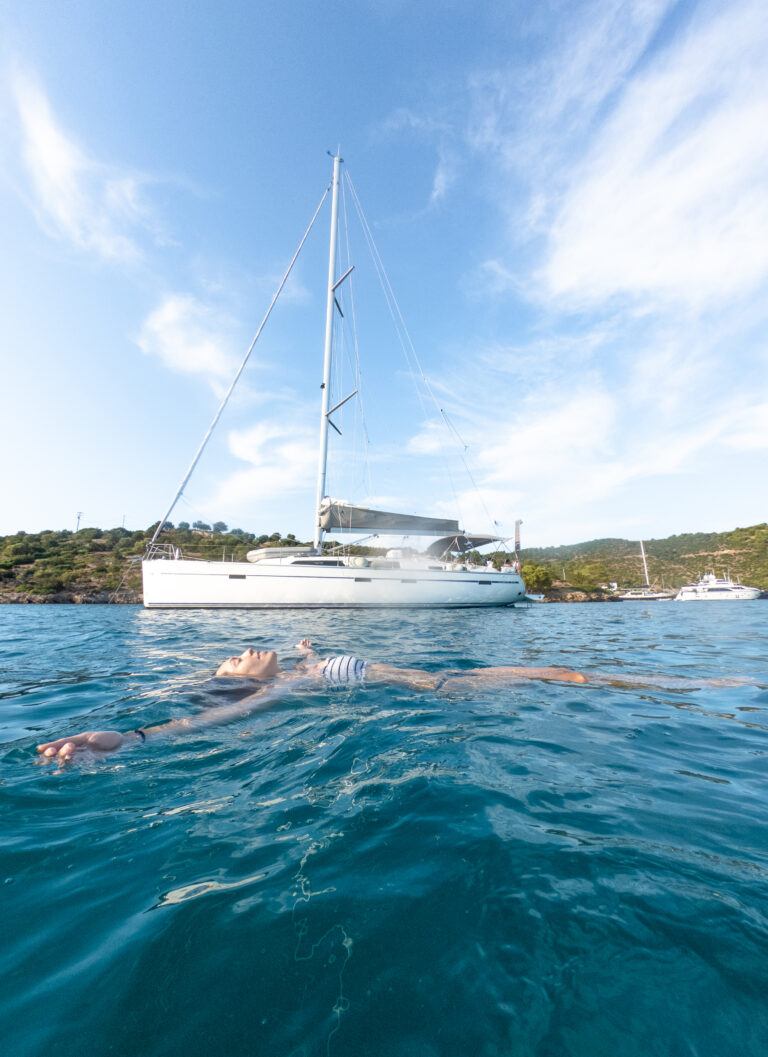 A trip to Santorini isn't complete without sailing around the islands. Not only are they gorgeous on land, but Santorini's bays are especially beautiful when seen from the sea.
There are plenty of options for a range of budgets and tastes when it comes to sailing tours. Get Your Guide has a variety of sailing adventures to choose from. You can also rent your own boat, and we have a guide on how to do so.
6. Catch an iconic sunset in Oia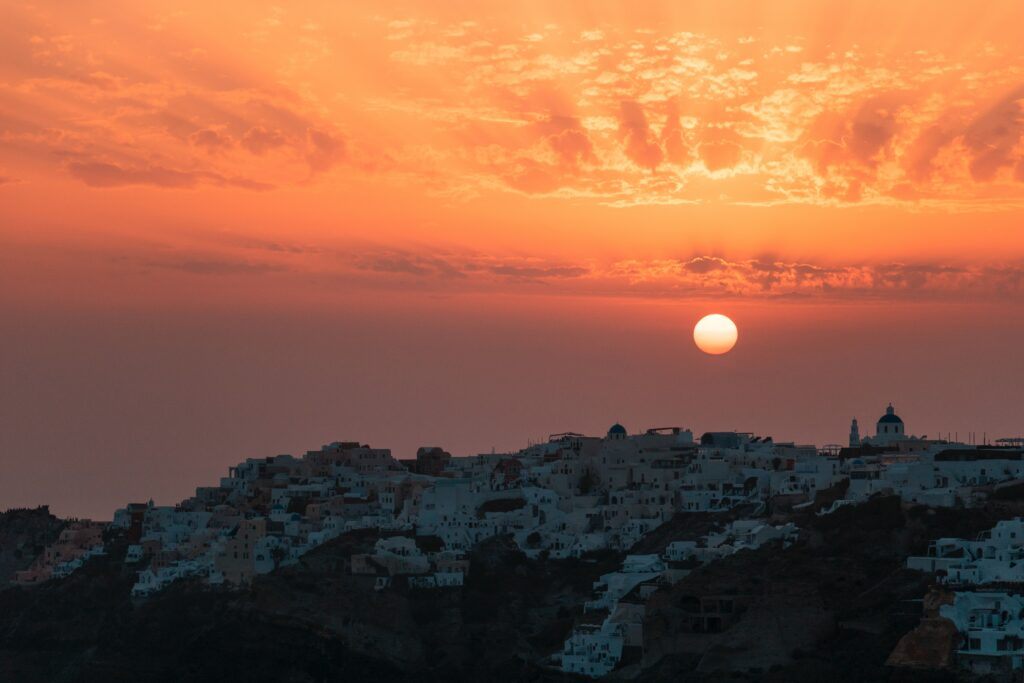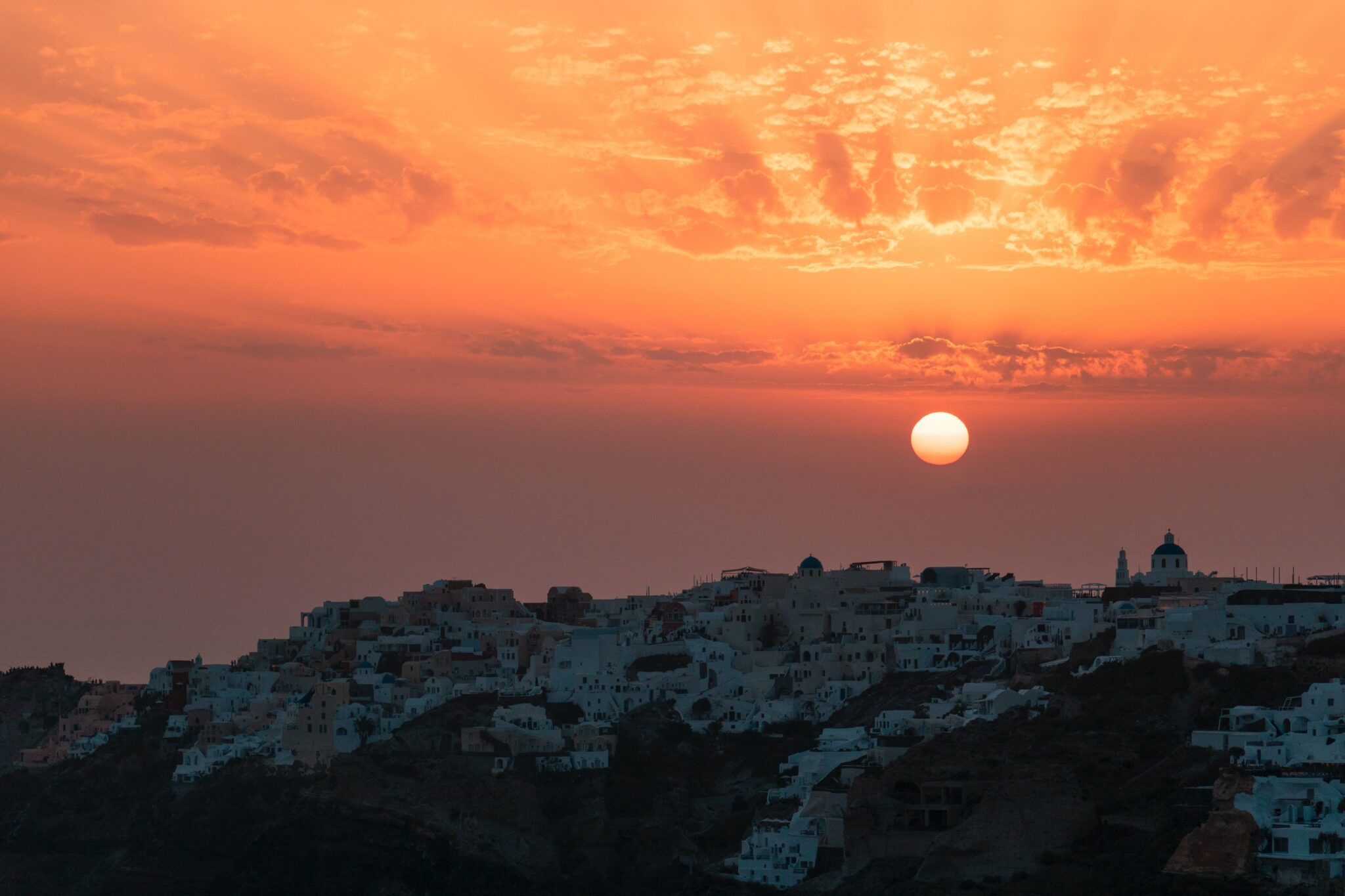 Oia is a laid-back cliffside town with a sleepy atmosphere — and some of the best sunsets on Santorini. Before the sun goes down, stroll through the winding, hilly streets then choose a cliffside restaurant at which to have a drink or a meal while watching the sunset.
This "to do" is quite popular. You can expect to see plenty of other travelers milling about Oia at this time of day, waiting to find that perfect sunset spot. Try to find a viewing point early in the afternoon and enjoy the atmosphere of one of Santorini's best attractions.
7. Cliff-jump at Ammoudi Bay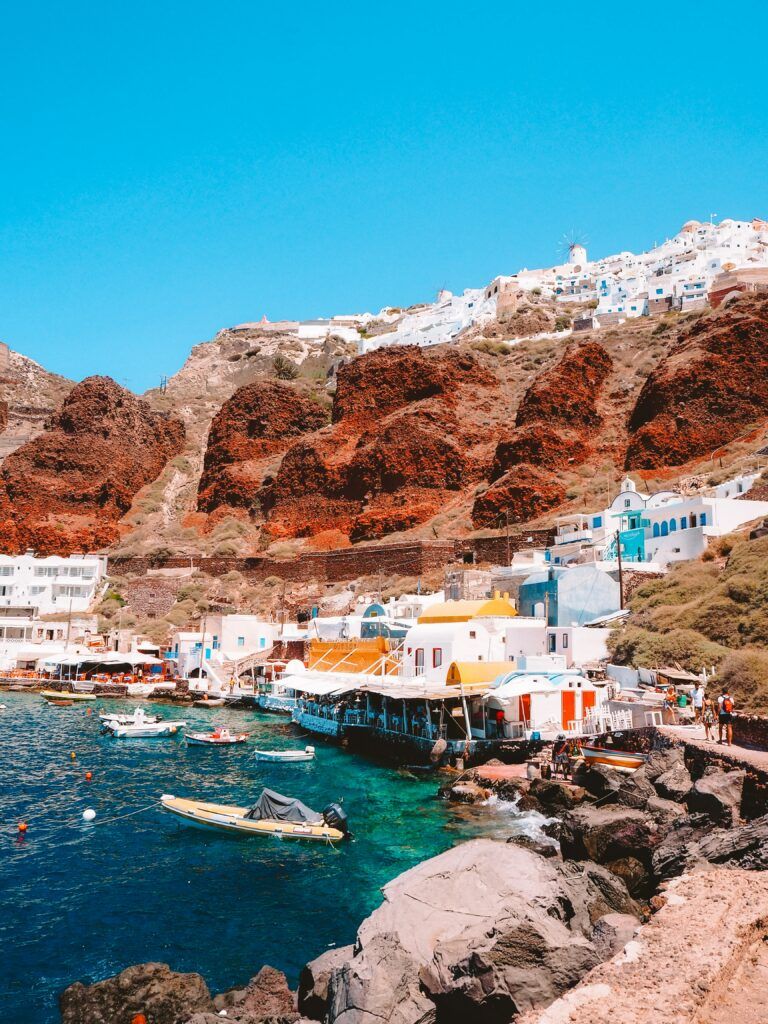 Just below Oia is Ammoudi Bay, which you can get to by following the switchback paths down to the beach. This is a popular swimming spot, and there are cliff overhangs that are big among daredevils. Climb up to one and jump into the cobalt blue water below.
This beach is also one of the best places on Santorini to have a delicious seafood meal, so take advantage of that after you get your adrenaline fix!
8. Hike from Fira to Oia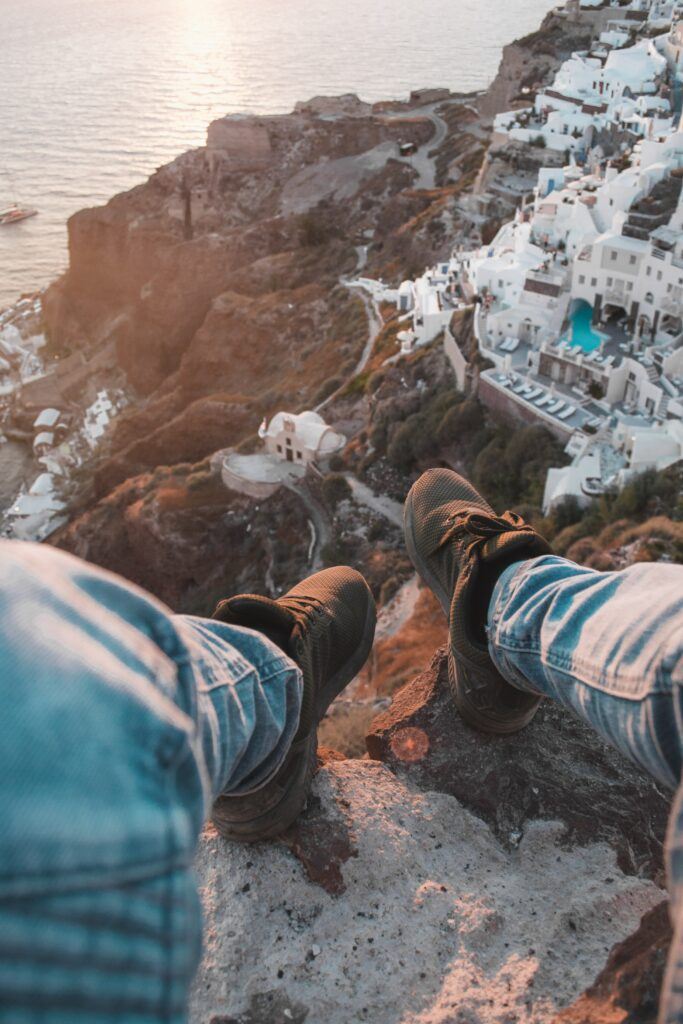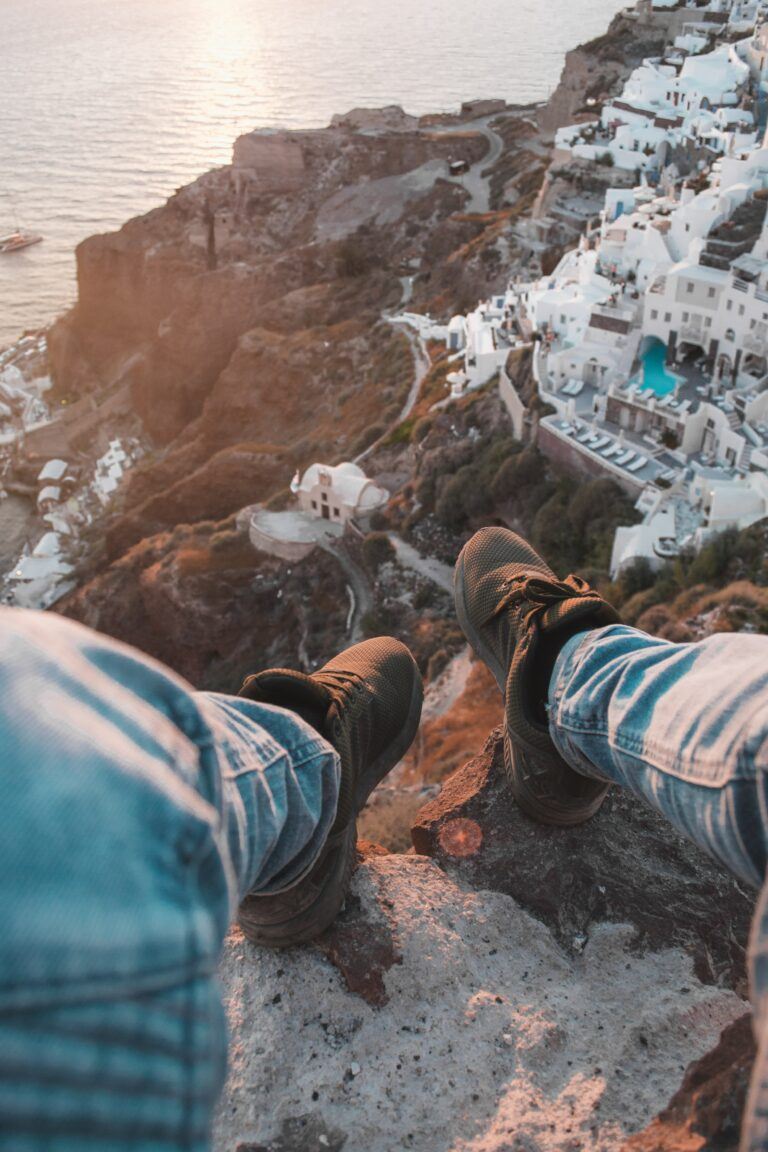 If you thought the only thing to do in Santorini was sail around or hang out by a pool sipping wine, you're in for a surprise. If you're a regular reader, you know that over here at BMTM, we love a good hike. In case you're missing some outdoors adventure while visiting Santorini, a hike from Fira to Oia awaits you.
The trail is called the Caldera Trail and is about 6.5 miles long. It takes anywhere between 2 and 5 hours to complete, depending on how quickly you hike and how often you stop. Start your hike early in the morning to avoid the heat in the summer, and make sure to bring plenty of water.
9. Peep into Agios Theodori Church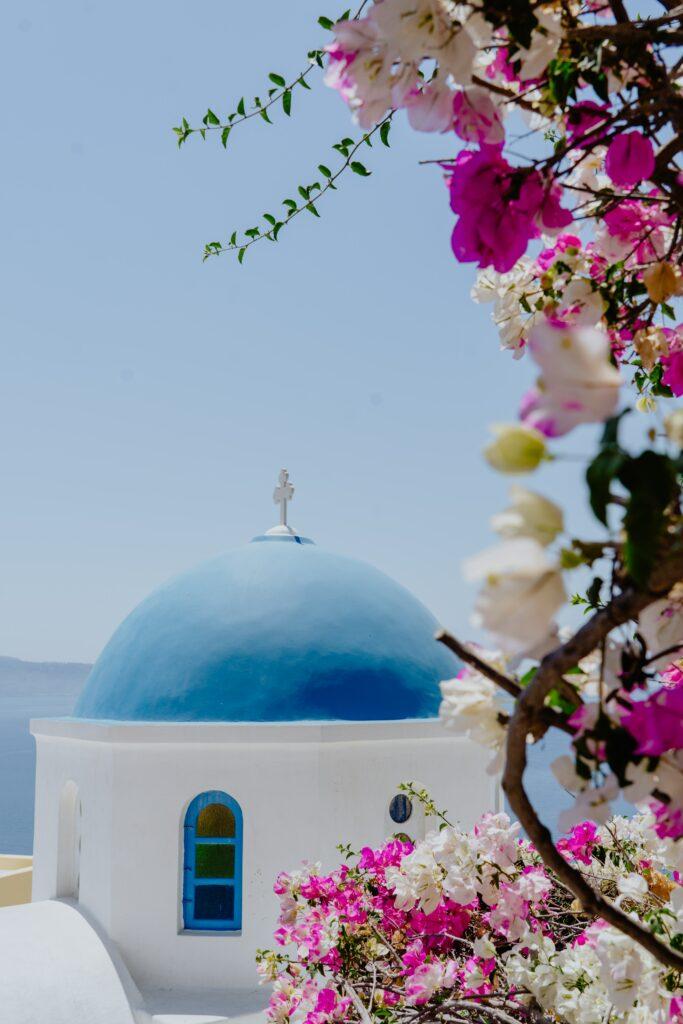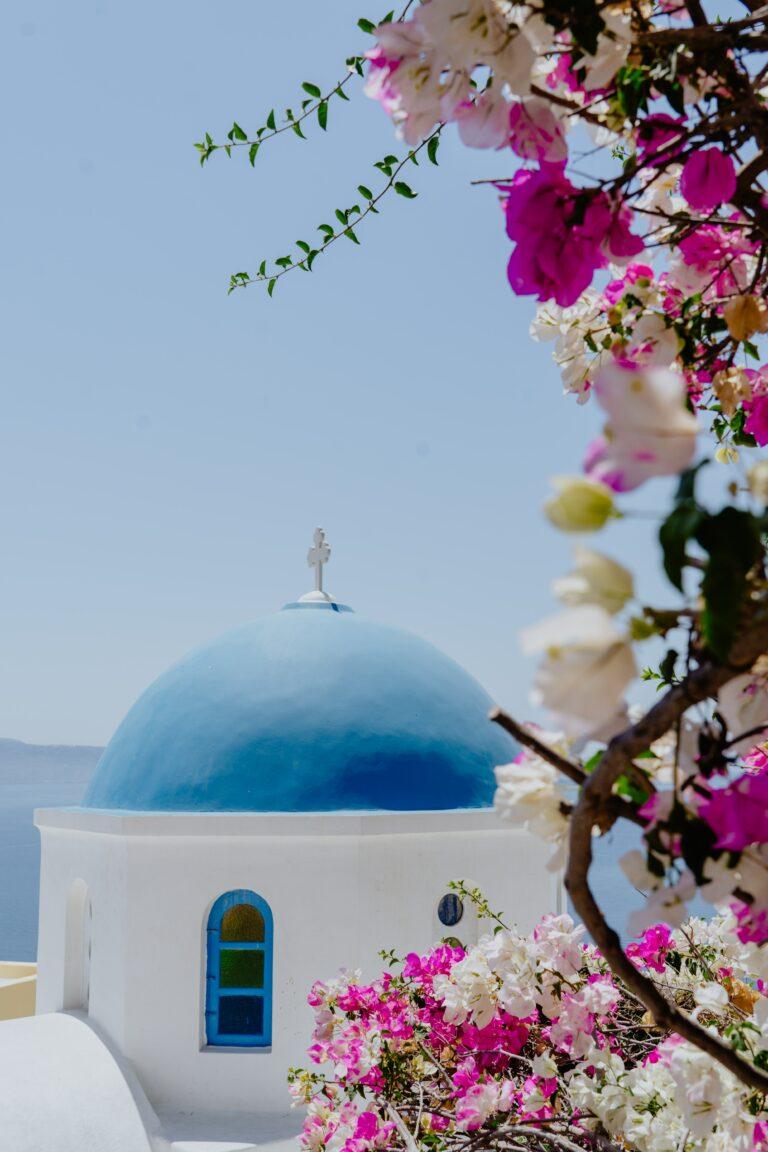 This classic blue-domed church is a potential short detour on the hike from Fira to Oia. Agios Theodori is one of the most popular churches of its kind, as well as a great photo spot for passersby: it's perched on a cliff with a killer view that you have probably seen on all kinds of tourism ads for Greece. It's that beautiful.
10. Make a stop in Pyrgos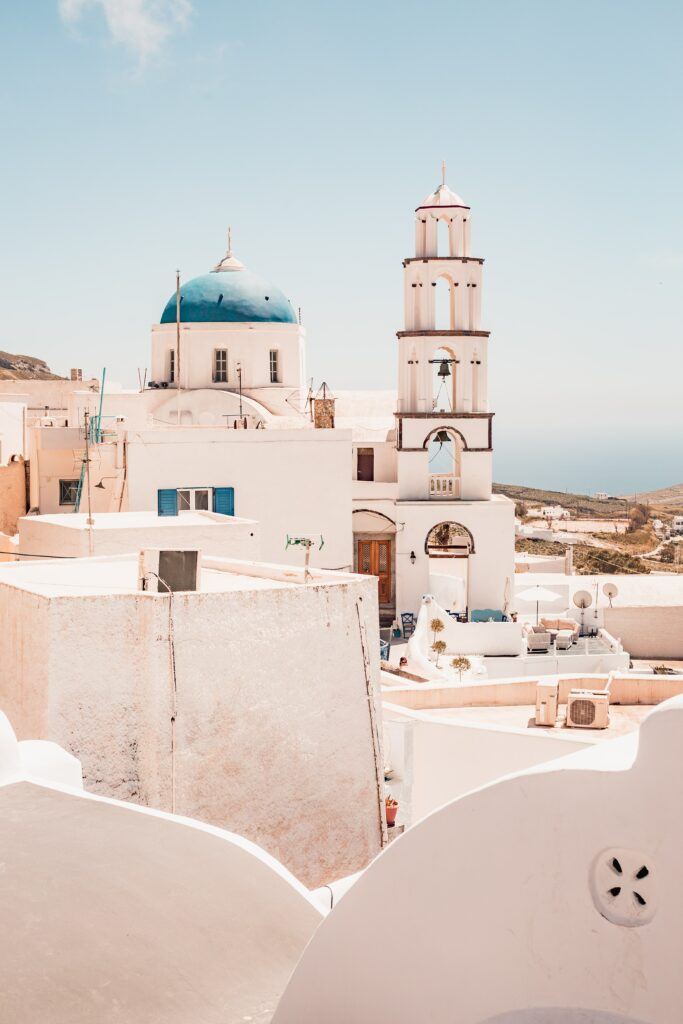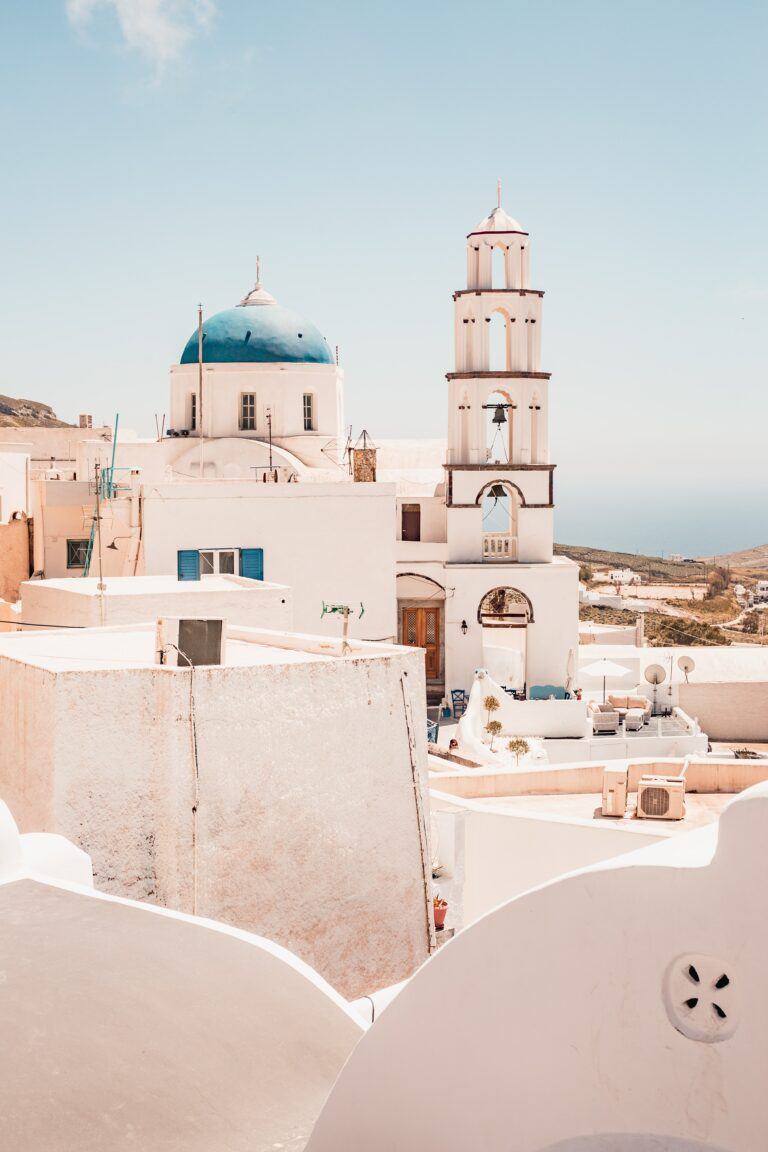 Located along the caldera is the charming village of Pyrgos. This tiny town has a very quiet atmosphere due to its small population and laid back culture. The quintessential stark-white stucco buildings are everywhere in Pyrgos, and the uphill alleyways will take you to some of the most stunning views of the sea.
Pyrgos is also known for having friendly locals who are extremely hospitable. Who knows, maybe someone will invite you in for lunch!
11. Peruse a mountaintop monastery at Profitis Ilias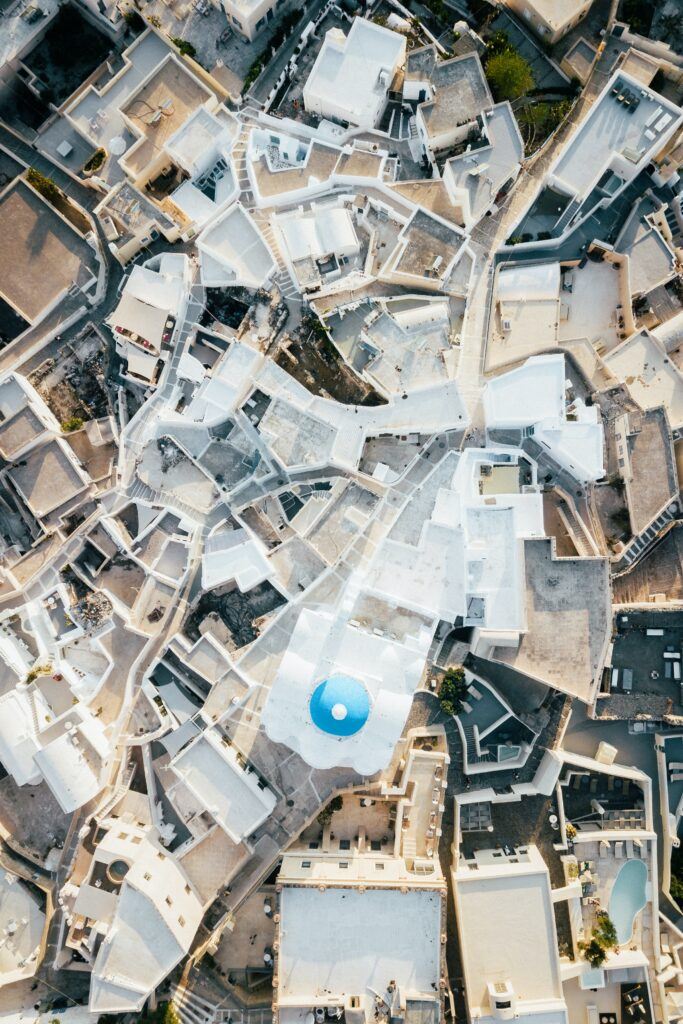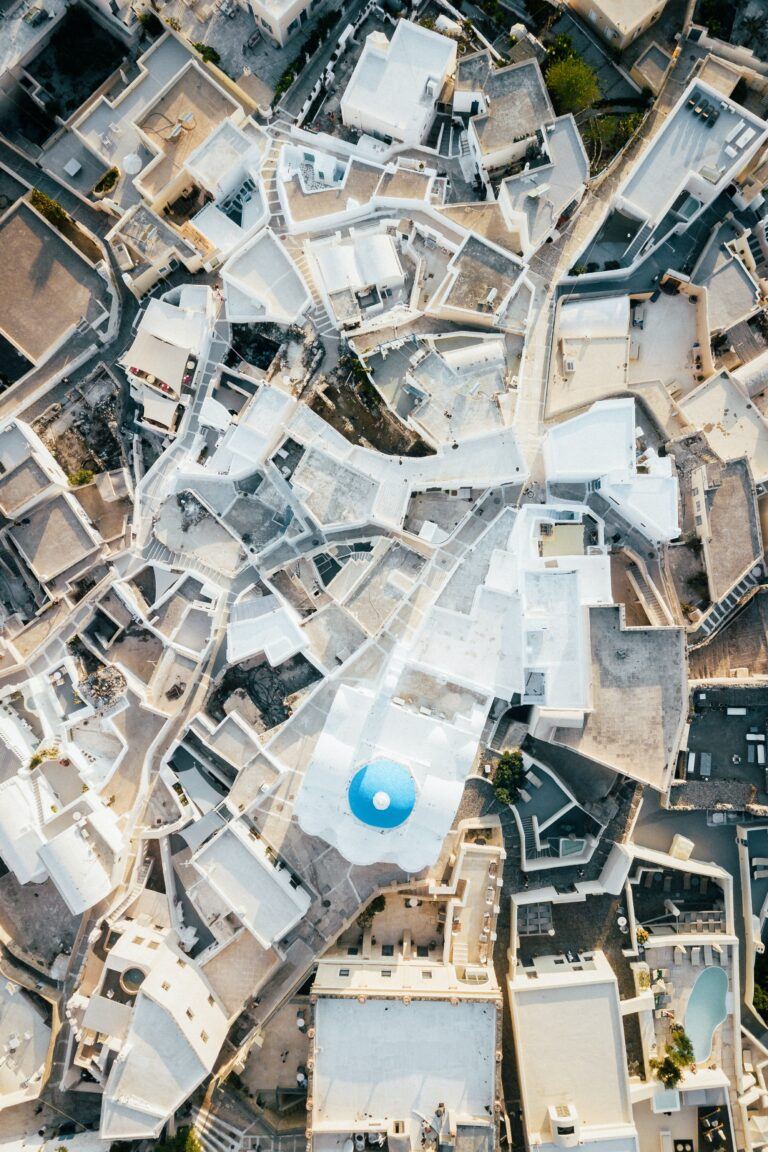 The monastery at Profitis Ilias is the highest point on Santorini. That means it has some of the best views on the whole island. The monastic buildings, prime examples of Cycladic architecture, are fun to explore. The monastery has its own museum, which is home to centuries-old artifacts, books, and relics.
An interesting feature of the Profitis Ilias monastery is the variety of locally produced goods that you can buy, made and sold by the monks living there. They showcase the best of what the area has to offer.
12. Stroll through cobblestone streets in Fira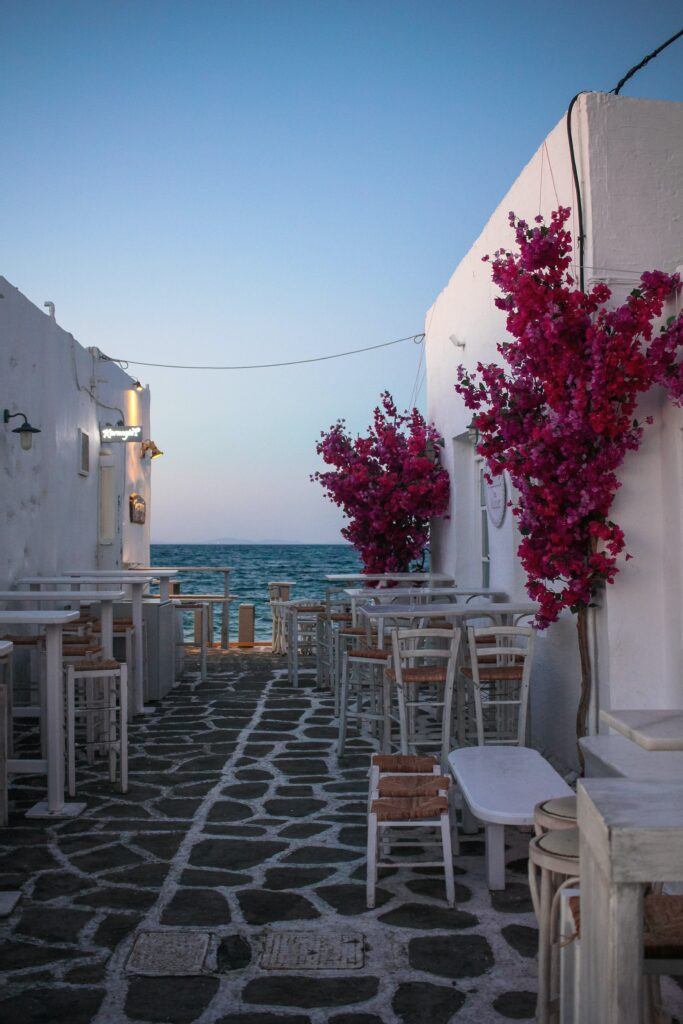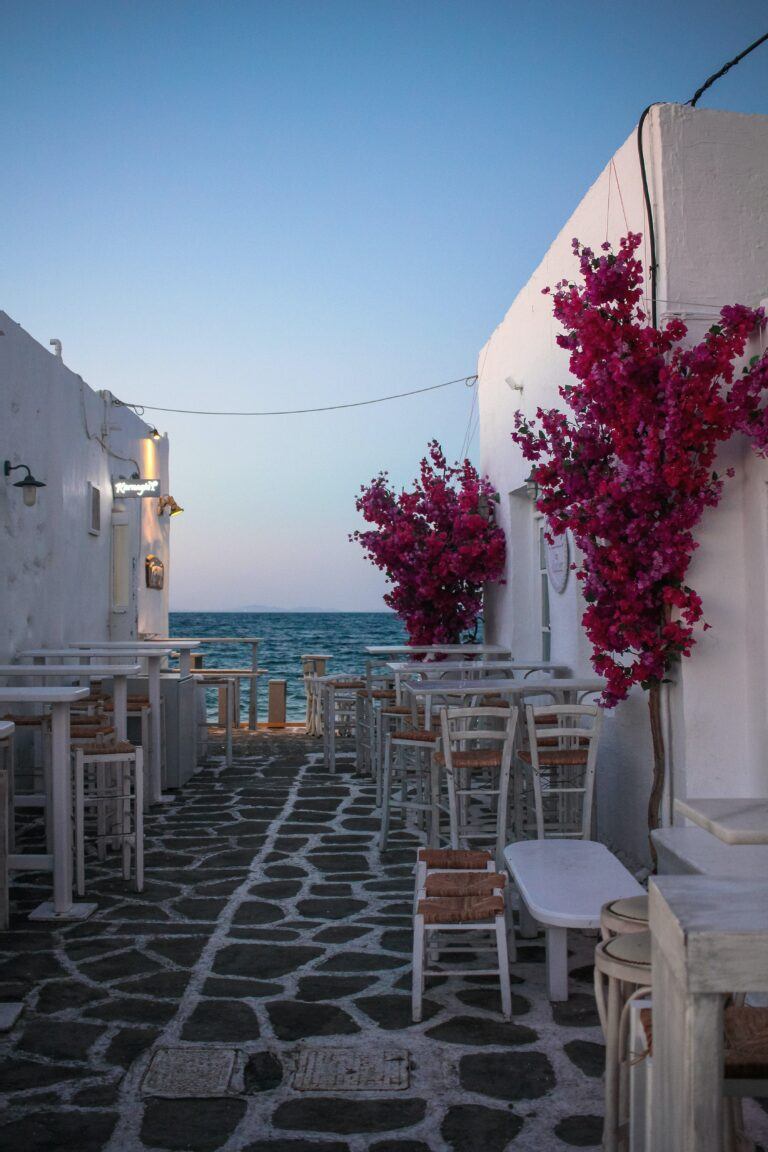 Fira, the capital of Santorini, may be tiny, but it is mighty! Along with kitschy shops, bustling markets, and elegant churches, you can find some excellent food at mom-and-pop restaurants there.
13. Visit the Archaeological Museum of Thera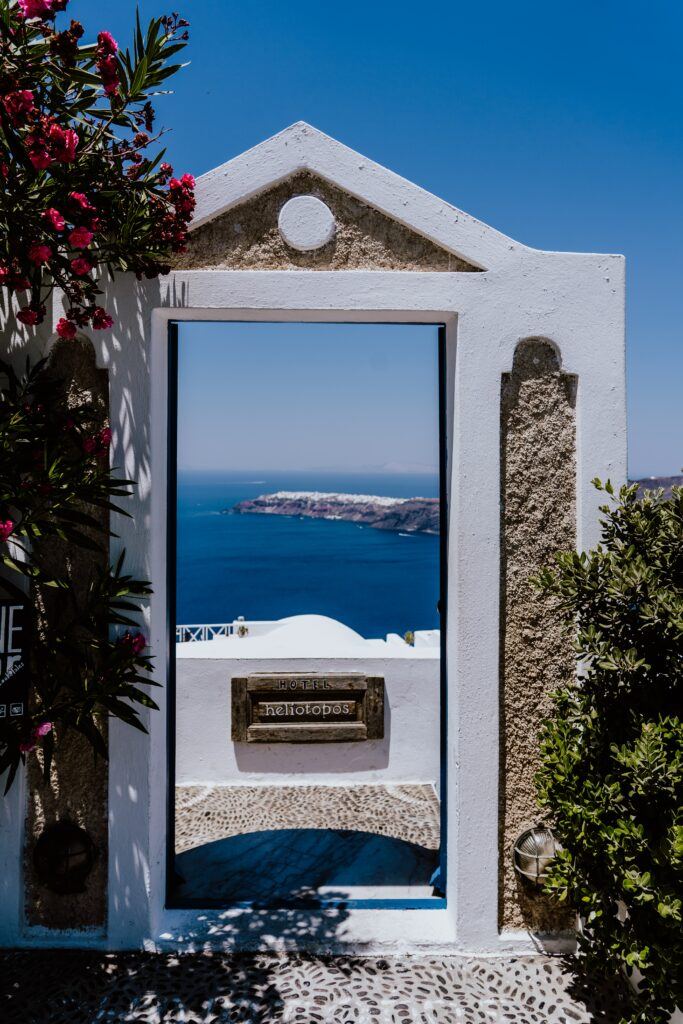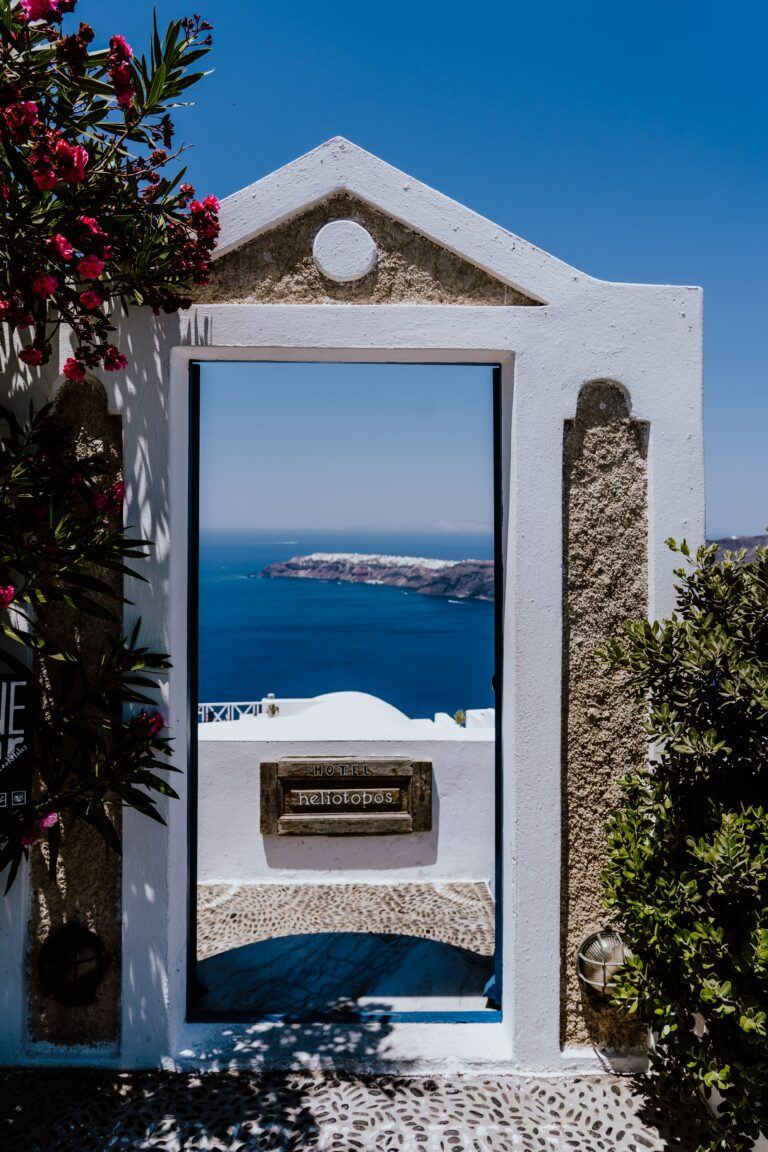 While you're in Fira, don't forget to make a stop at the Archaeological Museum. This small museum houses ancient artifacts found on the islands, including dazzling pieces of sculptures and pottery. If you're a history buff like me, this museum is a treasure trove of information and astounding feats of archaeology.
The museum is open 8:30am-3:30pm Wednesday through Sunday; tickets are 2-3 euros ($2.30-3.50 USD).
14. Venture to the Akrotiri Lighthouse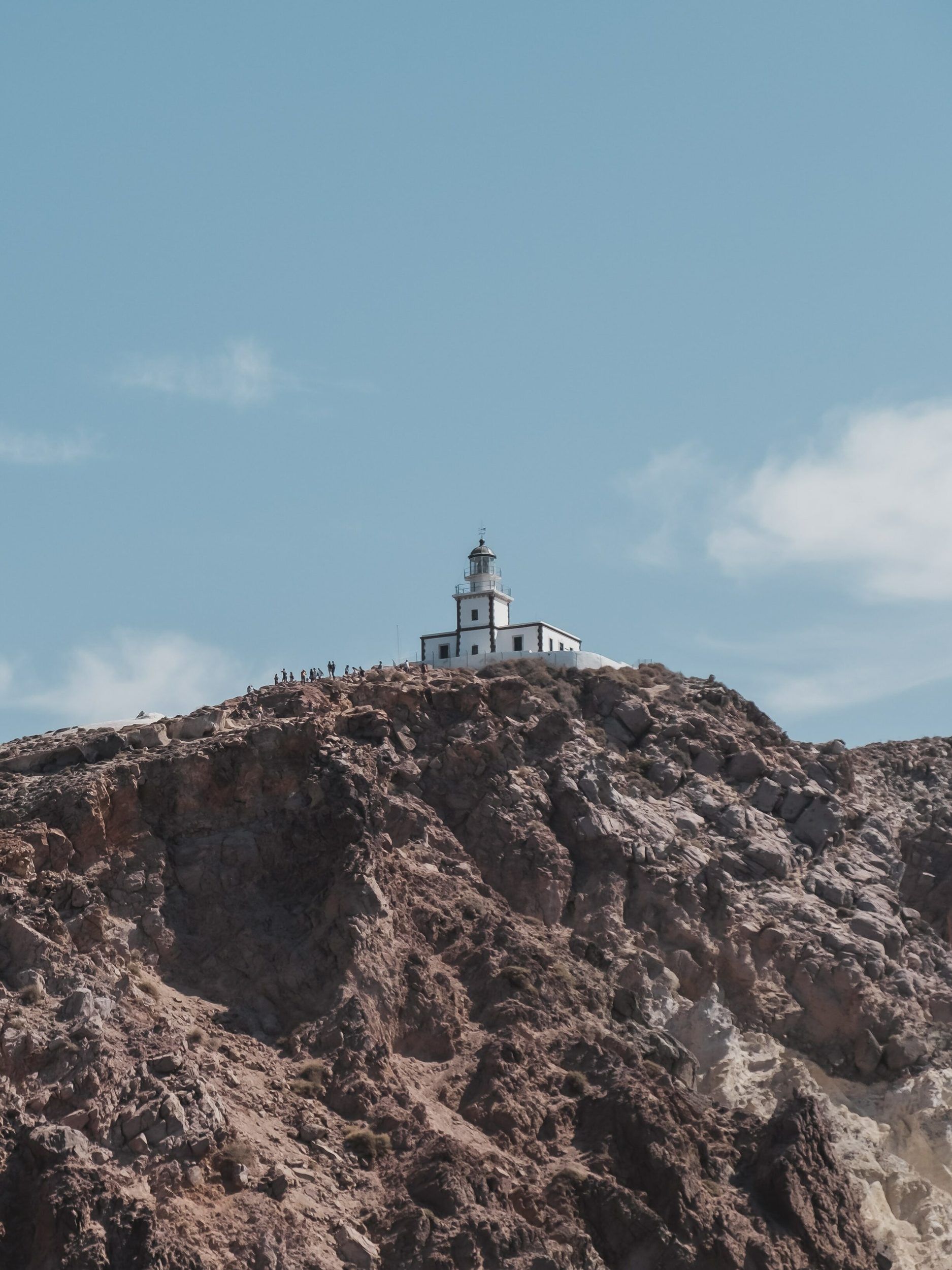 On the other side of Santorini, opposite Oia, is the Akrotiri Lighthouse. This idyllic landmark is one of the most peaceful places on the island; you won't want to miss out on it. Around the lighthouse, you'll catch some incredible cliffside views and a romantic seaside breeze. This spot is the pure embodiment of Greek charm.
15. Check out the Akrotiri Archaeological Site, the real Atlantis
The Akrotiri Archaeological Site is a prehistoric settlement that was completely covered in ash following a volcanic eruption, which preserved it incredibly well. It is an exceptional piece of history and one of the most important archaeological sites in Greece. In fact, some describe it as the real lost city of Atlantis!
Despite its historical significance, Akrotiri is actually relatively unknown and doesn't attract nearly as many tourists as other sites in Greece. Tickets cost 6-14 euros ($7-16.50 USD) and can be purchased ahead of time here.
16. Walk to Skaros Rock
Just below Imerovigli lies Skaros Rock, a huge rock formation that juts out from the island. There are a few trails leading to the rock with short, scenic hikes. Skaros Rock used to be the site for ancient fortresses and castles, so there are ruins scattered around it.
Once you get to the rock, enjoy the views and take advantage of the stunning backdrop of the sea for some unforgettable photos.
Where to Stay in Santorini:
Best bang for your buck: Caveland Hostel
Caveland Hostel is situated inside an old 18th-century winery and features domed ceilings. There's no wonder how it got its name! Caveland's central location makes for easy access to a variety of attractions, including Karterados Beach. It offers both dorms and private rooms, all in unique cave-like rooms. There is a seasonal swimming pool, several terraces, and quaint gardens on the property.
Caveland's location in the village of Karterados lends itself to an immersive local experience; guests may even see locals riding donkeys through town. If you want to get a taste of Greek island culture, Caveland is your best bet.
A dorm will run about 42 euros ($50 USD) per night, with a discount if you are staying more than seven nights. A private room at Caveland will cost 140-175 euros ($165-207 USD) per night. You can book your stay at Caveland here.
A mid-range paradise: Winery Hotel 1870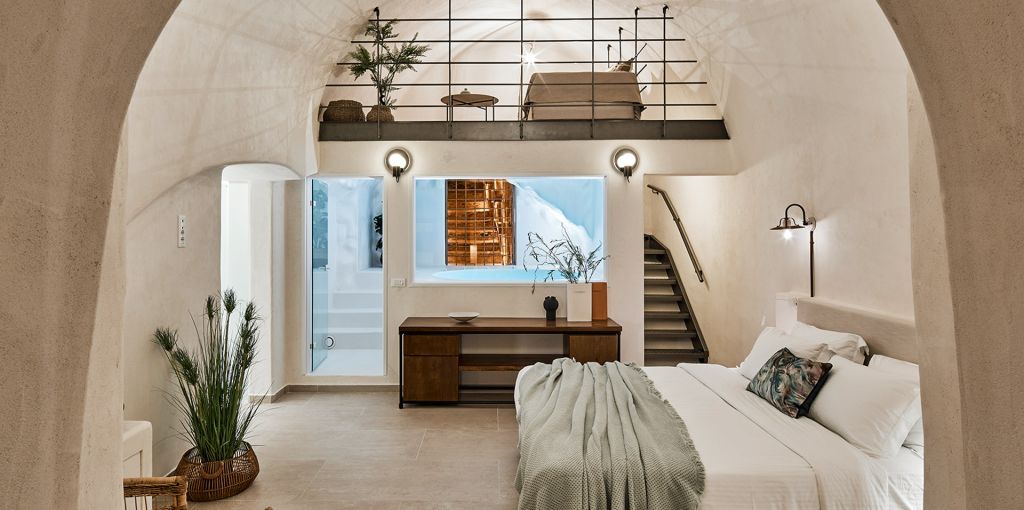 Like Caveland, Winery Hotel 1870 was built inside an old winery, hence the name. This hotel is the pinnacle of contemporary Grecian style, and its soft white, gray, and blue hues create the dreamy atmosphere you didn't know you needed.
It's just a couple miles away from Exo Gialos Beach and also close to the Archaeological Museum of Thera, Megaro Gyzi (a local-history museum in a 17th-century house), and the Orthodox Metropolitan Cathedral, right in the heart of Fira. The hotel has a shimmering turquoise pool, and each room has its own terrace perfect for seaside views.
Basic rooms range from 97 to 287 euros ($115-340 USD), with several luxury suites that cost significantly more. Make sure to book well in advance as this popular hotel often fills up!
The ultimate treat-'yoself: Dana Villas & Infinity Suites
This is the absolute realization of the perfect Grecian luxury stay. Its combination of naturalist architecture and chic design will have you feeling nostalgic as soon as you leave. Dana Villas & Infinity Suites hangs off the edge of the cliffside caldera trail, offering seclusion and panoramic views of the sea.
Dana Villas & Infinity Suites has several infinity pools, some of them part of large suites. You'll also find spectacular gastronomy at the Orkos restaurant inside the hotel. The serene atmosphere provokes a deep sense of calm, further encouraged by the onsite spa. I don't know about you, but I'm ready to splurge on this one!
Prices start at around 225-411 euros ($265-485 USD) per night. Book here!
Tours You Can't Miss:
Sailing tours
Luxury Catamaran Tour: This 5-6-hour tour includes a meal and stops at volcanic hot springs and white- and red-sand beaches. There is also snorkeling equipment included, so you can hop off the boat to take a gander under the water's surface.
Caldera Sailing Tour: This adventure will take you past Indian Head Mountain, the Old Venetian Lighthouse, and into the caldera, towards the volcanic islands. Enjoy a nice meal after swimming and snorkeling in hot springs and other private bays.
Wine tasting
Sunset Wine Tour: This four-hour guided tour visits three local wineries and ends with a spectacular sunset. A guide will take you to a winery where you will learn about Santorini's unique viticulture.
Horseback Riding
Scuba diving
Santorini Scuba Dive Experience: Santorini's epic underwater volcanic scenery is best observed by scuba diving, and this tour is perfect for that. Explore reefs, shipwrecks, and volcanic step formations.
Pin me for later:
The best thing about Santorini is that it has everything you'd expect from what you've seen online — and more. It's one of those destinations that is worth the hype and deserves all the praise it gets. Did we miss anything? Let us know your favorite things to do there!