Heated by geothermal activity under the earth's surface, the water that bubbles up at Mystic Hot Springs starts at 168 degrees Fahrenheit and gradually gets cooler as it tumbles down into the pools below.
Maybe you've seen photos on social media of people living their best lives, soaking in the bathtubs that make these springs so photogenic. Mystic is more than that, though. It's a small resort.
Here's everything you need to know about visiting Mystic Hot Springs:
Why Visit Mystic Hot Springs?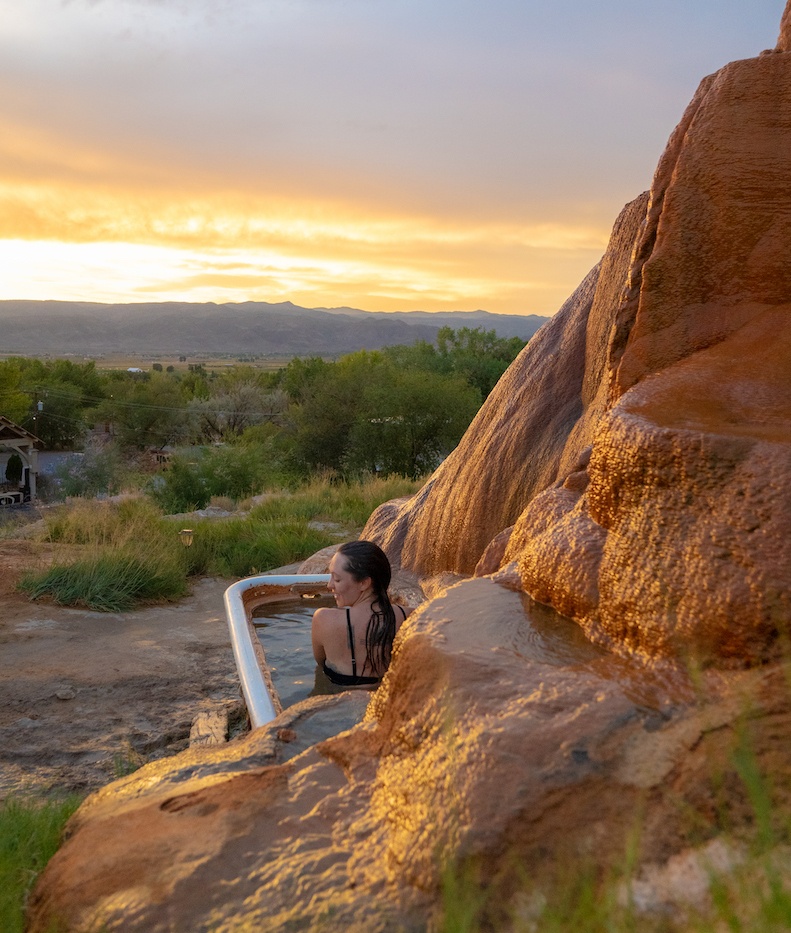 It's a literal oasis in the desert.
Mystic Hot Springs is located in Monroe, Utah, smack dab in the desert. The springs are a welcome change from the arid climate. They pump out 200 gallons of water per minute, which is not only enjoyed by visitors who want to soak but used to grow vegetables and heat buildings.
The owners carefully harness the power of the water in what permaculturists call "cascading use," which allows them to use it for irrigation before filtering it back into the water system to circulate through the springs again.
There's a lot of history behind the springs.
The Ute, Shoshone, and Piute tribes were the first people to relish the splendor of what we now call Mystic Hot Springs. The springs provided the indigenous people of present-day Utah with warmth and comfort during frigid nights in the desert.
Eventually the springs were occupied by Mormon pioneers and later the Cooper family. For the last hundred years, the springs have been constantly transformed, becoming what they are today. Between building collecting pools and installing the bathtubs that the site is known for, there has been plenty of human intervention here, which is what gives the place its unique character.
Some call it "the best hippie hot springs in the West."
Between the permaculture initiative of the current owners and the offbeat accommodations you'll find here, it's pretty obvious that the place attracts a particular type of clientele. Since the 1960's, so-called "hippies" have journeyed here to enjoy the springs and lend a hand in restoring the on-site cabins using recycled materials.
Some visitors consider Mystic a bit rustic, which might be a turn-off for travelers looking for a more upscale vacation. If you're into the laid-back resourcefulness of this place, though, you'll find yourself right at home.
The springs are packed with nourishing minerals.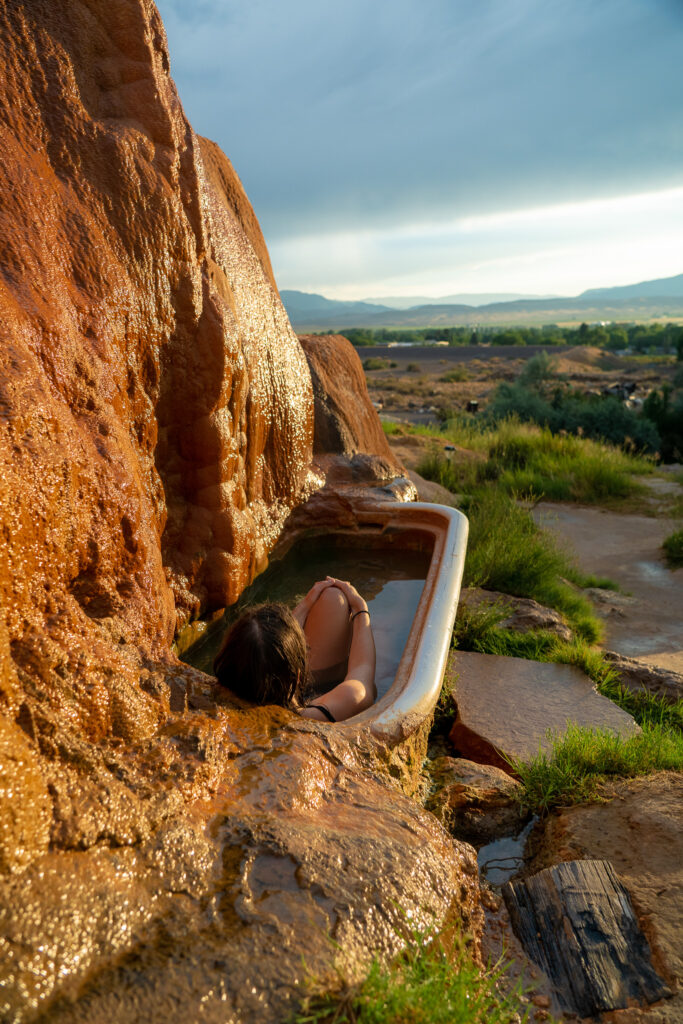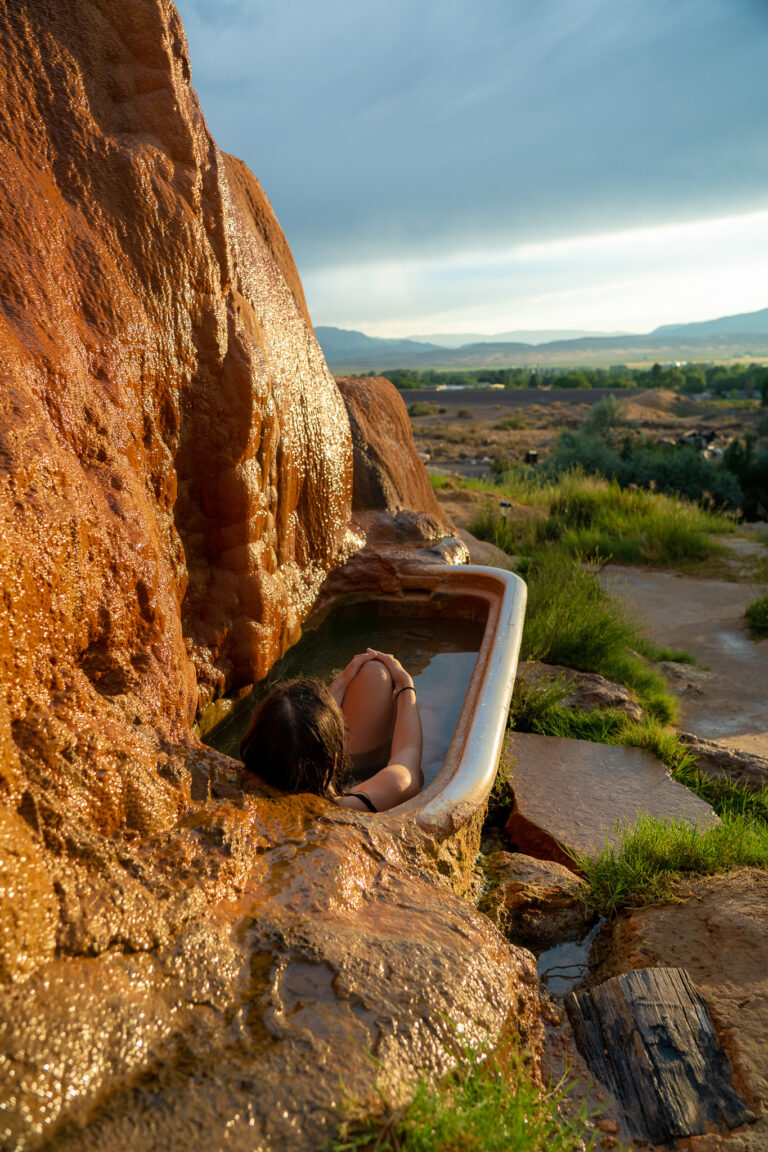 You might associate hot springs with an eggy sulfur smell, but that isn't the case here, since these springs contain calcium carbonate instead of the usual sulfur. Calcium carbonate is responsible for the reddish-orange hue of the surrounding rocks, and is known to be good for your skin and bones. It's also excellent for soothing sore muscles, which will come in handy if you've been hiking around the nearby parks.
Soaking passes are $25 for a two-hour time slot (and you can indeed go for a soak even if you aren't staying on-site). If you are staying at the resort, passes are not included in your accommodation. Purchase your soaking pass here.
There are spa treatments available.
Mystic Hot Springs has therapists on-site that provide services such as therapeutic massage, couples massage, four-handed massage, hypnotherapy, and breathwork. These treatments make the springs all the more relaxing and provide a more well-rounded experience. To book a treatment, contact the resort before your stay.
You can take some gorgeous photos.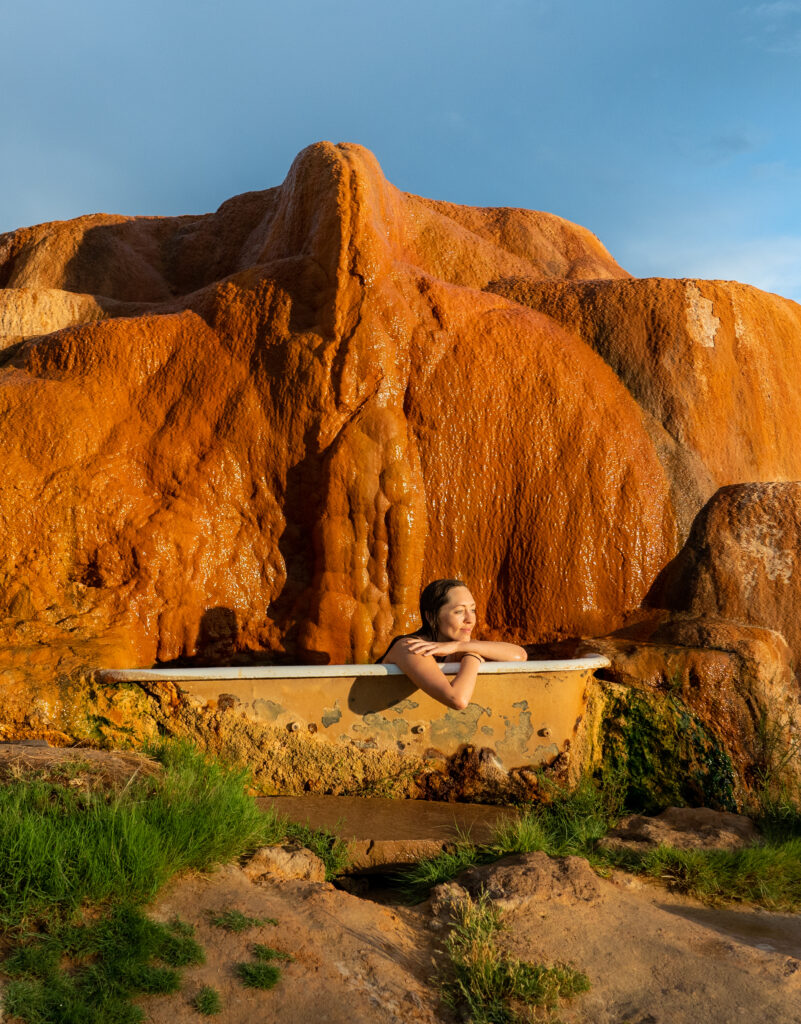 A lot of visitors love taking photos in the tubs at Mystic, and can you blame them? With the orange rocks lighting up at sunset, you'll be able to snap a photo that truly captures the magic of these hot springs. Plus, the desert location makes for an enchanting stargazing experience that you can also capture on your camera so as to hold on to the memory of your trip.
Check out our post about how to take great travel photos for some inspiration before you visit.
Places to Check Out near Mystic Hot Springs
Because it's so remote, there aren't many big attractions close to Mystic Hot Springs. However, I would venture to say that this charming place isn't the only destination on your Utah bucket list. If you're heading out on a road trip through Utah with Mystic Hot Springs as a stop, here are a few other places you won't want to miss:
Fifth Water Hot Springs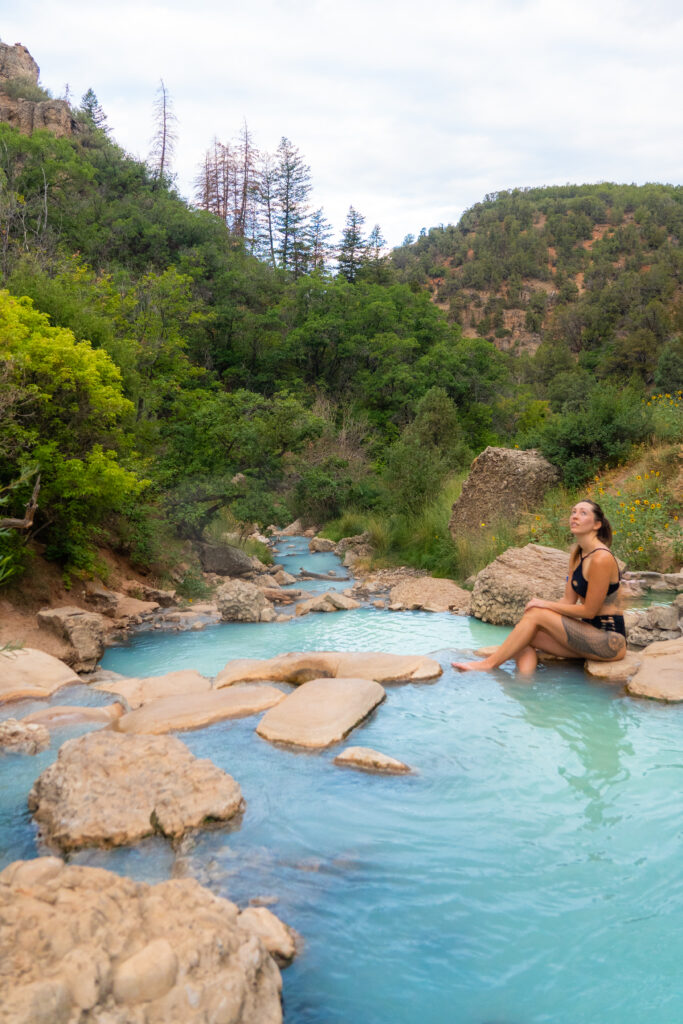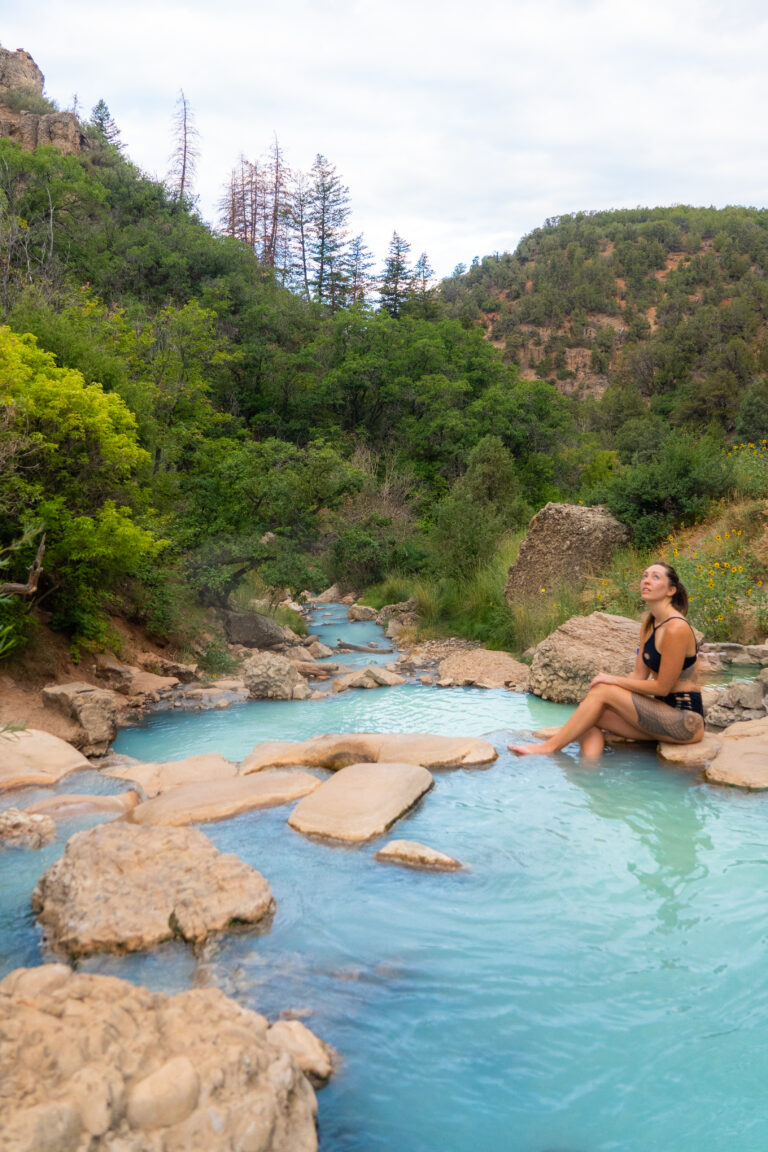 Fifth Water Hot Springs, aka Diamond Fork Hot Springs, is part of Utah's Uinta-Wasatch-Cache National Forest. The springs themselves are a heavenly place to relax, soak, and ease sore muscles. After all, you might need a good rest after the 4.5-mile hike to get there.
The trail that leads to Fifth Water Hot Springs begins near Springville, Utah. The trailhead is called "Fifth Water Hot Springs Trail Start" on Google Maps. It's a heavily trafficked trail, with lots of signs guiding you to the springs.
Even though these springs are a few hours away from Mystic, if you're traveling there from Salt Lake City Fifth Water is quick and easy detour with a big reward.
Grand Staircase-Escalante National Monument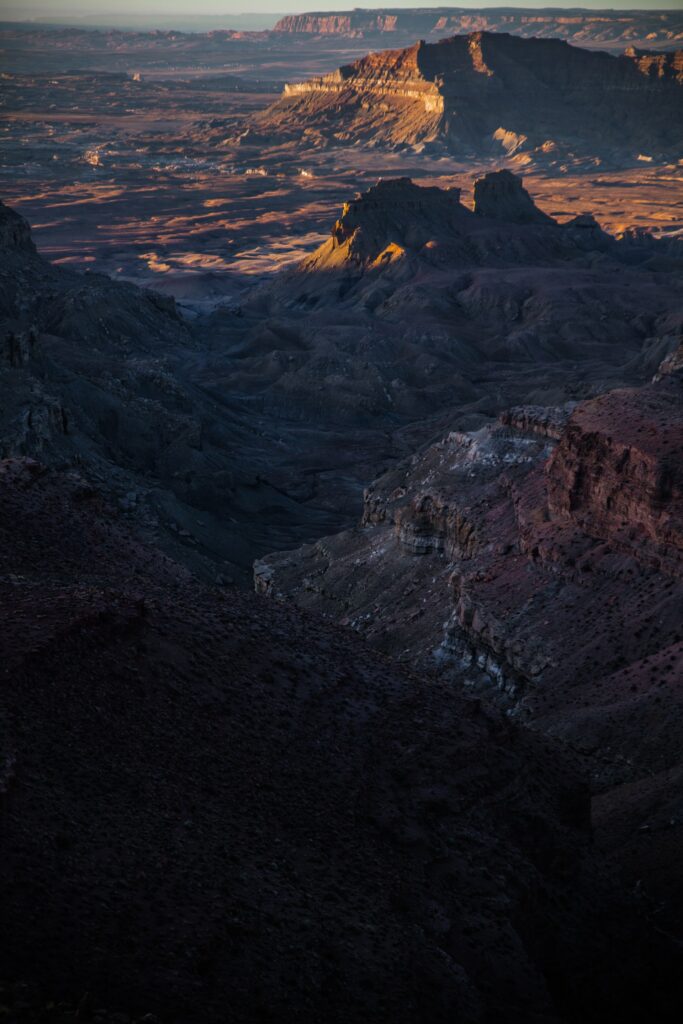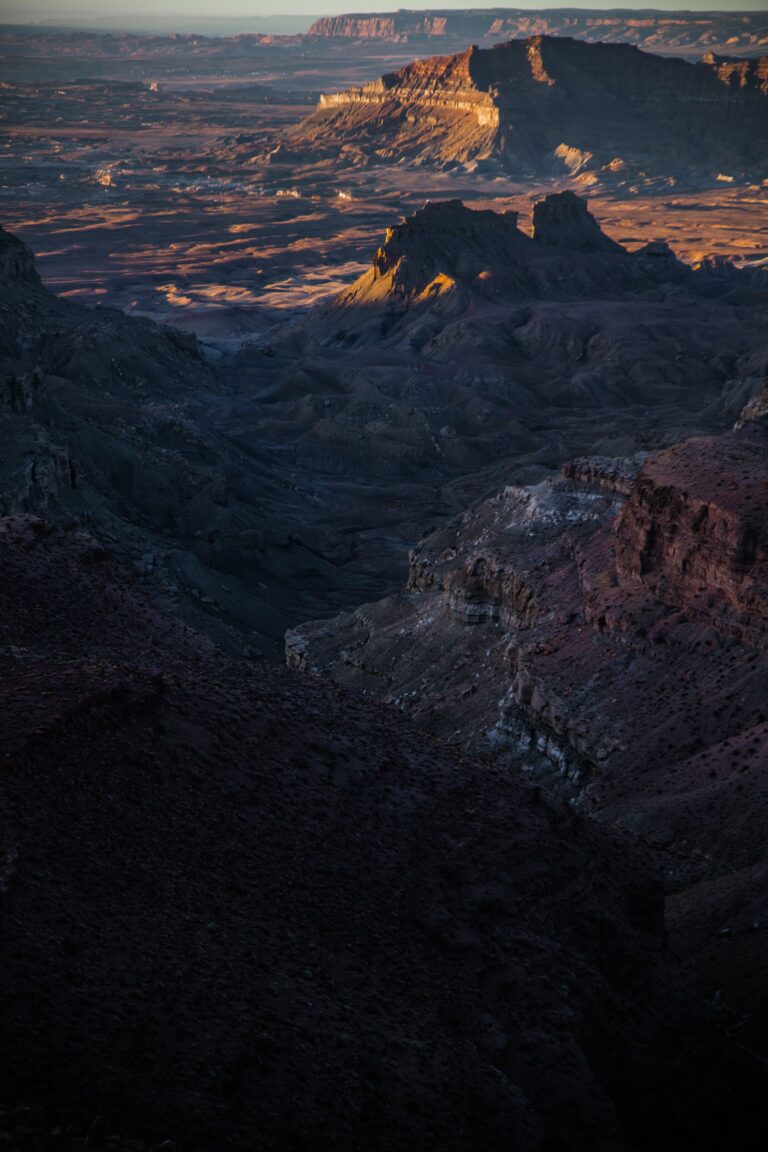 If you'll be exploring Utah with a 4×4 vehicle, consider heading out to Grand Staircase-Escalante National Monument, a 1.87-million-acre Bureau of Land Management-protected area. It's a few hours away from Mystic Hot Springs and the perfect destination if you want to get even more remote.
Arches National Park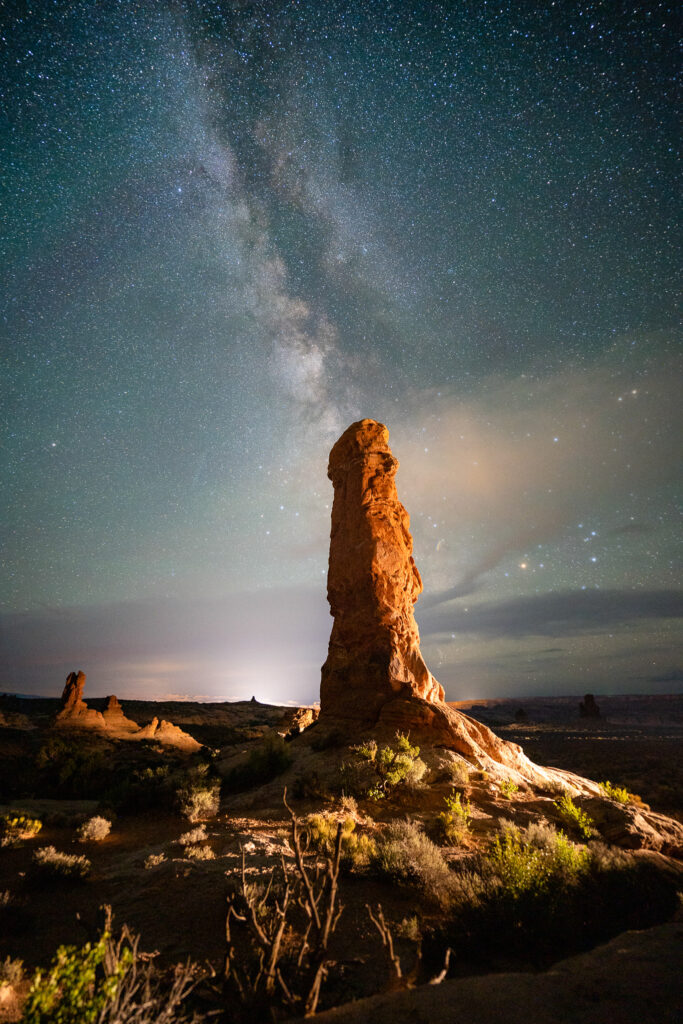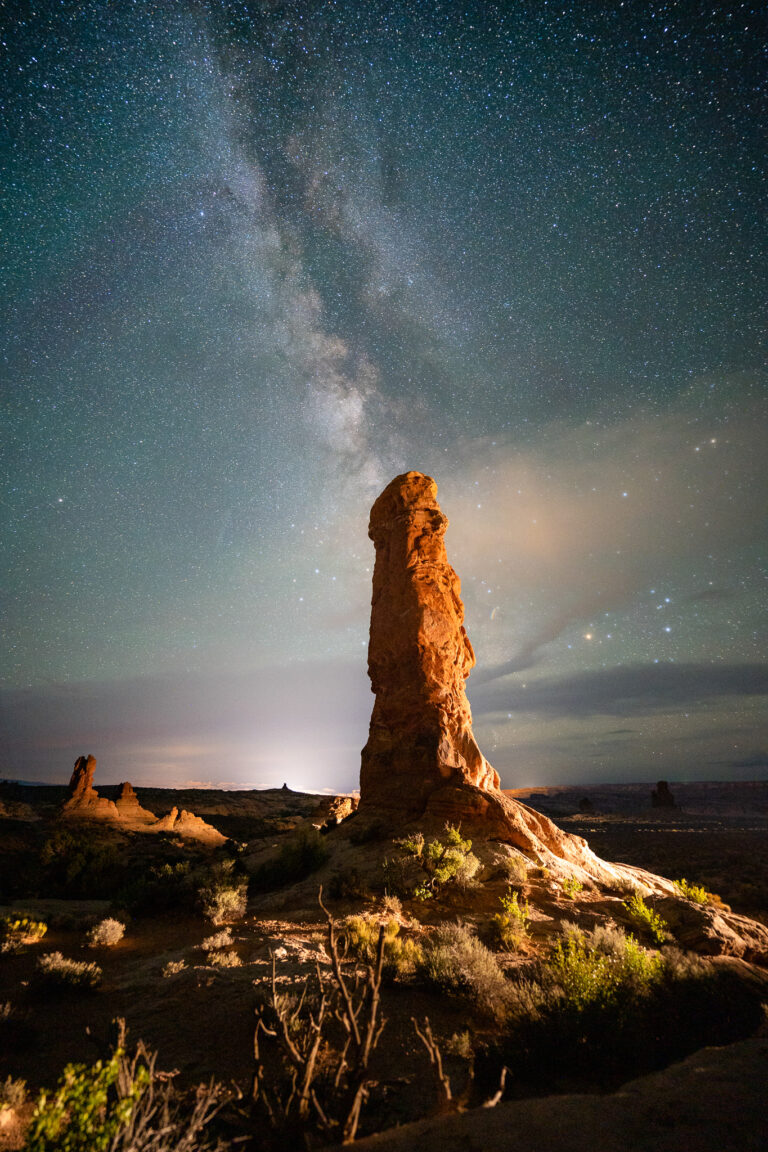 Arches National Park is one of the most popular parks in Utah, and for good reason! The rock formations are truly sensational. Millions of visitors come every year to catch a glimpse of mother nature's handiwork. From stunning features like Delicate Arch to hoodoos like the one above that look a lot like… erm… body parts…, you'll have a blast exploring some of the best natural beauty that Utah has to offer. Plus, it's only about a three-hour drive from Mystic Hot Springs.
Where to Stay at Mystic Hot Springs
Since Mystic Hot Springs is a resort, you can easily find a variety of accommodations on-site. Choose between restored 19th-century cabins, converted buses, campsites, and RV sites.
The cabins were built in the 1800s by pioneers, and although they've been restored, they maintain their vintage decorations — and don't have running water. They have a covered front porch and a fire pit with picnic tables, with a charming outdoorsy feel. Rent one for $100/night for two people.
For a truly unique experience, consider renting one of the decked-out buses. What looks like an old school bus from the outside is actually a completely livable space on the inside, ready for guests. They have electricity, comfy beds, and quirky furnishings that capture the character of the place. They start at $100/night for two people.
Last but not least, you can comfortably camp or park your RV on-site. The campground is the place to be if you want to meet other travelers because of the communal atmosphere. The hot springs are also just a short walk away from the campground and are open all night long, so grab a buddy and go for a stargazing soak before tucking in for the night. Campsites and RV sites start at $25/night per person.
How to Get to Mystic Hot Springs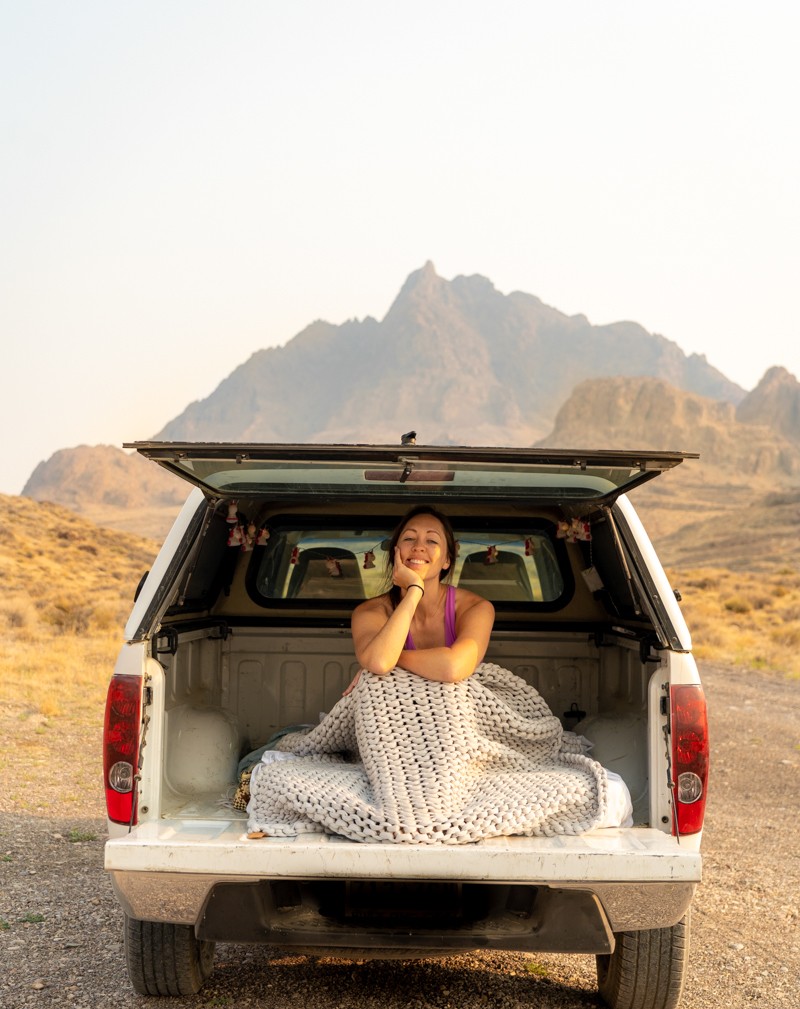 You can reach Monroe, Utah from Salt Lake City by driving about 2.5 hours south. If you're coming from Las Vegas, it's about a four-hour drive. If you'll be visiting Utah's national parks, the closest one to Mystic Hot Springs is Capitol Reef National Park, just a 1.5-hour drive away.
No matter where you begin your journey to Mystic Hot Springs, it will likely be a trek to get there. However, that's one of the reasons why this place is so tranquil. Its remote location means that it doesn't get the same overwhelming crowds of other popular places in Utah, so you might find that the long ride to get there is totally worth it. Once you take a dip in these restorative waters, you'll forget all about the drive anyways.
Pin me for later:
Now that you have everything you need to know about this hidden Utah gem, you're ready to start planning your next adventure.
Have you soaked in Mystic Hot Springs already? Tell us what your favorite part of this quirky destination was!