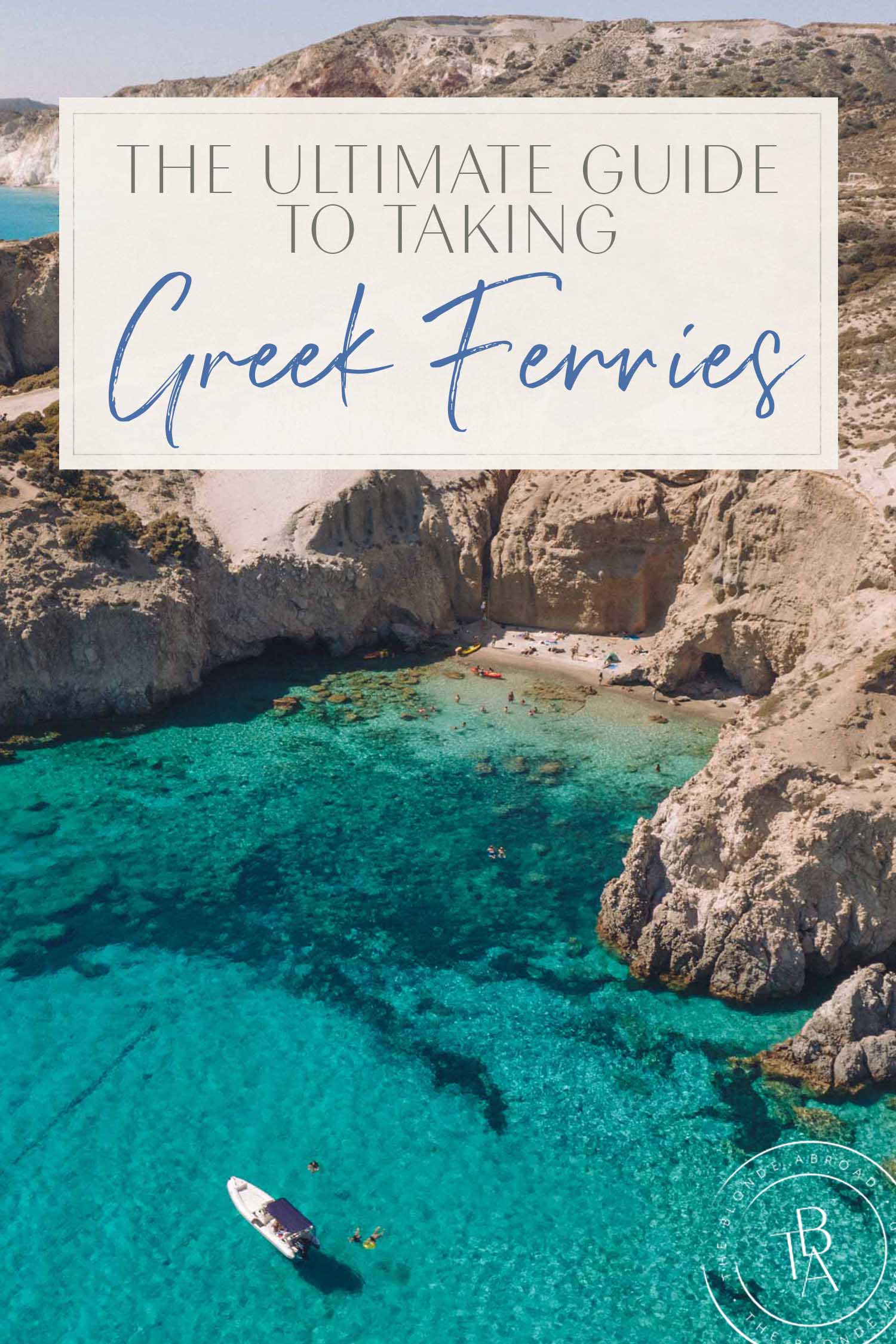 When you travel around the Greek islands, sometimes the ferries are unavoidable—BUT there are options and things to keep in mind. I'm sharing my honest opinion of ferry travel in Greece, along with which ferries are good and which ones are…not so good.
Spoiler alert: I almost called this blog post, "Why You Shouldn't Take Ferries in Greece," but that seemed a bit too…pessimistic.
Unless you've had the distinct pleasure of taking ferries in Greece before, then you might just agree that the alternative almost title is wholly accurate.
I digress.
If you're planning a trip to Greece and going to do a little island hopping through the Greek Islands (which I HIGHLY recommend)—Santorini, Mykonos, and Milos are personal faves—here's what you need to know about taking Greek ferries.
Don't book a ticket for a Greek ferry without reading this guide first. Here's all you need to know about ferries in Greece!

Should I Fly Instead of Taking a Greek Ferry?
When I posted on Instagram about my nightmare ferry experience, someone replied to me and said something like, "you can't budget to not fly." And honestly, I couldn't agree more.
Even if a ferry is the cheaper option, it's almost always worth it to look into flying.
Consider the following:
How long does the ferry take (versus how long a flight would be)?
Will you be able to handle extremely choppy waters?
Can you handle feeling ill after deboarding and how much will that cut into your trip?
Be aware that even people who don't typically get seasick can oftentimes get seasick on Greek ferries. The waters are seriously choppy and incredibly uncomfortable at times.
Ferries can sometimes take three times longer than flights do.
If possible, I would say absolutely fly!
I highly suggest checking to see if there are flights available between the islands you want to travel to. As a note, if you're flying to a rather remote Greek island, you may need to connect in Athens and make your way to the island. If that's the case, the travel time to fly may be longer than a ferry…but it's still likely worth it.
Consider your budget, time constraints, willingness to endure seasickness, and factor accordingly.
Helpful Tip:
Keep in mind that a lot of Greek airlines do not include checked baggage in the ticket price, or, if they do — it's a very low-weight bag included. So as you map out your budget, consider what you're packing and if you need to add funds for a checked bag.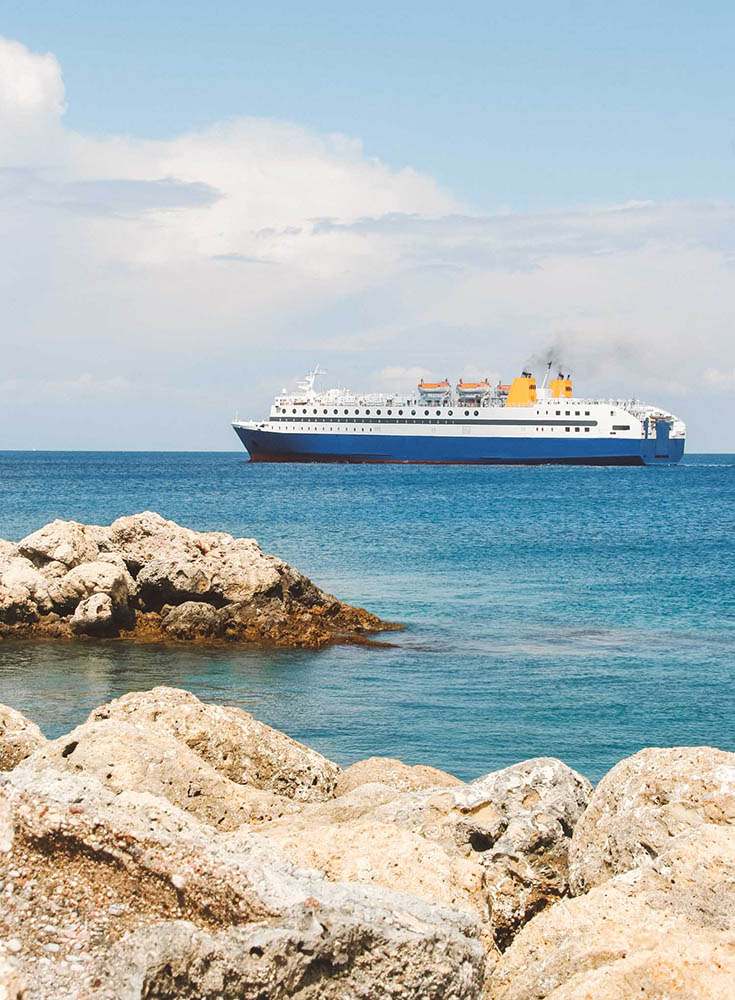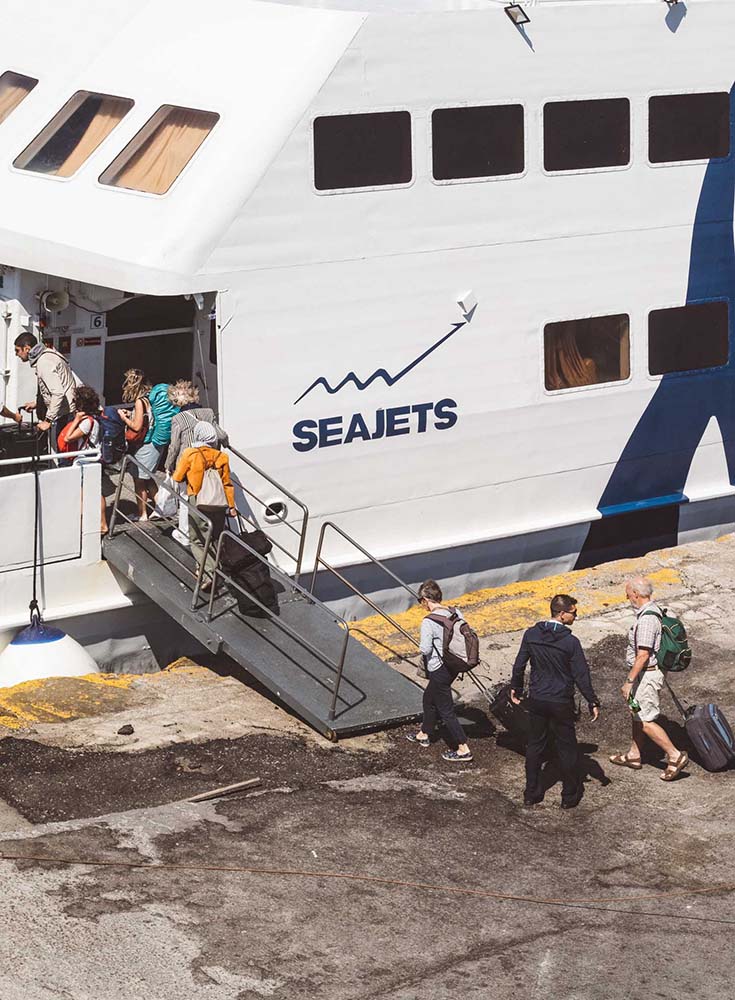 Which Ferries to Take and Which to Avoid
Is it a big ferry or a small ferry?
In the chance that you *HAVE* to take a ferry, size matters.
Why? Because the bigger ferries (that honestly look like cruise ships) are massive, and because it is so large, you don't really feel the bumps of the waves.
The smaller ones, well, you will feel every hop, bump, and skip from each and every single wave. And you'll find yourself second-guessing once you've set foot on land because everything will still be rocking.
The ferry we took from Santorini to Naxos was really nice. And guess what? It was one of the big ones — the Blue Star Delos via Blue Star Ferries. In this case, Blue Star Ferries is a yes from me.
On the flip side, we took the Superjet ferry from Naxos to Milos and that was a mistake.
Big mistake. Big. Huge.
We chose to take Superjet because it was *slightly* cheaper per person (a whole $30…and let me tell you, it was not worth it).
For one, the ferry from Naxos to Milos was delayed (over 2 hours behind schedule). Two, the ferry was much smaller than Blue Star Delos — you could feel EVERY bump. And it just so happens that the waters were *EXTRA* choppy that day due to strong winds (a common occurrence for the area).
I counted SEVEN people around me losing their lunch, including a couple that looked like they were on their honeymoon. My advice: Blue Star Delos is the only ferry I'd take again. Superjet—never again.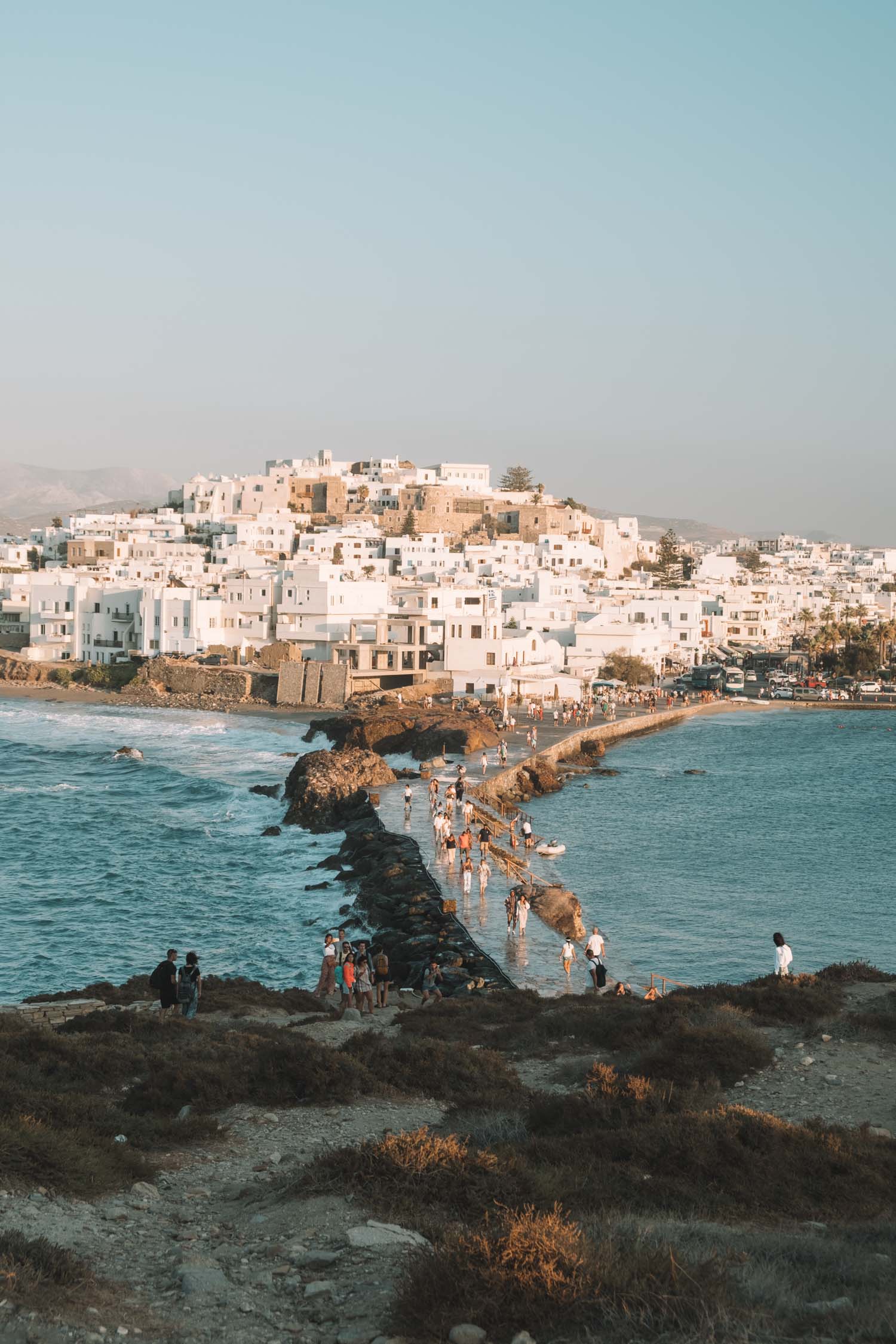 Naxos, Greece
How to Prepare Yourself for Greek Ferries
A.K.A. What might possibly be the worst experience of your life.
Okay, okay, I might be a *tad bit* dramatic, but truly, I don't want you to be losing your lunch and then having a horrible experience in Greece. There are way too many beautiful Greek foods to try and islands to explore in Greece, and I want to set you up for success.
 Here's what you should know:
Large ferries over small ferries, any day
Ferries oftentimes run off schedule
In the summer months, it can be incredibly windy — which means ferries can't operate because the waves are giant
OR, if they are operating during windy conditions, it's going to be a seriously bumpy ride
If you're traveling outside of these months, it might not be as bad, but just not ideal.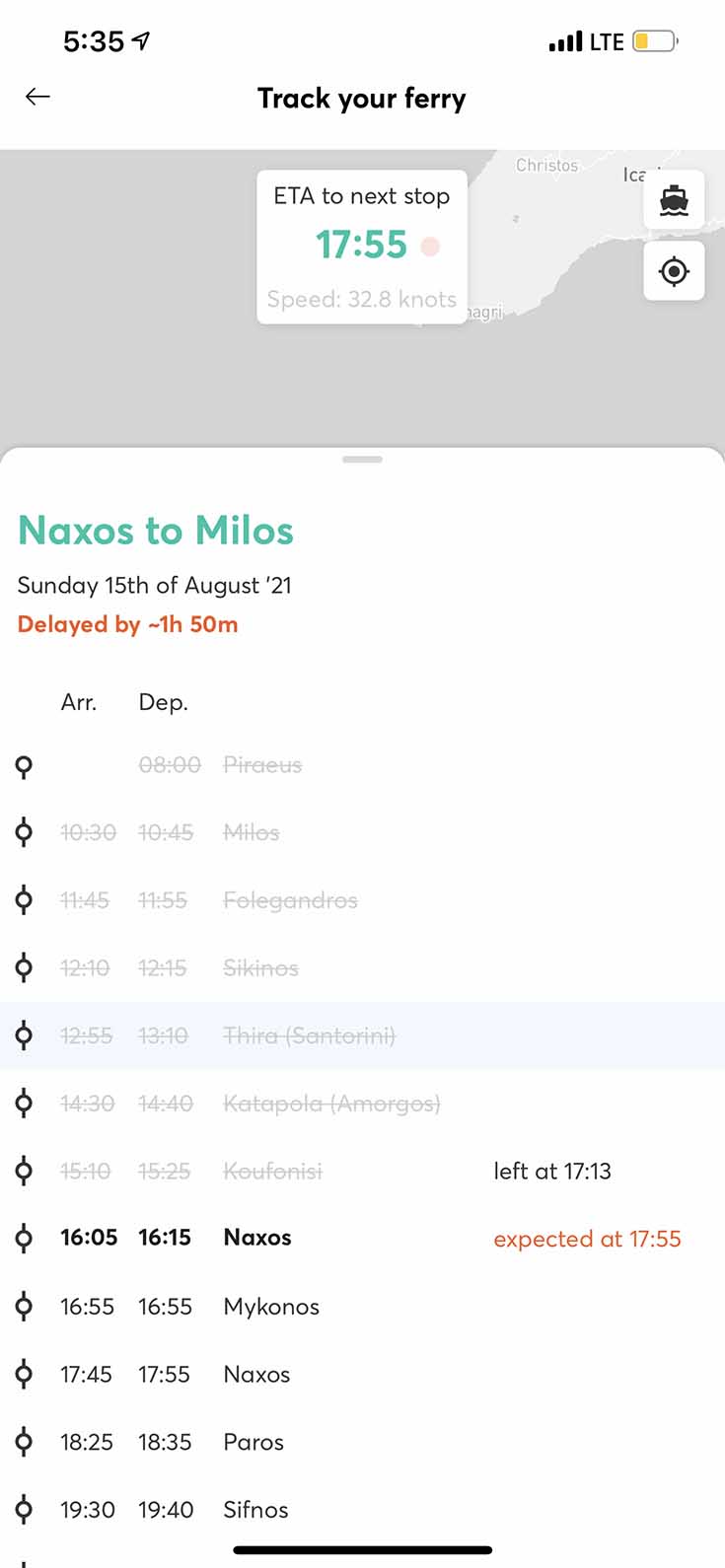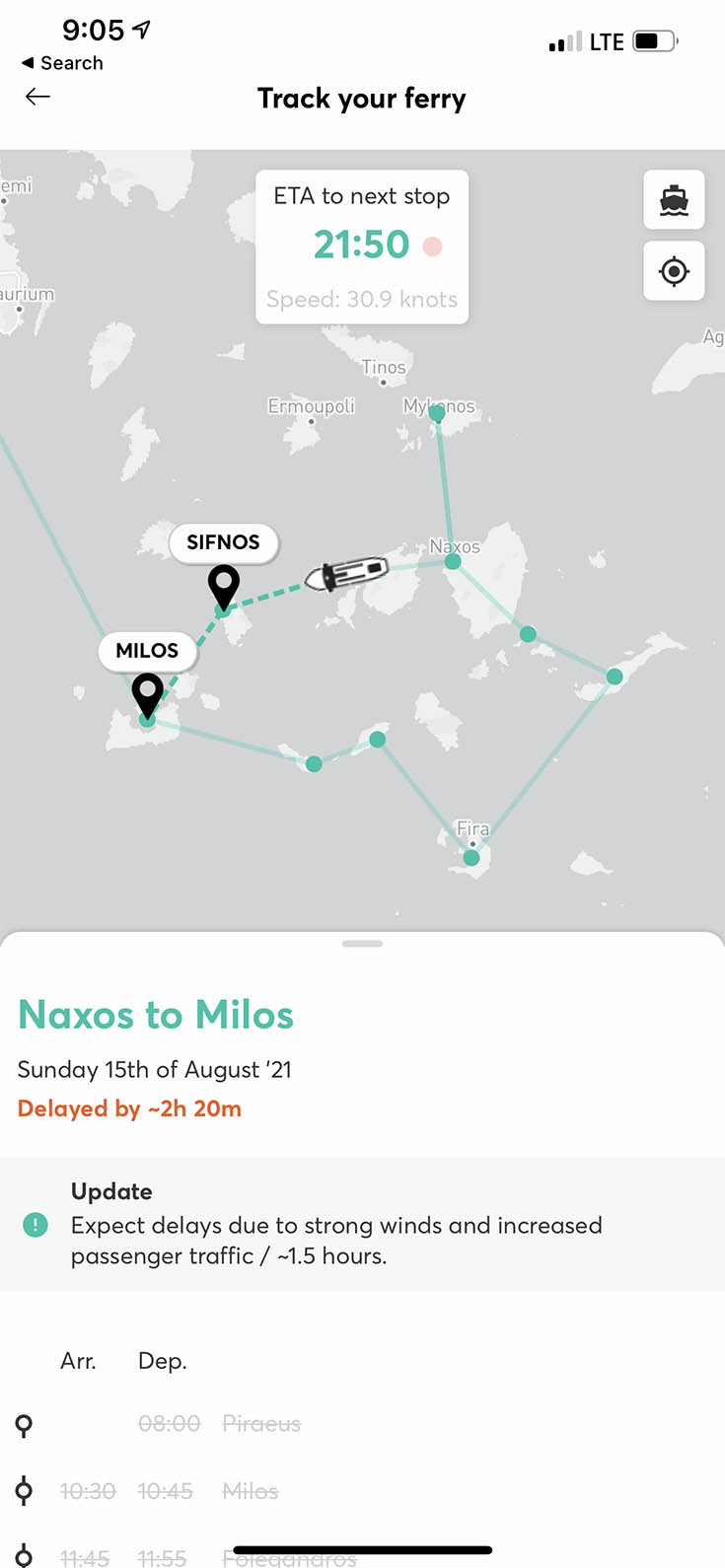 Use the FerryHopper App
The Ferryhooper website allows you to browse routes and see what's available to book. You can check which ferry operators are operating and make your decision accordingly.
Want to track Greek ferries in real-time?
Be sure to download the app as it provides ferry tracking information — which is super helpful if the ferry is running late.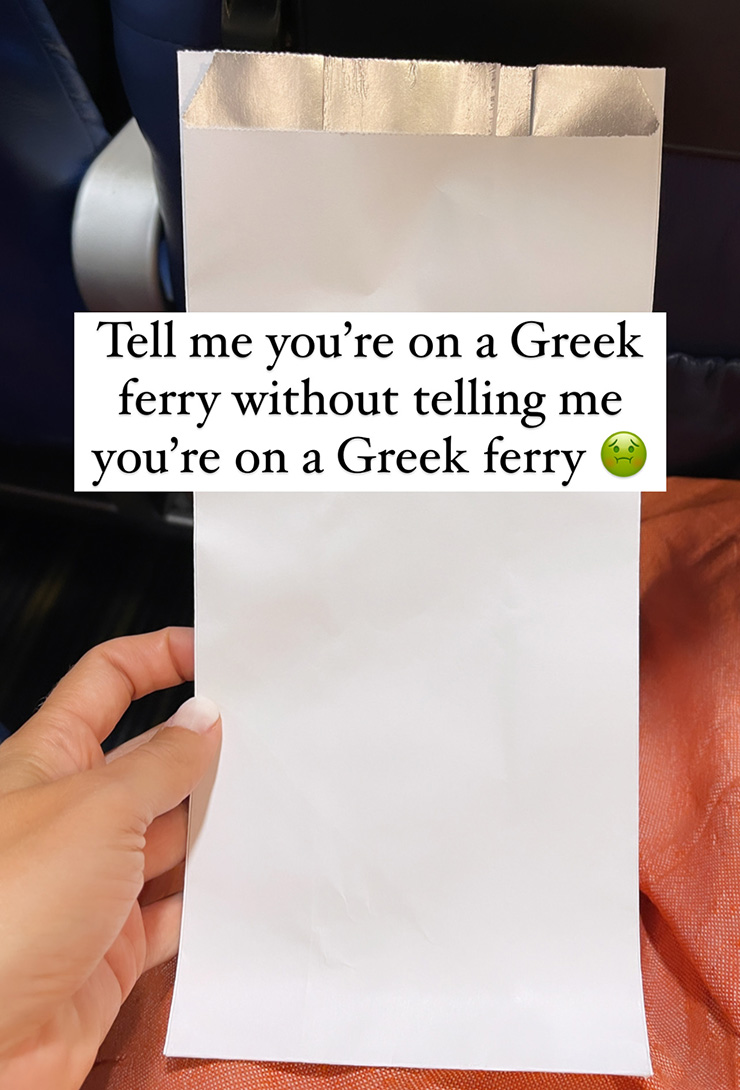 How to Deal with Sea Sickness on Greek Ferries
Imagine yourself completely surrounded by people who are upchucking into paper bags.   I've never seen so many people vomiting, in desperation, or complete and utter discomfort.
Even if you aren't prone to seasickness — take a tablet.
It's such an uncomfortable experience if you're taking a smaller ferry and you've got nothing to prove, take a tablet proactively.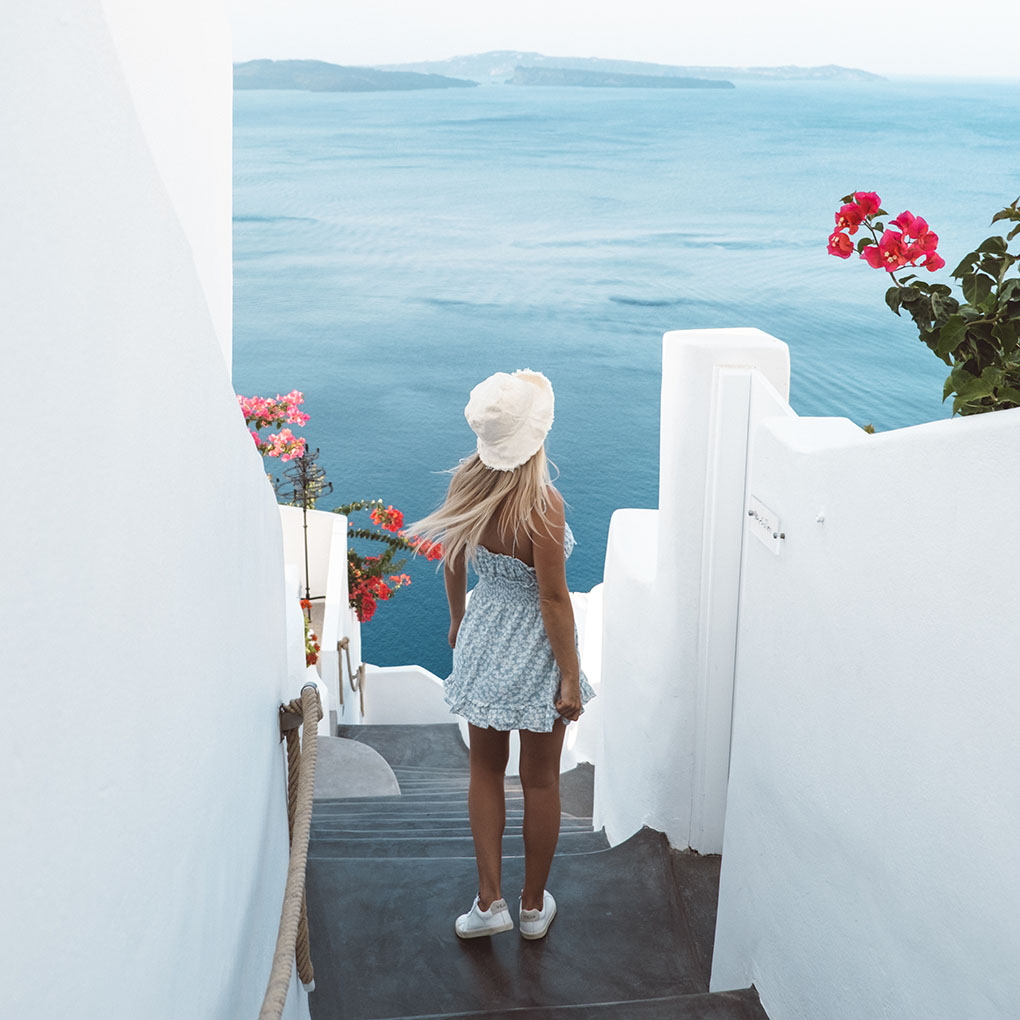 Things to Know About Taking Greek Ferries
Most ferries don't sell out, but if you're trying to plan, you can go ahead and book 2 to 3 months in advance. Keep in mind that some ferries are seasonal and don't run all year long.
Unfortunately for those who are island hopping, there isn't a ferry pass for the Greek Islands.
As for the cost of Greek ferry tickets, it really depends on the route—every destination is different.
An easy mistake to make if you are going from one Greek island to another is to assume that it is only going to be a short trip by boat. The reality is that the hundreds of inhabited islands are actually spread over a vast area.
In fact, there are some journeys that can take ten hours or more by ferry, particularly if you are starting the journey from the port in Piraeus (the main ferry port for Athens).
Lastly, you should plan to arrive at the ferry port about 30 to 45 minutes before departure — the ferry will not wait for you if you're not there.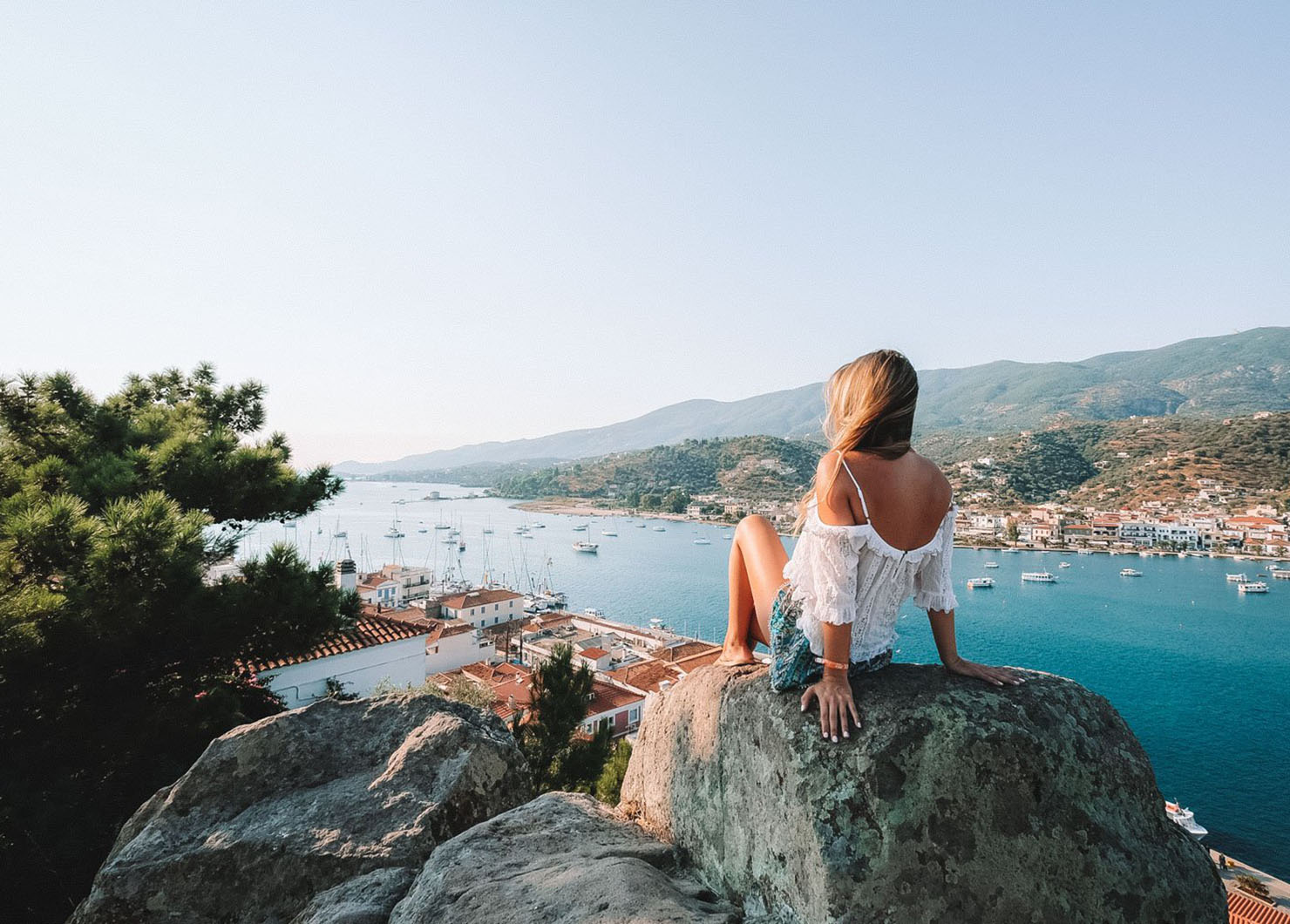 My Experience with Greek Ferries
My first Greek ferry experience was back in 2012 when I took the ferry from Mykonos to Athens. I was a penniless backpacker and looking for every way to save money.
I thought the ferry would be scenic. It wasn't.
I also wasted half a day to get to Athens, whereas, if I had budgeted to fly I would have had more time to spend at the next destination. Even back then, I remember thinking the money I had saved taking the ferry over flying was not worth it.
Apparently, I hadn't learned my lesson and I returned to take the ferry in 2021.
And in 2021, nearly everyone around me was going through 5 paper bags, each. I was traumatized. Don't do this. I've said it before and I'll say it again: do as I say, not as I do.

All of that is to say — I hope you have a wonderful trip around the Greek islands! It really is worth it to go island hopping, but the preferred mode of transportation would be a flight over a ferry, hands down.
Want to share your experience with Greek ferries? Please divulge all the details in the comment section below!