Portland, Oregon is a big city with a small-town feel that has long been a haven for creators of all kinds. It's where big companies like Nike are based, and a lot of artists and performers have called Portland home including Gus Van Zandt, Holly Madison, Kaitlin Olson, and Clark Gable.
The city is the perfect blend of exciting and inspiring city life and comforting natural beauty.
It's a place brimming with parks, good coffee, donuts galore, and TONS of food trucks — making it an ideal solo female trip, a quick escape with your love, a girls' trip…or maybe even a mother-daughter weekend getaway!
This two-day Portland itinerary covers some of the best things you can do in this Pacific Northwest city.

Before You Go
Although Portland's reputation as a rainy place to be is well-earned, it might not be the type of rain you're used to. You're more likely to deal with drizzles and generally overcast and cloudy weather than complete downpours, although the latter is known to happen on occasion!
While the city does see sunny days, just make sure that you have some kind of waterproof shoes and either an umbrella or rain jacket handy just in case!
For more information about which month is best for a trip, check out this handy guide on the best time to go to Portland.
This guide to packing for cold weather destinations will help you if you're not sure what to bring on your Portland vacation.

Where to Stay
While there are many places to stay in Portland, you'll probably want to stay in one of the downtown hotels.
Not only are they gorgeous and comfortable, but they're conveniently located so you'll be able to walk and take advantage of Portland's public transportation throughout your trip.

*image courtesy of Departure PDX
Your First Night
A great place to spend your first night in Portland is Departure Restaurant + Lounge, located on top of the Nines Hotel.
There's a fantastic indoor dining room and a small rooftop bar area where you can soak in stunning views of downtown Portland while sipping on custom cocktails and sampling the Pan-Asian small plates.

*left image courtesy of Waffle Window
Day 1
Grab Breakfast at the Waffle Window on Hawthorne
Portland is known for being a foodie city, so you'll have plenty of options when it comes to great meals.
If you're looking for a great breakfast option, consider heading to Waffle Window, a local favorite. They serve up freshly made liege waffles, which are made with a light and sweet batter that has sugar pearls folded in.
The waffles are delicious as is, but the Waffle Window always has a unique menu of toppings. The Three B's waffle is one of the best, and the combination of bacon, brie, and basil on top of the waffle and peach jam on the side makes for an incredible start to your day.
Enjoy the Tom McCall Waterfront Park
One of the easiest Portland landmarks to see is the Tom McCall Waterfront Park, the one-and-a-half-mile-long stretch of outdoor space that sits in between downtown Portland and the Willamette River.
Pro Tip: Try to plan your visit during the spring so you can see the beautiful cherry blossom trees and browse the iconic Portland Saturday Market.
The market is the largest continuously operating open-air arts and crafts market in the country and is a great place to buy anything from handmade cutlery to Star Wars-based parody art.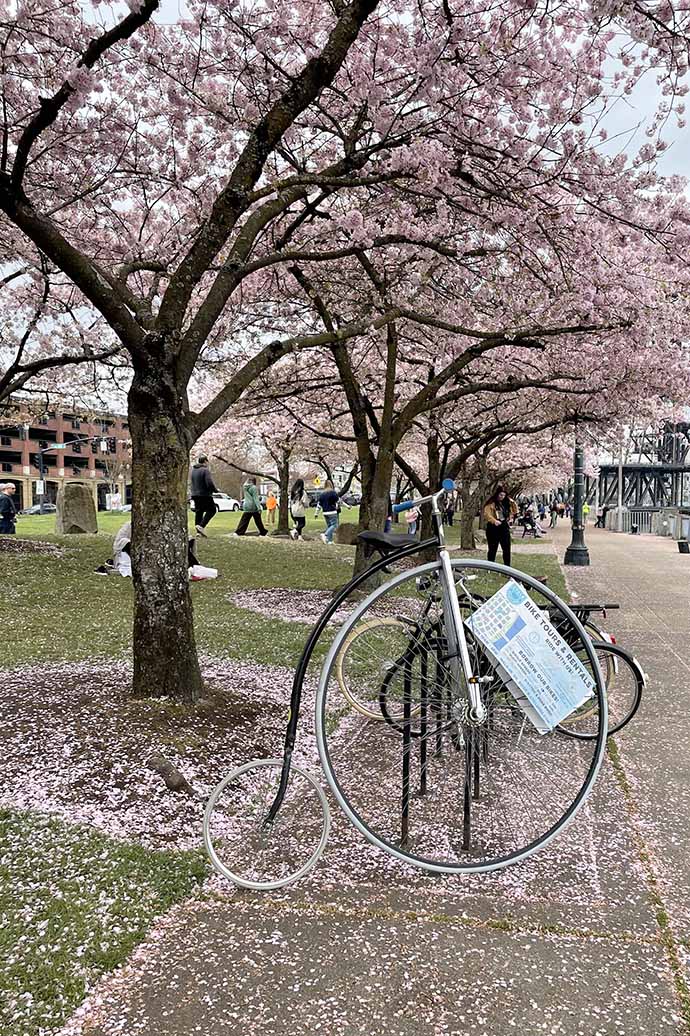 Towards the middle of the park, between the Hawthorne and Morrison bridges, cross Naito Parkway at Taylor Street to see Mill's End Park. It's not on the other side of the road like you might expect — it's actually IN the road.
Mill's End Park is a tiny circular space that's famous for being the world's smallest park.
When you get to the northern end of the park, you'll be able to see the famous Portland, Oregon White Stag sign.
While you can technically see it from the park, you should definitely consider crossing the Burnside bridge to get the classic view of the sign with the city in the background.
Get Your Sugar Rush on at Voodoo Doughnut
After spending some time at the Portland waterfront, head west to 3rd Avenue and Ankeny Street where you'll find Voodoo Doughnuts, one of Portland's most famous dessert shops.
While (in my humble opinion) they aren't necessarily the best donuts in the city, waiting in line at Voodoo Doughnuts is a Portland rite of passage.
Try the Voodoo Doll, the Portland Cream, or the Bacon Maple Bar donut when you visit.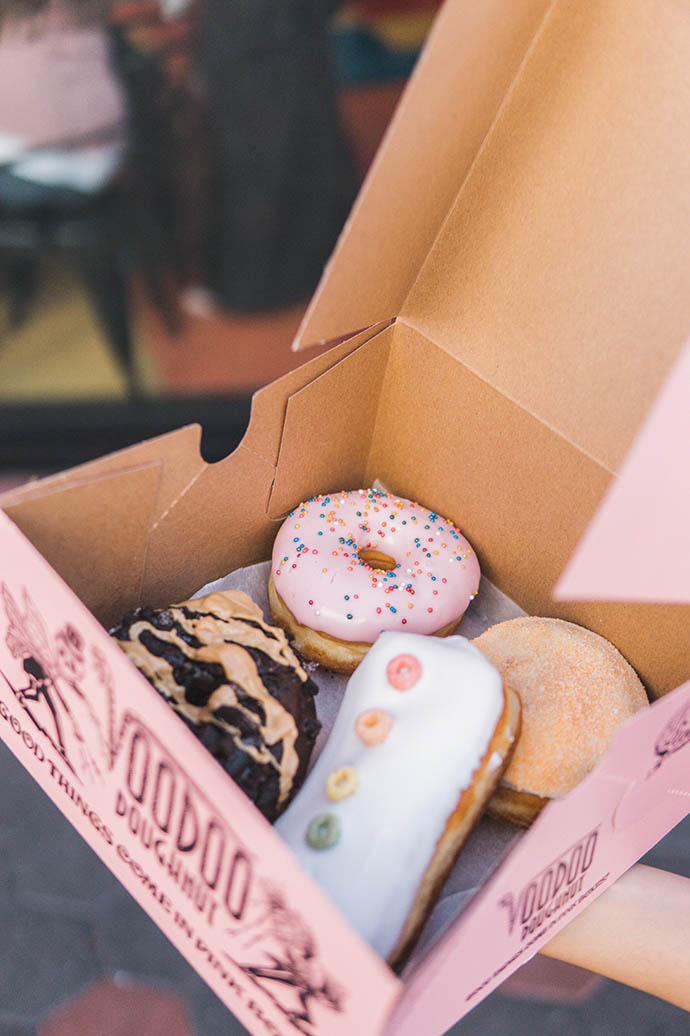 Find Your Next Favorite Novel at Powell's Bookstore
Powell's Bookstore is one of the biggest and coolest bookstores in the world, and you can find it a few blocks west on 10th and Burnside.
This main location for Powells, dubbed "Powell's City of Books," takes up an entire city block and has thousands of books throughout its four floors. You can also shop for fun locally made trinkets throughout the store.
Have a Brew at One of Portland's Many Breweries
Finish off your day by enjoying one of Portland's many breweries! The city is actually known as one of the best beer cities in the entire world and it's worth visiting at least one brewery even if you're just a casual beer drinker.
My personal favorite is Deschutes Public House in the Pearl District. They have a variety of brews and a fantastic menu of pub fare and your waiter or bartender can help you decide which beer you want to try.
When in doubt, go with the Black Butte Porter and Mirror Pond Pale Ale — these are the two most popular beers that Deschutes Brewery creates.

Day 2
Get a Coffee at the Original Stumptown Coffee Roasters
Start your second day in Portland with coffee and breakfast at the original Stumptown Coffee Roasters location.
Located at 4525 SE Division Street, this flagship location opened in 1999 and serves up a selection of pastries, breakfast sandwiches, and coffee drinks. You can always get your coffee black, or there are some tasty coffee drinks to try.
Sample All the Ice Cream at Salt & Straw
Spend some time exploring the eccentric shops and cafes that line Portland's 23rd Street, including Salt & Straw. This popular Portland ice cream shop offers up ice cream that's probably like nothing you've ever tasted before.
Not only is the base recipe delicious, but the flavors on the menu are mouthwateringly good. They have a standard offering of flavors like Honey Lavender and Strawberry Honey Balsamic with Black Pepper, but there is also a selection of flavors that rotate monthly.
Check out this guide to the best places to eat in Portland for more of the city's best eateries!
Get your Zen on at the Portland Japanese Garden
This 5.5-acre garden is considered to be one of the most authentic Japanese gardens outside of Japan, and you can wander beautiful walkways, serene gardens, and bridges that cross lakes and streams.
There's even a tea house here where you can sip on some refreshing tea and eat small bites like Adzuki cheesecake or Mochi ice cream.
Be sure to check the admission times and fees in advance as they might change. You can also check out the nearby International Rose Test Garden which is free to explore.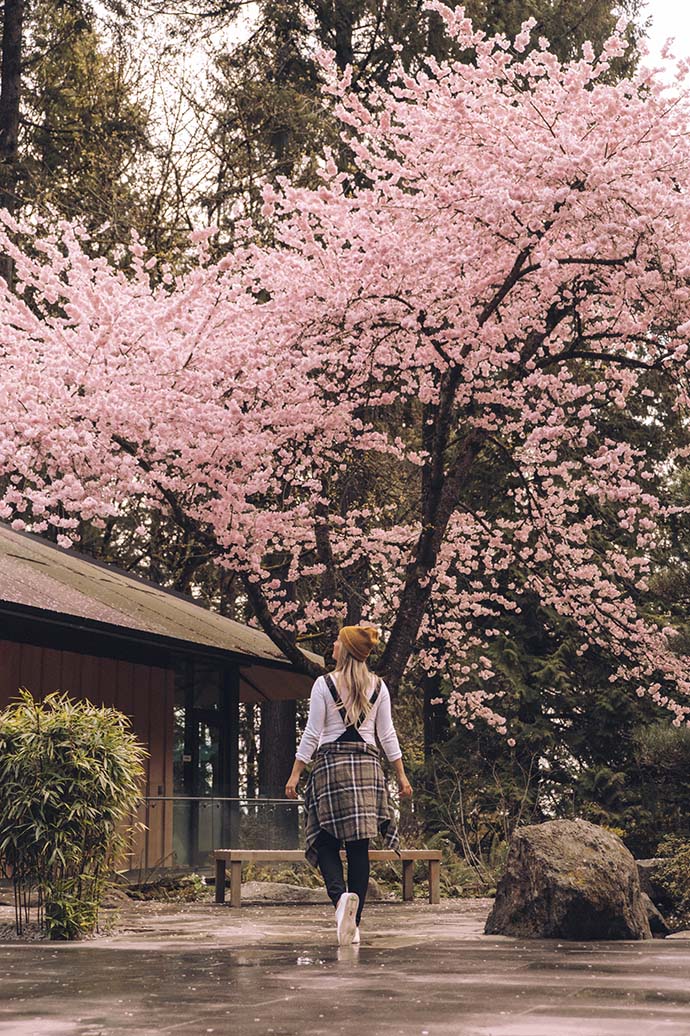 Dine at One of Portland's 500+ Food Trucks
Yep, you read that right! Portland has over 500+ food trucks, so take your pick and find your next favorite meal.
There are multiple pods of food trucks throughout Portland so you'll be able to find one no matter what part of the city you're in. Prost Marketplace is located in North Portland and is home to favorites like Fried Egg I'm In Love.
In Southeast Portland, you can find Cartlandia and Cartopia, two of the larger food truck pods in the city. These two are both open late, with Cartopia specifically being a favorite post-bar or club destination.
You can try so many different types of food at the food trucks in Portland!

Have you been to Portland before? What would you add to this itinerary? Let me know in the comments below!