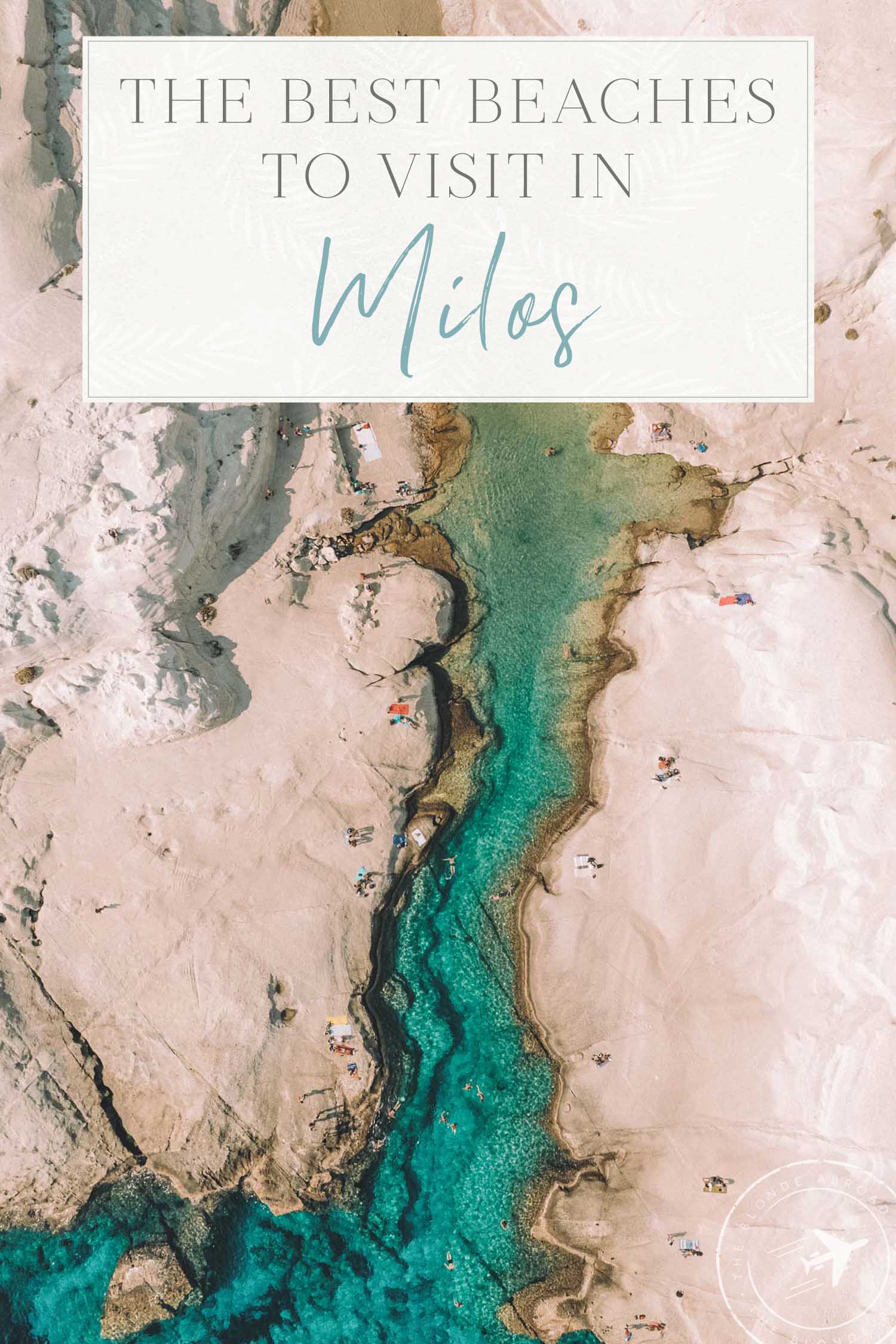 While Mykonos and Santorini tend to steal the show, Milos is the go-to beach destination for those in the know. On top of having some of the most beautiful coastlines of Europe, this Mediterranean gem has a rich 3000-year history, top-notch food, and endless opportunities for adventure.
Away from the throngs of tourists who crowd the Greek islands every summer, Milos offers a glimpse into the authentic culture and untouched beauty of this remarkable region.
If you are looking to live the good life without breaking the bank, this is the place for you. Considerably more wallet-friendly than the better-known islands of Greece, Milos is the home of affordable luxury.
Looking for a place in the sun on the sapphire seas of the Mediterranean? Here is your guide to the best beaches to visit in Milos.

How to Get There
These are some of the best beaches you can get while driving…but I personally wouldn't recommend a car, rather I'd opt for renting a quad.
Greece is famous for its secret coves and beaches that you can only get to on foot.
Make sure to research before going as some of the terrain is quite steep and look into reviews about where you're able to park. This will help you in the long run!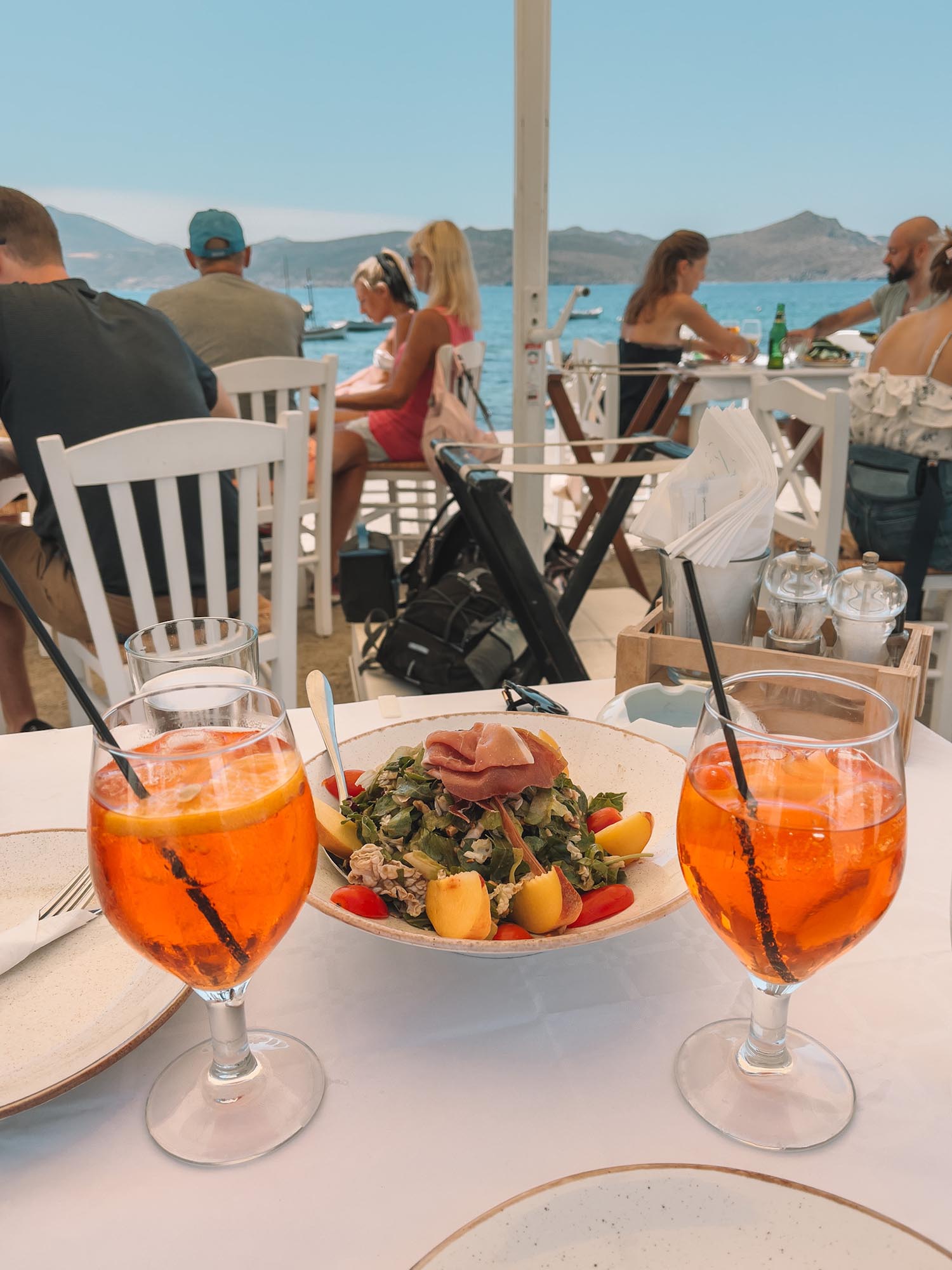 Astakas Cafe Restaurant at Klima Beach
Klima Beach
Let's start on the west side of the islands with Klima beach. The colorful seaside houses of this picture-perfect beachside town are a photographer's dream. Famous for its epic sunsets, this is the prime place to come in the late afternoon.
Spend some time wandering amongst the rainbow of beach houses lining the coast, then have dinner at Astakas Cafe Restaurant. Be sure to book in advance so you can get a front-row seat to watch the sun setting over the sea.
And leave your beach gear at the hotel! Rather than swimming beaches, Klima is a quaint town perfect for wandering and soaking in the beauty.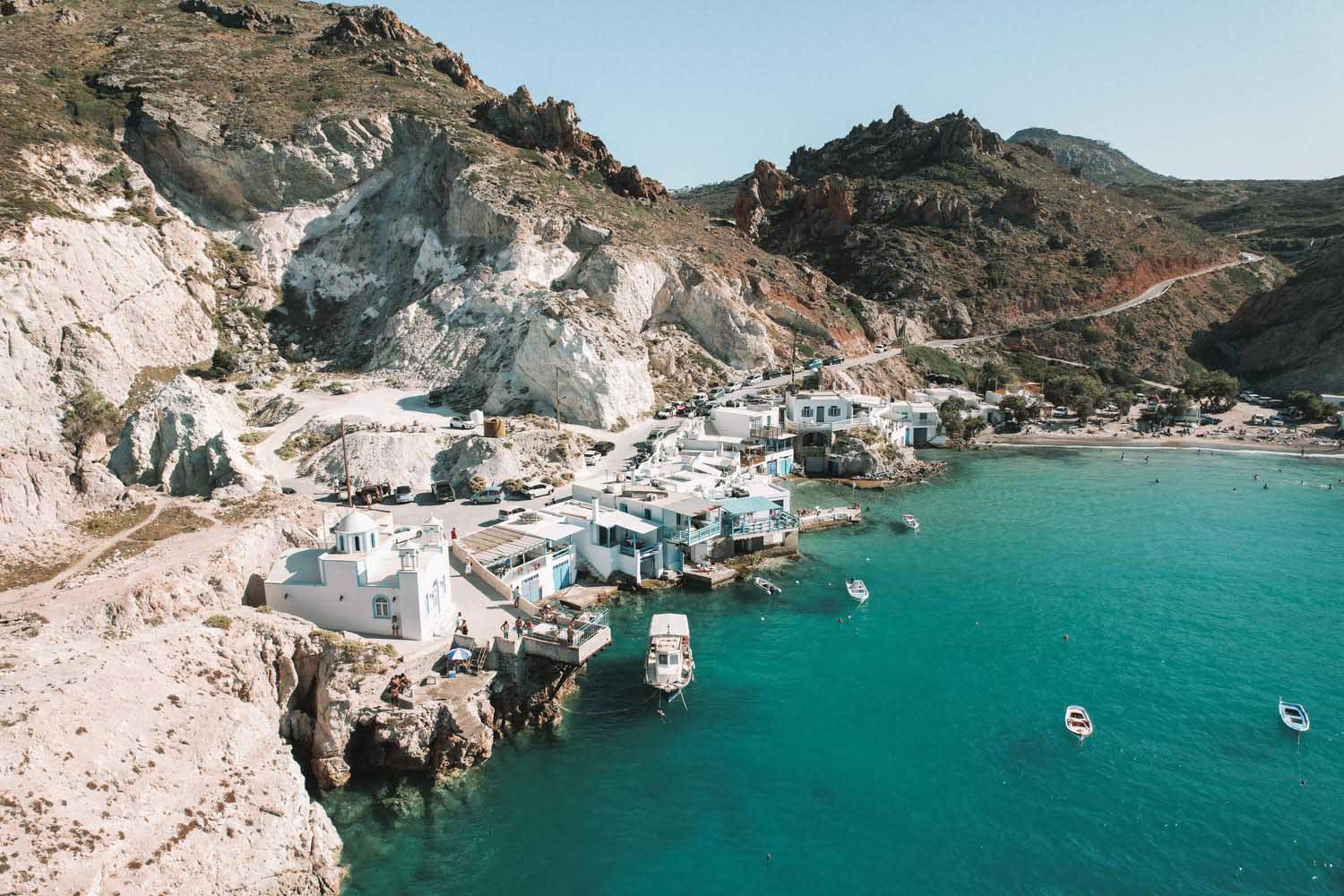 Firopotamos
This is my new favorite place in Greece, and you might recognize it from Mamma Mia. Just look at this turquoise water!
I could have spent the entire day just soaking in the vibe of this beautiful sandy beach.
A traditional fishing village, it's easy to park a quad or scooter in Firopotamos then dive in—literally! You can go cliff jumping from just outside of the Church of Agios Nikolaos (which is another spot you'll want to pass by and snap a few pics).
From the fishing area or Paralia Firopotamos, you can swim up to the sandy beach area and find a spot for yourself.
Planning Tip: Like many far-flung destinations in the Greek islands, there are few amenities nearby. Firopotamos has no restaurants or cafes so pack a picnic if you want to stay for a while.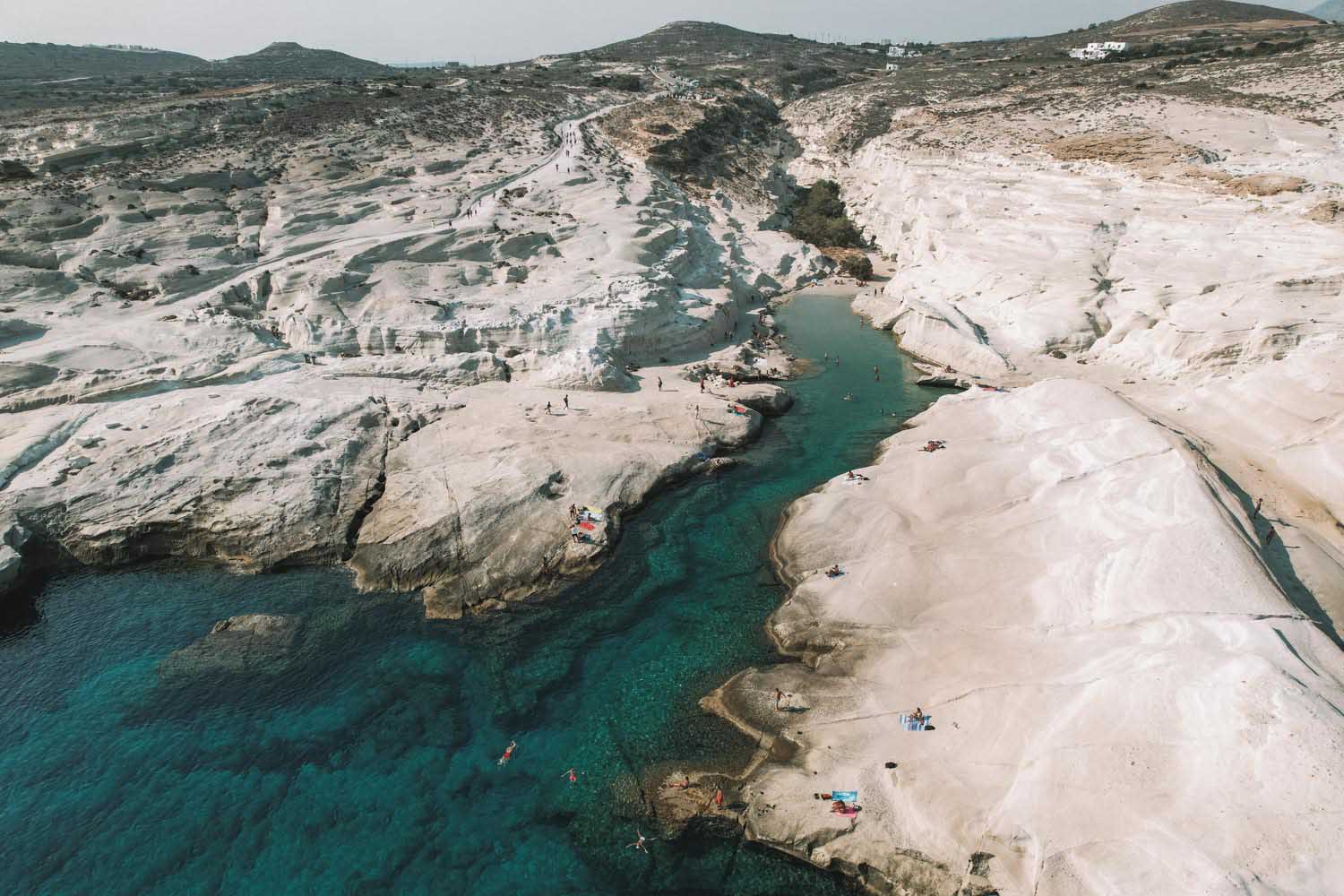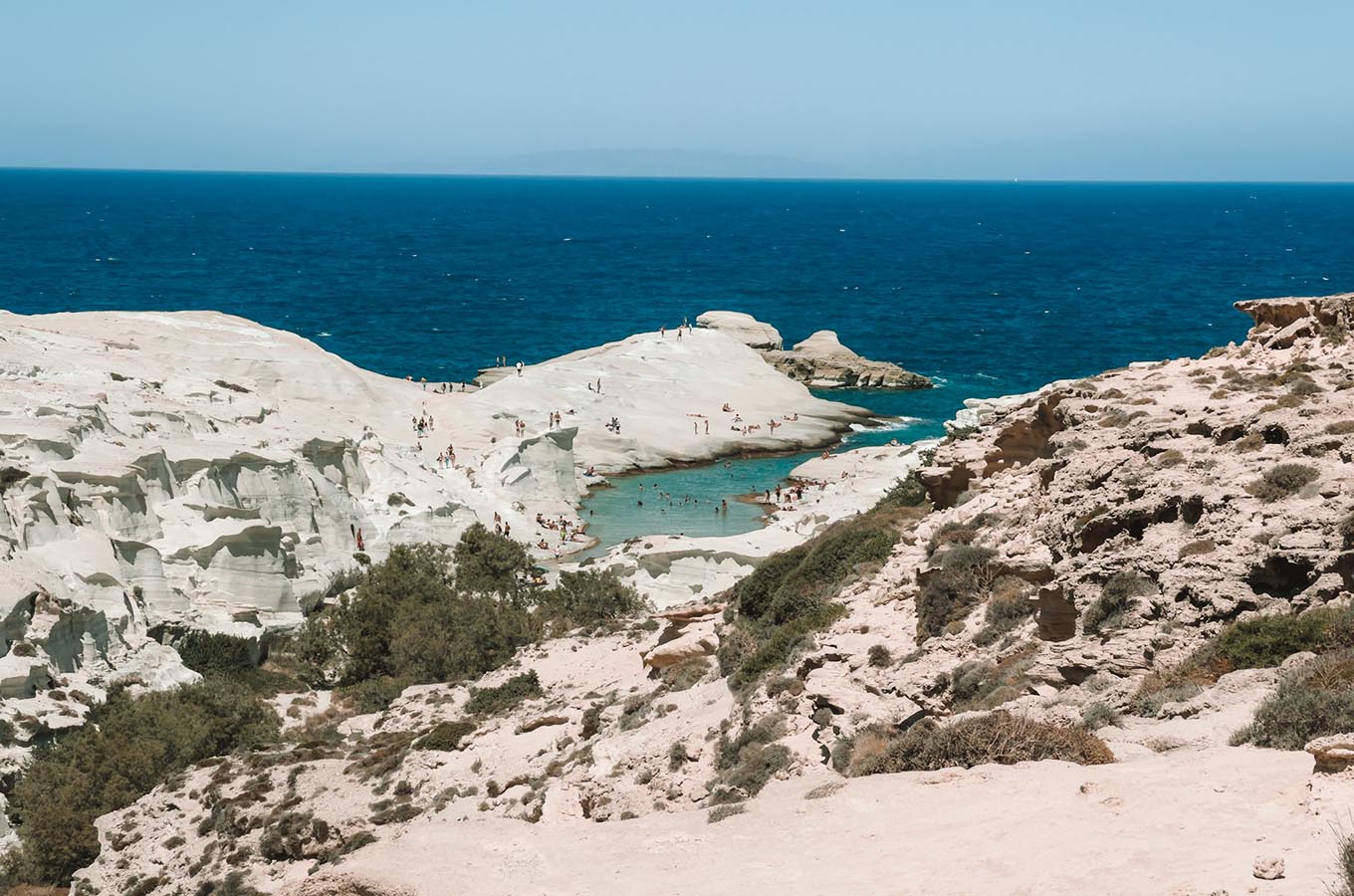 Sarakiniko Beach
Welcome to Milo's most famous slice of shoreline. As someone forever chasing the summer sunshine, I've been to more than my fair share of beaches. I can tell you without a doubt that this is one of the best beaches in the world.
I'm not the only one who knows about this gorgeous spot though! During the high season, Sarakiniko Beach gets crowded.
Photography Tips: If you want to snap photos without people, go at sunrise or just after. For shots of the sea, you will be able to snap better pics later in the day when the sun is higher. I've also seen some people get great shots just around sunset. Ultimately it depends on what style of photography you're after.
As far as lounging on the seaside, there isn't much space to lie out here. Basically, you're looking at a sandy area that fits maybe ten people and everyone else is lounging on the rocks.
With the reflection of the white rocks, it gets absolutely sweltering on days without a breeze. If you do want to lie out, bring plenty of sunscreen.
While I'd generally say this isn't the best spot for sunbathing, it's a dream swimming beach.
There is an inlet with no current so it's kid-friendly and perfect for just chilling in the water. You can also swim quite far out into the sea from here before hitting any major waves.
Need an adrenaline boost? Sarakiniko Beach is another great spot for cliff diving!
If you arrive early, you bring a picnic with you or have a bite to eat before you go. There is a food truck that will arrive around 10 am. You'll find it at the far end of the parking lot (about 15 minutes from the beach) and it's got a delicious selection of local eats. We grabbed cheese puff pastries, fresh watermelon, and water.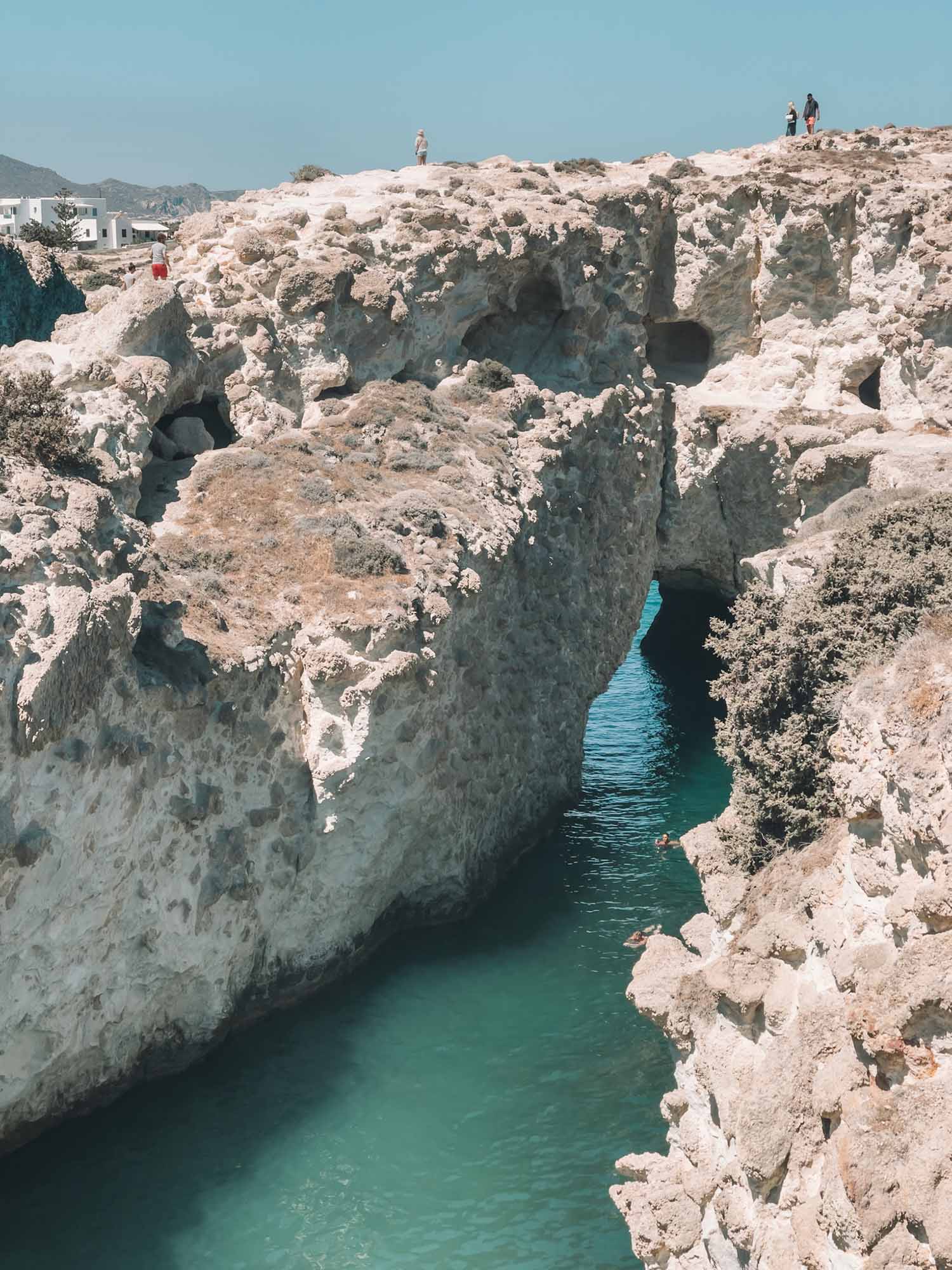 Papafragas
Papafragas and Paparodi
While all of the guides will send you over to Papafragas, I found Paparodi Shore to be the better spot. There is a beautiful beach area with an arch, and it is the perfect base for your day in the sun.
I'd recommend starting at Paparodi Shore, hanging out there for a while on the beach and in the sea, then swimming over to Papafragas.
While Papafragas is nice, the entry seemed a bit sketchy. They have a stairway down but it's roped off. You can, however, arrive from the water easily and it seems like the better way to go.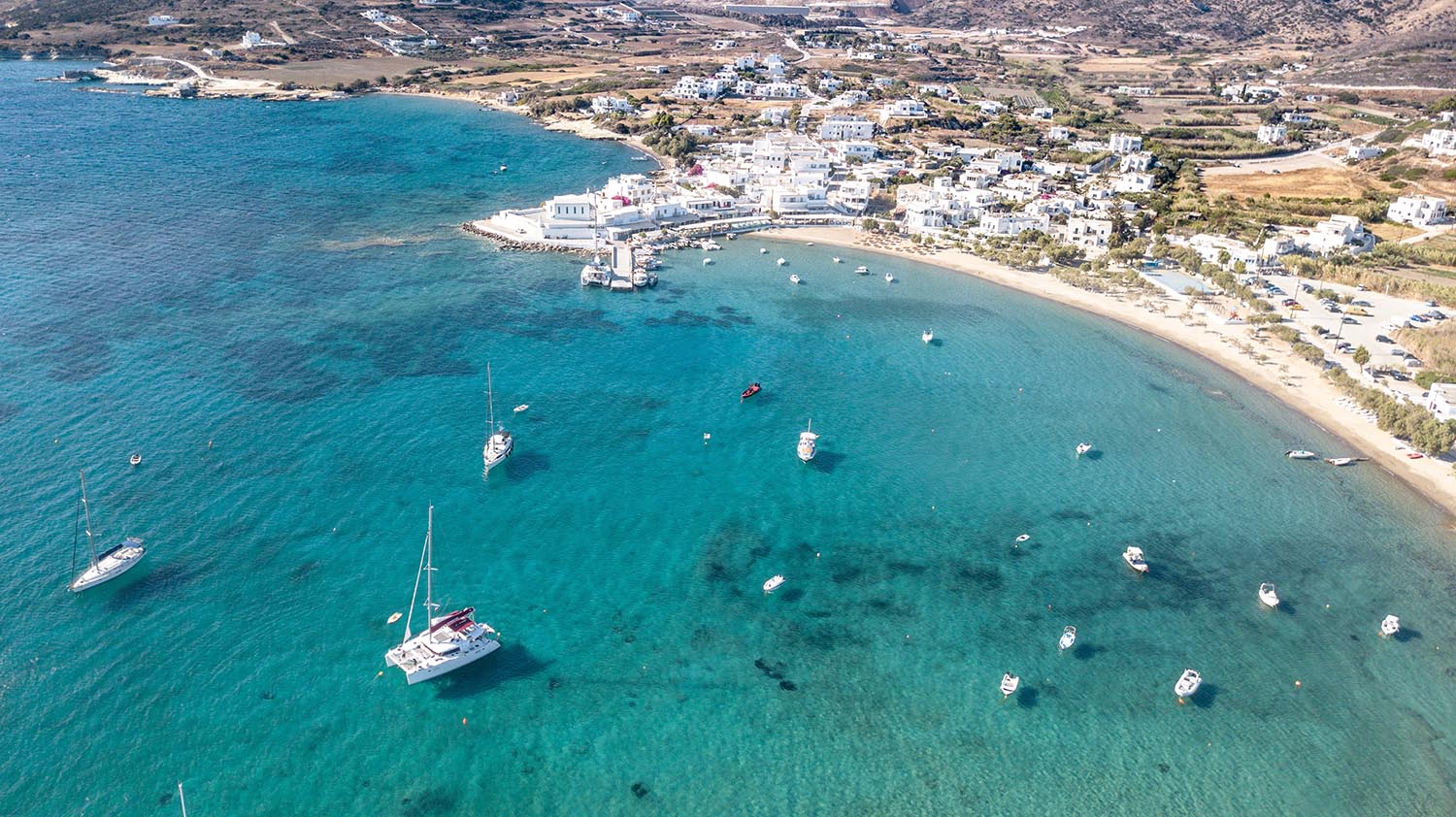 Pollonia
When it comes to sandy beaches, Pollonia has some of the most impressive stretches of shoreline. This adorable little fishing village in the north has ticked all the boxes for the perfect day at the sea. You'll find local seaside restaurants along sandy shores and plenty of chairs.
There is easy nearby parking so you can pop in with no hassle (which isn't always the norm in the islands). If you're looking for a family-friendly beach, put this at the top of your list.
Helpful Tip:
The east coast of the island is quite rugged with almost no roads. When you rent your quad/scooter, they'll actually make a point to warn you to not go here.
While you might hear some eastern destinations mentioned, I'd recommend skipping them. There is plenty to see without taking the risk of trying to traverse the terrain there.

Tsigrado Beach
As you are arriving, you'll find the same route that takes you to Tsigrado Beach also takes you to Fyriplaka Beach. We opted for Tsigrado Beach to get good lighting for photos.
Photography Tip:
Scouting a photoshoot location? Head over to Tsigrado Beach mid-day. If you want to take things to the next level, get the Sun Chaser or Sunseeker app to find the perfect time when the light is going to be directly above the beach. Just open Google Maps, point your phone in that direction, and it will show you when the sun is going to be overhead.
Since Tsigrado Beach is set between two cliffs, depending on the time of year, you will only have about a four-hour window for the perfect sun. While the beach isn't easy to get to and you'll have to be organized to get just the right photography conditions, it's worth it.
Easily one of the most beautiful beaches I've ever seen in my life, Tsigrado Beach is surrounded by caves with plenty of spots for swimming. It's a popular sailing destination and it's easy to see why as soon as you arrive.
And, on that note, it's crucial to note that the arrival to these beaches is not for the faint of heart. Once you leave the parking lot, you'll find two ladders to climb down in this small crack in the cliffside.
The ladders are in complete disrepair with rungs missing at every stage. Fortunately, there are ropes along the side and you'll want to hold that rope the whole way down.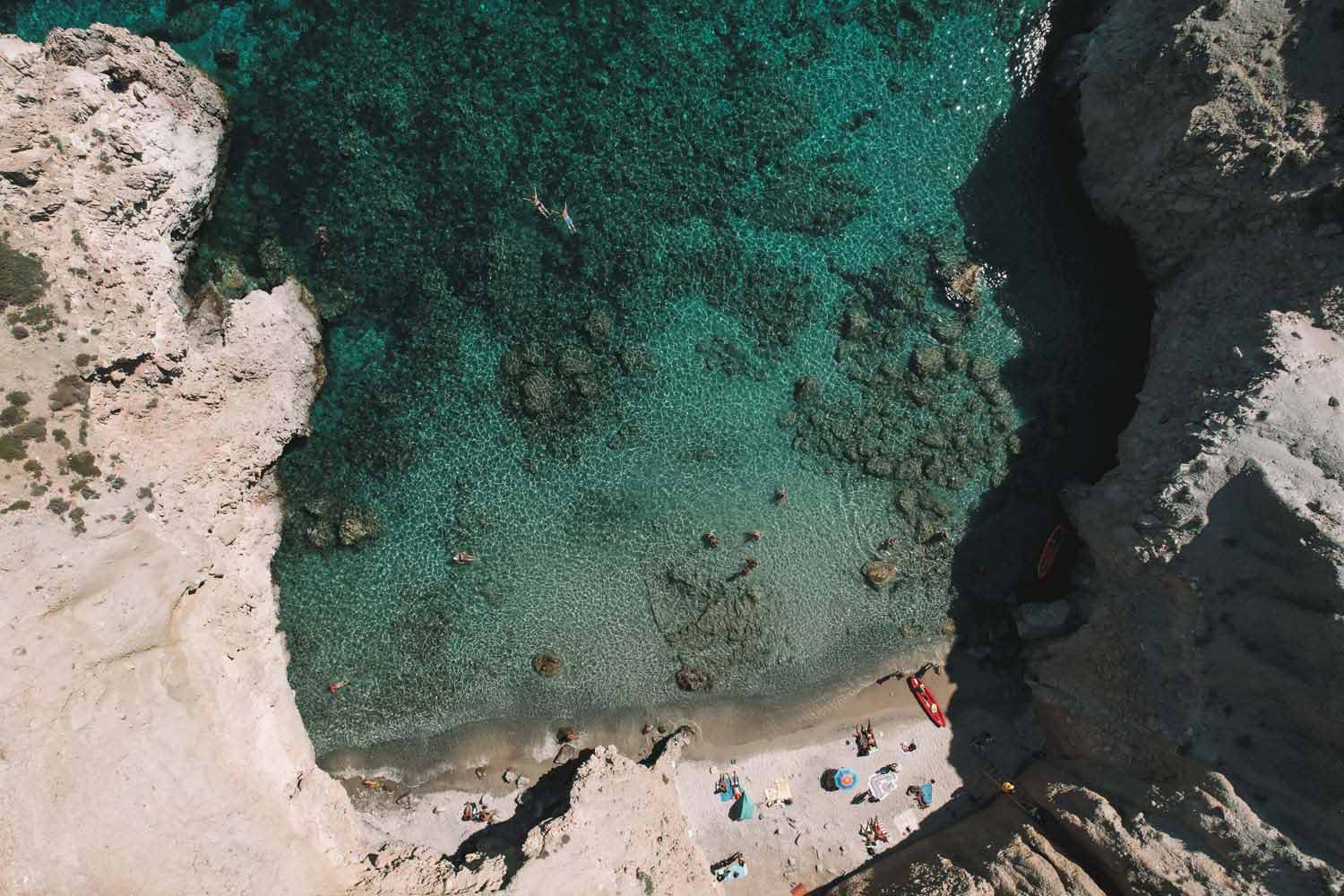 Tsigrado Beach
As you make your way down this ultra-steep cliff, you'll leave one ladder and go to another. This equally steep second level takes you over loose sand.
The second ladder, in particular, was terrifying. It is almost completely vertical, so you dangle yourself off the edge of the cliff and find the top rung is missing.
I'm 5'9 and was on my back with my butt dangling in the air as I held the rope and tried to get my foot to the first rung of the ladder. It was very sketchy and most definitely not an all-ages activity.
As you come and go you'll find two distinct groups of people: terrified tourists and locals who are trying to rush 'em!
Once you get down, it's absolutely amazing. The beach is gorgeous with countless caves to explore and water that was made for swimming.
Not into dangling off cliffs? You can rent a kayak from Fyriplaka Beach and travel over by sea. This is a much more accessible beach and a perfect base for the day. You can relax at Fyriplaka, make your way over to Tsigrado in the boat, then come back.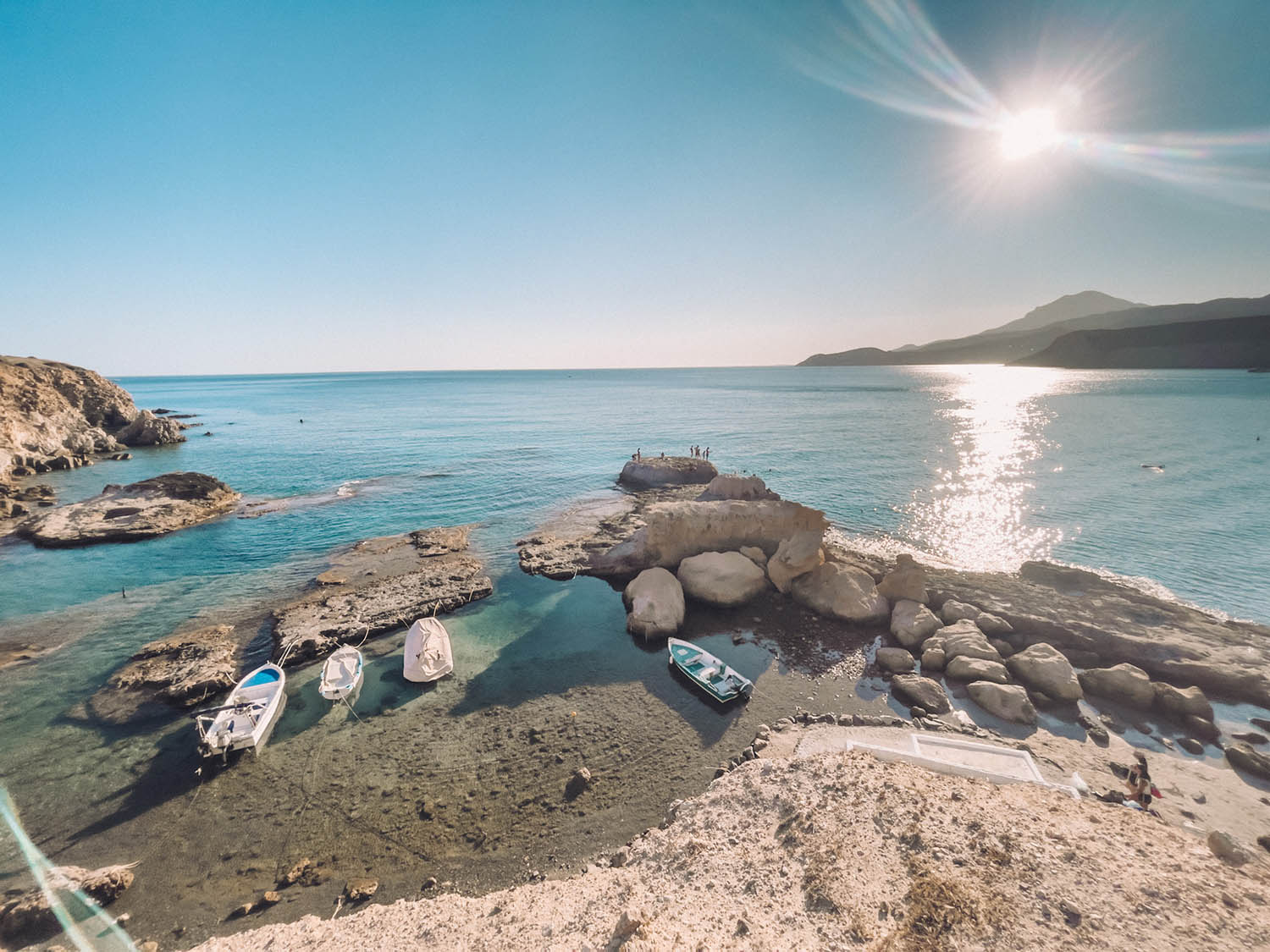 Fyriplaka Beach
This easy-to-access sandy beach is an essential stop. It's perfect for kids, and it's a prime destination at sunset.
You'll find parking right beside the shore and there are no steep cliffs to climb. When you get there, you'll find plenty of water sports equipment rental options along with beach chairs. When you're ready for a bite to eat, you can grab snacks and drinks from the beachside cafe bar.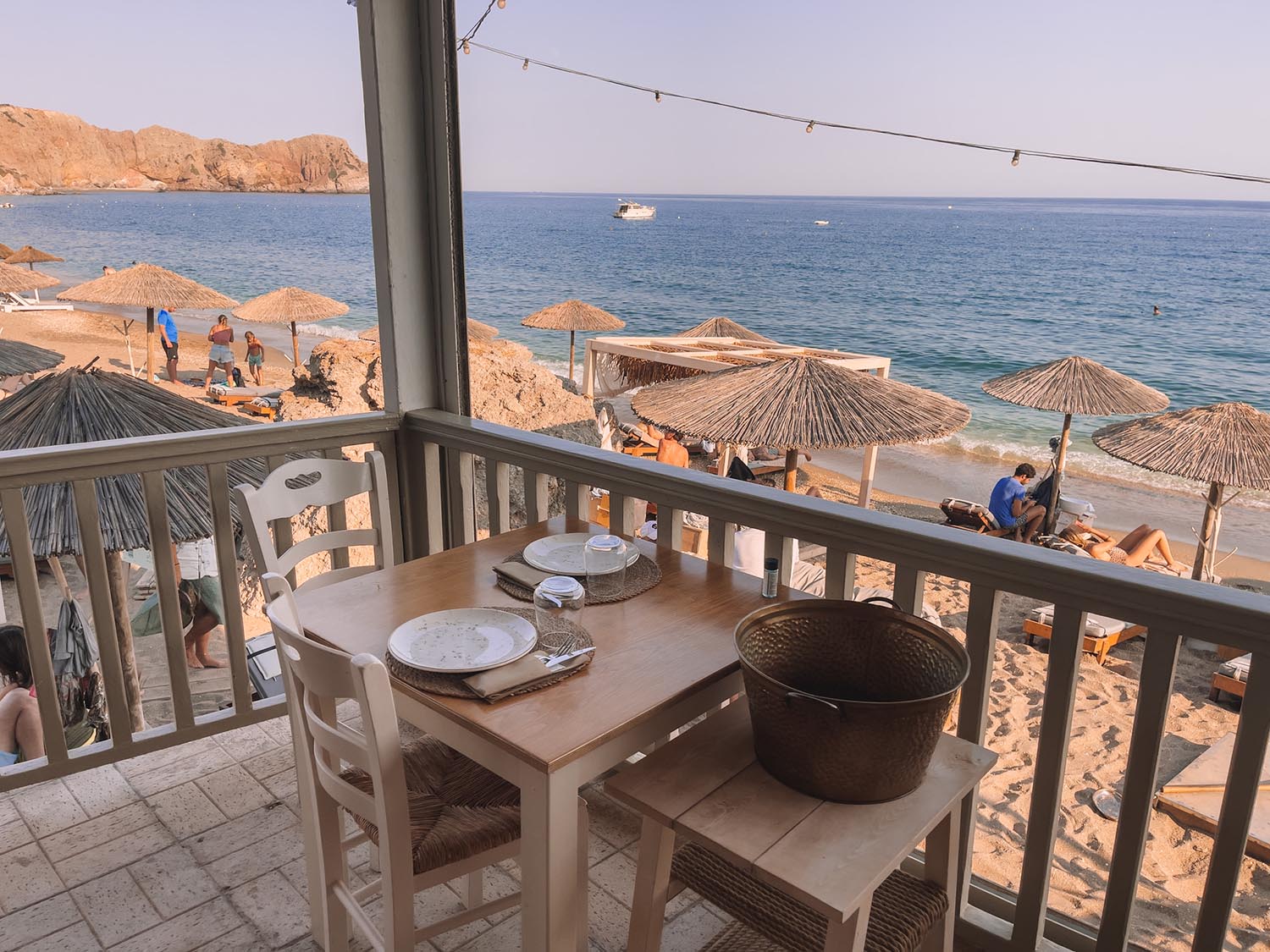 Sirocco Volcanic All Day Restaurant Next to Paralia Paleochori
Paralia Paleochori
Another gorgeous coastal spot where you can spend the entire day is Paralia Paleochori. This was the most southeastern beach we got to and just made it over there for dinner. It would have been a lovely spot to arrive in the early afternoon then stay until dinner if we'd had more time.
It's a calm beach with a sandy shoreline and plenty to do. There are covered beach chairs for rent, then if you're feeling ambitious, you can rent sports gear and boats.
Just beside Sirocco volcano, you'll find an all-day restaurant so you can arrive at lunch then stay until dinner and beyond.