This guest post is by Monica Chapon, a California-based travel blogger.
Did you know that the Pyramids of Giza were the tallest manmade structures in the entire world for nearly 4,000 years?
For reference, the largest of the three famous pyramids stands taller than the Statue of Liberty, the Leaning Tower of Pisa, and Big Ben. It's no wonder that these iconic tombs are well known all across the world.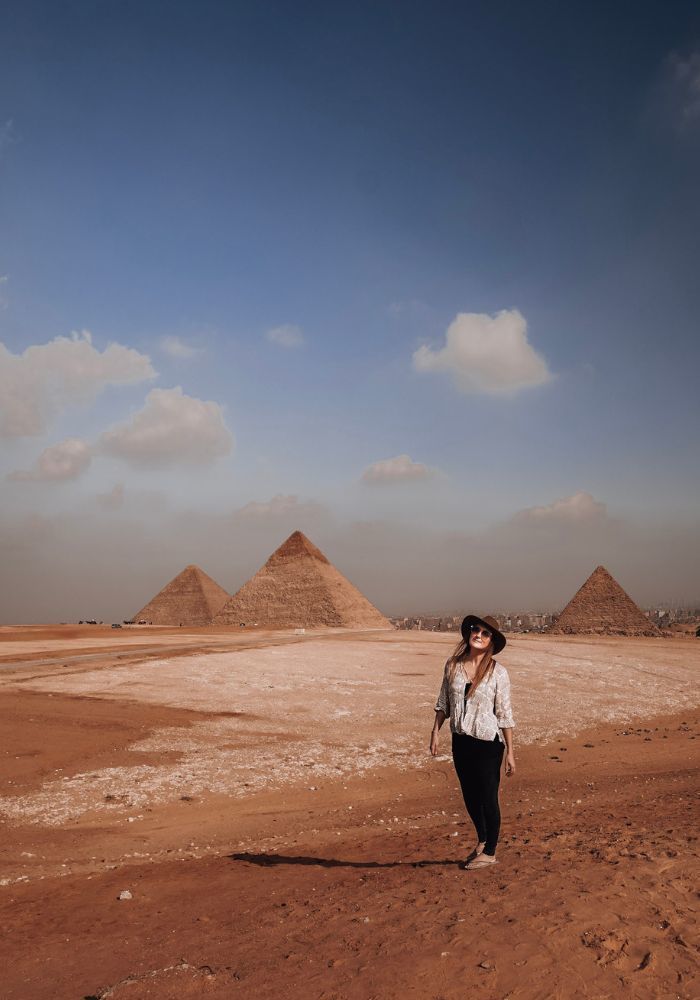 If you're traveling to Egypt, then the Pyramids are probably the number one sight on your itinerary. Thousands of visitors flock to see these ancient wonders on a daily basis. And who can blame them?
But this also means loads of tour buses, long lines, and large crowds walking around the complex.
If you're looking for a quieter, self-led experience, it is completely possible to visit the Pyramids independently. In this guide, you will learn everything you need to know about planning your visit there without booking a tour.
A Bit of Background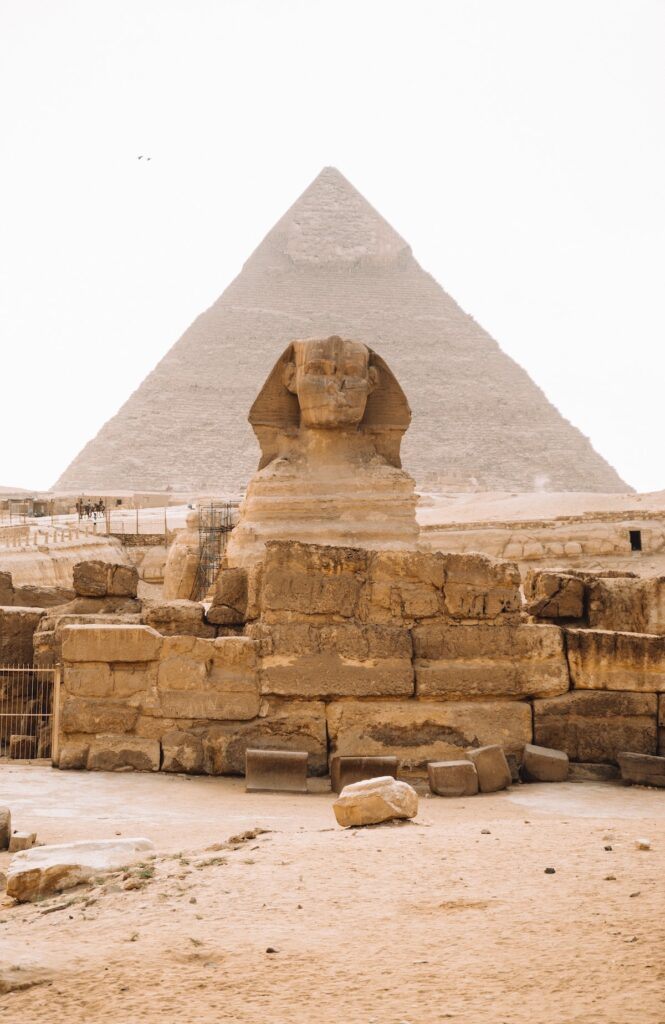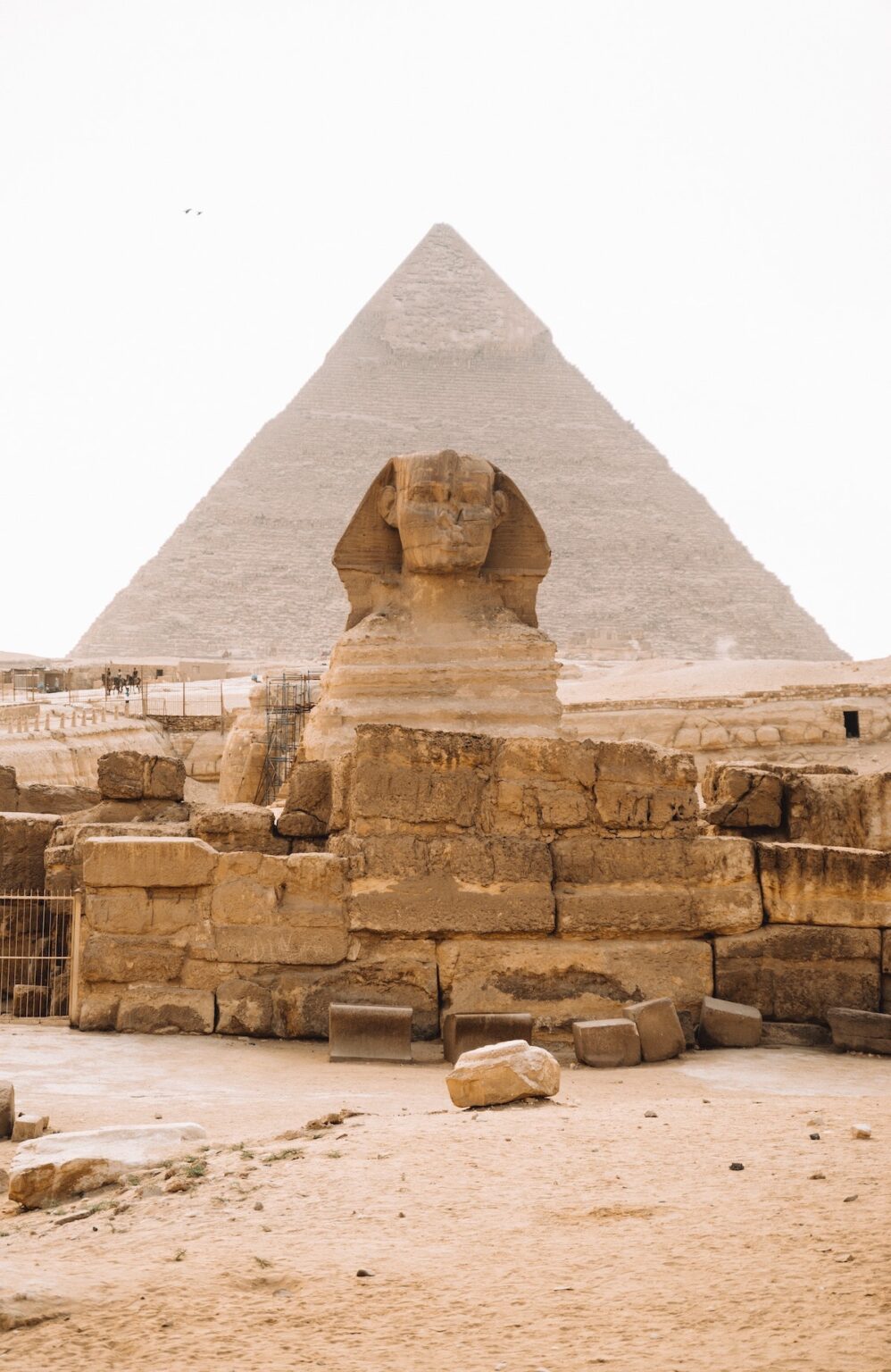 Contrary to what you might picture, the Pyramids of Giza are not off in some distant corner of the desert. Rather, they are located just outside of the bustling metropolis of Cairo. While you can see them from the desert, you can also see them from just about anywhere across Giza, which is part of the capital city.
There are three main pyramids located here, though there are many more in Egypt as a whole. These three are the Great Pyramid — also called the Pyramid of Khufu (or Cheops) — and its two smaller counterparts, the Pyramid of Khafre and the Pyramid of Menkaure.
Each of these structures was built as a burial place for the pharaoh it was named after. You'll also see smaller pyramids off to the side; these are for their queens and servants. But the larger three are the most famous and the most visible.
When to Visit the Giza Pyramids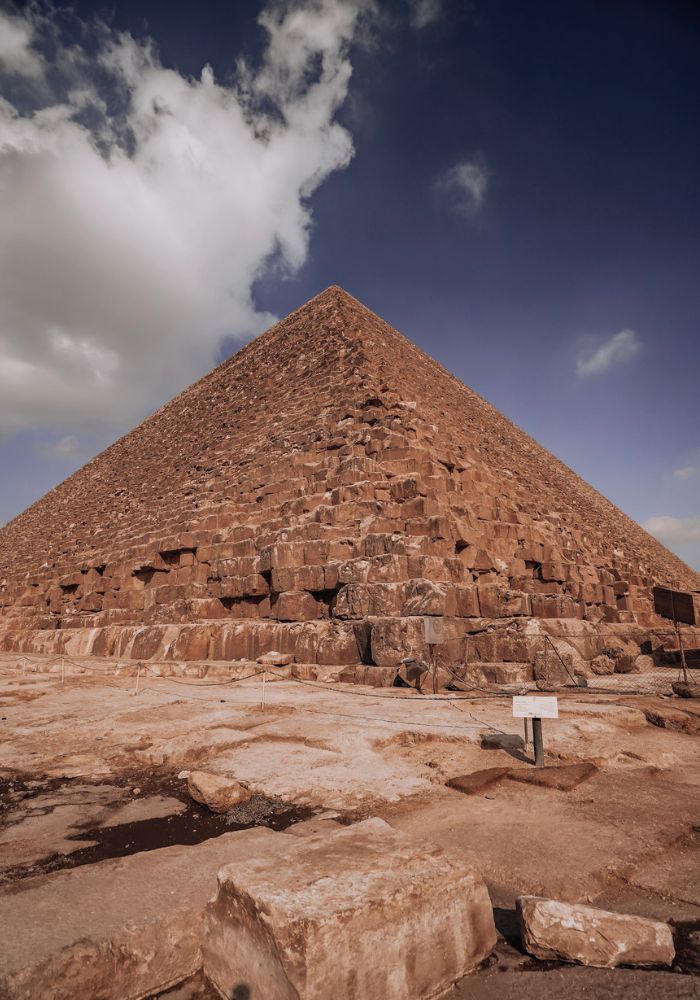 Egypt can get very hot in the summer and surprisingly cool in the winter. Regardless of what season you visit, the most important factor is timing.
Most of the large tour groups and buses roll in right around 9-10am. So your best bet to avoid the crowds is to arrive right when the Giza complex opens. From October through March, that means 8am, and from April to September, that means 7am.
Arriving early means that you won't be stuck in long lines behind massive groups. You will be required to go through both a ticket line and a security line, but the process is much quicker early in the day, before the crowds arrive. Plus, if you plan to go inside the Great Pyramid, you'll get first access to that too.
Entrance Fees to the Pyramids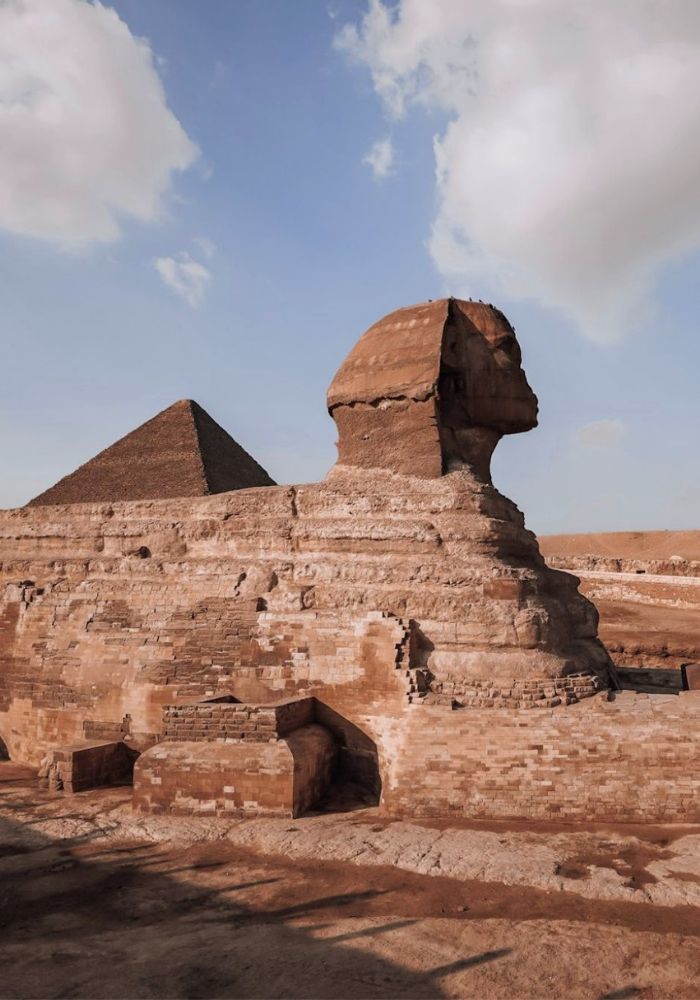 You would think that visiting one of the ancient wonders of the world would carry a hefty price tag. The Pyramids are actually surprisingly affordable, however, particularly if you aren't paying for a tour and opt to go on your own.
At the time of writing, the costs for visiting are as follows.
Entry to Pyramids Complex is 200 EGP (roughly $11 USD)
Entry to the inside of the Great Pyramid is 400 EGP (roughly $21 USD)
Camera tickets are included in the general entrance fee. If you want to bring a tripod or monopod, this will add another 20 EGP to your ticket (roughly $1 USD)
Your entrance fee covers the outside of the Pyramids in the complex as well as the Sphinx and its surrounding structures.
In the daytime, you can explore the Giza Plateau by foot. Expect to do a lot of walking across less-than-even surfaces if you want to see it all! Comfortable shoes are a must.
The site also puts on a sound and light show at night, which costs 300 EGP (about $16 USD). (If you have a hotel with a view of the pyramids, you might be able to catch this show without the cost of a ticket.)
I personally did not attend — I wanted to see the site in its natural glory rather than lit up with colors. But as far as I could tell, the seating for the sound and light show is set up in one particular area. You won't be able to walk around the complex at night.
Things to Watch Out For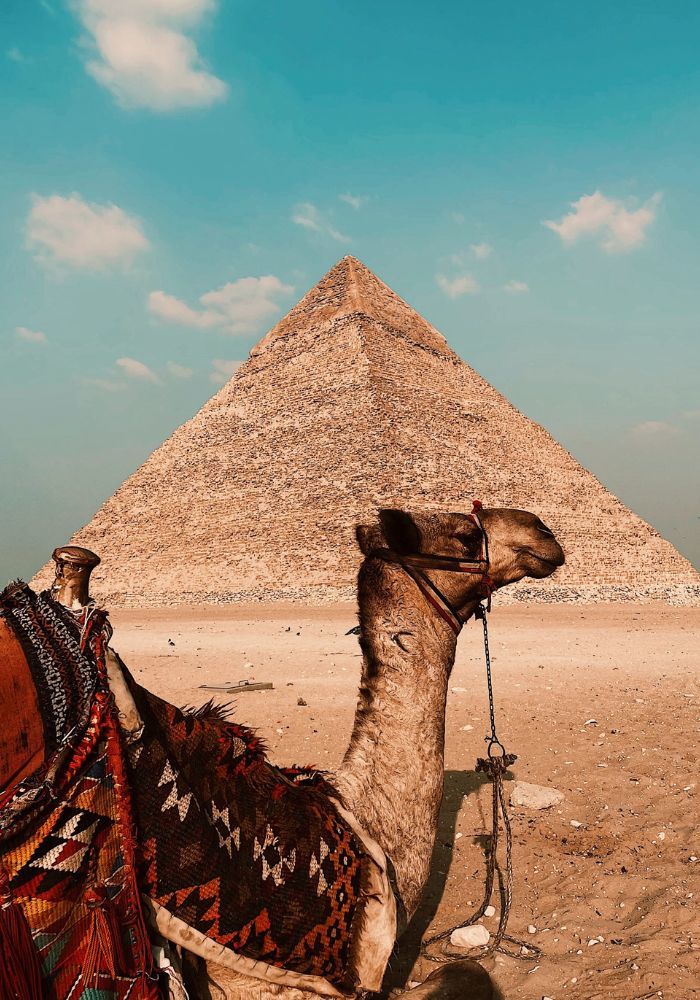 Egypt in general has a bit of a reputation for tourist scams.
The good news is, the authorities know this. They tend to station security guards and police at many of the major tourist sites, and the Pyramids are no exception. Don't be shocked to see policemen scattered all around the complex, carrying large rifles. They watch silently and scan the crowds for anything suspicious.
Previously, I mentioned that you go through a security line after buying your ticket. The security line takes you through a metal detector and has an X-ray belt for purses and bags. It is reminiscent of an airport scanner, but smaller and outdoors.
While visiting the Pyramids, be cautious about the following.
Cameras, etc. There are reports of people stealing photo equipment here, so never leave your camera unattended. Don't hand your camera off to a stranger to take your photo without feeling the situation out. And be very cautious about setting up your tripod and walking away from it if you visit during the busy part of the day. Likewise, keep an eye on your wallets and purses.
Bribes. There are reports that some of the guards will let you climb partway up the Pyramids in exchange for a tip. Number one, this is illegal. A tourist was arrested several years back for climbing one of the Pyramids, albeit very high up. But number two, these are ancient wonders of the world. Let's keep them intact and avoid doing anything that could harm or disrupt their structure!
Camel rides. Honestly, the camels here did not look particularly happy. I did not personally ride a camel here, but I have seen tourists be more or less ushered onto the camel before the owner would tell them the price. Once they were up there, they had little choice but to take the ride. Always negotiate and agree on a price beforehand if you do decide to ride a camel here.
Souvenirs. The same principle goes for souvenir vendors. Don't accept anything from a vendor unless you are actually intending to purchase it and you have both agreed to a price. Don't feel pressured into a purchase you don't want to make. And feel free to say no as many times as needed.
Essentially, keep your wits about you and you'll be fine. If anything does go awry, the police are on site to help you.
Not only did I visit the Pyramids without a tour group, but I traveled Egypt completely solo and had very few situations involving scams and hassles — none of them serious. You are not likely to run into any big threats, but the tips above will help to keep your visit stress-free.
How to Get There
You have a few travel options when you aren't taking a tour bus.
First, taxis are plentiful and easy to arrange. You can have your hotel front desk call one for you if you're not sure where to catch one. Be sure to agree on a price before getting in. Also, both Uber and Careem rideshare apps are available for use in Egypt, and both are cheap and reliable.
Alternately, you can take the metro if you prefer. It is cheaper but does not go all the way to the Pyramids entrance. So you would still need to walk part of the way or take a taxi for the remaining distance.
When you leave, there are plenty of taxis waiting at the entrance to pick up tourists, or you can opt for the ridesharing apps mentioned above.
What to See After Visiting the Pyramids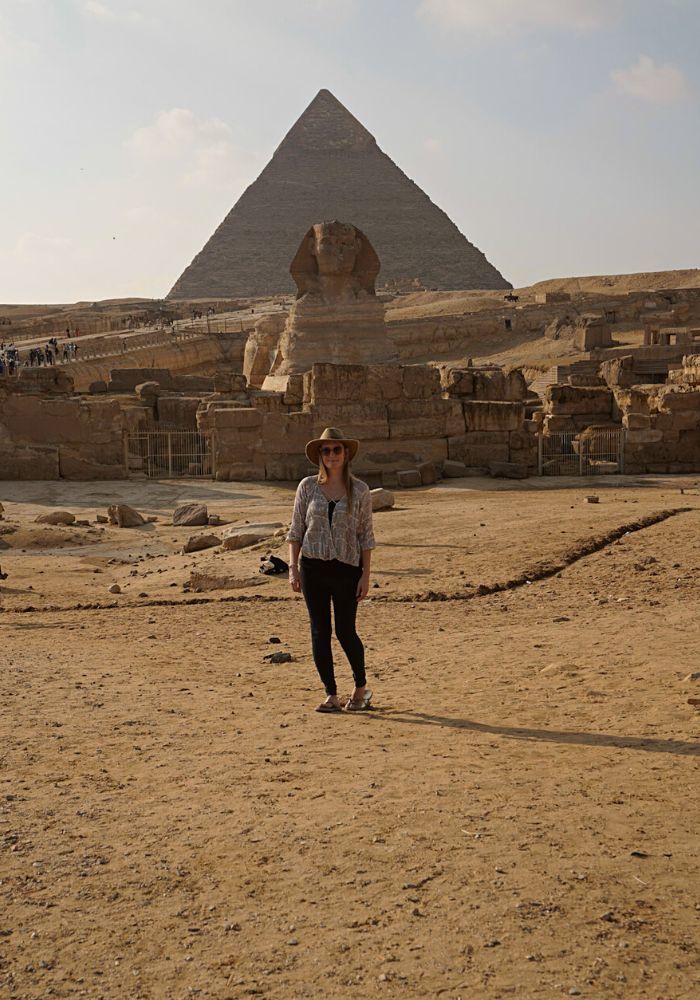 Some of the Pharaoh Cheops' possessions, like his famous solar boat, will be on view at the soon-to-open Grand Egyptian Museum. It was recently moved from its long-time home next to the Great Pyramid itself, where it sat since 1985 Experts are not sure of the exact purpose of this ship. It is believed to have been built to carry his soul through the skies after his death.
Or, if you're in the mood for more pyramids, check out the older Pyramid of Djoser, just a short ride away. It is a six-tiered step pyramid, built before the Egyptians had worked out how to construct the straight-sloped sides.
Lastly, head to Memphis (the ancient capital of Egypt), to see a larger-than-life sculpture of Ramses II, displayed horizontally. I was surprised by how few people were here! It is definitely worth the short trip.
***
It is completely possible, and pretty easy, to visit the Pyramids of Egypt on your own, without a tour. Decide on your preferred transportation method beforehand, arrive early, and keep your valuables close.
I felt that I had a much better experience by arriving early and avoiding the masses, but I did do my own historical research beforehand, so that I wouldn't miss out on any of the information a guide would have offered.
Checking this ancient wonder off of your bucket list is a must. By following these tips, your independent visit will be safe and stress free!
About the author: Monica Chapon has traveled to six continents solo and chronicles her adventures on her blog, This Rare Earth. She can usually be found exploring the deserts of the world, taking impromptu road trips, or hiking the trails in Southern California. Follow along with Monica's adventures on Instagram.