Looking for the best language apps for travel? These are the apps you should download before your next trip.
We sat in a small French-owned cafe in the Bay Area, and I watched in awe as my friend conversed casually in French with the owner. I quietly munched on my sandwich, thinking to myself how I would love to be able to do that.
Truth be told, as an introvert, the practice part is what kills me afterward. None of the languages I learned in high school or college or through Rosetta Stone stuck because of it. This year, though, I'm more than determined to put it into practice.
I tested out all the popular language apps to see what worked best, and I'm currently learning Spanish, French, Japanese, and Korean. It's been so easy to open up a language app whenever I have downtime to learn bite-sized lessons daily. These are the ones I enjoyed using the most.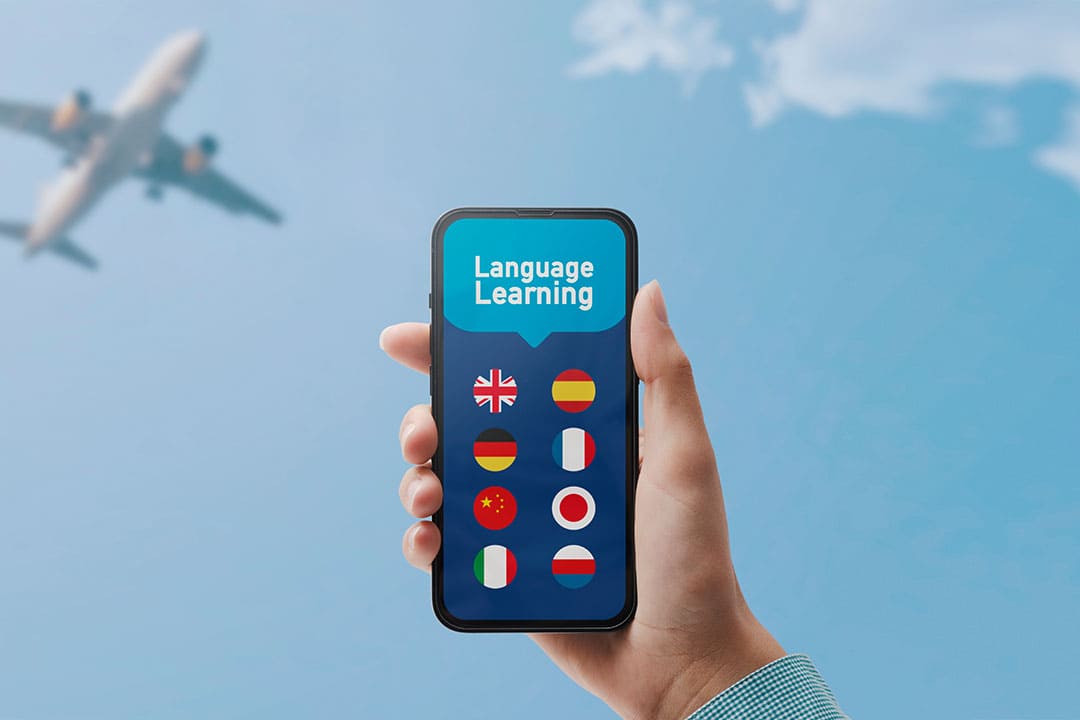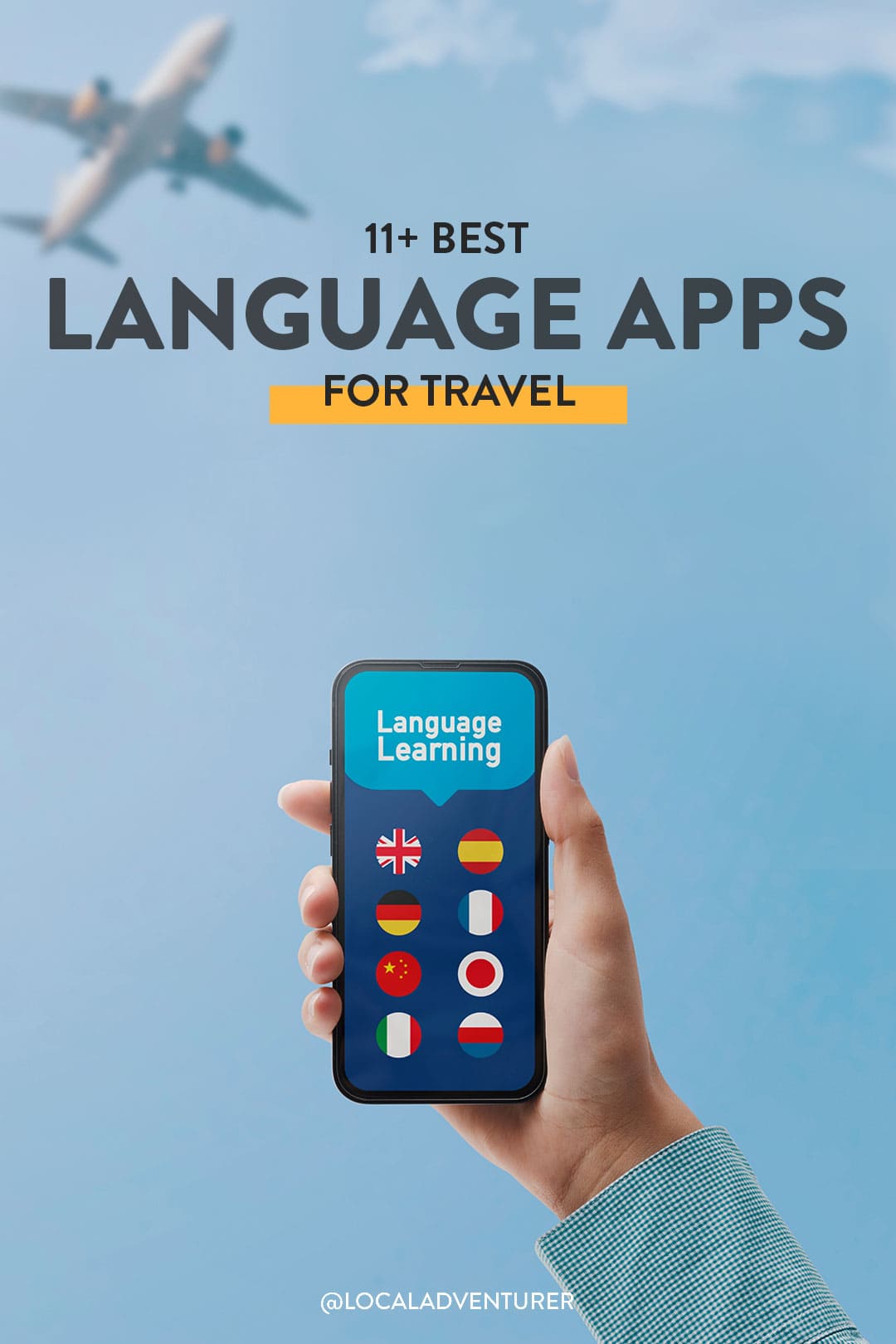 This post may contain affiliate links, where we receive a small commission on sales of the products that are linked at no additional cost to you. All opinions are always our own. Read our full disclosure for more info. Thank you for supporting the brands that make Local Adventurer possible.
Last Updated: April 25, 2023
What to Look for in a Language App for Travel
The best language app for travel can depend on your learning style (audio, visual, etc.), goals, and the language you want to learn. Some are better if you're already somewhat proficient, while others are better at teaching you the basics. Despite different learning styles or goals, here are some basic things to look for in a language app.
Proven Language Learning Methods: The app should use proven language learning methods, such as spaced repetition, immersive content, and gamification.
Quality of Content: The app should offer a variety of content and should cover all aspects of language learning, such as grammar, vocabulary, pronunciation, listening comprehension, and cultural context.
Vocabulary: The app should have a wide range of vocabulary words and phrases, including colloquialisms and slang.
Progress Tracking: The app should track your progress and offer feedback and suggestions to help you improve.  Does it make you want to come back?
Personalization: The app should offer personalized learning paths based on your level and goals.
User Interface: The app should be user-friendly, intuitive, and easy to navigate.
Social Features: Is there a community that is helpful or gives accountability? The app should have social features that allow you to connect with other language learners, such as discussion boards or language exchange programs.  
Value to Cost: The app should be reasonably priced for what they offer.
Is it fun to use? The best way to keep you engaged is a fun app to use.
Do you need wifi or a cell signal to use the app? Can you learn offline (like on the plane or road trip without signal).
In a rush? Try These Translator Tools
Pocketalk Plus Voice Translator – real-time translator for up to 82 languages and dialects with a text-to-translate camera. According to PCMag, the translation software is superior to Google Translate and Microsoft Bing. We can't wait to take it on our next international trip.
Google Translate – free, ios + android
iTranslate – free with ads. Pro has over 100 language options. Their best features, like voice recognition, are blocked unless you pay a fee.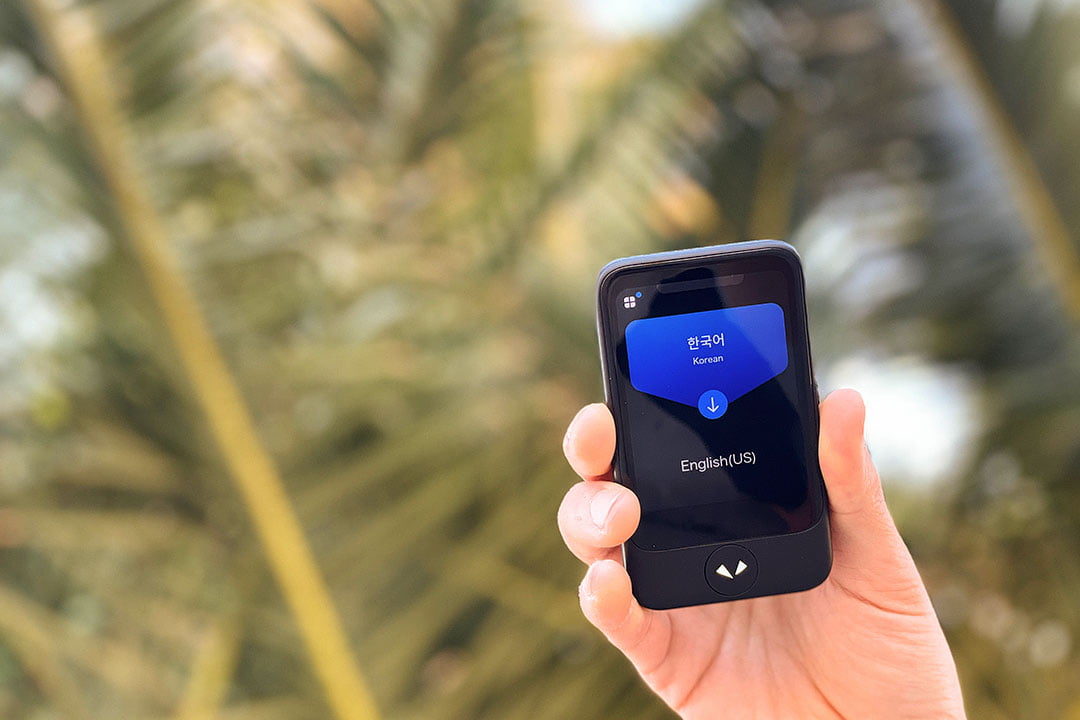 The Best Language Apps for Travel
1. Drops – Best for Vocabulary →
Why get Drops? The Drops language app is similar to a flashcard app but much more gamified, making learning fun. I like that they give you the option to use your native language for translation, or you can match words to illustrations, which is what I prefer. It's best for intermediate learners who want to expand or brush up on their vocabulary.
Method: Drops teaches core vocabulary, new alphabets, and common phrases and is built on a pedagogical framework that combines visual mnemonics, spaced repetition algorithms, and game theory. They use various types of matching and fill-in-the-blanks exercises and recently added a quiz feature.
Cost: $13/mo, $90/year ($7.50/mo), $159.99/lifetime for all languages. They sometimes have 40% or 50% off sales on the lifetime, which is when I bought. Check during Black Friday!
I first got Drops to brush up on my Korean vocabulary and bought the premium to learn multiple languages. I list the most cons for this app because I use it the most and notice all the glitches, but I find it the most enjoyable app to use to learn vocabulary.
PROS
45 languages
The gamified app makes it fun and addictive.
Free to use. You get 5 minutes a day.
Beautiful design. The UI is nice and intuitive.
Short, bite-sized lessons for busy learners.
Tons of learning categories or sections (i.e., French has 232), and they keep adding more.
You can pick the topics you want to learn. 
You can use translation or immersion-based learning methods, where you match words to illustrations.
CONS
No grammar lessons or ways to build sentences. It's straight memorization for both words and sentences. Longer sentences are hard to memorize or retain as a beginner.
No speaking or pronunciation practice with a voice detector, so it's not great for conversations.
There are lots of noticeable glitches. Sometimes when the phrases are too big, they get cut off on the front and ends. Some languages are worse than others. Learning Korean has been great, but Spanish had tons of mistakes where the audio does not match what's written.
Punctuation is inconsistent on the exercises you have to spell out. Sometimes there's punctuation, and sometimes the app asks for a space between the word and punctuation.
Could not load some sound files on airplane mode.
See More: 25 Greatest Useful Gifts for Travelers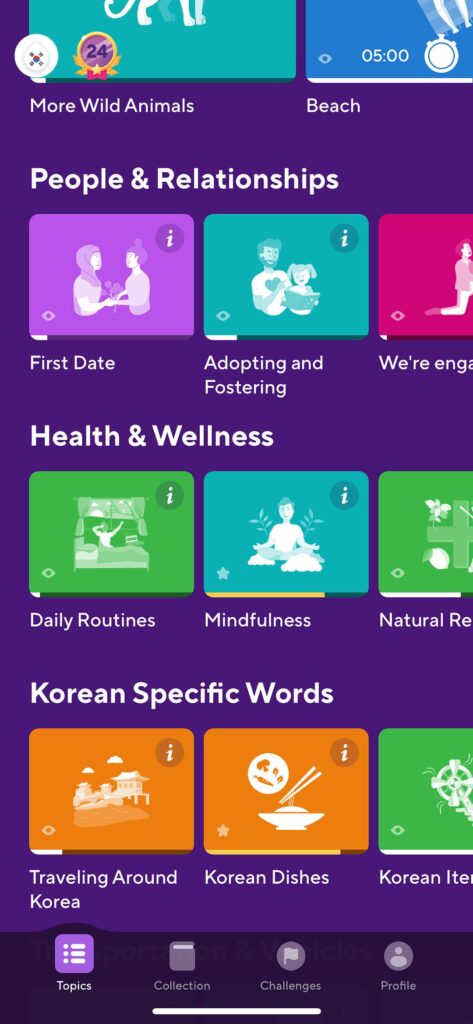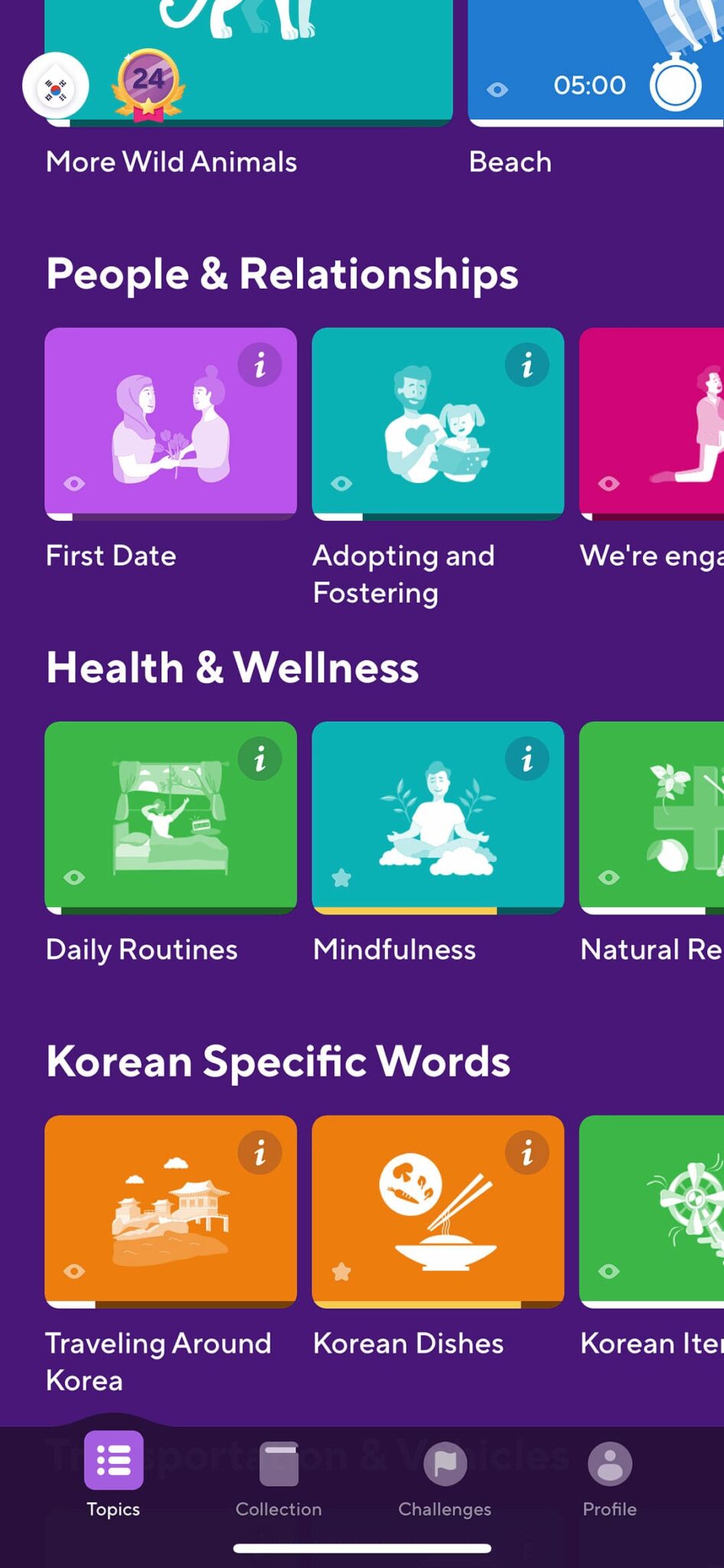 2. Duolingo – Most Fun to Use
Why get Duolingo? The Duolingo app is one of the best language apps for travel because it's so addictive. I can see why it's the most popular language app out there. The gamification aspect had me constantly coming back.
Cost: Free or $6.99/mo for Super Duolingo, No Lifetime Subscription.
Super Duolingo – Unlimited hearts, Unlimited Skips, Progress Tracker, Streak Repair, Mistakes Review, Listening Practice, Speaking Practice, Unlimited Attempts for Legendary Levels.
PROS
Good for beginners.
43 languages (39 for English speakers)
Uses social to connect with friends for accountability to help you stick with it.
Their gamified approach makes learning fun and has streaks you want to keep up with.
Cute design and UI is easy to use and navigate compared to other apps
Free and accessible – Easy to be a freemium player. You start with five hearts but lose one when you make a mistake. Each heart is restored every five hours or sometimes by watching a 30-sec ad.
Uses AI to customize your learning path.
They use different characters with different voices and cadences. Not surprised that I especially like Lily, the emo teen.
CONS
Not great for conversations. Unless you're practicing speaking separately, the exercises in the app aren't enough.
Overemphasis on translation may not be the most effective way to develop speaking and listening skills.
Can't pick the type of content to learn. You're stuck with the current lesson even if it doesn't apply to you unless you test out of them.
Their microphone isn't accurate, and you can get away with saying things incorrectly.
Limited grammar lessons – only the basics, so sometimes sentence structure is confusing. I look up online supplemental resources to explain what I don't understand. Duolingo does a better job than drops at building sentences and giving feedback on grammar, though not much.
Not good offline. If the app is open, you can access the current lesson, which is very short. Some audio was glitchy offline.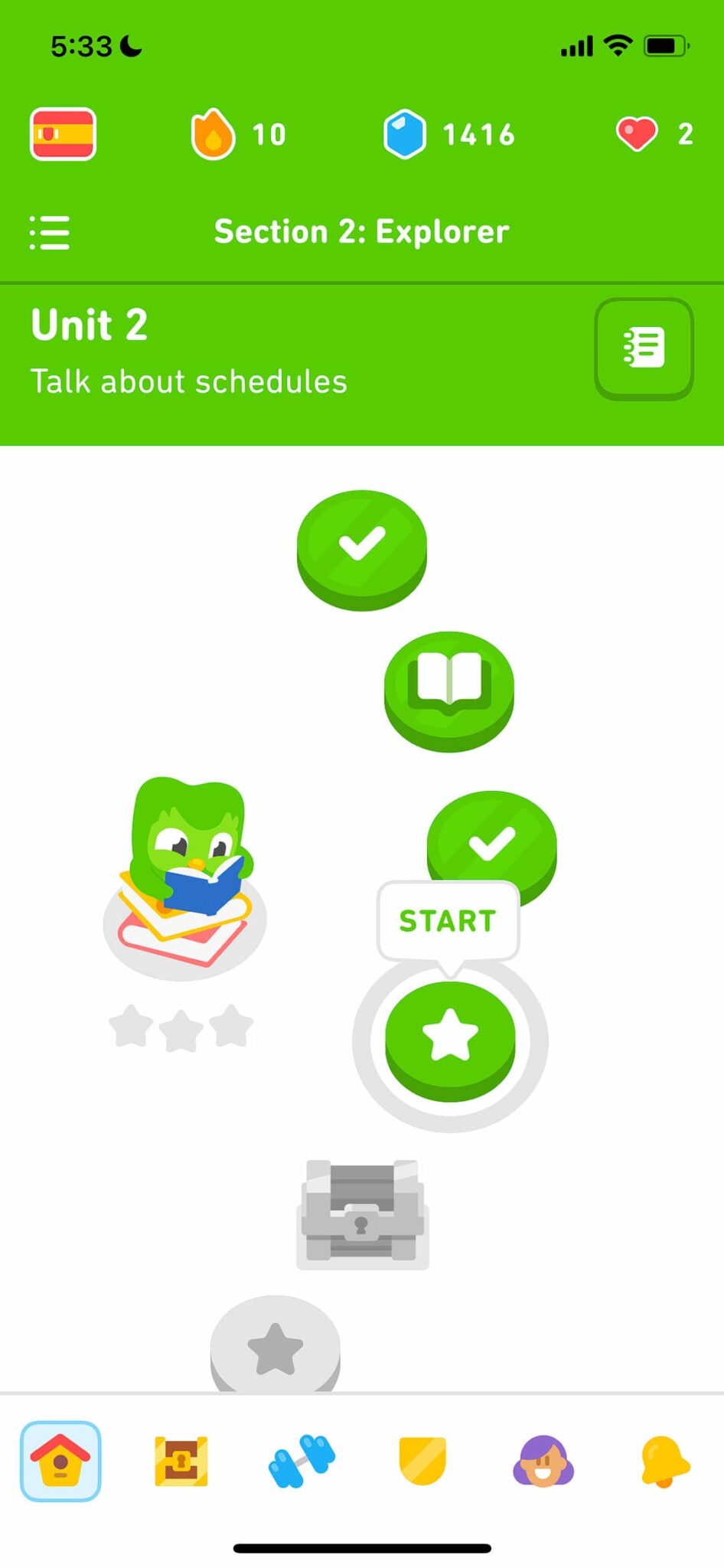 Why get Pimsleur? So far, Pimsleur has been the best for learning conversations. They focus heavily on listening comprehension and speaking and dive right in from the beginning.
When it comes to conversations, both Duolingo and Drops apps aren't great. I was dumbfounded when my friend from Mexico asked me something, and all I could do was cycle through random, useless vocabulary. With Pimsleur, I could have basic conversations right away.
Method: Audio learning with spaced repetition.
Cost: $19.95/mo for one language, $20.95/mo for 51 languages. Purchase Cost: $150/level/language or $575 for levels 1-5 for one language.
I'm currently on Lesson 27 in Spanish Level 1.
PROS
Good for auditory learners.
Emphasis on speaking skills in practical situations, so I saw the most improvement in being able to speak than any other app.
Teaches you some grammar (they do a better job than Duolingo or Drops but not as good as Busuu).
Can download full lessons for offline mode.
Feedback on your pronunciation through Voice Coach (in beta)
CONS
Not good for visual learners
Not much writing practice.
Pricier than other apps.
Limited free version. Only the first lesson is free for all languages to test out.
Feels more like school instead of playing a game. Speed round is as gamified as it gets.
Can't control the speed of the audio exercise. You can skip ahead or back 10 seconds, but it'd be nice to slow it down or do 1.5x speed.
Long format. The 30-minute audio portion could be broken into smaller sections with a voice detector. Once you get into a rhythm, it didn't bother me, but it can feel long for those used to quicker-paced apps.
See More: What Type of Traveler Are You? | My Travel Personality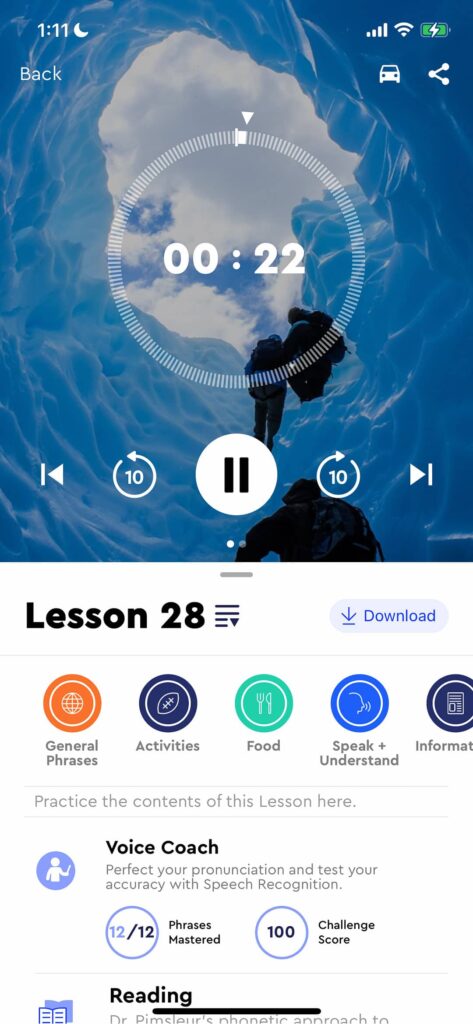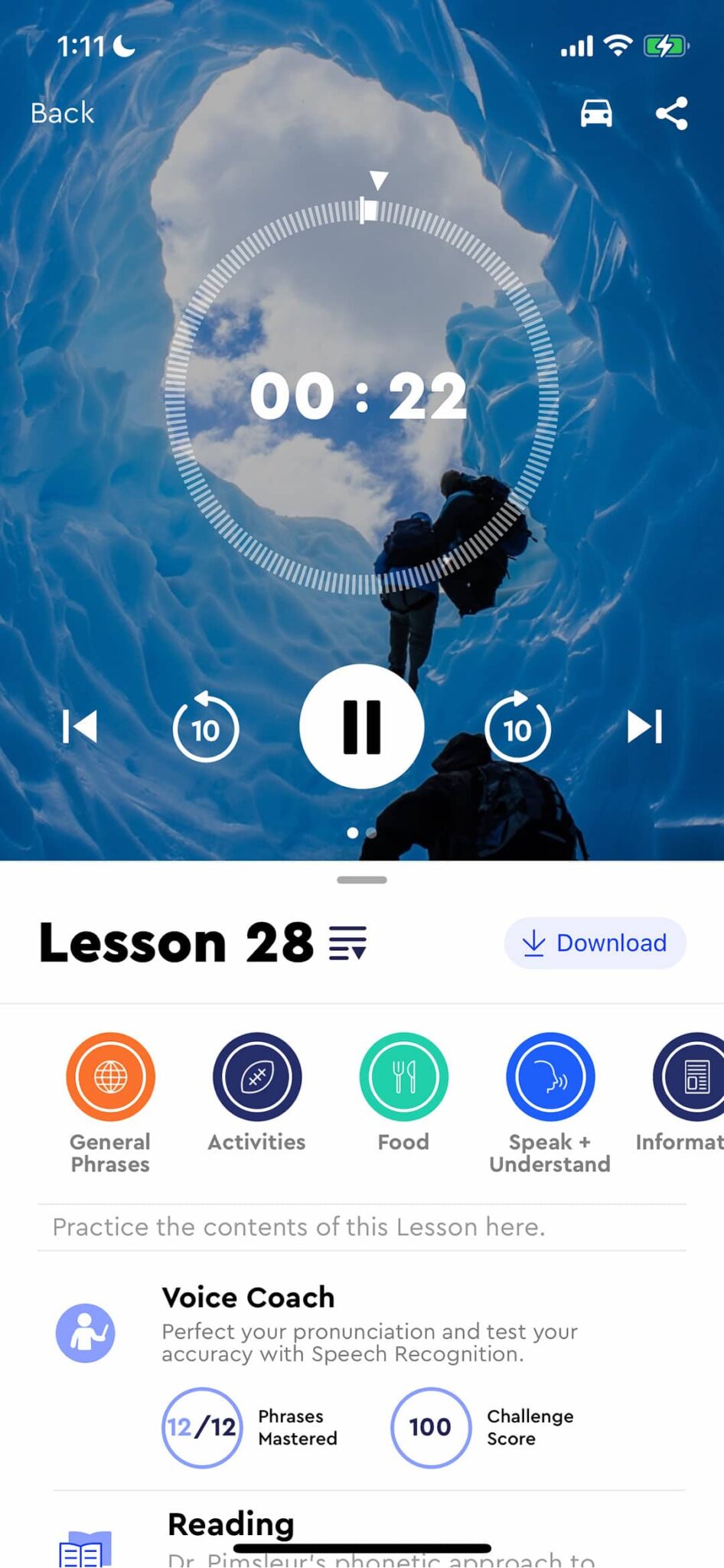 4. Memrise
Why get Memrise? Memrise uses flashcards and games to help you learn new vocab and grammar. They use video of native speakers, so you can hear and see how they speak. Compared to other apps, they speak more naturally and don't enunciate everything in a robotic voice.
Method: Vocabulary focused using flashcards, games, and videos with spaced repetition.
Cost: $8.49/mo for all languages, $59.99/yr ($5/mo), $119.99/lifetime.
Premium membership features – Audio review, Difficult Words (anything you get wrong gets added to it for review), learning statistics, grammar bots, chatbots. (The free version has the Membot communicate chatbot feature where you can reply to 5 messages)
Currently, I'm learning Korean 2, Spanish (Mexico) 2, Japanese 0, and French 1.
PROS
23 languages
Free version offers a lot compared to other apps.
Gamified to make learning enjoyable.
Videos of actual people are more engaging, where you can hear and see them speak with varying cadences. Some of them are like watching TikToks.
Appealing interface though not as pretty as Drops and Duolingo. I do like seeing the sprouts turn into flowers, though, as you learn new words.
Can download full courses for offline use.
CONS
Limited grammar and context explanation.
Not enough speaking and listening practice.
Not as user-friendly. Had to poke around to figure out how it works.
Video quality can depend on the person since it can be user-created.
The Explore feature needs work. The camera feature recognizes basic things like cat or table but was confused with objects like cactus.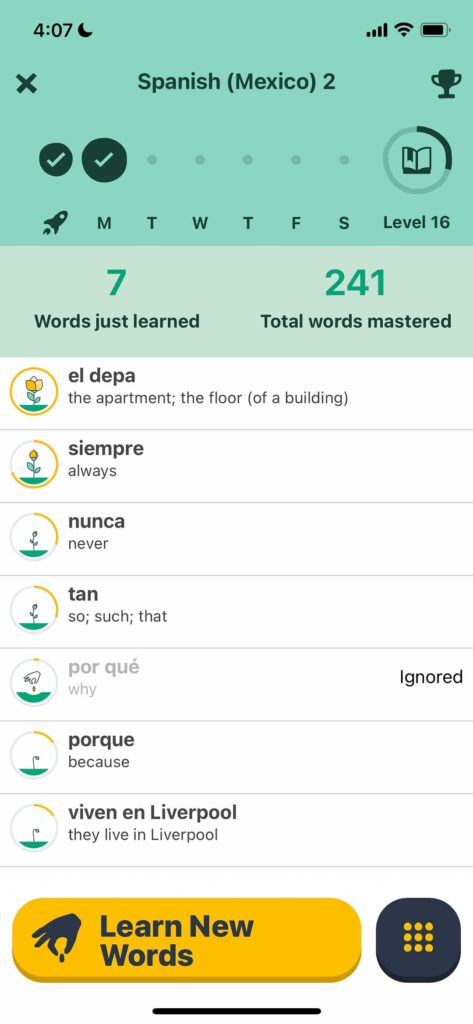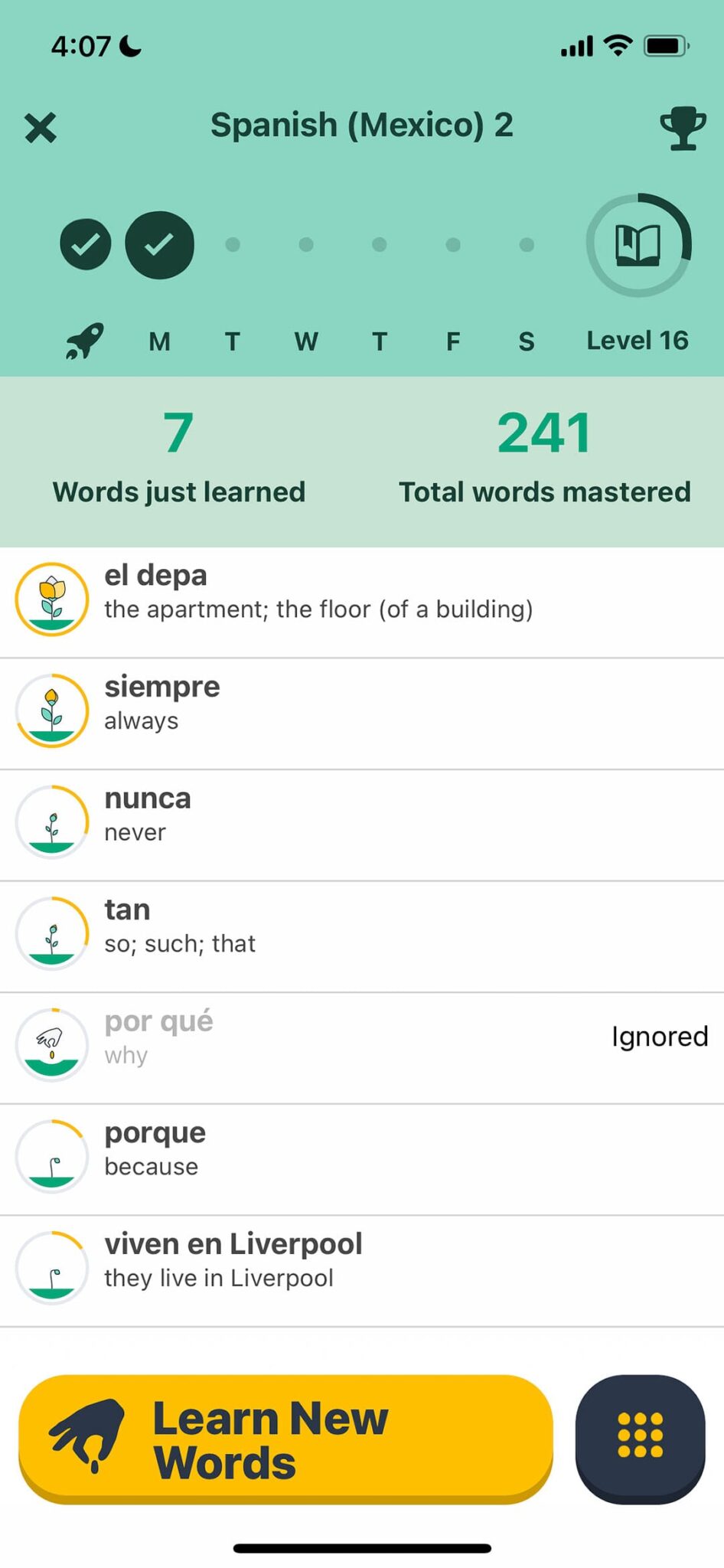 Why Get Busuu? Busuu is one of the best language apps for travel. Their biggest strength is its community, where you get direct feedback from other Busuu users that are native speakers. You get a sense that the community is there to help each other learn. Of all the apps here, their grammar lessons and context insight are the best, making you more well-rounded.
Cost: Free with ads or 83.40/yr (6.95/mo), 50.70/6 months ($8.45/mo), $13.95/mo for one month. Premium Plus Cost – $13.99/mo for 12 languages.
I'm learning Korean and Spanish on this app, and I love the community aspect of Busuu. Let's be friends!
PROS
Social community is one of their biggest strengths.
Bite-sized, interactive lessons with quizzes, games, and listening exercises.
Grammar explanations are detailed and intertwined into lessons, so it's not overwhelming. It helps you understand the language at a deeper level.
Robust AI-based grammar review. 
Free access to everything with ads.
Streaks and leaderboards for accountability and to help build up a habit.
Speaking and writing practice with native speakers helps you gain confidence in using the language in real-life situations.
Personalized learning plans based on your goals and proficiency so you can learn at your own pace. You can test to level up too.
Can get certifications via McGraw Hill Education. on the paid version. However, it's not an accredited certification, so it works for resumes but not for schools.
CONS
Only 13 languages – English, Spanish, French, Dutch, German, Italian, Portuguese, Chinese, Russian, Japanese, Arabic, Turkish, and Polish.
Less speaking practice compared to Pimsleur.
Pricier than other apps.
They don't use all native speakers (ie, Korean had some non-native speakers)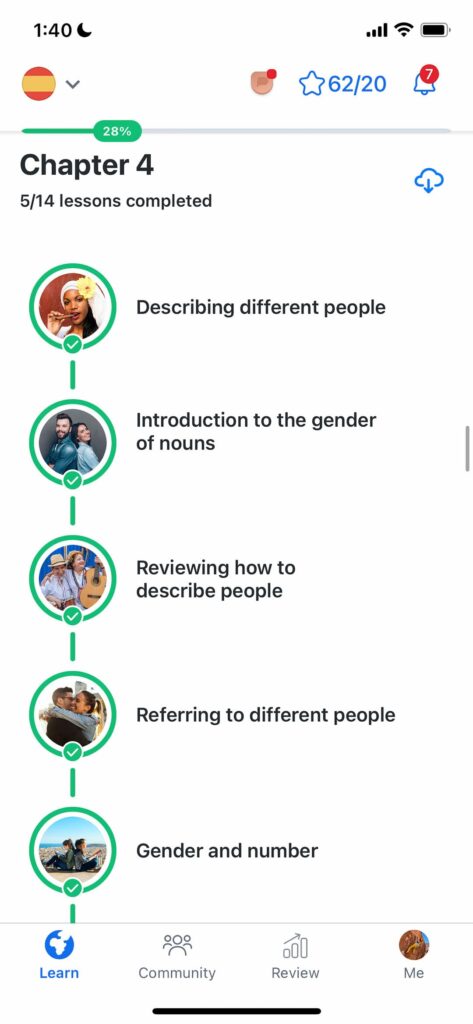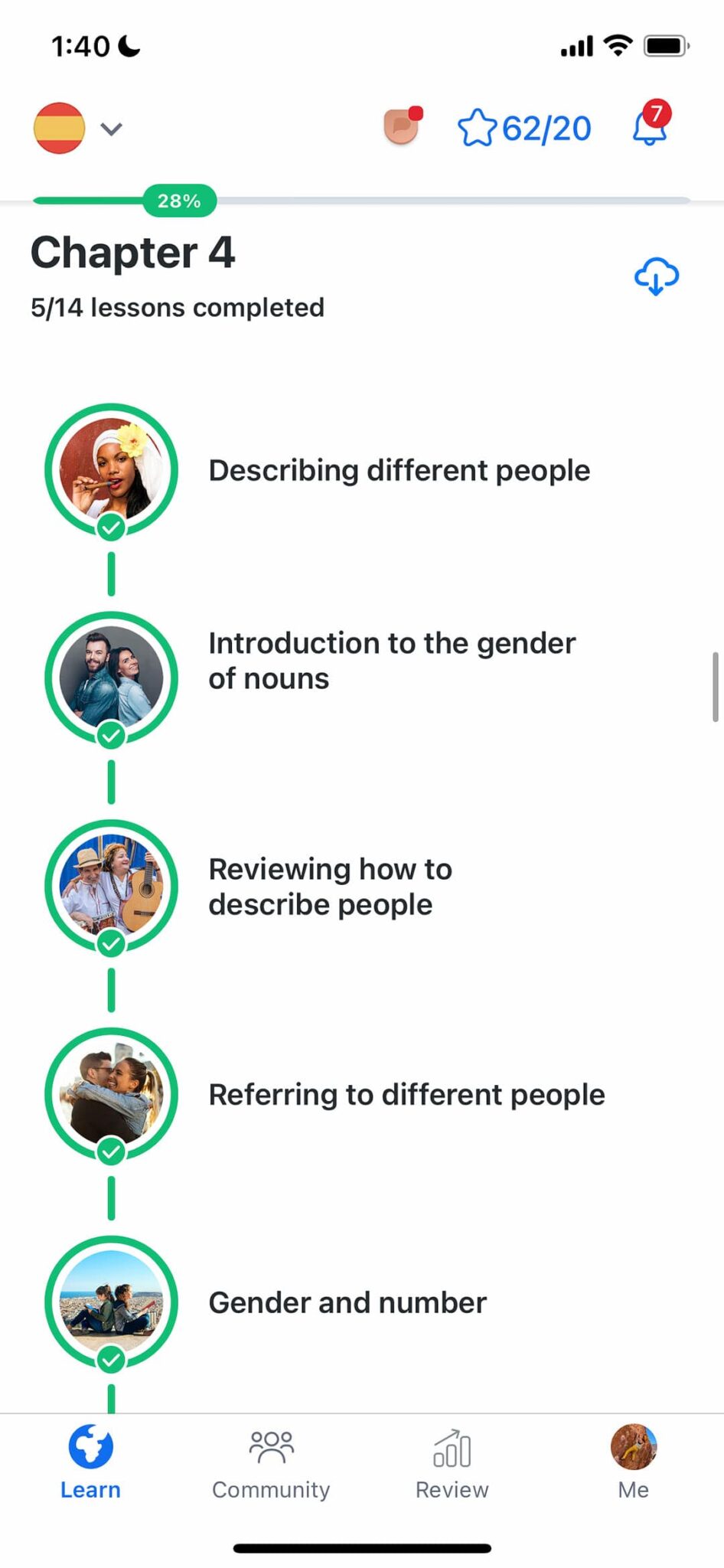 Why Use Lingopie? It's a fun way to learn a language while watching popular shows and movies. Read the subtitles and click on a word or phrase to learn the meaning. You can't learn a language with this app only, but this is a great supplemental tool for those who want more listening and comprehension practice.
Languages: Spanish, French, German, Italian, Portuguese, Russian, Japanese, Korean, and English.
Cost: $199/lifetime subscription with nine languages, $71.88/yr ($5.99/mo), $36/3 months ($12/mo) with one language.
PROS
Engaging content using shows and movies exposes you to real-life scenarios and cultural references. Help with memorization and familiarize yourself with phrases and conversations.
They have thousands of hours of subtitled content in any genre.
Lots of listening and comprehension practice.
Adjust the Speed of the video to 0.5x at the slowest.
Interactive exercises like quizzes, fill-in-the-blank,
Nice design and UI.
You can learn different dialects. For example, you can watch videos from various Spanish-speaking countries.
CONS
Not many languages, but they are continuing to add them. Korean is one they added.
Not a learning course, so you will not get exercises or lessons on grammar, speaking, or writing practice.
Limited free content. They have a 7-day free trial.
Cost is relatively expensive compared to other apps.
They don't have a lot of popular shows. Wanted to see more popular K-dramas, but we did enjoy watching Seventeen's short-form videos.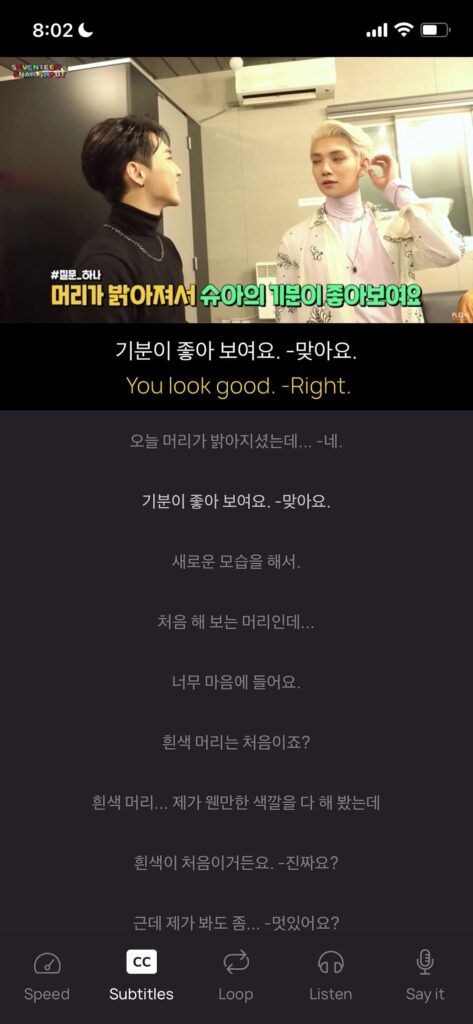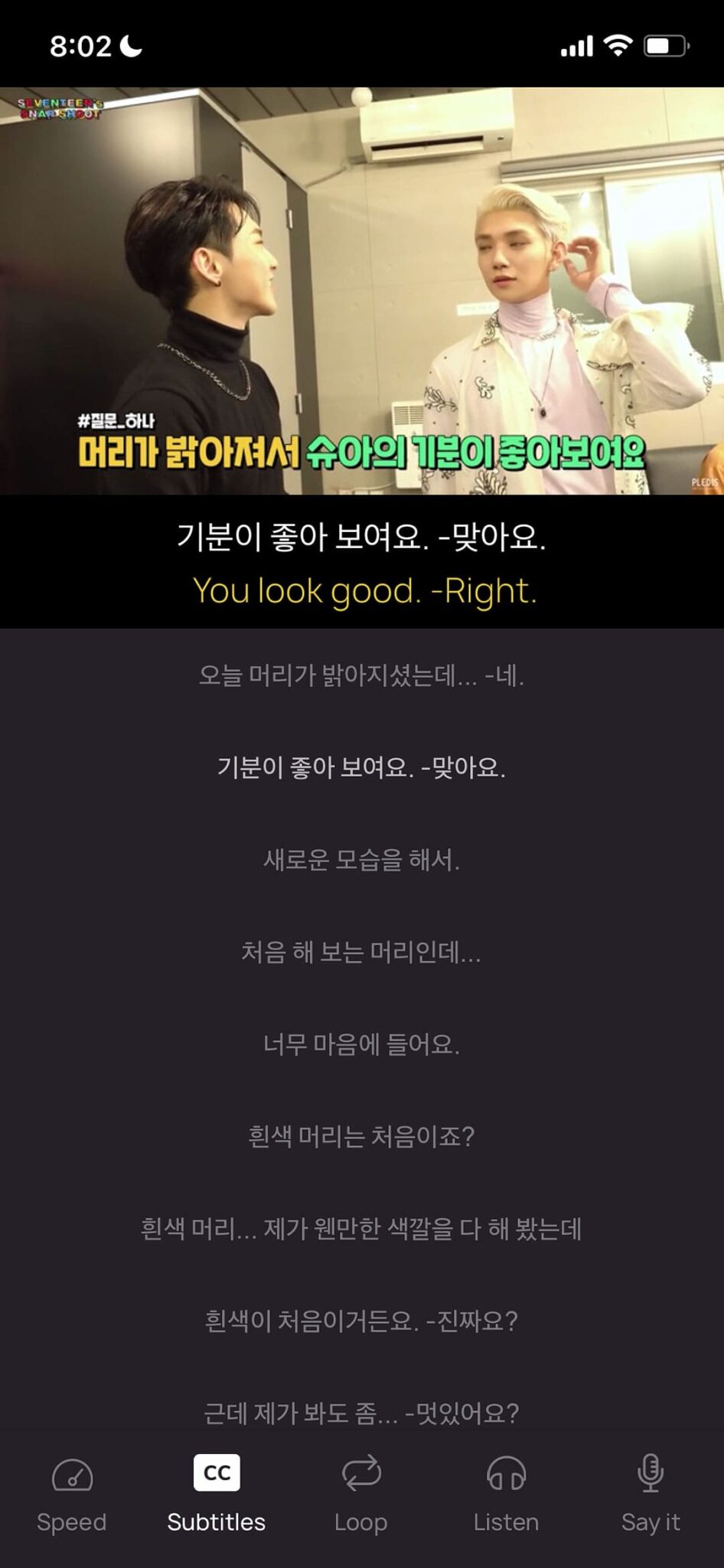 Why get Mosalingua? Mosalingua is a flash-card app that is very robust. It has all the content you could possibly want to learn. My favorite feature is adding your own words and phrases I come across from shows, books, or other content I consume.
Method: Spaced repetition to help you remember new words and phrases at gradually increasing intervals to help you reinforce knowledge over time. They teach you to retain information in your long-term memory by spending the least time.
Cost: $9.49/mo, $59.90/yr ($4.99/mo)
PROS
Very robust with a focus on practical language skills for real-life situations, conversational, vocabulary, and grammar. Everything can be added to flash cards.
You can add your phrases and words to new flashcards.
Active recall without hints helps you retain information better.
CONS
Can be overwhelming with the sheer amount of information.
UI is outdated. It's not intuitive, and it's hard to figure out how to navigate the app without any instructions.
Not gamified, and you need to be self-motivated.
Limited languages compared to other apps
Limited access to free content; only a free trial.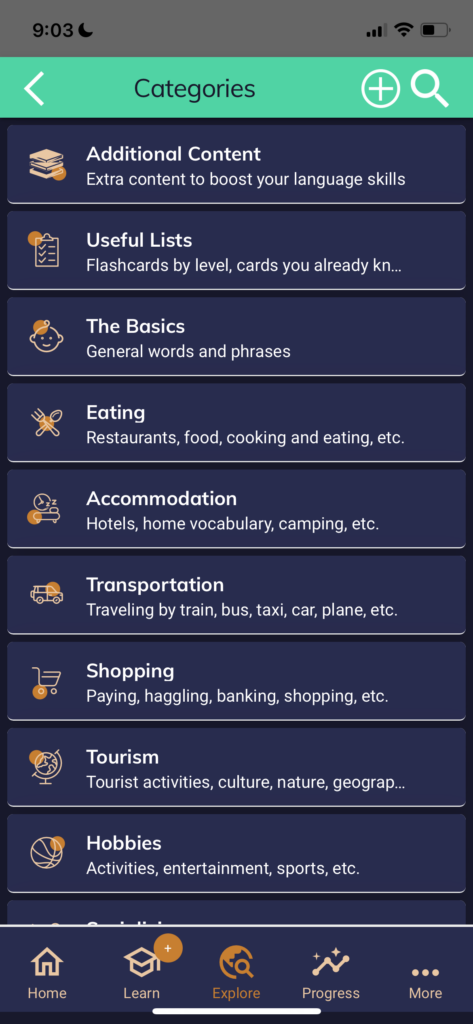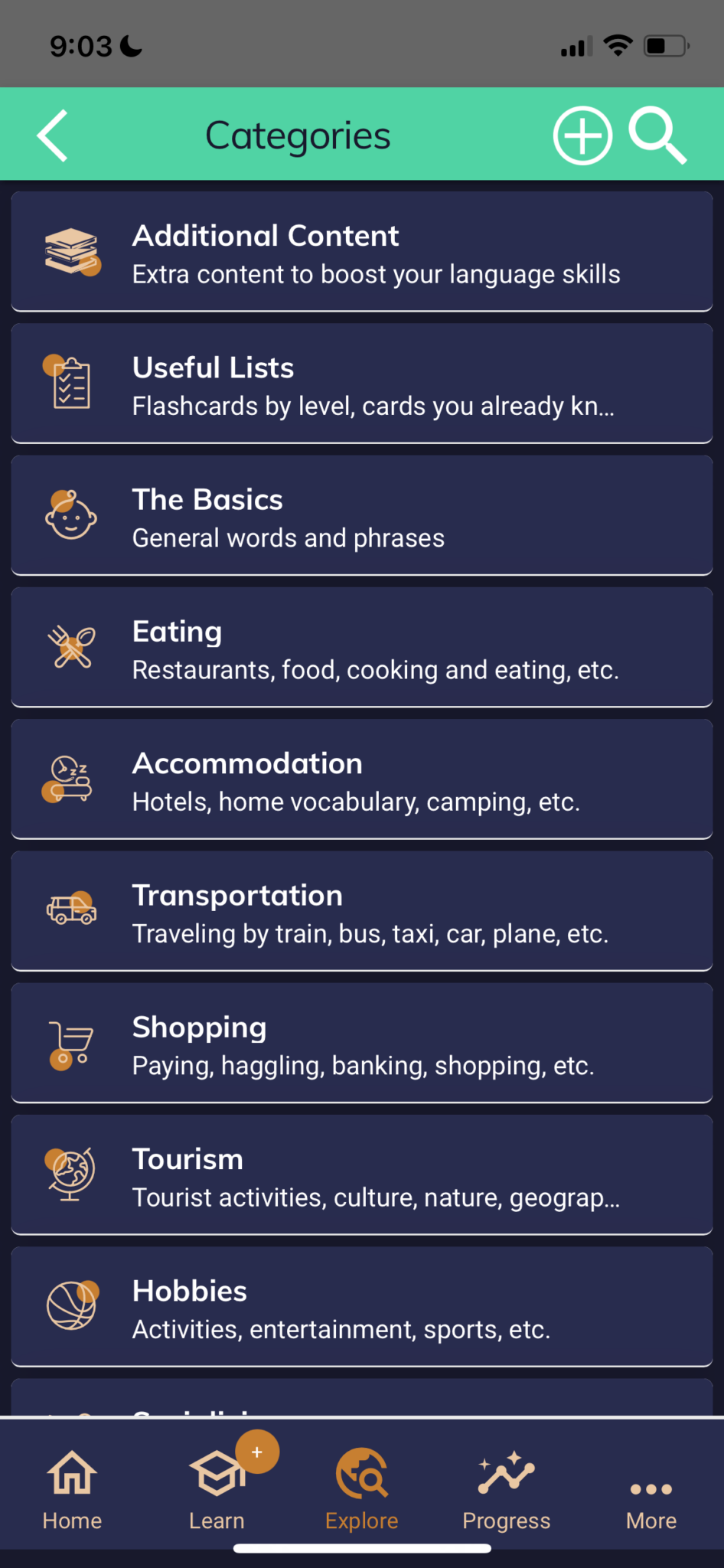 Why get Mondly? There's a heavy focus on practical conversational skills for real-life scenarios.
Cost: Free daily Lesson or 9.99/mo one language, 47.99/year ($3.99/mo), $1999.99 lifetime access (currently on sale for $89.99)
I'm on Level 9 and do the free daily lesson for Spanish Beginner and Korean Advanced. Other apps do a better job and offer similar features.
PROS
Free daily lesson
Teaches you practical phrases you will use in real-life scenarios.
Like the way they present conjugation by clicking on the word for translation vs. having all separate slides. 
Interactive exercises, including quizzes, games, and chatbots
Speaking and writing practice with speech technology and native tutors.
Gamified exercises with points for finishing classes.
CONS
Not all speakers are native. For example, in Korean. It's harder to tell for other languages when I'm not a native speaker.
Sometimes glitchy. Found some errors in Korean language while typing.
Limited grammar explanation and more focus on vocabulary.
Does not teach languages well that follow different scripts like Japanese, Korean, etc.
Limited content – not as in-depth as other apps.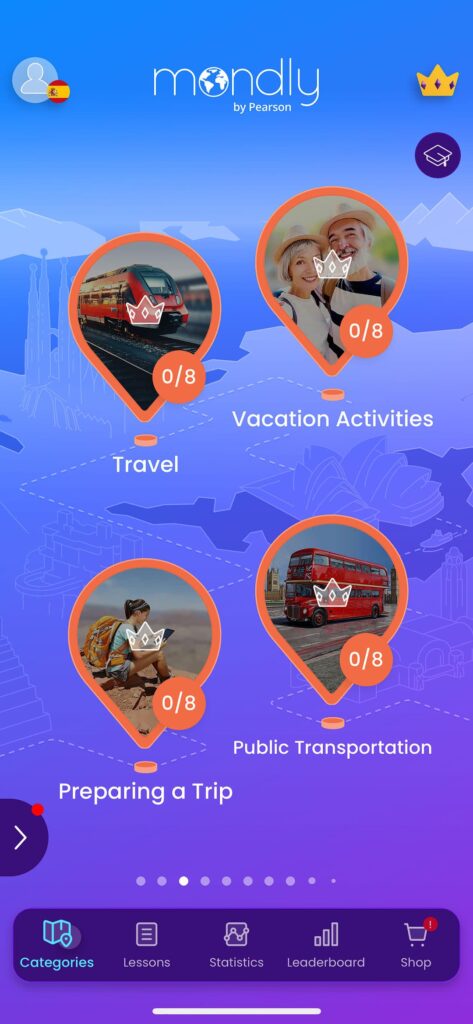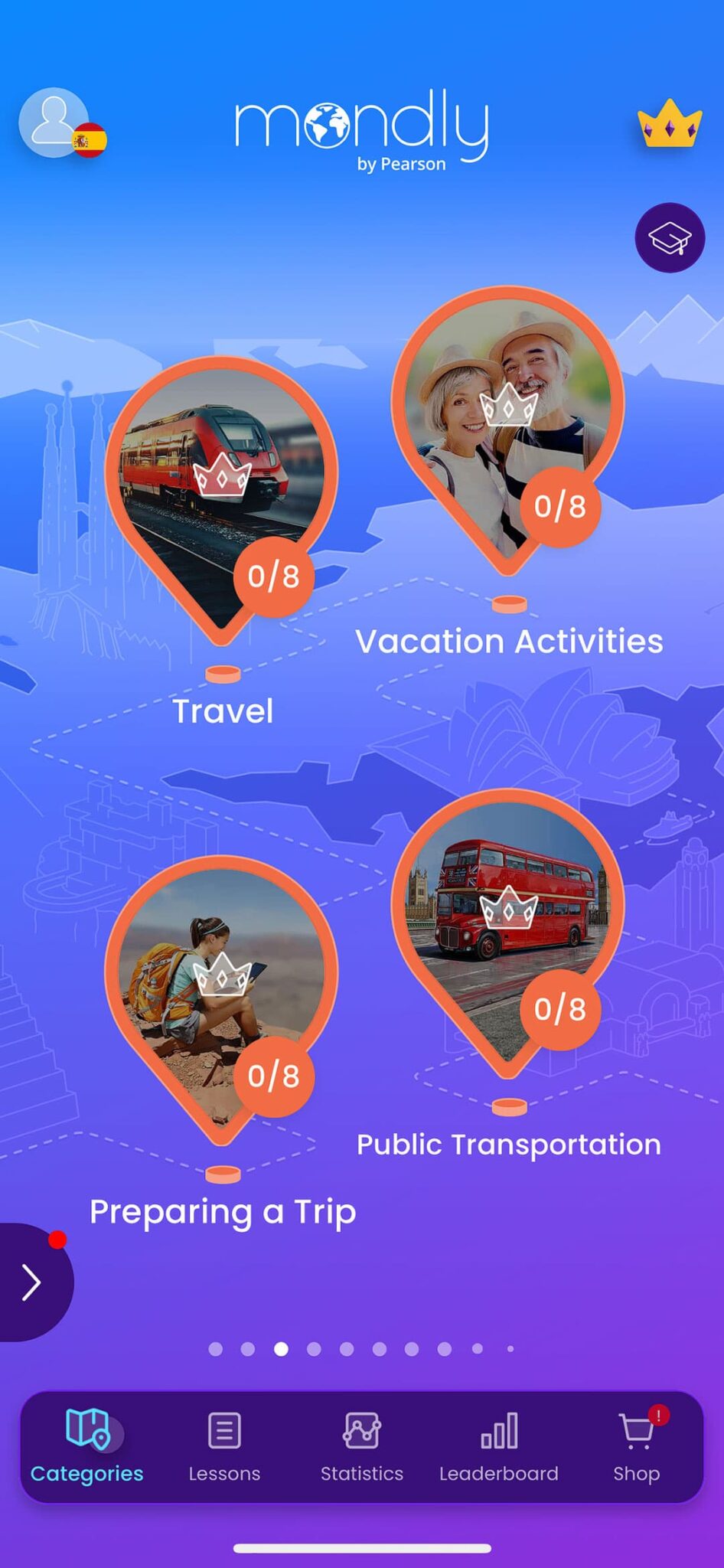 Why Get Rosetta Stone? Rosetta Stone is OG and still makes our list of best language apps for travel because of its unique immersive approach, pairing words with images. It's how kids first learn a language and can feel much more natural and intuitive than using translations. I end up speaking much slower when I'm translating into English first.
Cost: $35.97/three months (11.99/mo) for one language, $143.88 for lifetime single language, $199 for a lifetime single language, $299.00 lifetime with 25 languages.
PROS
20 languages
Immersive language instruction is effective. It feels more intuitive the way you learn sentence structure. I like skipping translation.
Speaking practice with their Truaccent technology that first breaks down the pronunciation into syllables and gives immediate feedback on your pronunciation.
Comprehensive courses covering grammar, vocabulary, pronunciation, and conversations.
Interactive exercises like games, role-playing, and speech recognition make it more engaging.
CONS
Outdated UI feels older and has not made any new updates to adapt like modern apps.
Limited cultural context and insights.
Repetitive exercises can be boring.
Limited free access. Only the first lesson is free in each language.
See More: 25 Greatest Useful Gifts for Travelers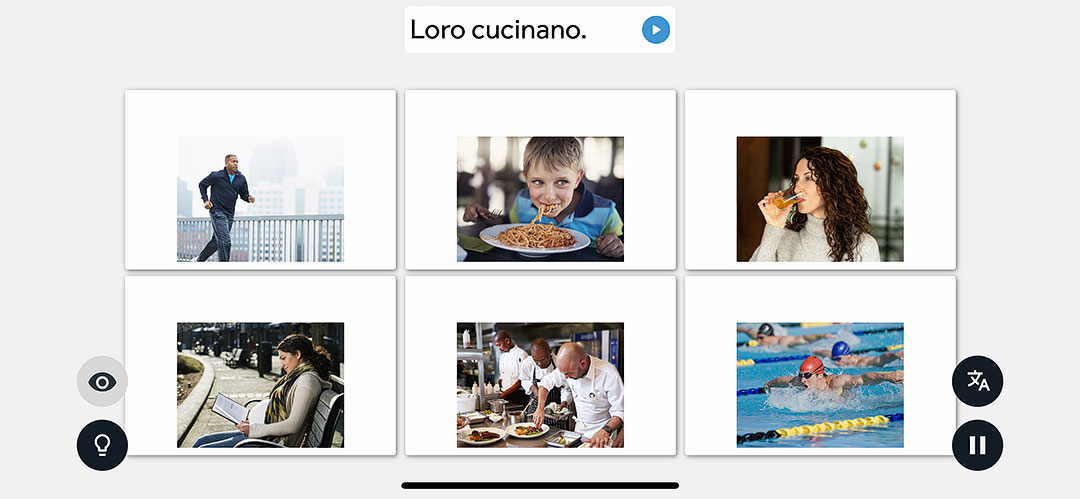 what are the Best language apps for travel? Conclusion
No single app above can get you to fluency or will give you passing grades in language proficiency exams. However, you can use a combination of these apps to get by for travel.
We recommend starting with the free versions of Busuu, Drops, Duolingo, and Memrise. If you have used one of these apps consistently for over a month and enjoy it, it's worth splurging on the premium version. For example, I used the free version of Drops for six months before paying for Drops Premium.
When you're serious about speaking a language, Pimsleur had the most listening and speaking practice and gave me the most confidence in speaking. Lately, I've mainly been using Pimsleur to learn conversational skills, Drops to keep my streak going, and Busuu because the community is so supportive and active.
See a price comparison here.
I'm also still testing out a few more apps, which I will add later!
Which of these are the best language apps for travel for you? Which language apps have you tried?
Did you enjoy this post? Pin it for later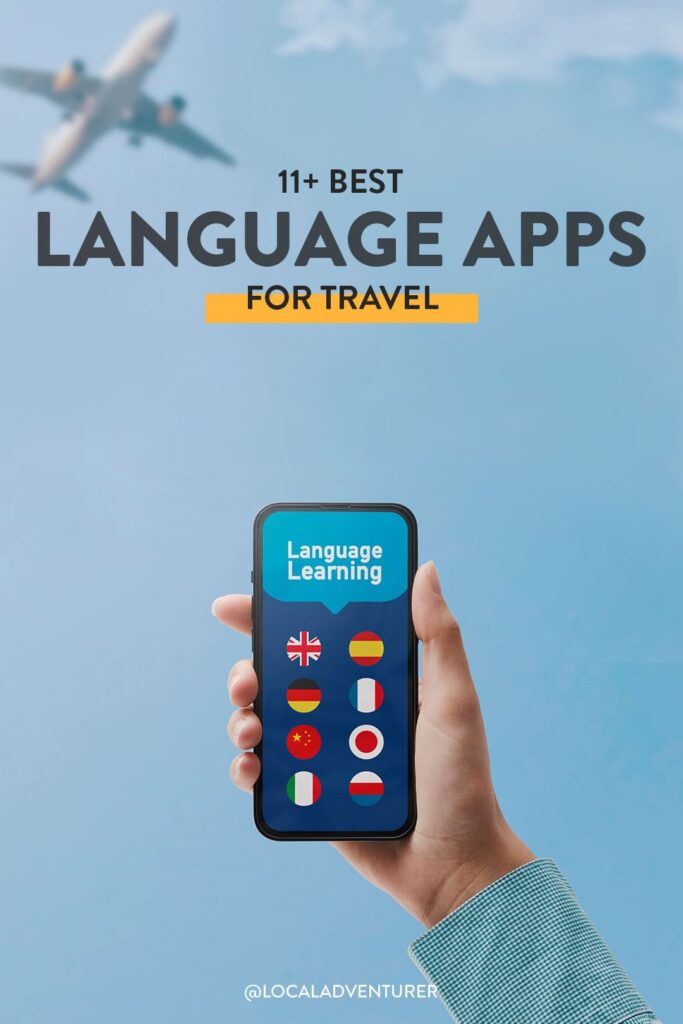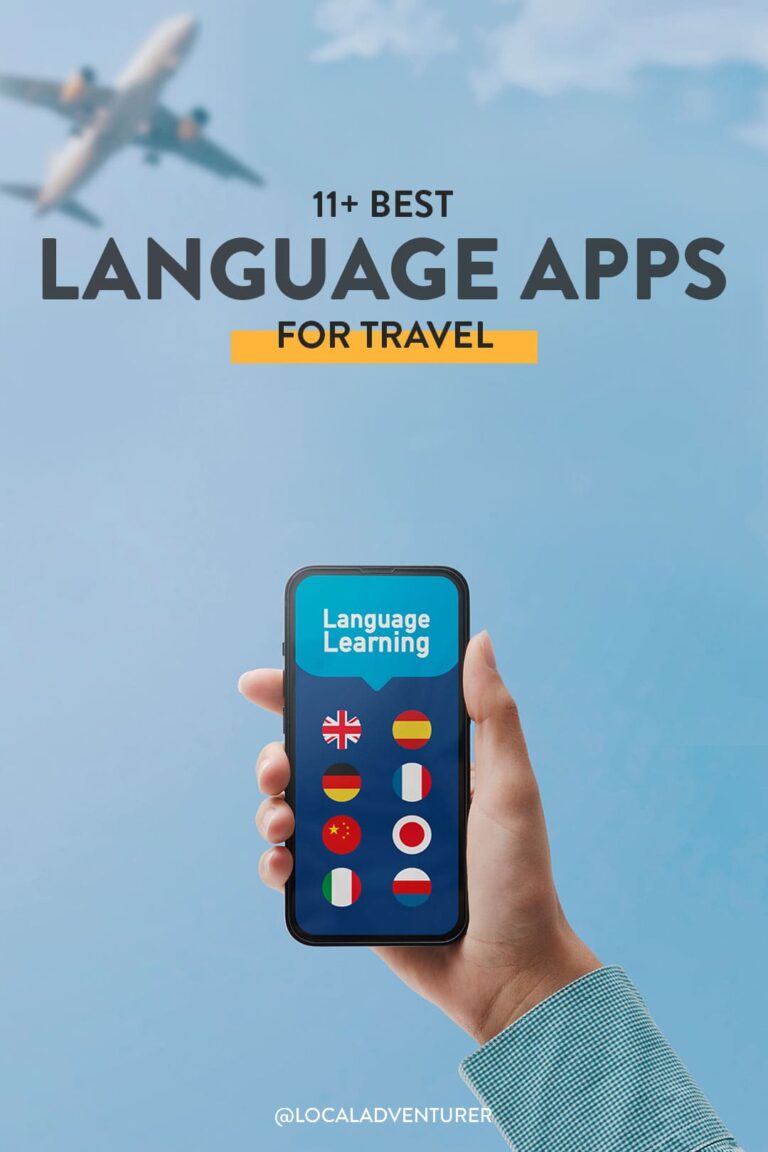 SEE MORE GIFT GUIDES FOR
⟡⟡⟡⟡⟡
"Discovery consists not of seeking new lands but in seeing with new eyes" – M. Proust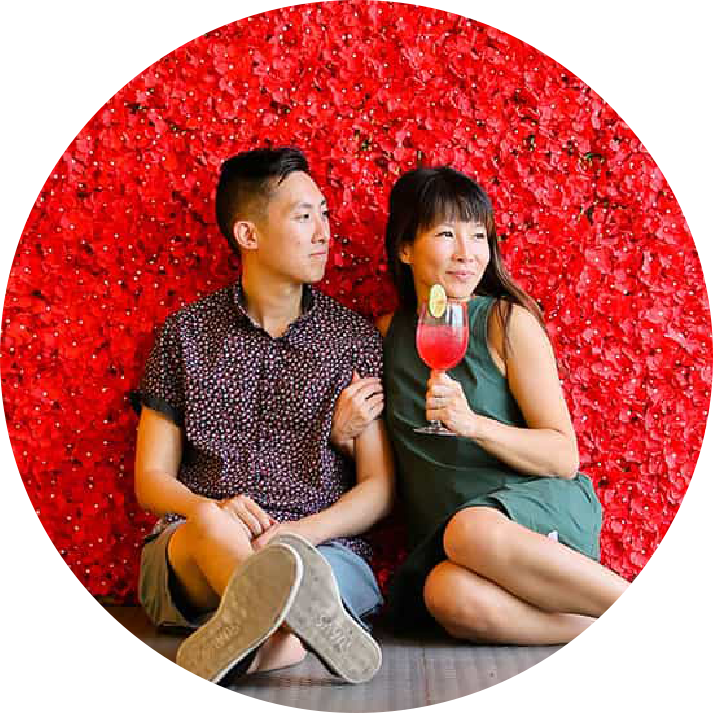 Esther + Jacob
Esther and Jacob are the founders of Local Adventurer, one of the top 5 travel blogs in the US. They believe that adventure can be found near and far and hope to inspire others to explore locally. They explore a new city in depth every year and currently base themselves in Las Vegas.
Follow along on Instagram (E + J), YouTube, TikTok, and Pinterest.