Albert Einstein once said, "Look deep into nature and then you will understand everything better." When I traveled to Grand Tetons National Park in the summer of 2018, I gained a better understanding of what this quote meant. 
Referred to as the 'Mountains of the Imagination' this beautiful park stretches over 485 square miles and combines extraordinary wildlife, mountain lakes, and alpine terrain. 
The Teton mountain range stretches 40 miles long, and although it has eight mountains over 12,000 feet, it is most famous for its three highest peaks: Mount Owen, Teewinot, and its namesake, Grand Teton, the tallest in the park, at 13,775 feet. French explorers on early expeditions described this view as 'troise tetons' or 'three breasts,' giving this park its unique name.
How to Get to Grand Tetons National Park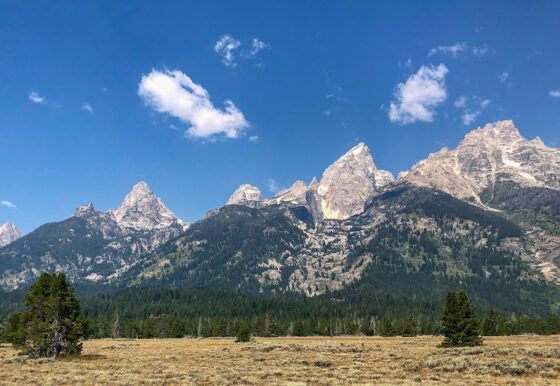 Located only ten miles south of Yellowstone National Park, Grand Tetons, while significantly smaller, offered overwhelming views and a lack of crowds. The intimate and isolated experience slammed me directly into the present, and connected me with nature in a way that was incomparable to any park I've visited before. If you're planning to travel to Yellowstone, I highly recommend adding a few days in Grand Tetons onto your trip. This will be a road trip you won't forget.
If Grand Tetons is the only park on your list, the fastest way to arrive is through Jackson Hole Airport (JAC), in Jackson Hole, Wyoming. The airport is one hour from Yellowstone's south entrance and is actually located inside Grand Teton National Park–the only airport in the United States to hold this unique status!
Best Hikes in Grand Tetons National Park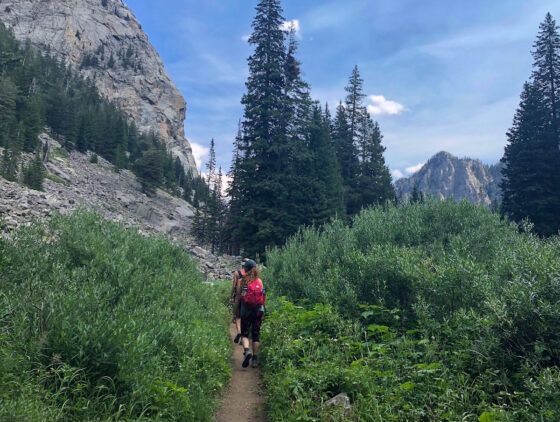 Unlike its neighbor, Yellowstone, which can mostly be explored by car, Grand Teton is meant for those ready to get deep into nature. With over two hundred miles of trails, hikes range from easy to strenuous, with elevations increasing up to 11,000 feet high. 
If you're feeling really adventurous, the park offers a handful of complex trails that take you deep into the wilderness. But keep in mind, you'll need to stay in the park overnight for these hikes so make sure to get a backcountry permit. 
While I definitely like to push my limits when it comes to hiking, I'm not quite at the overnight point. Not only does it require a significant amount of supplies that will certainly make your hike more difficult, you have to develop the right mindset. The park is incredibly isolated and you need to be prepared for the solitude that comes with being in the middle of nowhere. Check out these tips if you're interested in taking the adventure! 
If you're less keen on backpacking, you can experience plenty of the park in a single day. The cool part about Tetons is that even the easier hikes have outcrops that offer a variety of viewpoints and can make the hikes harder. You can also shorten the more difficult hikes, making them more accessible. 
There are over fifty hikes in the park, but a lot of them coincide with one another. This is great if you have limited time in the park, as you can choose which trails to add onto your main route. Because I was in the park for only two days, I wanted to make the most of my time. on the first day, I chose Jenny Lake, and added more trails on. On the second, I chose Death Canyon, which explores a completely separate part of the park. Both of these routes offer a range of activity levels, elevation, and add-on trails, making them an ideal start to your hiking adventure!
If you only have a short time to visit Teton, this hike combination below will allow you to see different parts of the park while offering a variety of beginner, intermediate and advanced options.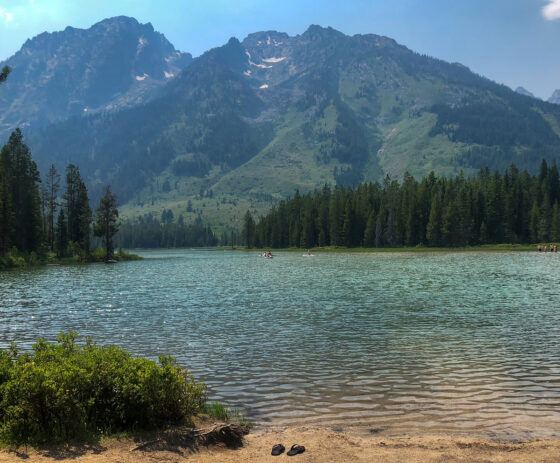 Jenny Lake is about as touristy as Grand Tetons gets, and considering I visited in the busy summer months, I was shocked how few people I actually ran into. The visitor centers may look crowded, but it's an illusion. Once you get started on the hike, you'll find it's rare to run into people. The actual lake is a centerpiece of the park, and offers a handful of trailheads, ranging from easy to the more difficult backwoods overnight camping trails.
If you'd like to skip the loop trail and head straight to Hidden Falls or Inspiration Point, a private boat shuttle will take you across Jenny Lake and drop you off by the South Cascade Creek Trail, which is one mile from Hidden Falls. It's also possible to take the boat one way.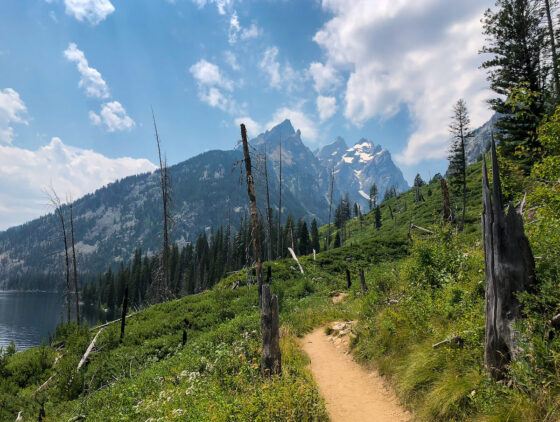 I chose the Jenny Lake Loop as my first hike in the park. This 7.5-mile loop, with an elevation gain of 668 feet, is considered moderate and takes an average of three to five hours to complete in full. The elevation gain is low relative to other hikes in the park, making it an easier one for children or the elderly to complete. 
Although it's a full loop, you can always turn back if you get tired. You'll also be able to see the three peaks, including Grand Teton, on this trail. There are a handful of outcrops along the way, separate trails that you can add on for an extra level of difficulty and that also offer an additional point of view of different areas of the park. 
Hidden Falls is one of these add-on trails. At only 1.1 extra miles, it has an elevation gain of 187 feet, and leads to a 100 ft. cascading waterfall. The trail offer views of Jenny Lake and Jackson Hole. If you'd like to make it part of a full-day excursion, take the Jenny Lake Loop Trail and break off on the west side to reach Hidden Falls before finishing the loop, making the combined trail closer to 8.6 miles. To shorten the trip, you can follow the Hidden Falls trailhead, which will bring you around Jenny Lake on the southern shore, the distance equaling 4.8 miles. 
If you'd like to take this hike a step further, you can continue on past Hidden Falls for another half a mile, where you will reach Inspiration Point. The out crop peers out over Jenny Lake and offers views of Cascade Canyon and the three tallest peaks in the park–Mount Owen, Teewinot, and the Grand Teton, known as the Cathedral Group.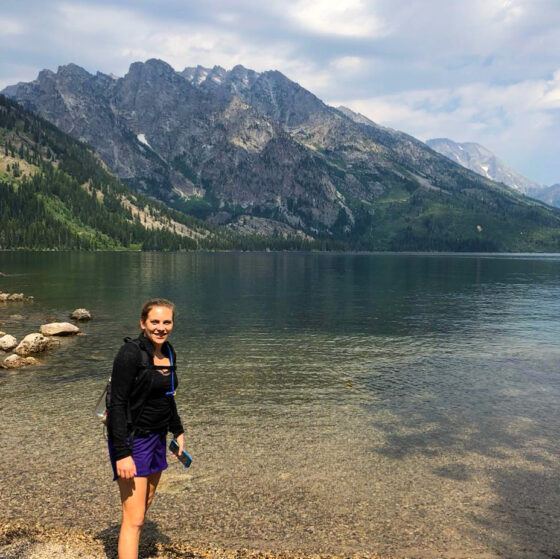 Because I wanted to make this trail an all day adventure, I not only added Hidden Falls and Inspiration Point, but also took a detour and included String Lake onto my hike around Jenny Lake Loop. This is a 4.4 mile loop, with an elevation gain of 291 feet. Although this hike can be done on its own, it was an enjoyable addition to my day.
If the name doesn't say it all… Now before you immediately say: "Nope, not for me," keep in mind that you can modify the difficulty level in Grand Tetons by shortening your hike. While the full length of this trail is meant for overnight backpackers, you don't have to commit to that in order to experience the beauty this hike offers. The easiest portion of this hike is the Phelps Lake Trail, and if you're feeling adventurous you can continue on up the mountain where you will get sweeping views of the lake. At any point, if it gets too hard, you can turn back, however, if you're up to it, I recommend continuing hiking up to the patrol cabin, where the elevation plateaus into a breathtaking field of wildflowers with spectacular views of the valley below.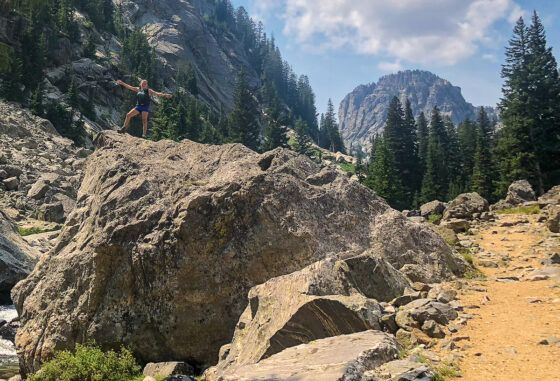 I made this the second of my trip, and although I thought Jenny Lake was pretty, this was something else all together. There are alternative options along this route that will make it easier if you're nervous. And if you're like me, and your feet swell up from too much walking, I highly recommend investing in a pair of hiking sandals. I did this entire hike in a pair of Tevas and the one other person I crossed on my route was wearing the exact same pair!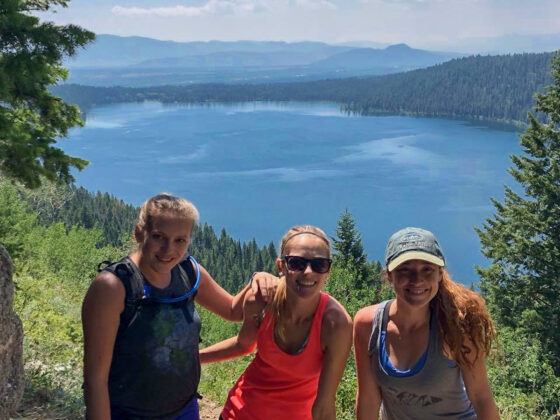 Starting at the Death Canyon Trailhead, this 7-mile moderate hike will take you uphill through thick pines and aspens to the Valley Trail junction. Turn left toward Phelps Lake and in one mile you'll reach the Phelps Lake Overlook, a panoramic viewpoint, 567 feet above the lake. Continue on until you reach the Death Canyon Trail junction at 1.7 miles. 
Turn left and the trail will curve down into the valley where you can relax on a stretch of sandy beach alongside the north shore of the lake. If you'd like to call it a day here, you can turn back and head home, but if you're in for a bit of a harder adventure, continue on the trail and you'll officially reach the Death Canyon Trail.
(An alternative route, The Phelps Lake Loop, will take you around the south side of Phelps Lake, and avoid Death Canyon all together.)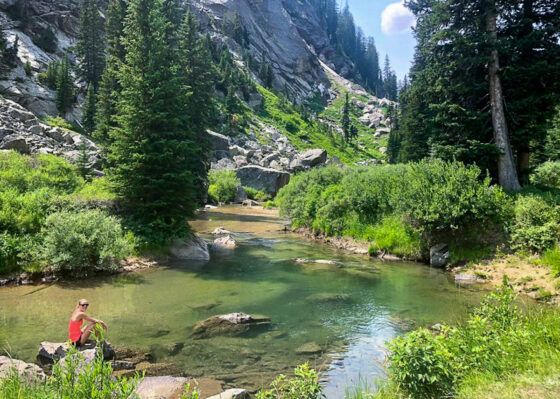 I'm so happy I continued on, because this was the hike that made this trip magical. I'm not going to lie to you, friends: It was hard. 
The Death Canyon Trail, a 9-mile hike, has a 2,093 elevation gain,. The trail, which was deserted when I visited, weaves through forest and across rocky terrain. It has some steep sections where hiking poles would have been helpful. My hamstrings tightened, my lungs screamed, but the beauty around me overwhelmed the physical pain. 
Eventually the trail will plateau, and you'll reach the patrol cabin, a ranger post, that was empty when I arrived. You probably won't even notice it, because you'll be too busy catching your breath–and only partially because you just climbed up a mountain.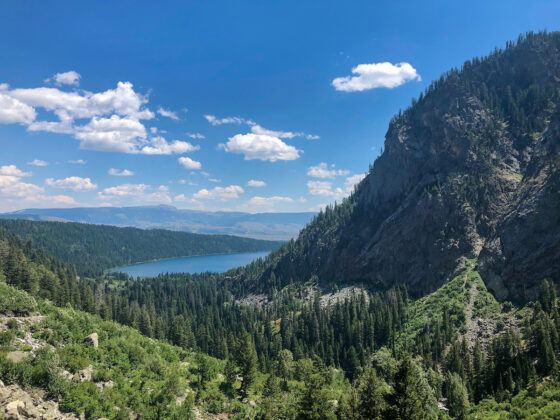 The view literally took my  breath away. Dragonflies hovered above a slow-moving creek, and minks and weasels scattered through wildflowers. I felt like I had stepped into a Disney movie. If you can withstand the climb, it will be worth it. And don't forget to bring food–it may be the prettiest place you'll ever eat lunch!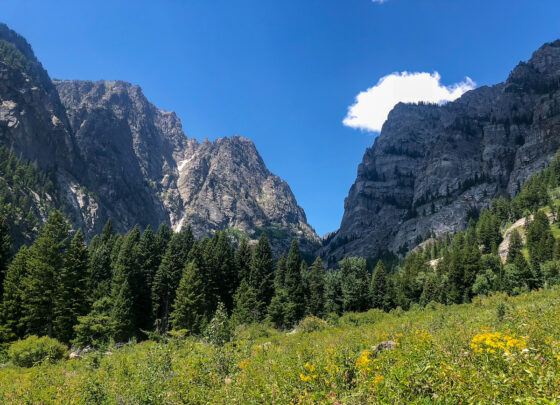 At this point, if you decide to continue on, you'll reach the Alaska Basin Trail, which will bring you to the Static Peak Divide. Ultimately, I ended up returning down after the patrol cabin, as continuing on to Static Peak will have increased the full hike to over 16-miles, making this an over ten-hour hike, something I hadn't planned on. 
It's imperative to consider the length of your hikes before you leave, as you definitely don't want to be caught in the park at dark if you don't have the right supplies. But if you do prepare for this hike, either as an overnight trip or a full day experience, be prepared for an uphill climb to the Death Canyon shelf, a four-mile plateau offering spectacular views of Death Canyon. 
Keep in mind that while some trails may take only a few hours, others will encompass your whole day, so be sure to plan accordingly. Make sure you bring a daypack, and a reusable water bottle to stay hydrated. 
Wildlife in Grand Tetons National Park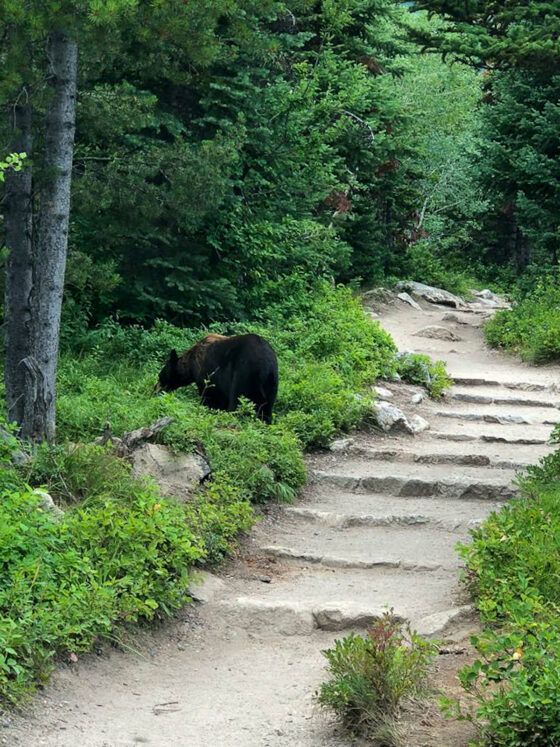 I combined my trip to Grand Teton with a trip to Yellowstone, and while wildlife is plentiful at Yellowstone, it's a completely different experience in the Tetons. Bear, moose, elk, bison, and pronghorn all live throughout the park so make sure you keep an eye out! 
 On my first hike around Jenny Lake, I turned a corner and spotted a group of three people paused on the trail. Then they pointed into the bush where an adolescent black bear foraged for food.
The bear paid us no attention, and although we kept our distance, we were very aware of the power of this animal. Although more rare, grizzly bears do live in Tetons, and they are much more aggressive than black bears. For that reason, it's highly recommended to carry bear spray to protect you from any possible attacks.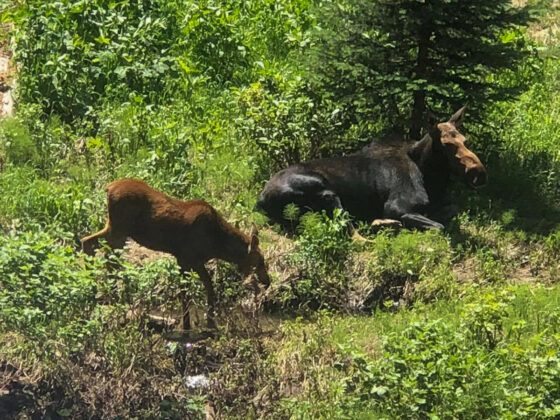 On my second day in Tetons, hiking the Death Canyon Trail, I turned a corner and stumbled upon a mother moose and her calf sunbathing on a rock face off the path. With all wildlife, it's best to keep your distance. These animals are accustomed to visitors, but they're still wild and won't hesitate to defend themselves if they feel threatened.
What to do and where to stay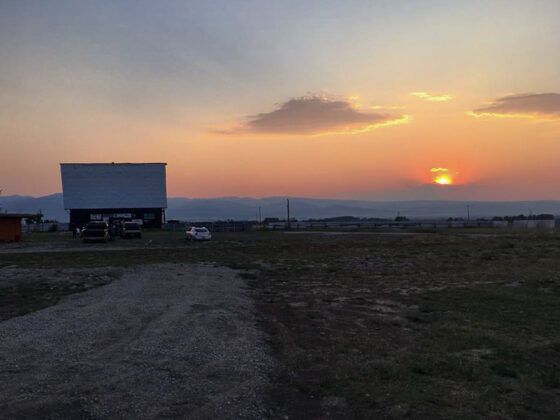 To get the full experience of Grand Tetons, I recommend staying somewhere nearby so you can arrive in the park early to get a start on your hikes. Jackson Hole is the nearest city and offers a handful of accommodations, but I decided to expand my adventure by staying at the Spud Drive-in located in nearby Driggs, Idaho, one night and finishing my last night at a working ranch.
The drive-in was an experience all its own. One-room cabins offer a private balcony for viewing the movies. There's nothing quite like watching Top Gun for the first time in the middle of Idaho after a long day of hiking.
Campgrounds
If you're interested in camping in the park, Grand Tetons National Park offers eight campgrounds, giving you multiple options to sleep in different areas of the park. If you're feeling extra adventurous and want to explore the backcountry camping options, make sure to get a permit.
Best Time To Visit Grand Tetons National Park
Whatever you decide, you're in for a treat. And keep in my mind, this is an area that can be explored at different times of the year, even the winter where the park can offer a very unique experience. Jackson Hole is a popular skiing resort and offers dog sledding too! And if you go in spring or summer, you can also check out a scenic wildlife float. Regardless of when you go, you'll walk away knowing for sure that this is one of the most beautiful place in the USA to visit.
What would you be most excited about experiencing in Grand Tetons National Park?