Famous for the thousands of sandstone arches in Arches and Canyonlands National Parks and beyond, Moab is likely on every outdoorsy traveler's bucket list. It serves as the perfect launching point for all kinds of adventures, from adrenaline-pumping activities like white-water rafting to chill paddling excursions and more. If you're looking for things to do in Moab, Utah, look no further.
Arches National Park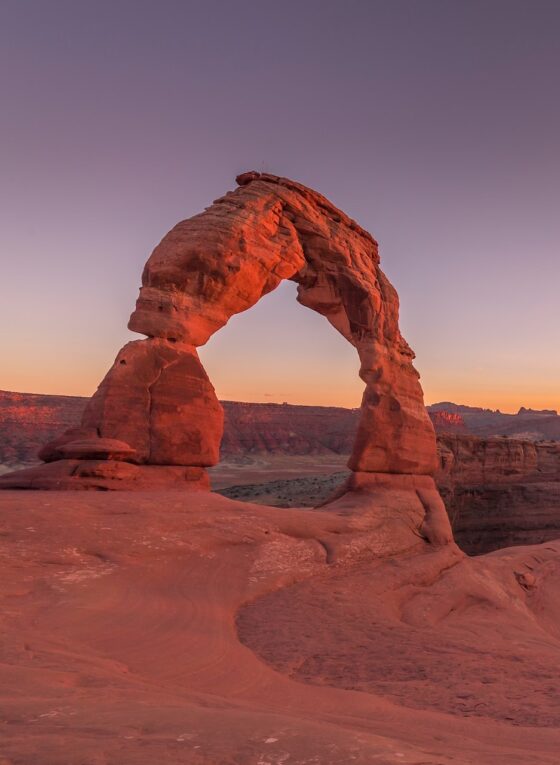 Let's start with Arches National Park, perhaps the most popular place in Moab. The park gets its name from its spectacular array of rock formations, including (but not limited to) the famous arches. There are over 2,000 arches in the park and hundreds of sites to see them. Despite there being so many, there are a few that garner much more attention than the others because of their size, complexity, and ease of access.
You could potentially spend your entire time in Moab just exploring Arches National Park, because there are so many things to do there — from driving along Arches Scenic Drive to hiking to the legendary Delicate Arch — so you'll want to plan at least a full day or two to explore this iconic Utah national park.
If it's your first time visiting Arches or you're running low on time, these are a few particularly interesting points of interest that you shouldn't miss:
1. The Windows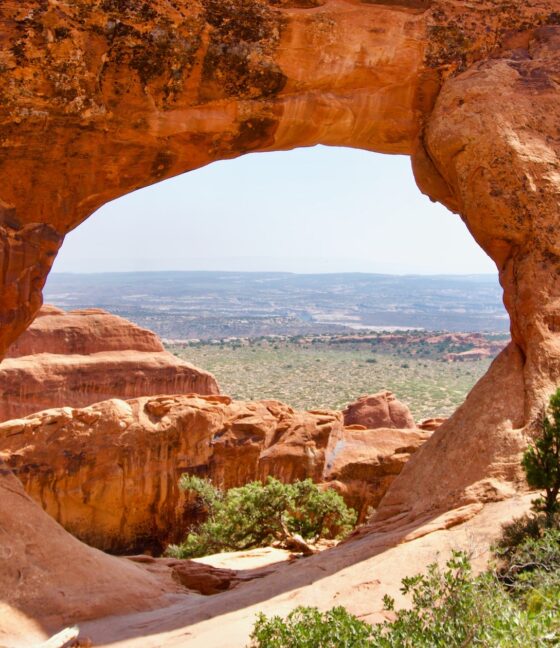 Among the easiest hikes in Arches, with perhaps the best payoff, the Windows hike is just one mile long round-trip. The trail brings you to an area with that gets its name from two mind-blowing, window-like formations: the North Window and South Window. These arches sit next to one another, with another rock jutting out between them, creating something that looks like eyeglasses. Aptly, this structure is also known as The Spectacles.
2. Double Arch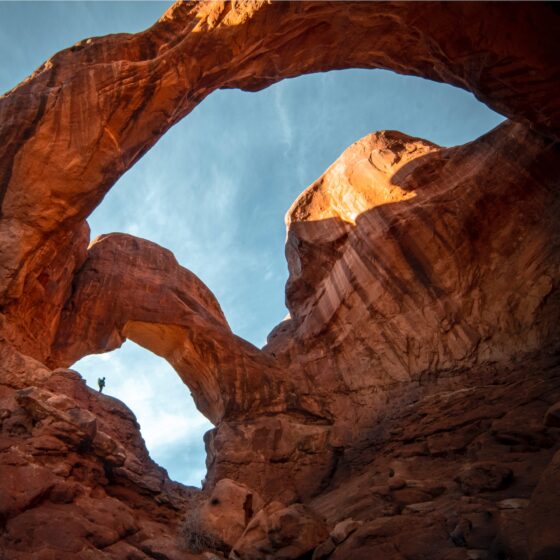 You can continue on The Windows Trail just past the North and South Windows to the awe-inspiring Double Arch. Here you can stand underneath two gigantic orange-rock arches, taking in one of the most impressive spectacles of nature in the US, let alone Utah.
Keep in mind that, along with The Windows, Double Arch and the surrounding area (which also includes the Parade of Elephants and other structures) is one of the most crowded areas of Arches National Park. Due to the ease of access and abundance of attractions here, this small area fills up quickly, so it's best to go as early in the morning as you can if you want to enjoy some solitude.
3. The Three Gossips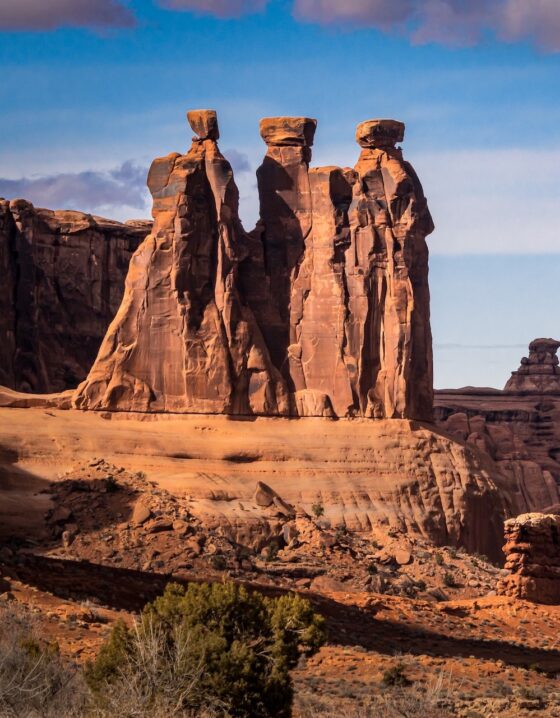 When you look at this sandstone formation, what comes to mind? It looks like three women standing closely, right? These are the Three Gossips, in the Courthouse Towers area of Arches National Park. The tallest head towers 350 feet high, so it's no surprise that you can spot these giants from multiple points in the park.
If seeing the Three Gossips from far away isn't satisfying enough, you can hike to their base for a closer look. Some adventurous visitors even rock-climb the structures.
Canyonlands National Park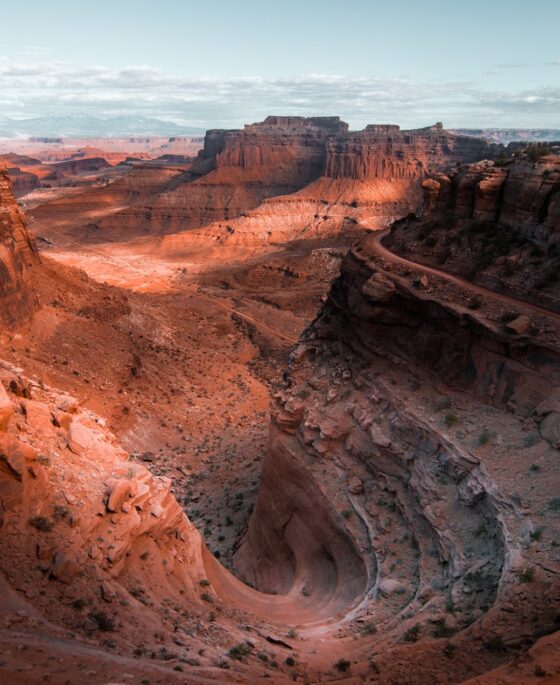 Moab is a prime location for nature lovers because it's between two of Utah's best national parks: Arches and Canyonlands. The latter is similar to Arches in that you'll enjoy incredible sandstone formations and stunning views, but it also has plenty of features that make it distinctive and therefore worth visiting as well. Although Canyonlands is one of the most popular national parks in Utah, most visitors stick to just a few key areas, leaving huge swaths of it virtually empty. Therefore, despite its popularity, this is a great park to visit if you want to have some sweet alone time in nature.
4. Needles Overlook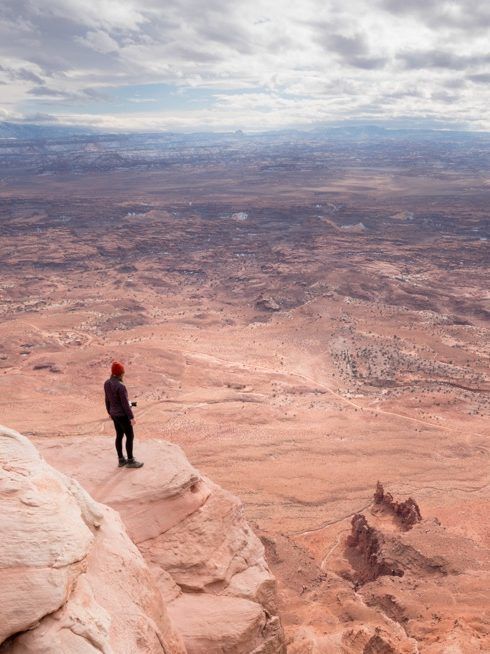 As mentioned, there are a few parts of Canyonlands National Park that are incredibly popular and therefore quite crowded, no matter what time of day you visit. Needles Overlook is an exception. Although it offers one of the best views you can find in Canyonlands, it's rarely full of people the same way Mesa Arch and other popular sites are.
To get to Needles Overlook, you don't need to hike; you can drive right up to the viewpoint (you can find the exact location on the map below). This spot is spectacular, with a nearly 360° view that you won't want to miss.
5. Mesa Arch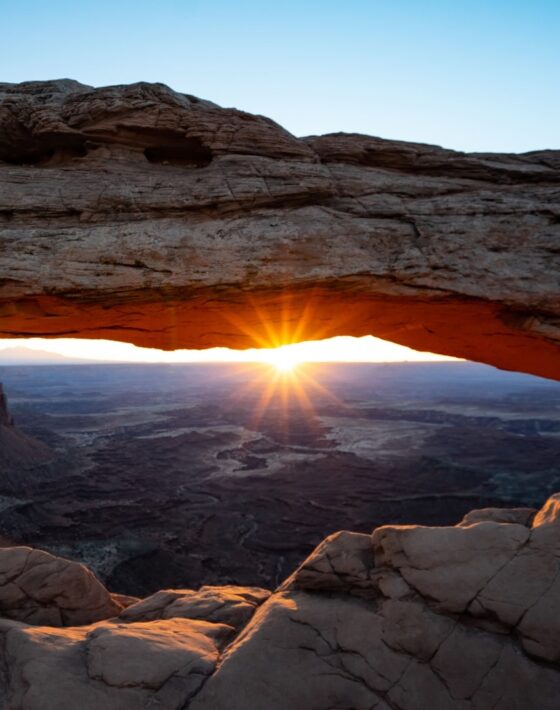 Catching a sunrise at Mesa Arch is almost a rite of passage in Canyonlands. Although you certainly won't be alone, as this is one of the most popular things to do here, it's still worth the early wake-up call and sharing the view with strangers.
If you are hoping to get a great photo of the Mesa Arch at sunrise, consider getting there two hours early, as the best spots tend to fill up, especially in the spring and fall, when the park is busiest. If you are just in it for the views and not too worried about snapping the perfect photo, getting there an hour before sunrise will hopefully enable you to snap a nice spot to watch.
6. Alcove Spring Trail
This moderately difficult trail is 11.2 miles out and back and one of the best to do if you want to enjoy Canyonlands without the crowds. With an elevation change of 1,300 feet, much of the trail is uphill, but the payoff is that you'll reach an astounding view of the Zeus and Moses and Aphrodite rock formations. There are also a few canyons along the way that are beautiful to see up close.
You can hike the Alcove Spring Trail in one day, or set up camp in Trail Canyon or Upper Taylor Canyon. Backpackers love this trail because the sunrise views from the canyons are fantastic.
Off-the-Beaten-Path Places in Moab
Since Moab is the launching point for two of Utah's most popular national parks, it's no surprise that some places here get quite crowded. Don't let that deter you from visiting, though. There are still plenty of amazing things to do in Moab that don't have massive crowds.
7. Dead Horse Point State Park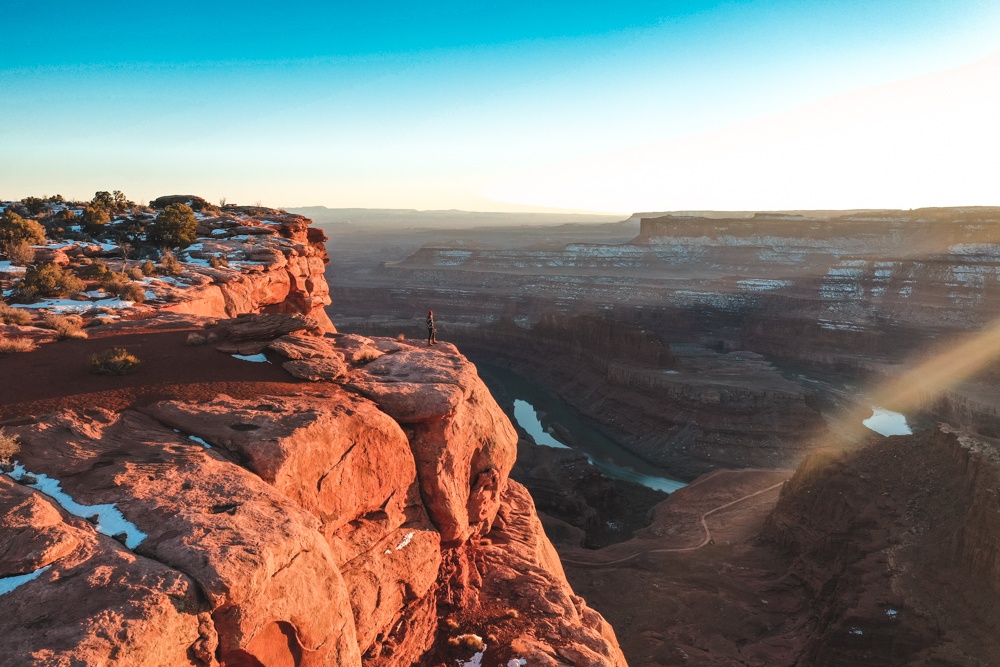 If you want to enjoy Moab's outstanding scenery without the crowds, Dead Horse Point State Park is the ultimate Utah hidden gem. The park's namesake viewpoint offers views of the canyons below, which many travelers compare to the Grand Canyon. The best part is that you can drive right up to the viewpoint.
There are several hiking trails in Dead Horse Point State Park, some of which lead to other viewpoints that allow you to see the valley from a different angle. You can also stay in the park in one of the yurts if you're looking for unique accommodations (more on those later!).
8. Corona Arch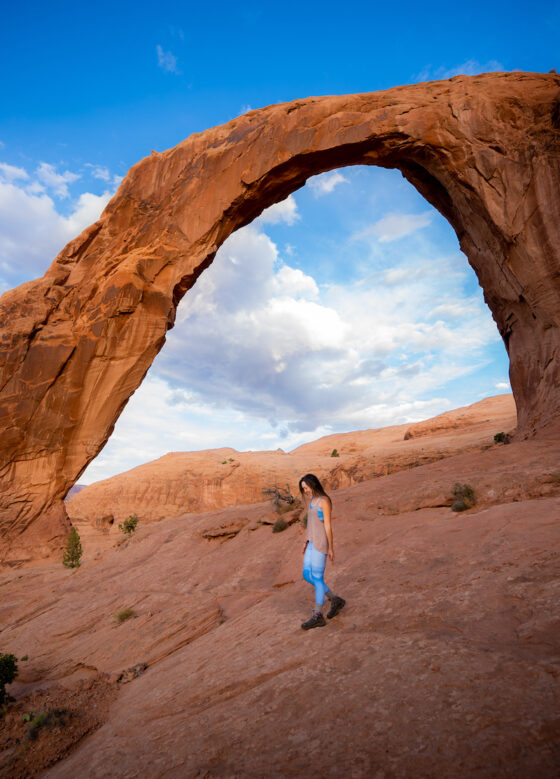 Just west of Moab stands Corona Arch, a site that is a great alternative to visiting Delicate Arch in Arches National Park. You can reach it on a short, three-mile round-trip hike, starting at the Corona Arch trailhead (see map below). Along the way, you'll also pass Bowtie Arch, which is another stellar site.
Be aware that this hike offers little to no shade, so prepare yourself with plenty of sun protection. The payoff for hiking a few hours in the sun is great, though, as Corona Arch is truly a beauty to behold.
9. Bride's Canyon
Just a short drive from either Dead Horse Point or Canyonlands National Park, Bride's Canyon is a hidden gem that many Moab visitors miss out on. It's a large canyon with interesting rock formations around it. You can rock-climb to the upper section, or simply explore the slot canyon and hike the surrounding area. It's a unique place to visit, and you can even camp there if you'd like to spend more time exploring it or the nearby Gemini Bridges.
10. La Sal Mountain Loop Road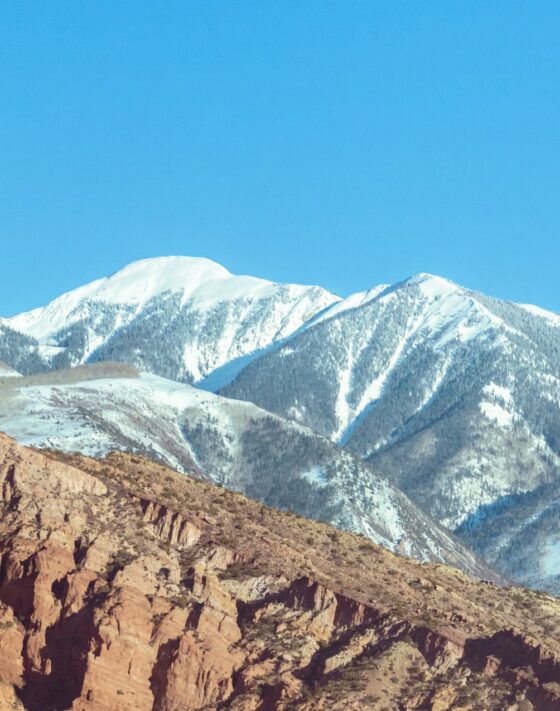 Once you enter Moab, you'll see the La Sal Mountains in all their glory in the distance. While you can certainly appreciate their beauty from afar, there's nothing quite like taking a drive through the La Sal Mountain Loop Road and getting a completely different view of the surrounding area than you would from any of the national park viewpoints.
Along this route, you'll see the scenery change from the iconic red rocks that Moab is famous for to alpine ridges with snow-capped peaks. The whole drive takes about 2.5–3 hours and is not suitable for RVs or trailers, but it is paved, so there's no need for a 4×4 vehicle. Make sure to gas up before you set out on the route and are prepared with plenty of food and water, as there aren't any services along the way.
11. Ken's Lake
If you thought that Moab was only about desert views and orange cliffs, think again! Ken's Lake is the perfect oasis for swimming, boating, or just relaxing on the shore. It's only 10 miles south of Moab and a fantastic place to cool off after hiking all morning at the nearby parks. There is camping here as well — just make sure to reserve your spot in advance, as the sites tend to fill up.
Adrenaline-Pumping Activities in Moab
12. Sunset airplane ride over Arches and Canyonlands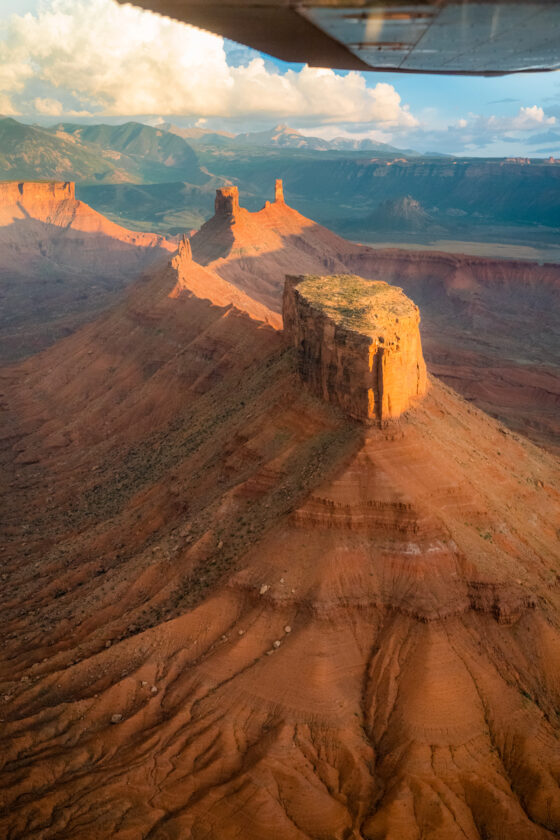 I'm quite afraid of heights, so this would be an adrenaline-pumping activity for me, although perhaps for others it might belong under "relaxing." Nonetheless, a sunset airplane ride over the marvelous landscapes around Arches and Canyonlands National Parks is one of the coolest things to do in Moab.
This scenic flight offers a bird's-eye view of iconic landmarks, like Upheaval Dome, The Maze, White Rim, and more. If you're into photography, this is a must-do activity, as the aerial shots are out of this world. Book your scenic flight here.
13. Rafting on the Colorado River
Moab is a great jumping-off point for outdoor activities like rafting on the Colorado River. The best way to get the most out of that is by joining a rafting tour like this one, which includes an expert guide and transportation to and from Moab. The trip takes you through seven miles of the river, with fantastic scenery the whole way.
14. Canyoning through slot canyons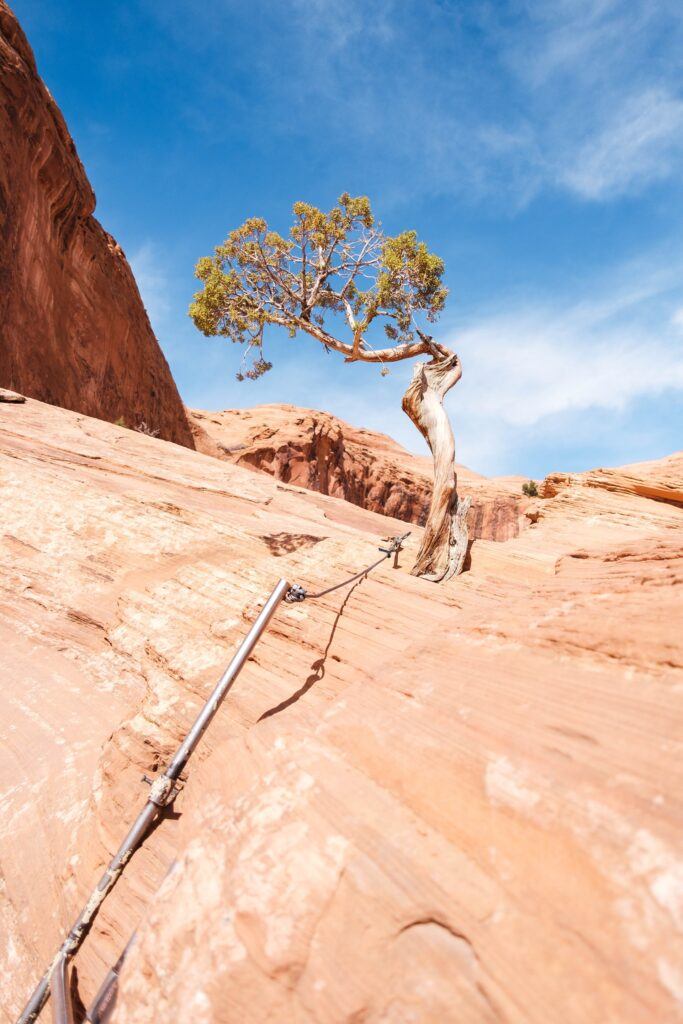 Moab and the surrounding area are full of deep red and orange, water-carved slot canyons that are begging for you to explore them. Since many of these are difficult to reach on your own, I recommend joining a canyoning tour so you can hike, rappel, climb, and slide through these geological wonders with an expert guide.
There are full-day and half-day tours available, each traveling to a different section of the canyons. Both tours are suitable for beginners, so there's no need to be a canyoning expert to join. Navigating the canyons is a thrilling adventure and a fantastic way to get the most out of your trip to Moab.
15. Hell's Revenge 4×4 adventure
The Hell's Revenge Trail in Moab has incredible scenery that features petrified sand dunes, quintessential red-rock formations, and views of the La Sal Mountains in the background. The most thrilling way to explore the trail is by driving a 4×4 vehicle through, which can go off-road for an even more exciting journey. Book your 4×4 Hell's Revenge tour here.
Relaxing Activities in Moab
16. SUP on the Colorado River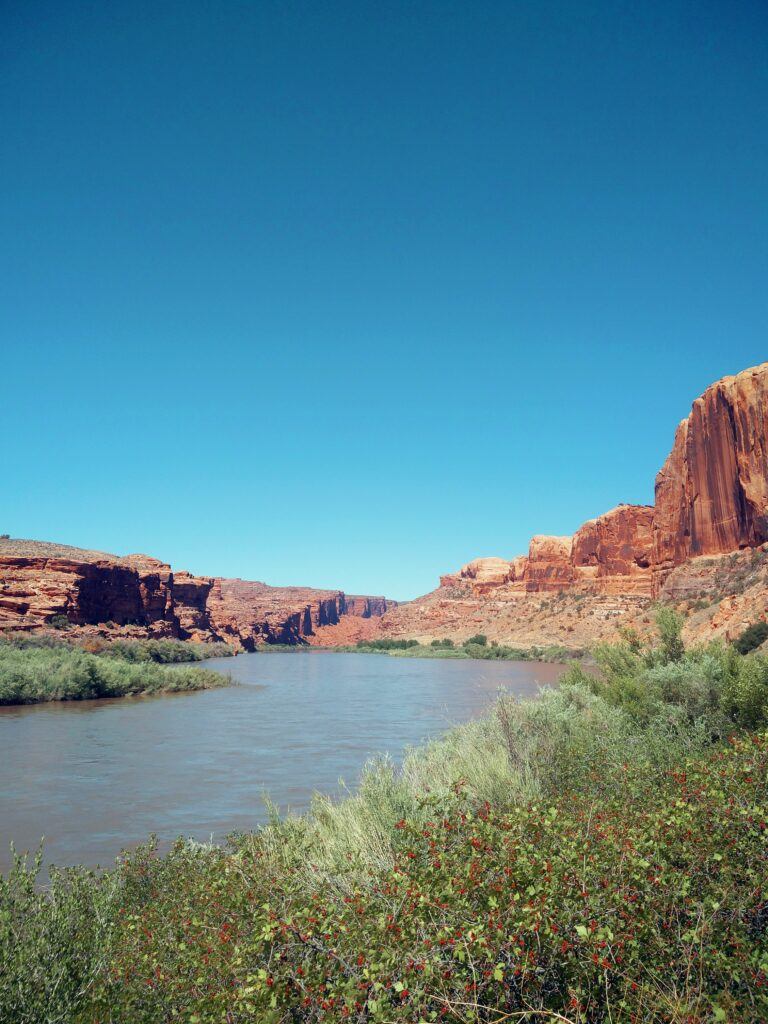 If you want to experience the Colorado River at a slower, more leisurely pace, a stand-up paddleboard adventure is for you. I love SUP, because I like having the option of standing up to paddle or sitting down to float wherever the water takes me. It's also fun to give some yoga poses a try to test your balance — just be prepared to fall into the water.
This SUP-board tour takes you along the border of Arches National Park and includes an expert guide who can point out the sights along the way. The tour takes place in a part of the Colorado River that has less of a current and is perfect for paddleboarding because of the calm waters. This activity is a fun way to spend a morning whether you're traveling solo, or with friends, your partner, or your family.
17. Stargazing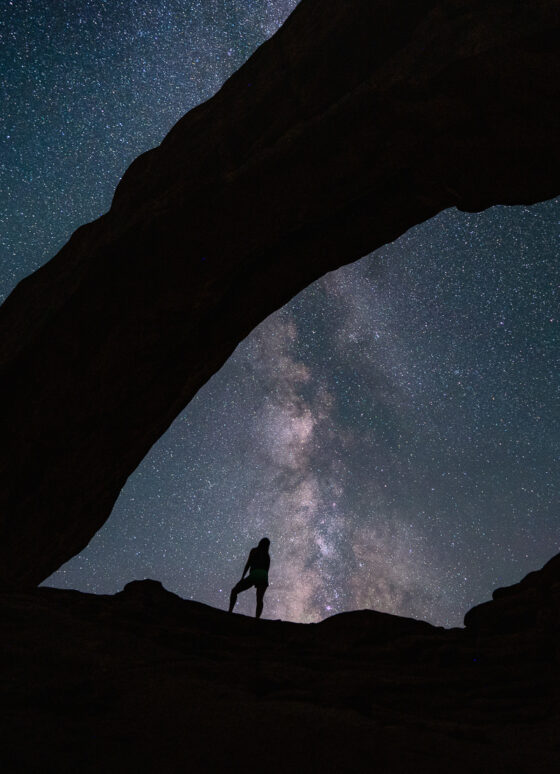 Due to relatively low light pollution, Moab is an epic place to go stargazing. With so many arches and other unique rock formations throughout the area, the experience of hiking at night is truly one of a kind in Moab.
This guided full-moon hike is a neat way to experience the night sky here, as your guide will help point out constellations, satellites, and other phenomena. An added bonus of exploring Moab at night is that there are far fewer hikers out, making for a more relaxing experience.
18. Sorrel River Spa & Wellness
After spending so much time hiking, climbing, and roughing it outdoors, head to Sorrel River Spa in Moab to treat yourself to a spa treatment. From massages to skin treatments, Sorrel has relaxing offerings in a rustic yet peaceful environment. I can't think of better way to end an outdoorsy trip like this one!
Food & Drink in Moab
19. Moab Food Truck Park
Visiting the Moab Food Truck Park feels more like an fun addition to your outdoorsy itinerary than just grabbing a bite at any other place. With almost a dozen food trucks to choose from, you'll have a blast making your way around the park choosing dishes to try. There's outdoor seating too, so you can wind down from a long day hiking with a sweet sunset view and a delicious meal.
20. Moab Brewery
If you're a beer aficionado, you'll love sampling Moab Brewery's selection of craft brews. Here you can grab a flight of locally crafted beer in a cool, eclectic setting. The brewery's restaurant also offers a great selection of appetizers, burgers, and other bites that pair perfectly with a cold beer.
Where to Stay in Moab
Camping and glamping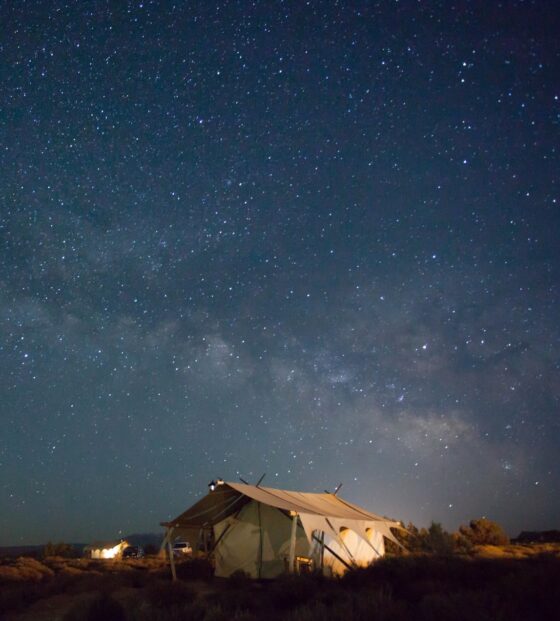 In Moab's state and national parks, there is ample camping available. Some campgrounds require reservations while others are first-come, first-served. Find a complete list of state and national park campgrounds here. Fees start at $25. Most campgrounds don't have showers on-site but do have restrooms and drinking water.
There are also several commercial campgrounds in Moab, like the Moab KOA, which has nearly every amenity imaginable. These are more expensive, starting around $55 per night for a tent site.
Another neat option if you're looking to rent a camper van is Red Rock Base Camps, which offers this cool teardrop trailer for just $109 per day.
If you want a more glamorous experience, consider glamping in Moab at Under the Canvas. This experience is on a whole other level, as it could technically classify as a luxury resort, with prices starting at around $300 per night.
Airbnbs and unique stays
Moab is a fantastic place to find quirky and unique places to stay. I found this cool modern home on Airbnb that is just a short walk from Moab's downtown for around $120 per night.
Another unique option is staying in a yurt, which you can do either inside Dead Horse Point State Park (starts at $150 per night) or at Talking Mountain Yurts (from $175 per night) in the La Sal Mountain Range.
Hotels and lodges
If I were to choose a hotel or lodge in Moab, I would go with Moab Springs Ranch. With cozy bungalows in a beautifully rustic setting, it's a peaceful getaway for solo travelers, couples, small groups, and families alike. Bungalows start at around $225 per night (cheaper during the winter months).
Another great option is the famous HooDoo Moab, which has some of the best views of the surrounding rocks and desert landscapes. Prices vary here dramatically, with rooms starting at $140 during low season (November through February) and shooting up to at least $300 during high season (March through May and September through October).
Map of Things to Do in Moab, Utah
Pin me for later: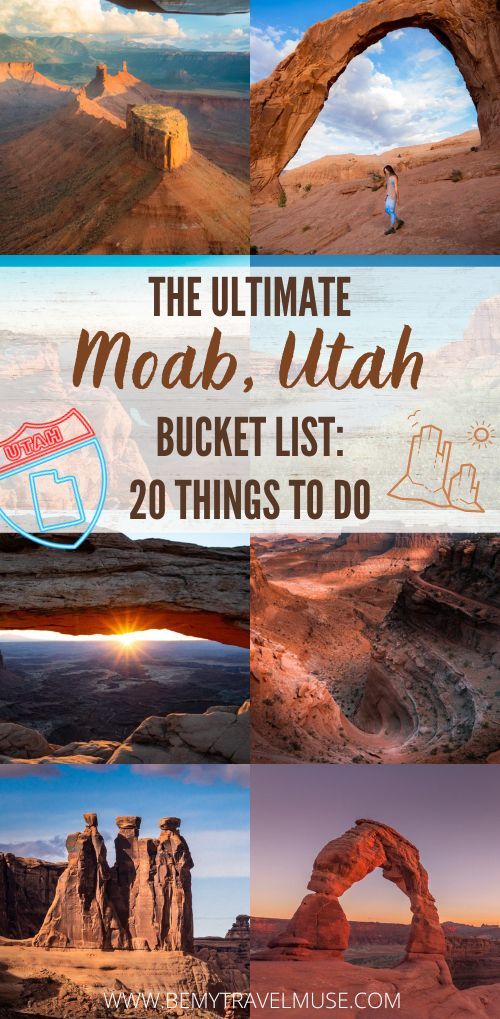 With so many things to do in Moab, Utah, you might be faced with a dilemma as you try to fit everything into your itinerary. Chances are, you'll end up finding your way back again to explore more of the brilliant landscapes.
If you've been to Moab, what is your favorite thing to do there?